While many people think she looks Indian or even Mexican, Shay Mitchell has a Filipina mother and a Scotch-Irish father.
She was born in Mississauga, Ontario, to Precious Garcia, who left the Philippines at age 19, and Mark Mitchell. Originally from Pampanga, a province in the Central Luzon region of the Philippines, her mother also has some Spanish ancestry.
Shay is very close to her paternal grandmother, with whom she's often pictured on Instagram.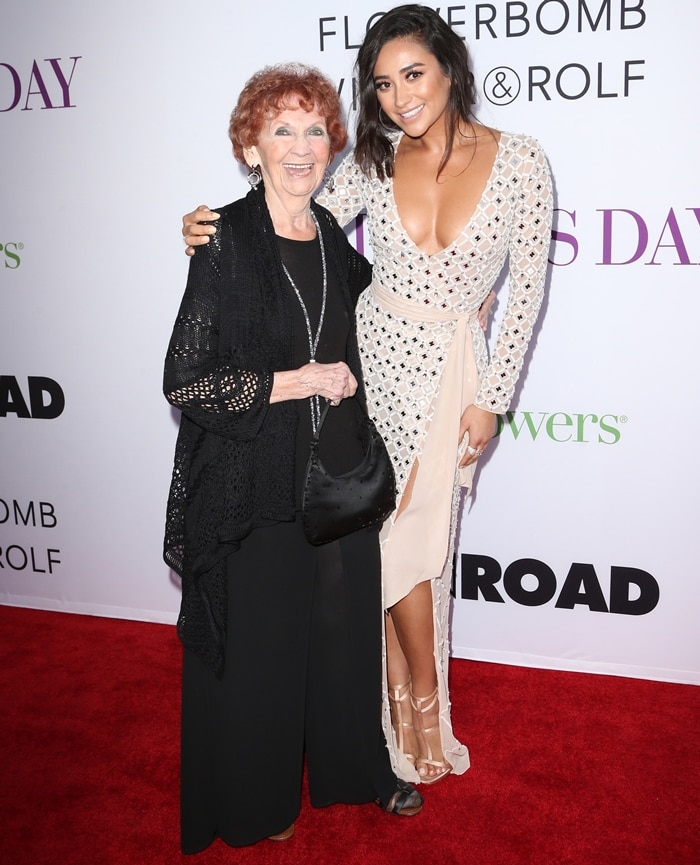 Actress Shay Mitchell and her grandmother attend the premiere of Mother's Day held at TCL Chinese Theatre IMAX on April 13, 2016, in Hollywood, California
"I was so uncomfortable being Filipino," Mitchell told Cosmopolitan in May 2016.
"I'd get 'Oh, is your mom a nanny?' It's like, No, f**ker, but even if she was, do you know how hard that is? Could you do it? No.'," Mitchel said about being bullied for her ethnicity when she was younger. Shay didn't even eat in the cafeteria during lunch.
"Out of sight, out of mind," Naya Rivera's lookalike explained of her decision to hide from her bullies. "You wouldn't think about me if you didn't see me, so I didn't go into the cafeteria."
Shay Mitchell has a Filipina mother and a Scotch-Irish father
On mother's day in May 2020, she shared a picture on her Instagram of the four generations of women. The Canadian actress was with her grandmother, her mother, and she was holding her daughter, Atlas Noa, who was born on 8 October 2019.
Mitchel captioned her post, "Happy Mother's Day to all the new, sleep-deprived moms. To all the newish moms who are finally getting their bearings and adjusting to a new normal. To all the moms of multiples. To all the working moms. To all the single moms."
The Pretty Little Liars actress continues, "To all the moms of rainbow babies. To the moms who have lost children. To those with difficult relationships with theIr moms. To mother figures in the absence of children. To all the women who are moms in their hearts but their bodies aren't cooperating. To anyone who woke up this morning with a pang of sadness because they no longer have their mom here."
She concludes her post by saying, " And let's not forget the moms who are totally content with fur babies or nothing to take care of at all. Wherever you are in this relationship, celebrate that today."
How do you get into the holiday spirit? We can think of several cookie-cutter answers – playing in the snow, putting up the tree, singing Christmas carols, etc – but none of them could have prepared us for Shay Mitchell's answer.
Shay Mitchell wears her dark hair down at Z100's iHeartRadio Jingle Ball 2015 at Madison Square Garden on December 11, 2015, in New York City
In December 2015, Shay hit the red carpet of iHeartRadio's Jingle Ball 2015 at Madison Square Garden right before she shared her answer.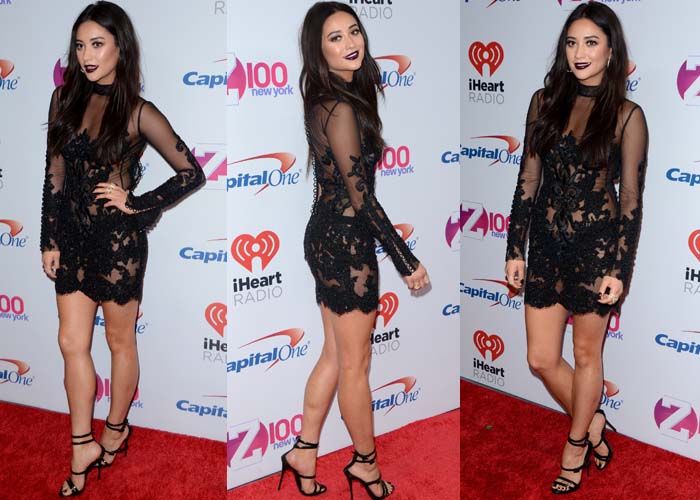 Shay Mitchell wears a lace-and-mesh dress by Oglia-Loro on the red carpet of the Jingle Ball
Shay wore a revealing lace-and mesh-dress by Oglia-Loro which she accessorized with diamond hoop earrings from Casa Reale and a pair of strappy sandals from Giuseppe Zanotti.
Shay Mitchell's feet in Giuseppe Zanotti sandals
Shay shared what helped her get into the holiday spirit in an Instagram post: 1) being invited to the Jingle Ball and 2) getting photobombed by adorable kids. Check out her post below.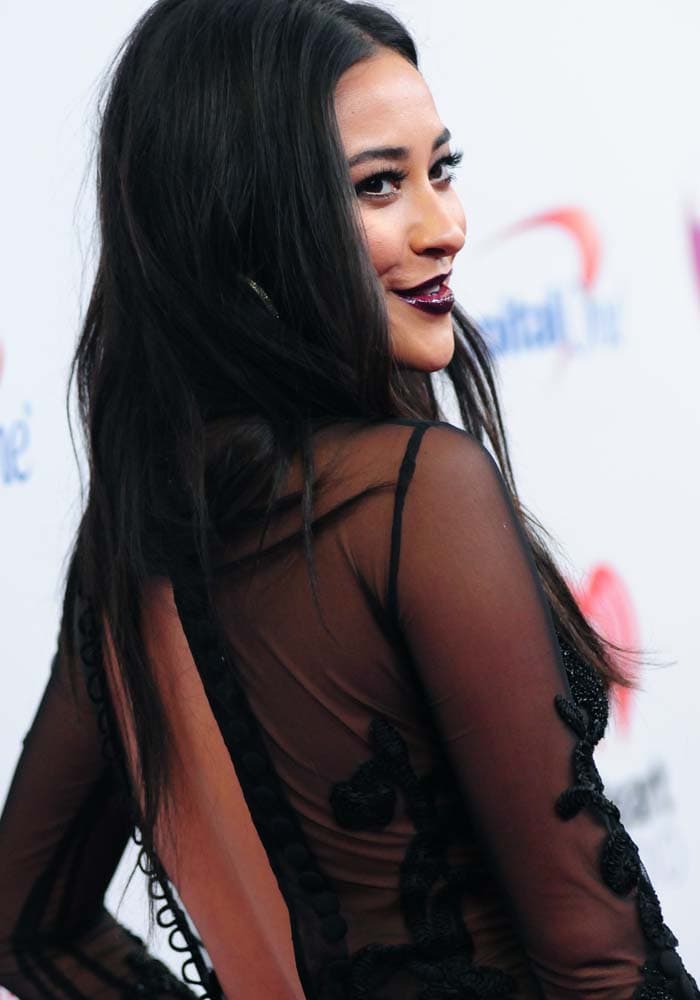 Shay Mitchell shows off her heavy eye makeup and dark lipstick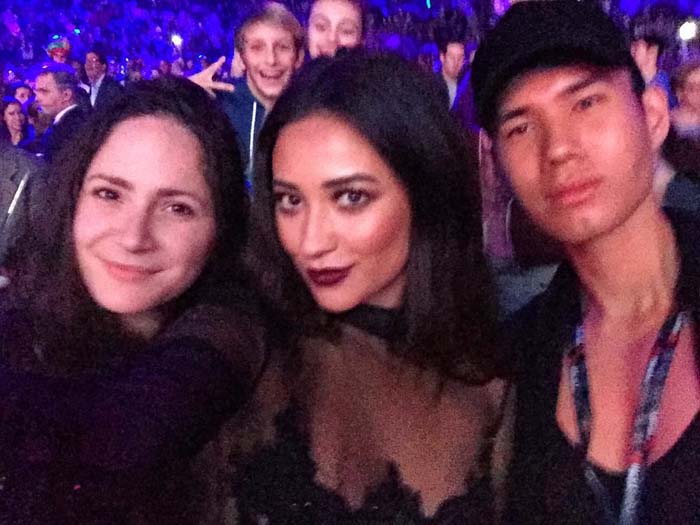 Via Shay Mitchell's Instagram: "Getting in the holiday spirit … Thanks for having me Jingle Ball…! And thanks to the cutest photo bombers in the back 😜"
Shay's buckled sandals from Giuseppe Zanotti are no longer available online, but there are similar pairs available from the same designer.
Click your way over to Nordstrom or Farfetch to grab a pair.
Giuseppe Zanotti Suede Strappy Sandals, $895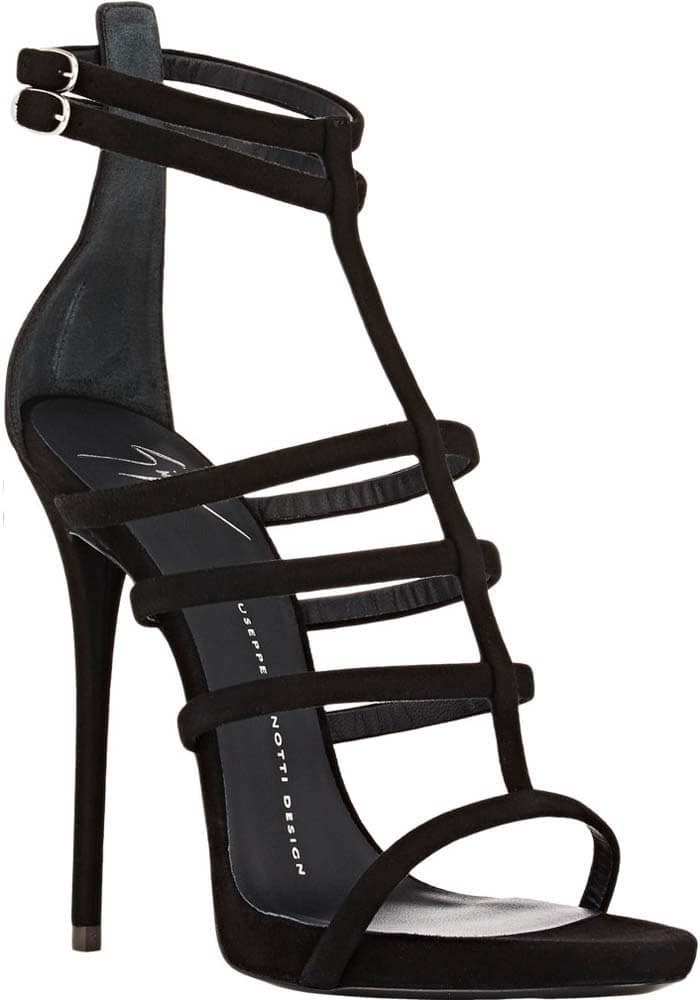 Giuseppe Zanotti "Coline" Feather-Embellished Satin Sandals, $1,525
Giuseppe Zanotti Three-Strap Sandals, $629.26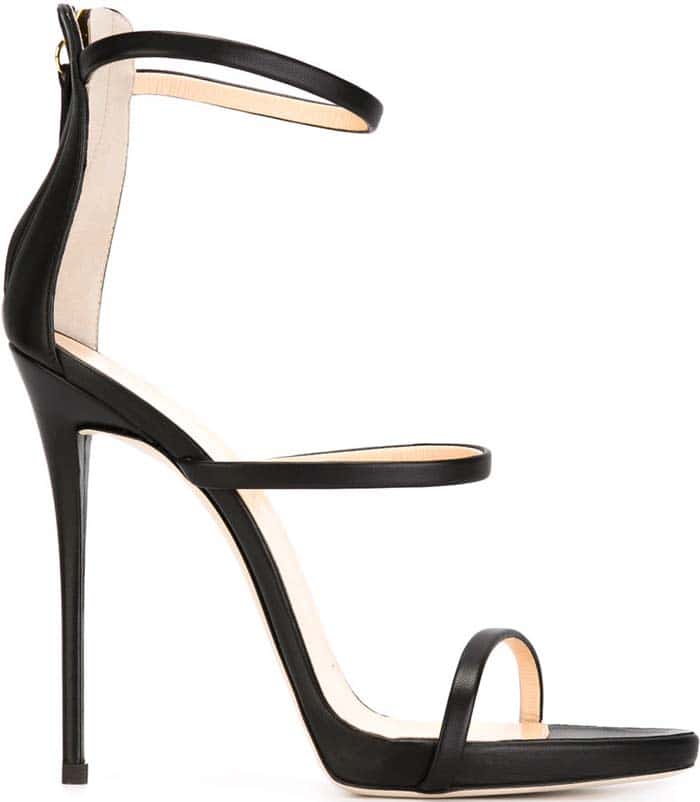 Credit: Shay Mitchell's Instagram / Dan Jackman / Ivan Nikolov / WENN / Instar / FayesVision