They have decided to call it quits after a whirlwind romance of just two months.
The news came a little over a month after it was reported that Irina Shayk was upset about the rumors that she and Kanye West are cooling off.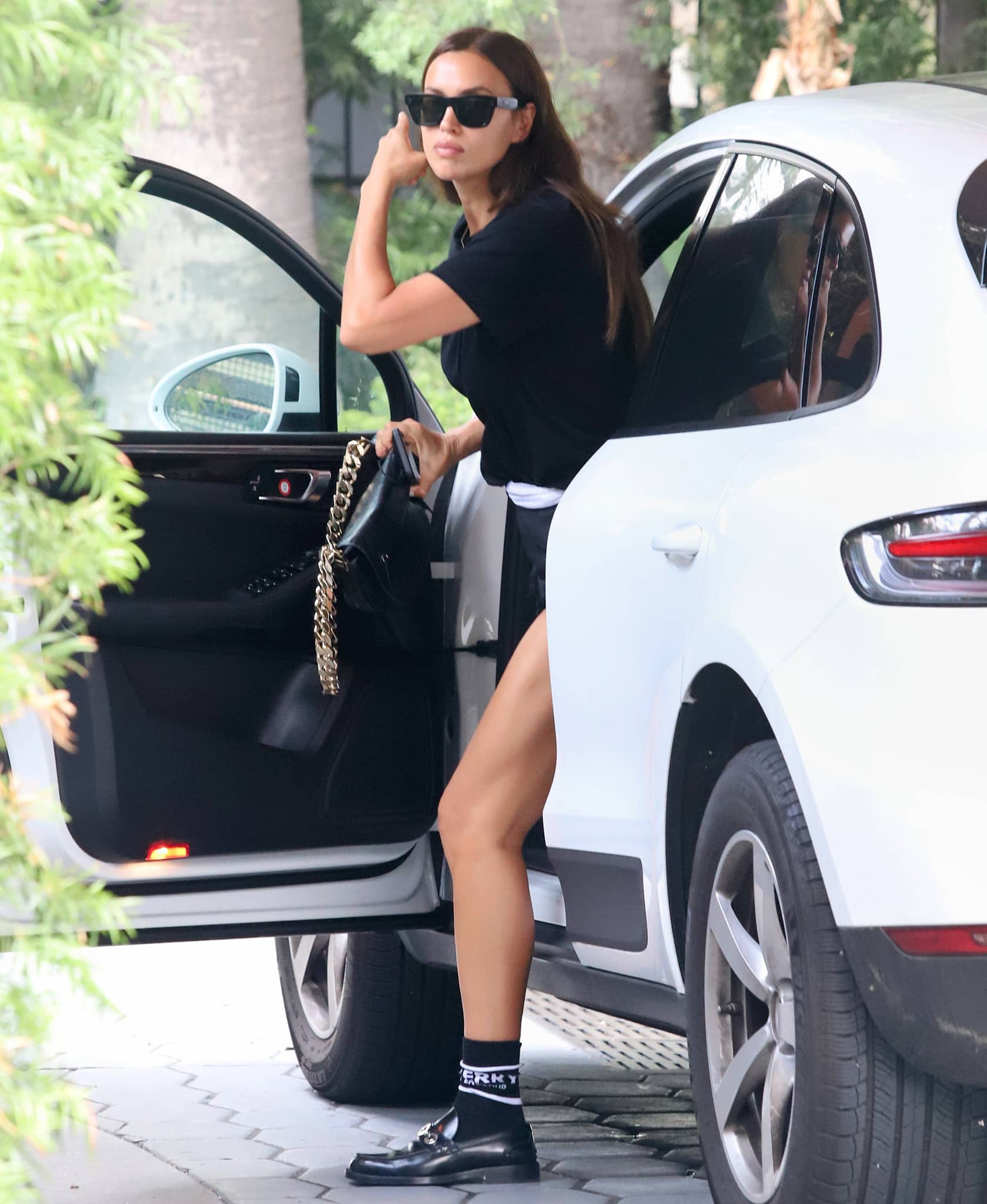 Irina Shayk puts on a leggy display after a workout session in Los Angeles on August 19, 2021 (Credit: Mega / WENN)
The 44-year-old rapper and the 35-year-old Russian model first sparked relationship rumors in May when a tipster told gossip site Deuxmoi that "Kanye is now secretly dating Irina Shayk aka Bradley Cooper's baby mama."
Later in June, they were spotted together for the first time in France for Kanye's 44th birthday getaway.
Days before the news broke, Irina was seen flaunting her model legs while leaving a workout session in Los Angeles.
The mom-of-one nailed a minimalist street style look in a black Burberry tee, available for $205 at Matches Fashion. It features an embroidered white TB logo at the chest, which Irina paired with black cutoff shorts that showcased her endless pins.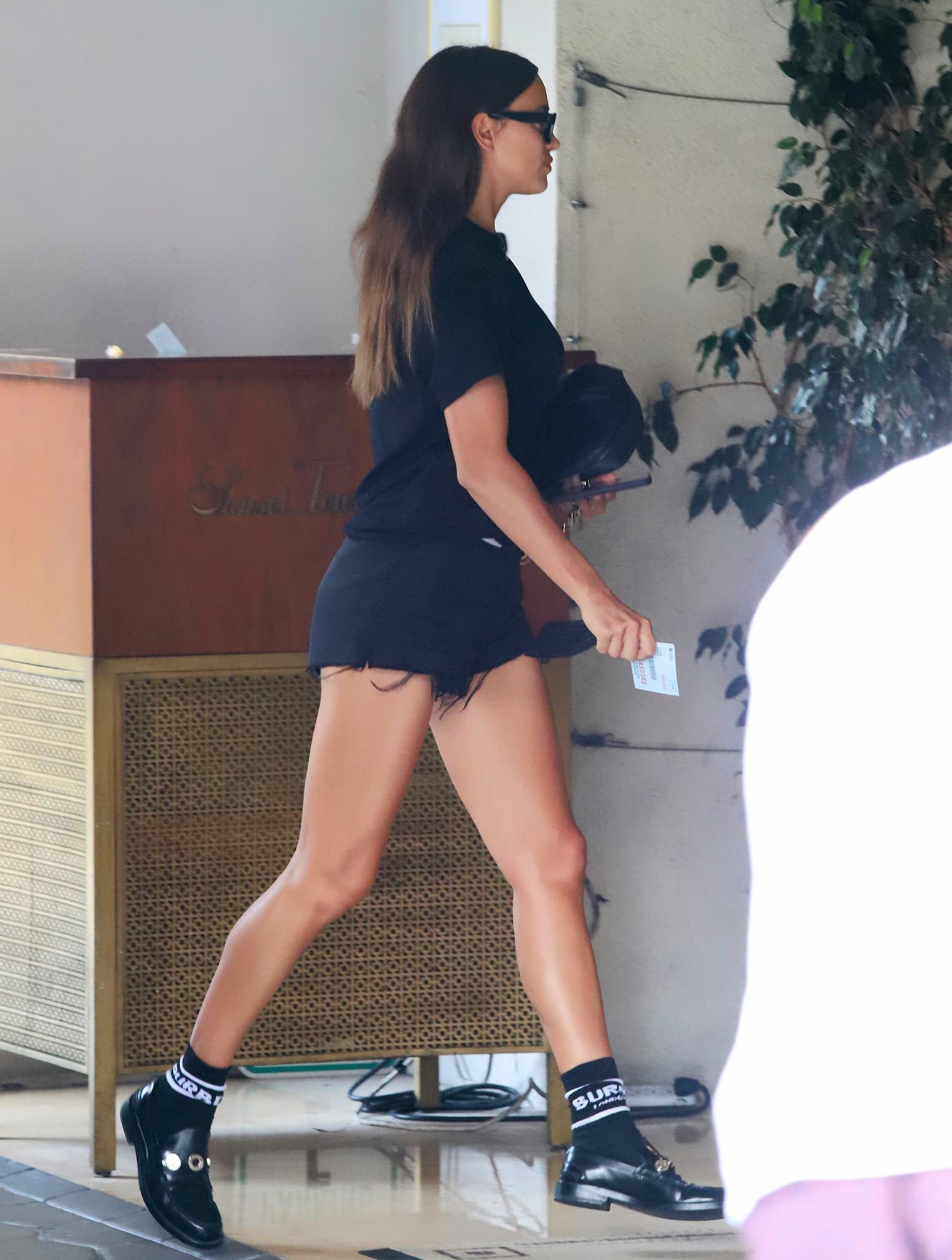 Irina Shayk pairs a black Burberry tee with matching cutoff shorts (Credit: Mega / WENN)
Bradley Cooper's ex accessorized the look with a dainty gold necklace and carried her favorite Burberry small lambskin Olympia bag on her arm.
Retailing for $2,290 at Farfetch, this bag has a chunky chain-link gold strap and a curved silhouette inspired by the architecture of Olympia London.
She then wore her brunette tresses down and shielded her eyes behind a pair of Celine sunglasses with gradient lenses.
Irina Shayk keeps things simple with barely-there makeup and hides her eyes behind a pair of Celine sunnies (Credit: Mega / WENN)
To complete her chic casual look, Irina wore Burberry logo crew socks before slipping into a pair of menswear-inspired loafers.
Adding a polished touch to her casual ensemble, the black leather loafers have gold accents across the vamps and a slight heel.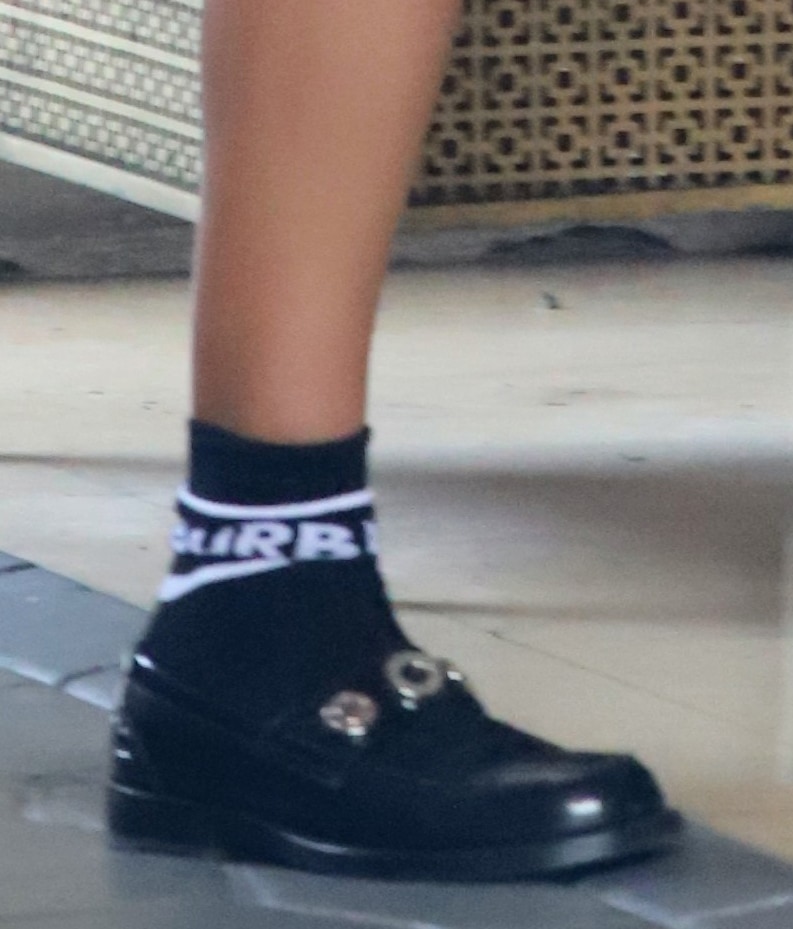 Irina Shayk pairs her casual outfit with crew socks and dressy loafers (Credit: Mega / WENN)
Why Did Kanye West and Irina Shayk Split?
A source close to the two told E! News that their relationship "fizzled out."
"It was never serious. [Kanye] wanted to pursue something with Irina that wasn't going to happen." And with Kanye's long-delayed studio album, Donda, still in the works, the insider added: "He got very busy with work, and they were in different places. It kind of fizzled out from there. They are still friendly, and there's a lot of mutual respect. It just was never going to turn into a full-blown relationship."
Another insider told E! News that "Kanye felt inspired by her [Irina] and liked being around her energy. It was never a relationship or going to be serious." "They both enjoy art and music, and it was fun got Kanye to hang out with Irina while he was finishing his album."
Kanye West at 'DONDA by Kanye West' listening event at Mercedes-Benz Stadium on July 22, 2021, in Atlanta, Georgia (Credit: MEGA / WENN)
Although they've broken up, the insider said that there's no bad blood between them. "They really haven't seen each other over a month but have kept in touch and texted a few times recently. There's no bad blood, and they will probably see each other in the future."
A different source confirmed to People that Kanye and Irina's relationship has ended, saying "it was never a serious thing that took off."
"Kanye has been busy working and spending time with his kids. This is his focus. He doesn't have time to date right now. He finds Irina amazing, though. They remain friendly."