She has been rumored to be dating Kanye West since May and even went on a romantic trip to France with the rapper in June.
On Tuesday, however, Irina Shayk was spotted sneaking out of her ex Vito Schnabel's home in New York City.
Irina Shayk sneaking out of her ex Vito Schnabel's house in New York City on August 10, 2021 (Credit: Mega / WENN)
The 35-year-old supermodel first sparked romance rumors with the art dealer, who also previously dated Heidi Klum, at the start of the global pandemic in March 2020.
Around that time, a source told US Weekly that "Vito has always been interested in Irina" and that they met a couple of years back.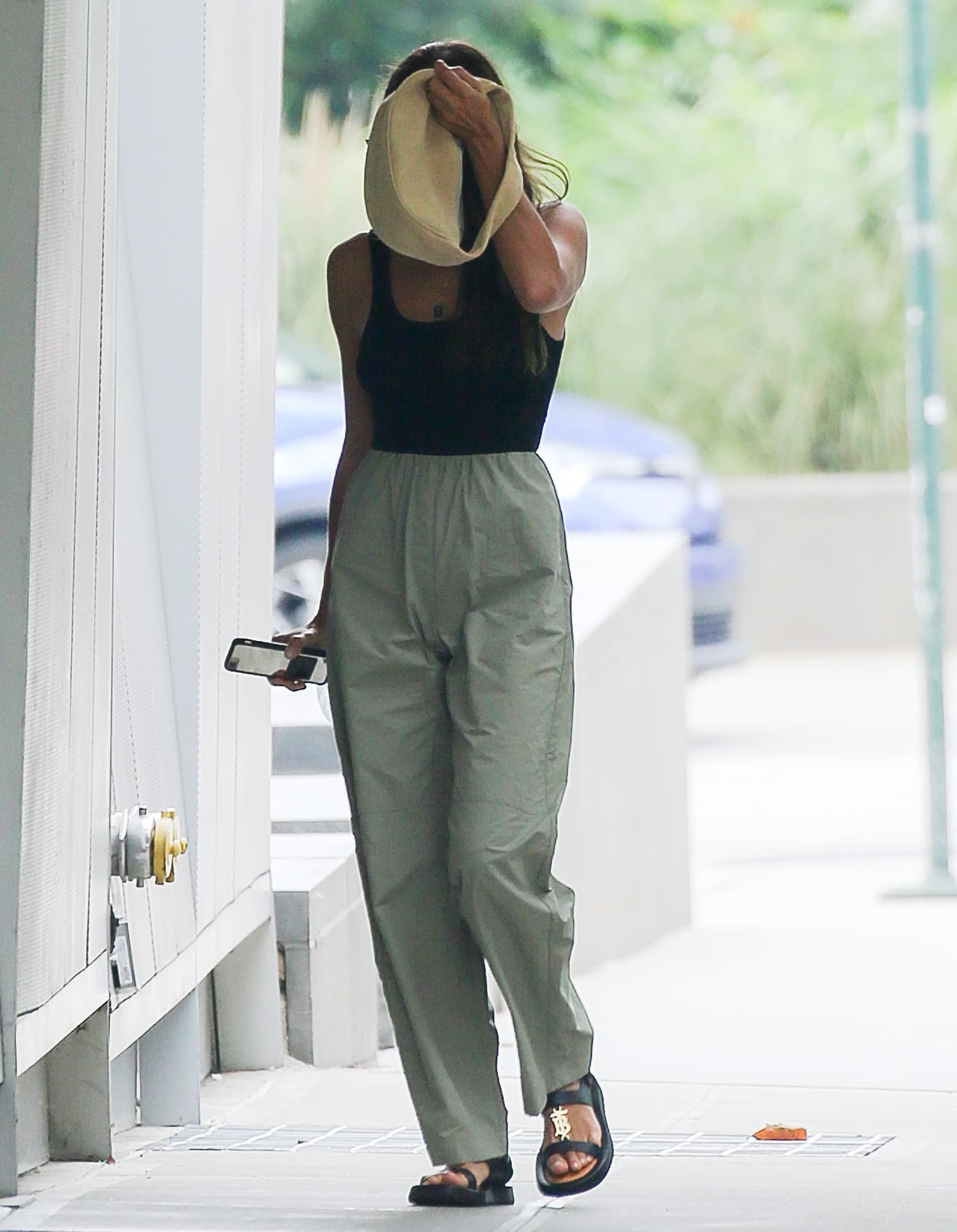 Irina Shayk first sparked romance rumors with Heidi Klum's ex in March 2020 (Credit: Mega / WENN)
The mom-of-one failed in her attempt to go incognito as she put her enviable model figure on display in a black low-cut sleeveless bodysuit, which she tucked into a pair of filmy green loose-fitting straight-leg pants.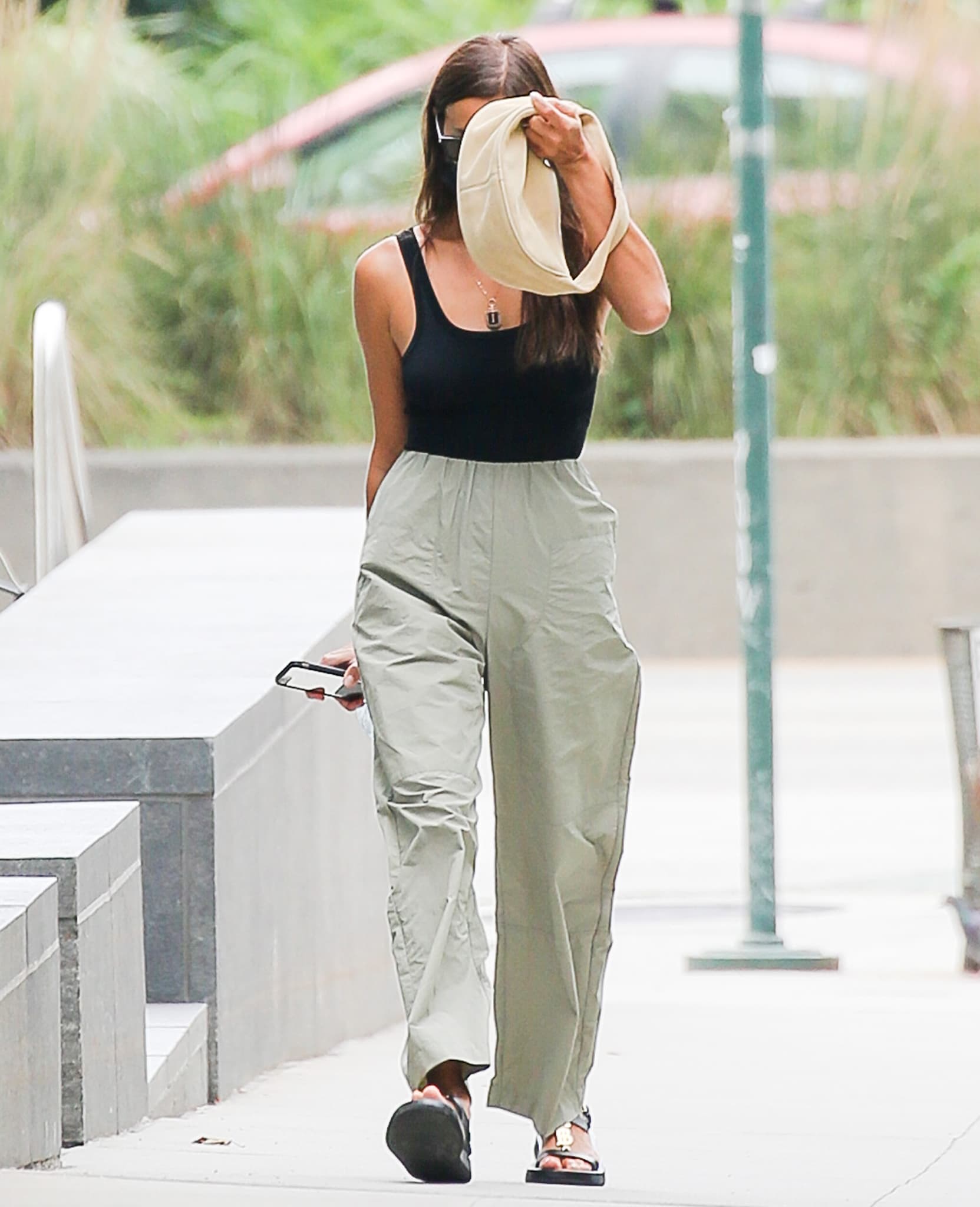 Irina Shayk shows off her model figure in a black bodysuit with olive green loose pants (Credit: Mega / WENN)
Hiding her face from the paparazzi with her beige suede bag, Bradley Cooper's ex looked chic as usual, styling her sexy casual ensemble with a large black pendant gold necklace.
She let her brunette tresses fall loose over her shoulder and hid her eyes behind a pair of Saint Laurent sunglasses.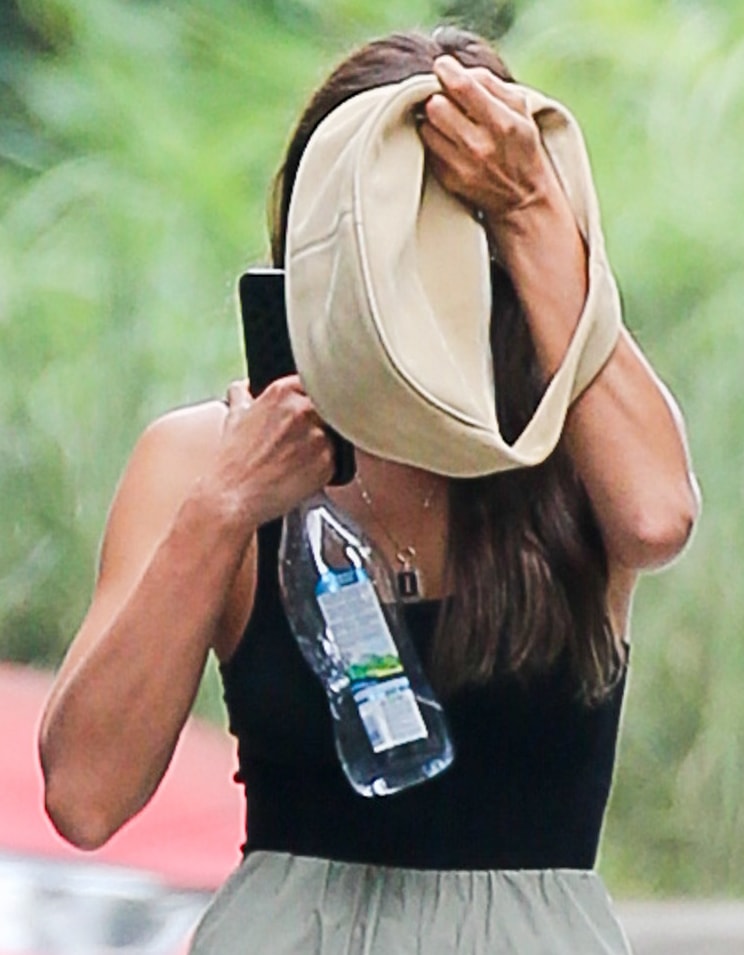 Irina Shayk hides her face from the paparazzi behind her beige suede bag (Credit: Mega / WENN)
Completing her comfy yet stylish outfit, Irina slipped into a pair of black leather sandals from British luxury fashion house Burberry.
They're crafted from buffed calfskin leather and feature a gold-tone TB logo plaque at the vamp. They also have open round toes, adjustable pin-buckle ankle straps, and orange buffed sheepskin footbeds.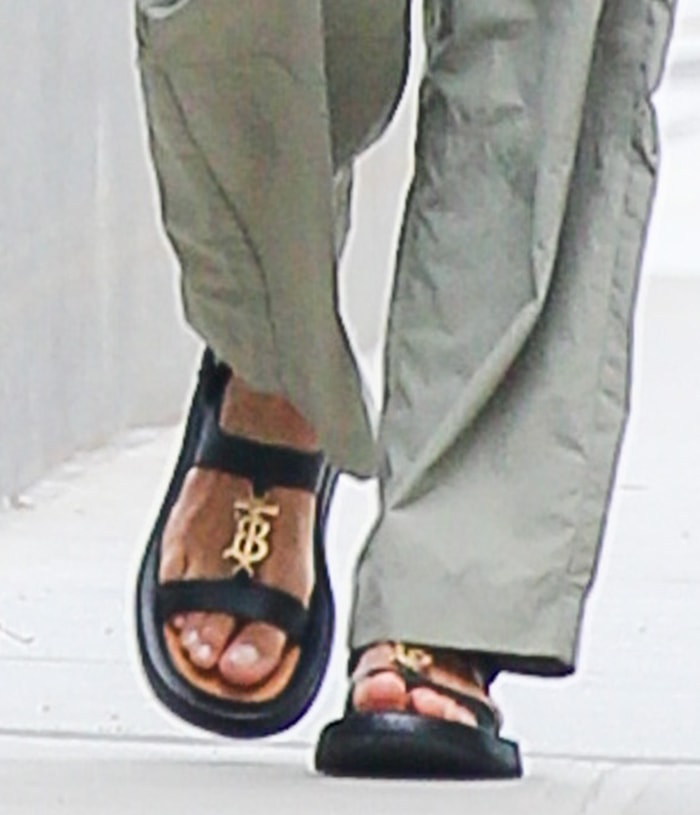 Irina Shayk completes her chic and sexy casual outfit by showing off her feet in Burberry logo-plaque sandals (Credit: Mega / WENN)
Burberry Logo-Plaque Leather Sandals, $770 at Farfetch
A casual flat sandal that features wide straps, a chunky sole, and Burberry's TB logo plaque
Are Kanye West and Irina Shayk Still Dating?
Her latest outing came a month after rumors surfaced that her relationship with Kanye is cooling off. Sources told Page Six that Irina turned Kanye down when he invited her to go to Paris for a couture show with him.
Explaining why Irina said no, the source said: "She likes him as a friend, but doesn't want a relationship with him. She doesn't want the association that they are dating, which is what would have run in the press if she showed up [in Paris with him]."
However, another insider told People that the two are "very much still dating" and that Irina isn't happy with the "lies about her and Kanye [cooling off]."
"Irina is so upset at the lies about her and Kanye." The source also dismissed rumors that the model turned down Kanye's invitation to Paris, saying: "That's just not true. Kanye went to Paris for the Balenciaga show to support Demna [Gvasalia]. He was in and out, only there for 3 hours."
We haven't seen Kanye and Irina together in weeks, but it's most likely because Kim Kardashian's ex has been busy finishing his long-awaited tenth studio album, Donda, at Atlanta's Mercedes-Benz Stadium, where he has been staying.
According to a Page Six insider, the Grammy winner already "has a contract in place with the venue to stay there while he finishes up his music." The source added that he has brought a private chef in the stadium along with a twin bed, a TV, and a small closet.
Donda was originally scheduled to be released on July 24 but was later delayed indefinitely.