Jenna Dewan-Tatum is no Olivia Palermo, but the girl definitely knows how to dress — whether it's for a simple errand or for the red carpet. She's one of the few celebrities who can actually put together a fabulous outfit without having to resort to a stylist. In fact, we have yet to see her do a fail — unless, of course, you count the ensemble she wore at LAX the other day a flop.
The actress' plane-ride style included a nautical striped tee worn over skinny jeans that were folded up at the ankles. She then capped off her look with a classic khaki trench, some dark sunnies, a tote, and a pair of light brown suede booties. The look was almost Parisian chic but, somehow, not quite. Check it out below, and you be the judge.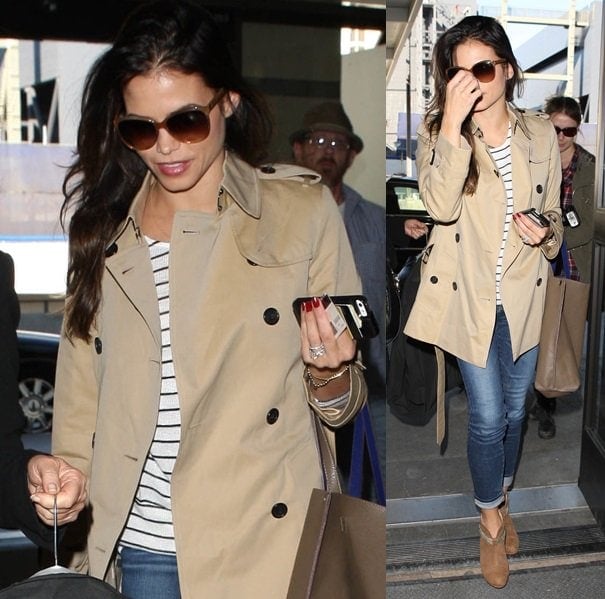 Jenna Dewan to catch a flight at LAX on January 14, 2014
Well, Parisian chic or not?
You know what? She looks good, and that's all that matters. She gave us her own take on French fashion by sporting Western booties with the outfit instead of, say, flats.
Speaking of the booties, those look quite familiar, don't they? They're the "Harrow" booties from Rag & Bone. Unlike the celebrity-favorite Rag & Bone "Newbury" Boots, these shoes have shorter shafts that feature a flattering silhouette detailed with a curved notch at the center front. They also come with contrast crisscross straps that wrap around the ankles and buttons for fastening. Below is a closer look at the Harrow for you: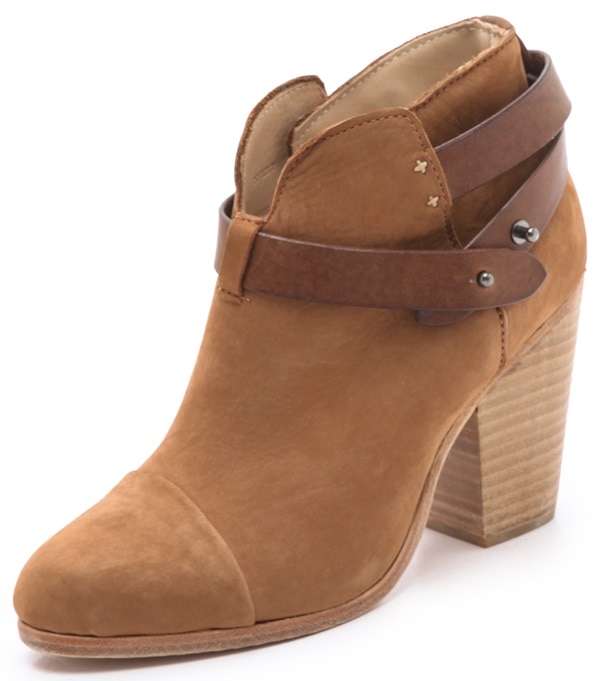 Rag & Bone "Harrow" Booties in Camel, $346.50 (before: $495)
Do you like these booties?
Their heels are a little taller than those of the Newbury — around 3.5 inches vs. the Newbury's 3.25 inches. If you want Jenna's booties, you can grab them for less at Shopbop. They're currently on sale — down to $346.50 from $495. You can have them in black suede, black leather, navy, and burgundy as well. 
Rag & Bone "Harrow" Boots in Black Suede, $346.50 (before: $495)
Rag & Bone "Harrow" Boots in Black, $495
Rag & Bone "Harrow" Boots in Port (Burgundy), $495
Rag & Bone "Harrow" Boots in Navy, $495
Credit: WENN