Every show has that one scene that gets talked about over and over and lives on in memes or video edits. For the new Netflix series Wednesday, the key scene can be found in the fourth episode entitled, Woe What a Night.
The highly-anticipated and latest iteration of The Addams Family puts the focus on sullen and delightfully macabre Addams daughter, Wednesday.
In the famous Rave'N Dance scene, she performs a brilliant routine to the 1981 song "Goo Goo Muck" by The Cramps.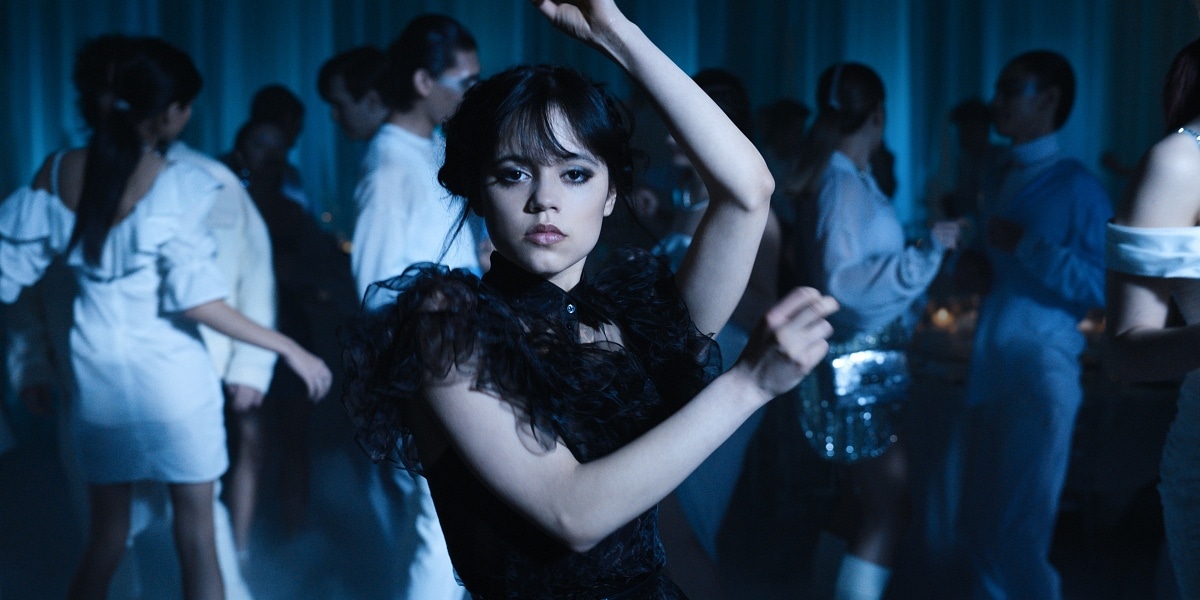 The famous dance scene in Wednesday has Jenna Ortega showing off her quirky dance moves inspired by a plethora of artists to the tune of "Goo Goo Muck" by The Cramps (Credit: Netflix)
Jenna Ortega, who plays the titular role, choreographed the routine herself and even confessed to being insecure about it.
She graciously thanked her influences on Twitter, mentioning Siouxsie Sioux, Bob Fosse, Lene Lovich, and even gothic dance club moves and the original 1960s Wednesday Addams played by Lisa Loring.
But did you know that she was battling COVID-19 while filming the important scene?
Dancing Through the Pain
Jenna Ortega admitted in an interview with NME that "it's crazy because it was my first day with COVID so it was awful to film."
She added: "Yeah, I woke up and – it's weird, I never get sick and when I do it's not very bad – I had the body aches. I felt like I'd been hit by a car and that a little goblin had been let loose in my throat and was scratching the walls of my esophagus. They were giving me medicine between takes because we were waiting on the positive result."
Jenna Ortega admitted to battling with COVID-19 while filming her quirky dance scene during Nevermore Academy's Rave'N Dance in episode four of Wednesday, entitled Woe What a Night (Credit: YouTube)
The production company behind Wednesday, MGM, sent a confirmation via email to NME that "strict COVID protocols were followed and once the positive test was confirmed production removed Jenna from set."
Jenna Ortega also mentioned that she "asked to redo [the dance scene] but [they] didn't have time." She also mused that she "probably could have done it a bit better…"
Bloody Mary
In other news, another song is getting the Stranger Things treatment, ala Kate Bush's "Running Up That Hill" and Metallica's "Master of Puppets" rising up the charts after being played on the fourth season of the popular series.
One would think it would be "Goo Goo Muck" by The Cramps, but it's actually "Bloody Mary" by Lady Gaga. The funny thing is, it wasn't even used in the actual Netflix series.
Jenna Ortega doing the infamous Addams Family snap in the delightfully sinister Netflix series, Wednesday (Credit: Netflix)
The popularity of the dance scene can be attributed to Jenna Ortega's brilliant performance, but also fans sharing the clip and even recreating the scene and using Lady Gaga's song as a soundtrack ten years after its release.
Clearly, the award-winning artist enjoys the attention that her song is getting, as seen in the cute interaction between the official Wednesday Addams account and Lady Gaga on Twitter.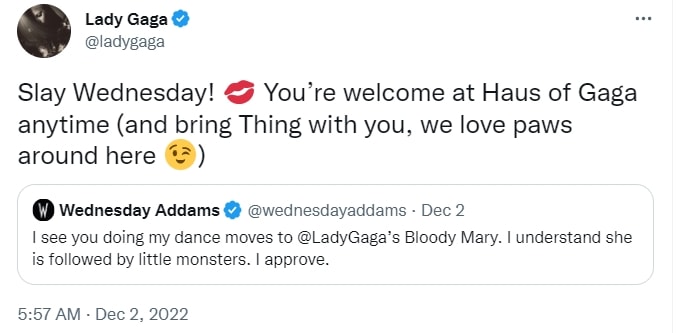 Lady Gaga and Wednesday Addams exchanging tweets