Her eco-friendly consumer goods business made a successful Nasdaq debut last year, raising $413 million in its IPO.
And just recently, Honest Beauty launched a new product, which Jessica Alba described as a must-have beauty item: concealer.
She revealed on the Today Show, "The one product I would say I always have in my bag is definitely concealer for touch-ups. I have dark circles naturally; they run in my family; I was born with them," she said.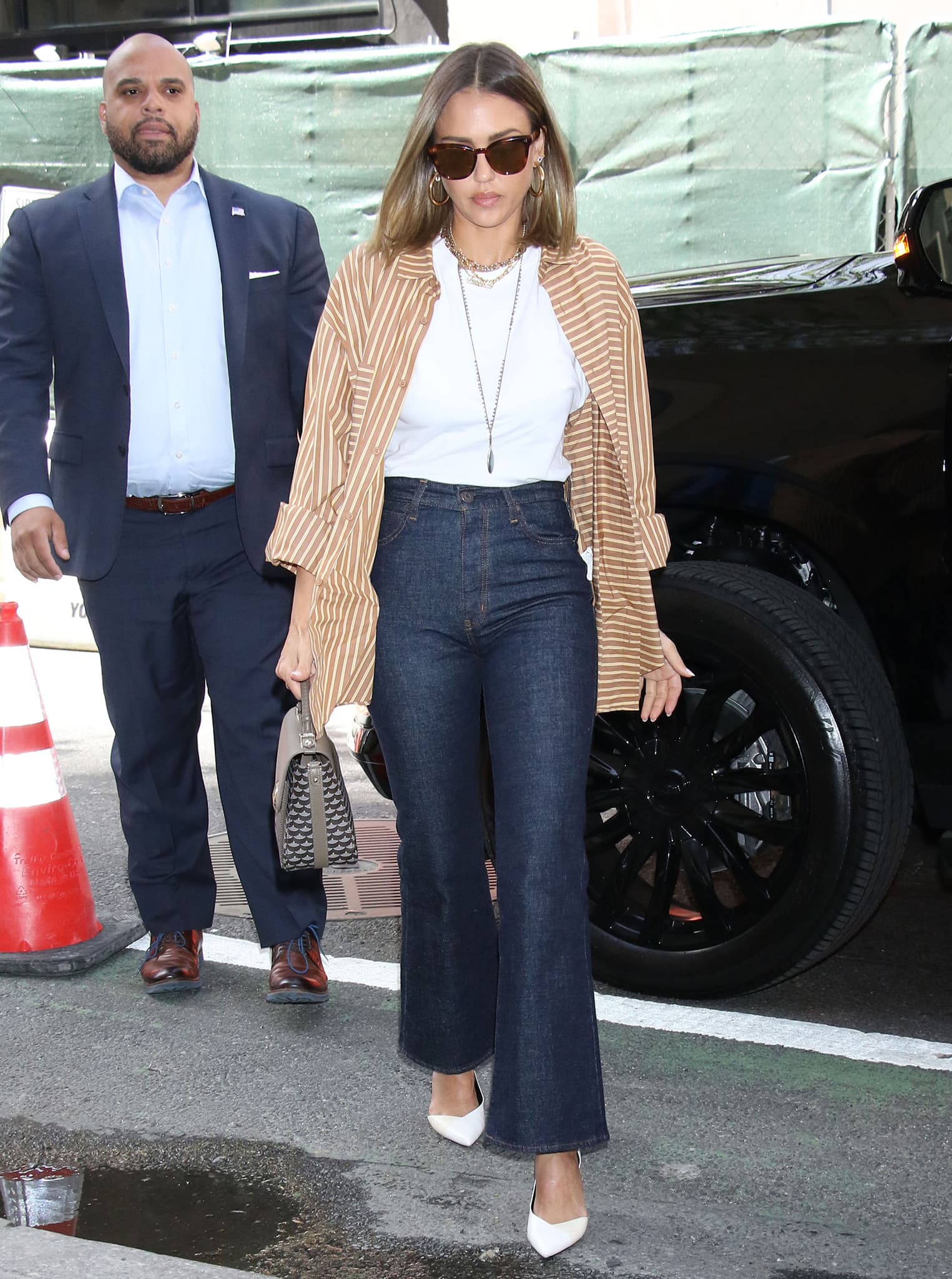 Jessica Alba's Honest Beauty Company recently launched its first concealer, the Fresh Flex Concealer (Credit: ROGER WONG / INSTARimages)
Honest Beauty just introduced its first-ever concealer, called the Fresh Flex Concealer, which comes in 16 shades.
Retailing for $21.99 at Honest, the concealer is reportedly made with skincare ingredients, including two types of hyaluronic acid, shea butter, niacinamide, and vitamin E, and Honest Beauty's Clean Power Technology for lasting wear.
"There are different parts of your face that you're going to want to shade a little bit differently. Around my hairline is usually kind of the darkest, under my eyes and up sort of in my T-zone I like it to be a little bit brighter."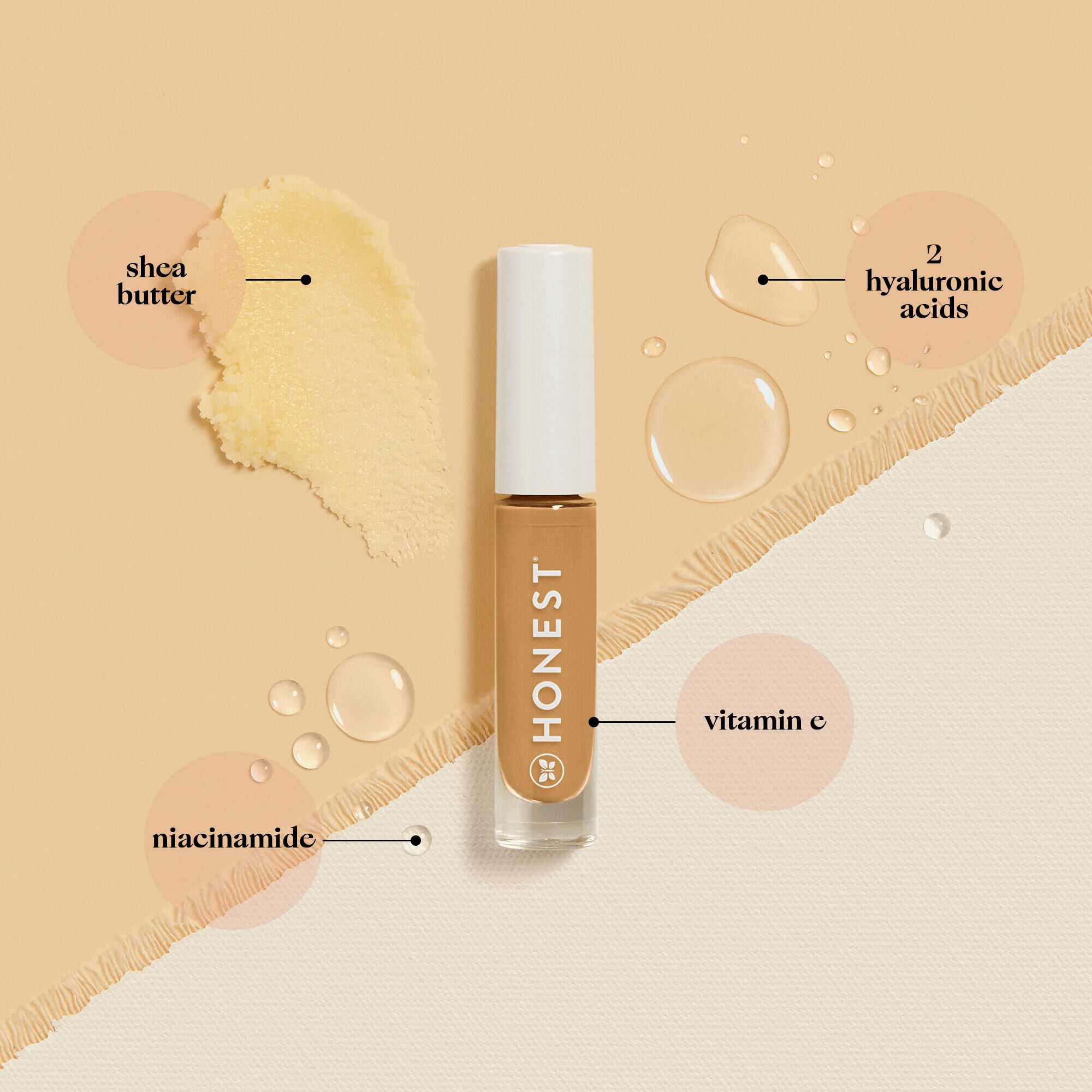 The Fresh Flex Concealer comes in 16 shades and is made of skincare ingredients and Honest Beauty's Clean Power Technology (Credit: Honest)
Aside from concealer, the Fantastic Four star also credits her healthy skin to her workout "whether it's you know yoga, or it's a spin class, or you know interval training."
"I have to say meditating just helps me connect with my heart and shut off a lot of the chatter in my head and ground me." She also added that she drinks "lots of water."
"Obviously having great beauty products and sleeping really helps, but you do have to, I think, practice those holistic things that make you healthy; otherwise, it doesn't really matter what kind of cream or makeup you have."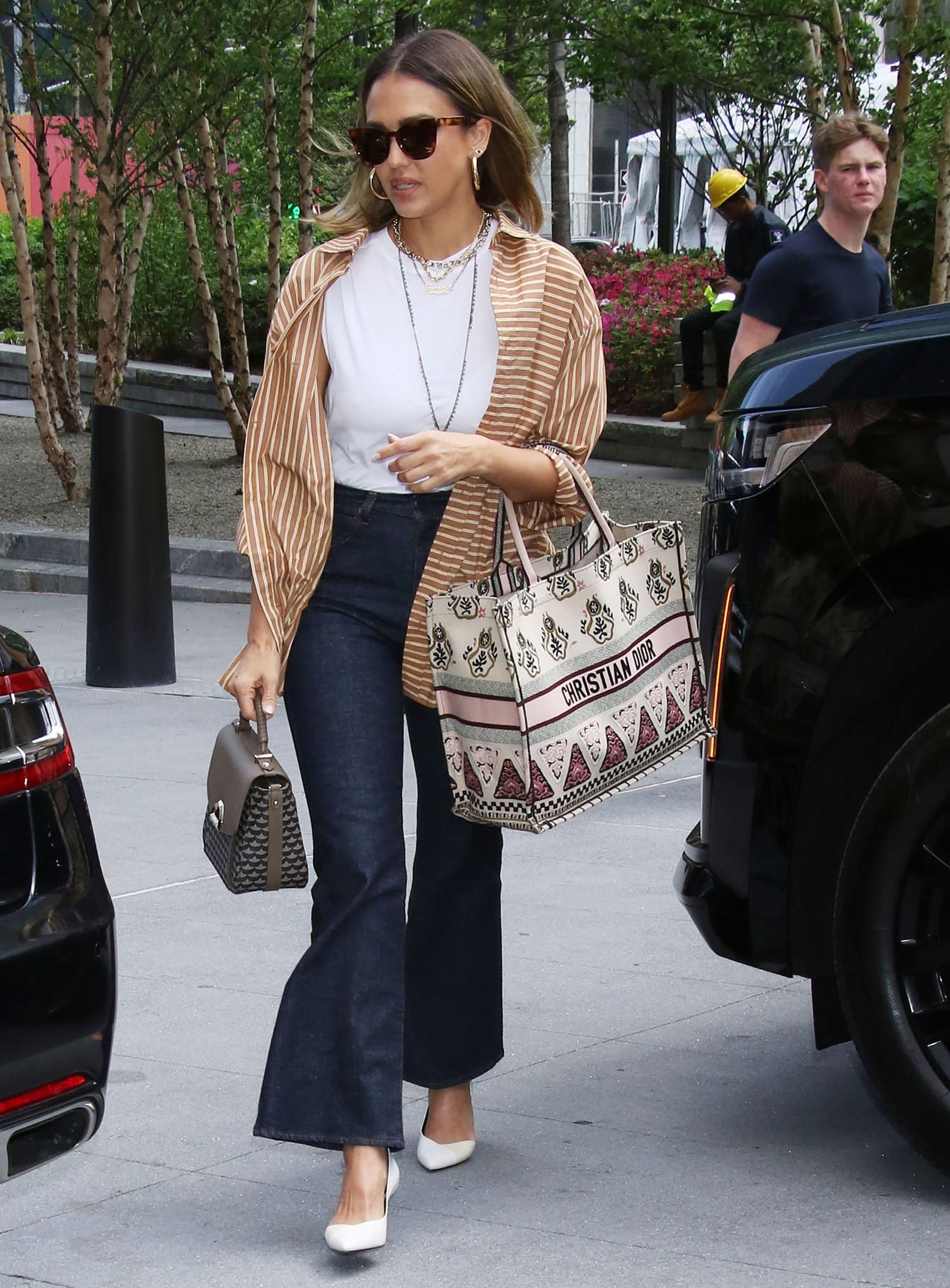 Jessica Alba heads to the Today Show to talk about Honest Beauty's new Fresh Flex Concealer (Credit: ROGER WONG / INSTARimages)
"I didn't want to test these weird chemicals on me or my child," Alba said about starting her company Honest, "I believe in transparency and having ethical products."
Ahead of her interview, the Camp Nowhere actress was pictured arriving at the studios in a business-casual ensemble.
She wore a plain white tee underneath a chocolate brown striped shirt from Dissh, an Australian fashion brand founded by Lucy Henry-Hicks.
She tucked her t-shirt into a pair of high-waisted dark-wash flared jeans that accentuated her curves and finished the ensemble with white pointed-toe pumps.
Jessica Alba opts for business-casual in a white tee, Dissh's striped shirt, and flared jeans (Credit: ROGER WONG / INSTARimages)
Elevating her more relaxed business look, the Honey star layered several necklaces around her neck and further styled with $350 Jennifer Fisher Baby Samira gold hoop earrings.
She then carried a $2,230 Faure Le Page Parade Soft 23 bag in one hand and slung a Dior Book tote over her other arm.
Shielding her eyes behind a pair of tortoiseshell sunglasses, Jessica completed her beauty look with nude lipstick, bronzer, pink blush, and straightened honey locks.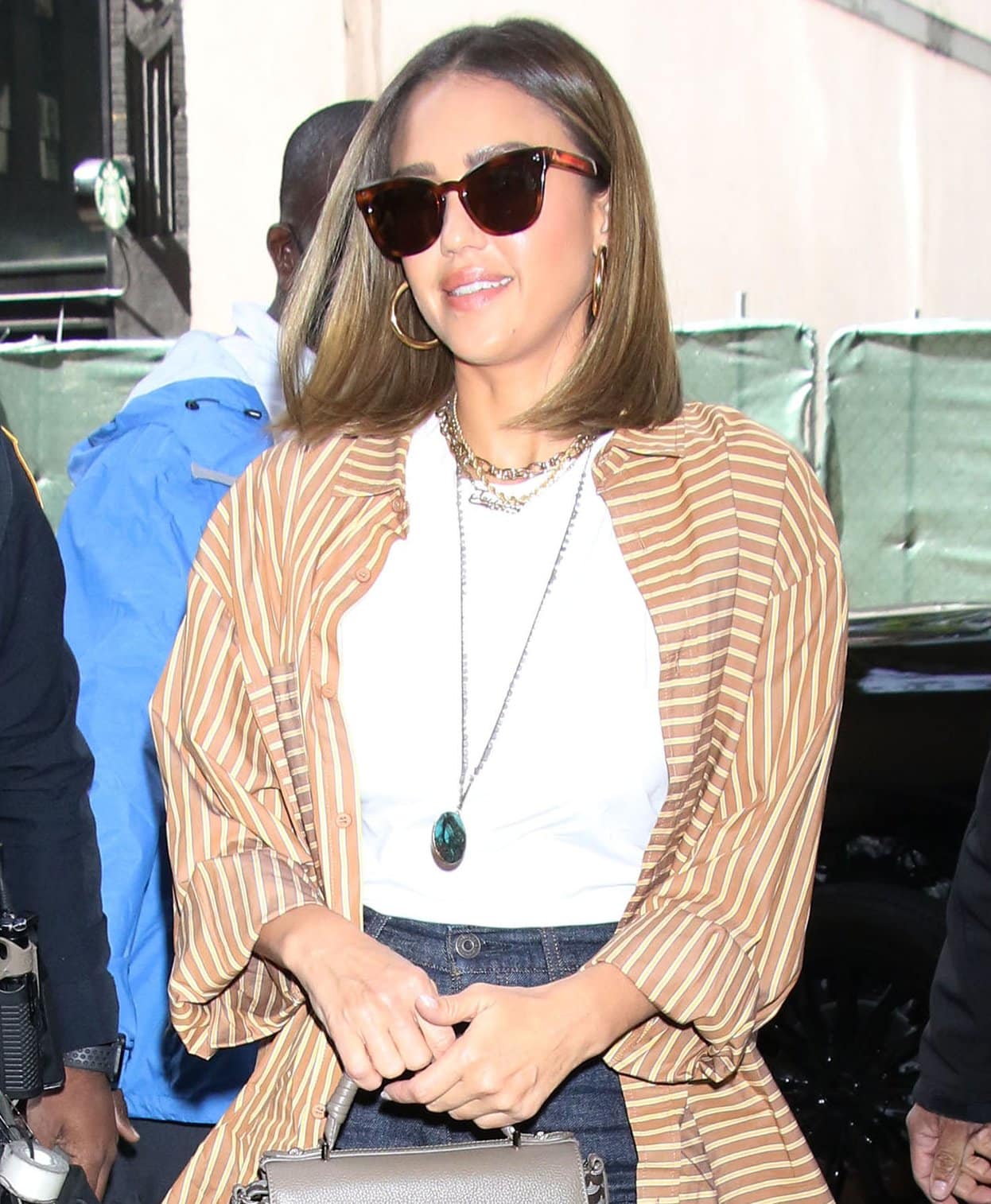 Jessica Alba elevates her relaxed business outfit with several necklaces and Jennifer Fisher earrings (Credit: ROGER WONG / INSTARimages)
Jessica Alba has got to be a superwoman. Between shooting and promoting her television and film projects, managing a $1 billion company, and taking care of her family, Jessica still finds time to ensure she's there for her children's seemingly mundane but important moments.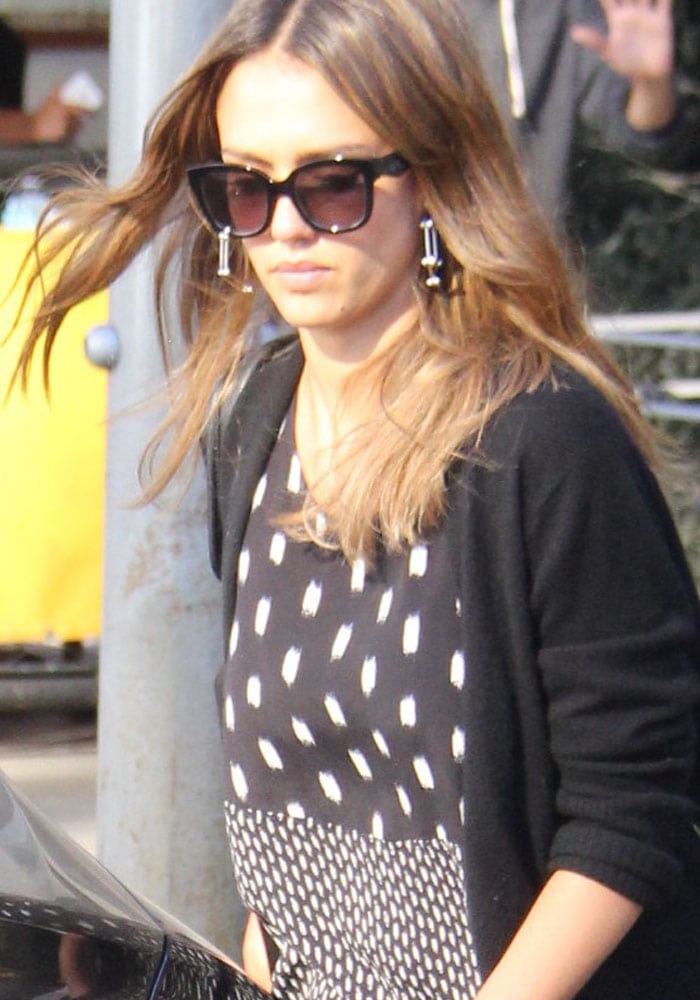 Jessica Alba shows off her Adornmonde Ra silver geometric hoop earrings (Credit: WENN)
In August 2016, Jessica took her two daughters, Honor and Haven, to a toy store in Beverly Hills.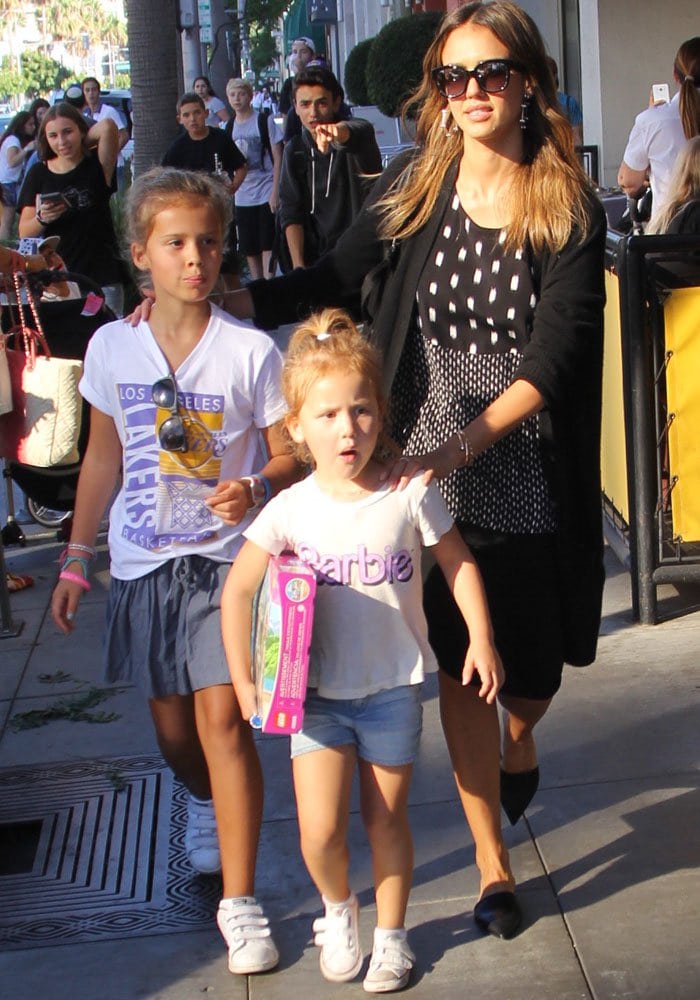 Jessica Alba goes shopping with her two daughters Honor and Haven at Tom's Toys in Beverly Hills on August 16, 2016 (Credit: WENN)
Just a few days earlier, Mechanic: Resurrection premiered in Hollywood. She stars in the film with Jason Statham, Tommy Lee Jones, and Michelle Yeoh.
"I've never met anybody like him," Jessica said about her co-star Jason Statham.
"He has such discipline, his body awareness, and the physicality and what he expects of himself. He's really operating on level two hundred percent all the time, and so for me, it was great to see someone who takes their job that seriously. He's going to work and he cares, he's passionate and really wants it to be good. He does the action like I've never seen in my life."
Jessica wore a knitted black-and-white shift dress underneath a black cardigan for her casual day out with the girls.
Jessica Alba slips her feet into a pair of Narciso Rodriguez "Athena" mules (Credit: WENN)
The actress styled her look with a pair of sunglasses, an "Honest City" backpack from her own brand Honest Company, a pair of geometric silver earrings from Adornmonde, and "Athena" mules from Narciso Rodriguez in black.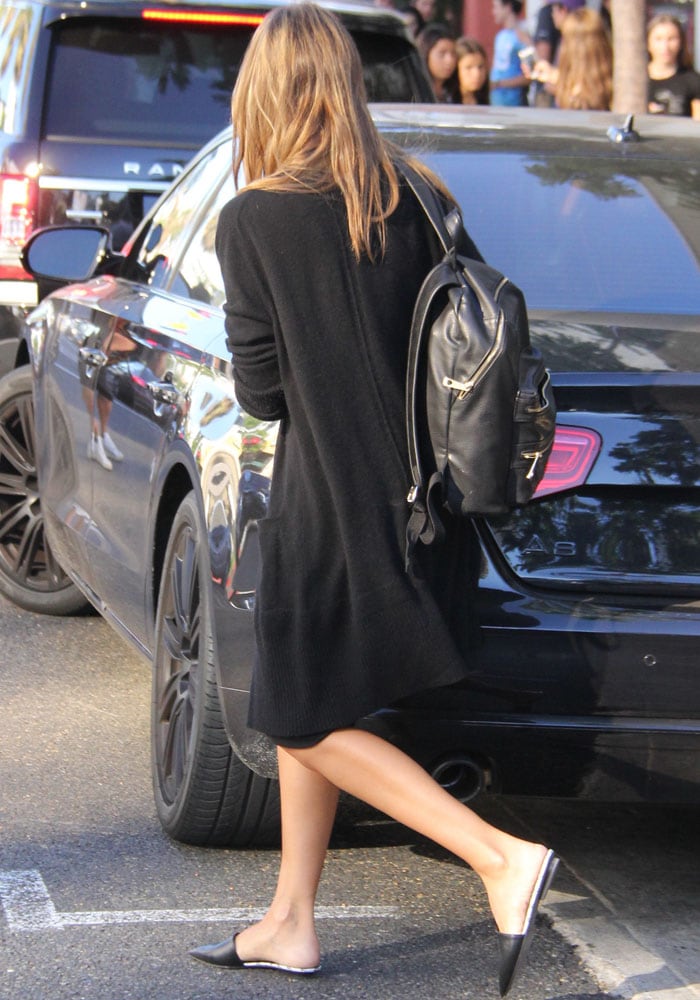 Jessica Alba shows off her black The Honest Company Honest City backpack (Credit: WENN)
Jessica made it a point to bring her girls to the toy store herself. Since Haven, who had just turned five, was the only one pictured with a purchase, we're guessing she took Haven out to pick a birthday gift.
The actress-turned-entrepreneur uploaded a montage of Haven's watermelon-themed fifth birthday on her Instagram.
Jessica's Narciso Rodriguez "Athena" mules were also available in watersnake print but have unfortunately sold out.
Narciso Rodriguez "Athena" Watersnake Point-Toe Flats, $695