On November 11, the Pacific Design Center in Hollywood radiated with glamour and grace, setting the stage for the 13th annual gala hosted by the Baby2Baby organization in collaboration with the esteemed haircare brand Paul Mitchell.
This star-studded event, attended by luminaries like Kim Kardashian, Hailey Bieber, and Chrissy Teigen, had a dual purpose — to raise funds for impoverished children and to celebrate the achievements of the non-profit organization, established in 2011 with an unwavering commitment to ensuring every child receives the fundamental necessities they deserve.
One of the distinguished board members of Baby2Baby, Jessica Alba, captivated onlookers with her dazzling presence at the gala.
The 42-year-old American actress adorned herself in a strapless, silver Tamara Ralph couture gown, a stunning piece from the Australian-British fashion designer's Fall 2023 collection, making her a standout figure amidst the star-studded gathering.
Jessica Alba making a shimmering entrance in a silver Tamara Ralph Fall 2023 couture gown at the 2023 Baby2Baby Gala held at the Pacific Design Center in Los Angeles, California on November 11, 2023 (Credit: Abaca Press / INSTARimages)
Alba's shimmering ensemble, adorned with all-over sequins, showcased silver brilliance and featured eye-catching gold stripes, resulting in a captivating blend of sophistication and allure.
Complementing this dazzling outfit were metallic gold Aquazzura platform sandals with stacked soles and tall heels, infusing an element of drama to her red-carpet appearance.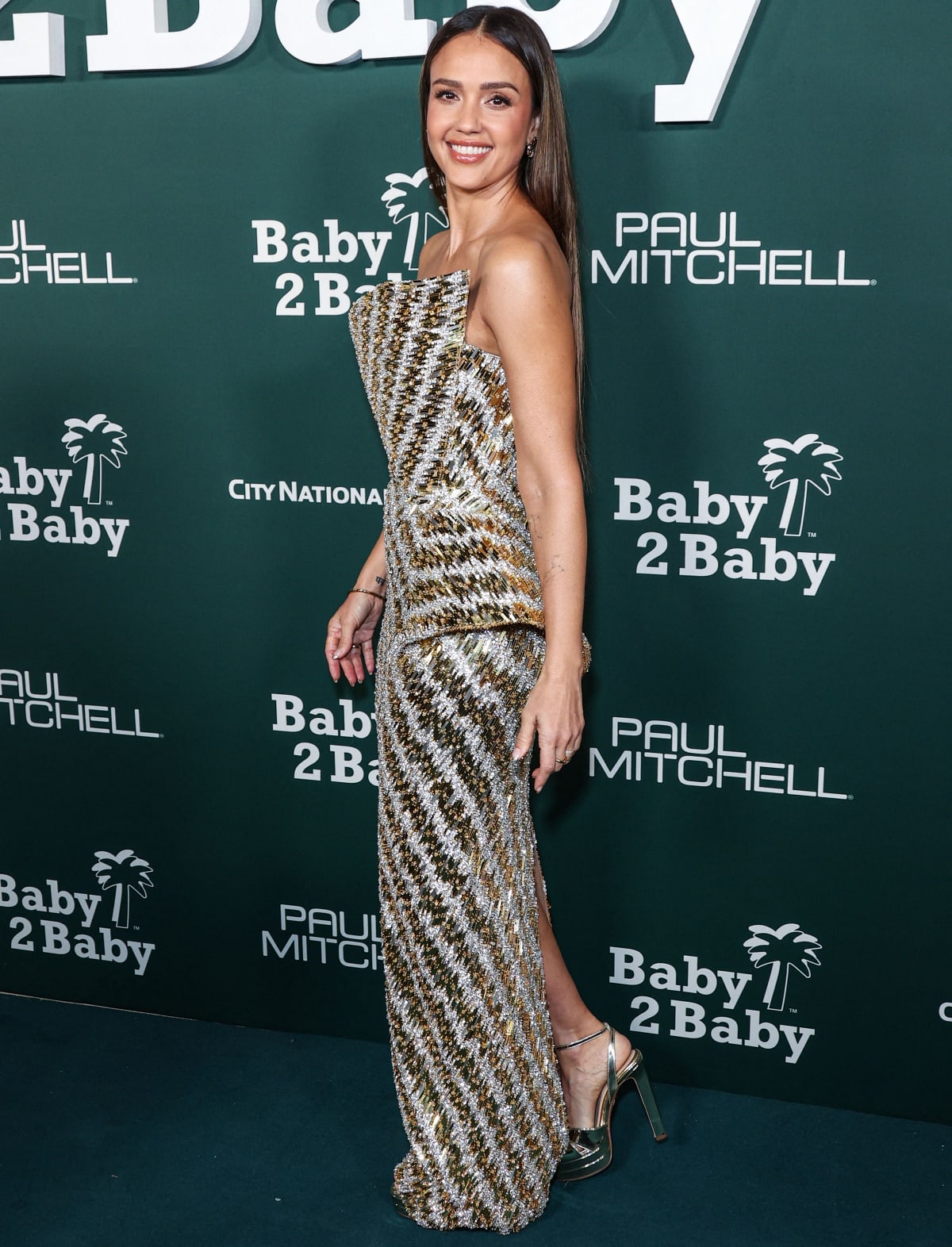 Jessica Alba wearing Aquazzura platform sandals for a stylish boost (Credit: Abaca Press / INSTARimages)
Choosing to keep accessories to a minimum, the Fantastic Four: Rise of the Silver Surfer star allowed her gown and radiant presence to take center stage.
Dainty hoop earrings, a skinny bangle bracelet, and a few delicate rings were the only embellishments she adorned, while a matching golden Dolce & Gabbana clutch held the night's essentials.
To complete her look, Alba opted for a glossy, chocolate brown pout coupled with a shimmering, monochromatic makeup look. Pink eyeshadow and blush added a healthy, radiant flush, showcasing her ageless beauty.
For her hair, the Idle Hands actress let down her brunette tresses in a pin-straight, silky style.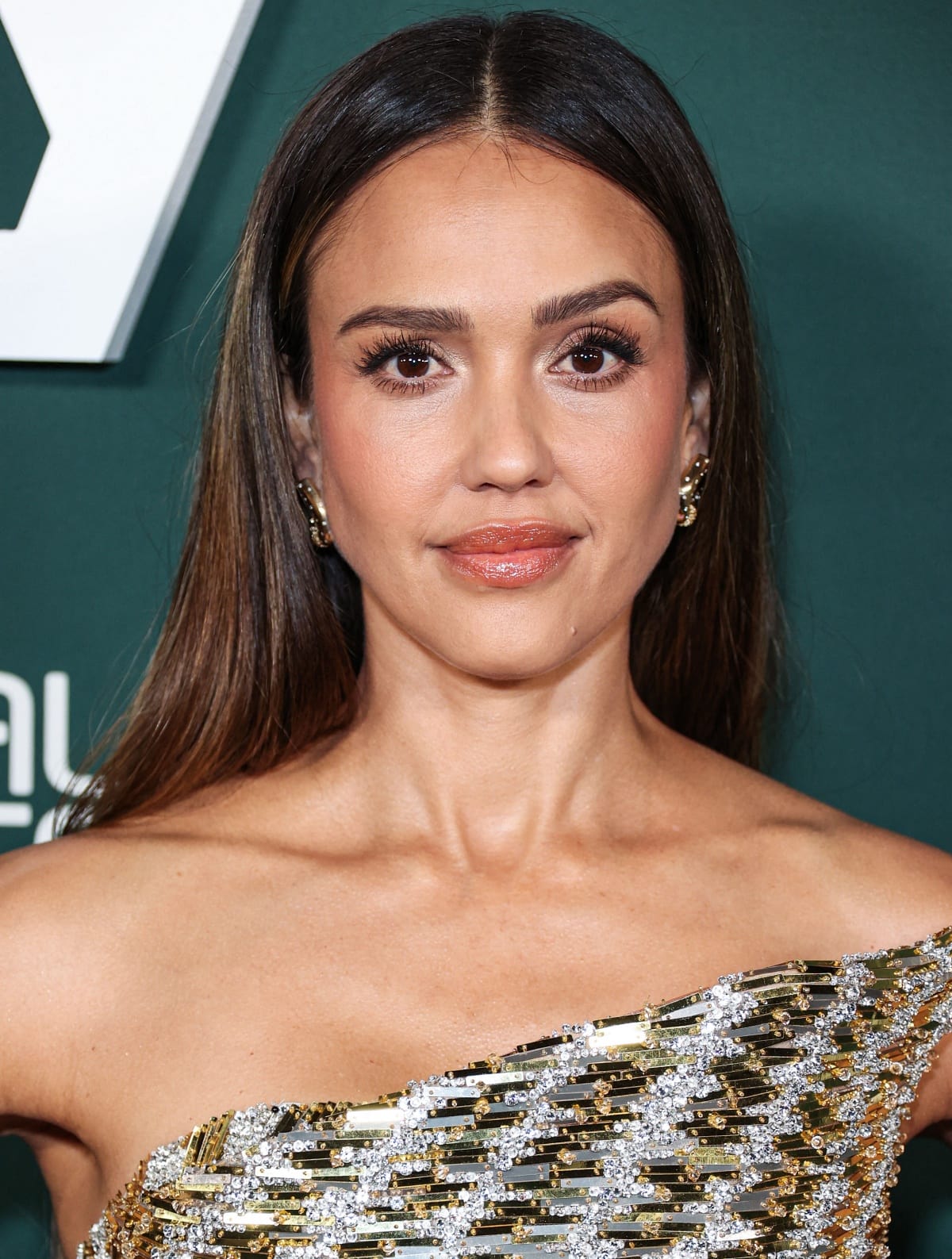 Jessica Alba's beauty look consisted of a glossy chocolate brown lip, pink eyeshadow and blush, and pin-straight brunette hair (Credit: Abaca Press / INSTARimages)
As an ambassador and founding member of Baby2Baby, Jessica Alba took to Instagram to share her joy after the gala, posting a carousel of photos from the event, including snapshots with other A-list attendees such as Kim Kardashian, Vanessa Bryant, Kelly Sawyer, and Salma Hayek.
View this post on Instagram
In her post, Alba expressed, "Incredible night @baby2baby annual gala! I'm so proud of @kellysawyer and @norahweinstein who work relentlessly all year long to provide essentials for children living in poverty 🤍🫶🏽✨," showcasing her deep pride in the organization's tireless efforts throughout the year.
She continued, "Over the last 12 years, #Baby2Baby has provided over 375 million basic essentials to children living in poverty across the country. It is such an honor to be part of such an impactful organization 🙏🏽 ."
Additionally, Alba extended congratulations to Salma Hayek, concluding her post with, "Congratulations to the queen @salmahayek on receiving the Giving Tree Award for her dedication to women and children in need – te amo ❤️ And a huge thank you to all of the incredible sponsors for making this evening possible – @paulmitchell @CityNationalBank and @VolvoCarUsa 🙌🏽."
Jessica Alba is one of the distinguished board members of Baby2Baby and a past honoree of the Giving Tree Award (Credit: Media Punch / INSTARimages)
The Giving Tree Award is an esteemed accolade reserved for public figures dedicated to improving the lives of underprivileged children.
Past honorees include Jessica Alba, Amy Adams, Drew Barrymore, Vanessa Bryant, Jennifer Garner, Kate Hudson, Gwyneth Paltrow, Chrissy Teigen, and Kerry Washington.