If we were as busy as Jessica Alba, it would be impossible for us to look chic all the time. It's amazing to see how the multitalented actress keeps up with her demanding schedule as a mom, a businesswoman, an author, and a wife. How does she do it, ladies?
On Wednesday morning, the 32-year-old multihyphenate was spotted running errands in West Hollywood, California.
Jessica Alba spotted running errands in West Hollywood, California, on July 10, 2013
Most working moms tend to wear office clothes composed of structured blouses and trousers. Jessica Alba is lucky that she can wear anything she wants in her line of work as an artist. For a day full of errands, she wore something casual — a printed white top by Zoe Karssen, faded black track pants by Ragdoll Los Angeles, basic flats, a floppy hat, and a scarf. Despite donning a simple look, she made it covet-worthy by toting a monochromatic Michael Kors 'Miranda' handbag.
Jessica's style has always veered more towards the feminine side, opting for flowy tops, printed pants or billowy maxi skirts and dresses, so it's quite refreshing to see her in something that's not usually up in her alley. Aside from her ability to turn sweatpants into something really chic, the actress wore a *gasp* graphic tee. While the overall execution was still pretty much feminine, we can't get over the fact that Jessca Alba actually put on a graphic tee, and of Batman, at that.
Okay, so maybe Zoe Karssen did not exactly plaster a comic book rendition of Batman on one of her tees but rather a chic caricature version of him, which in general makes the look easier to pull off. But still, Jessica Alba, graphic tee, sweatpants and stylish all in one sentence? Some form of sorcery definitely happened here. Jessica pulled the entire look together with an oversized watch, hat, sunnies, a striped scarf, and a pair of lace flats. Voila! I present to you, my dear ladies, a look we'd like to dub as errand-fierce.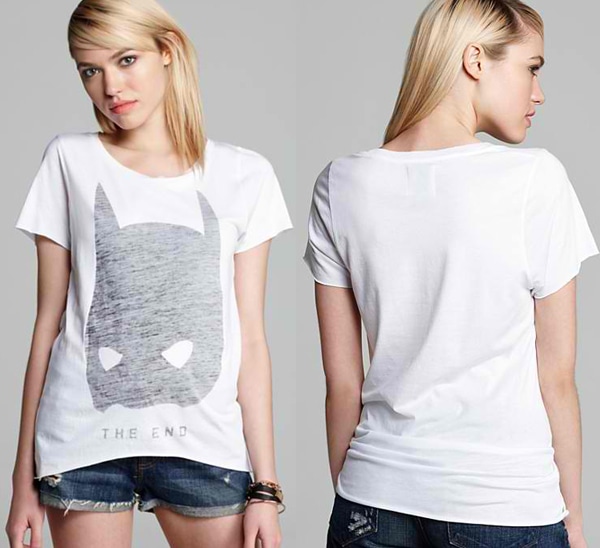 Zoe Karssen Tee – The End Oversized Loose Fit, $88
Credit: Owen Beiny / WENN