Let's talk about another Jessica today — Jessica Biel. The actress' new movie, The Truth About Emanuel, recently premiered at ArcLight Cinema in Hollywood.
For the event, Mrs. Timberlake wore a three-piece outfit that included a leather jacket, a cropped top, and a full knee-length skirt — all in varied textures of black. We can't say it was her best look ever because the ensemble made her seem a little on the wide side, but she pulled it off well enough, thanks to a fantastic pair of heels.
Jessica's pumps were pointy, wrapped in mesh, and sprinkled with spots all over. In fact, you could say they were the prettiest pair of pointy pumps we have seen (so far) this week.
Jessica Biel at the premiere of her new movie, The Truth About Emanuel, for Tribeca Film at ArcLight Cinema in Hollywood, California, on December 4, 2013
A closer look at Jessica's spotted mesh pumps
Do you like Jessica's latest red carpet style? We think she could have done better.
As for her pumps, we found out that they're from Bionda Castana, dubbed as the "Daphne Bis". They're actually crafted from lace, not mesh, and feature round appliques (which look like leather) that follow a camouflage pattern. These shoes are also quite high, with heels running at 4.7 inches (or 120 mm) tall. And because the shoes don't have platforms, you will literally be teetering in them.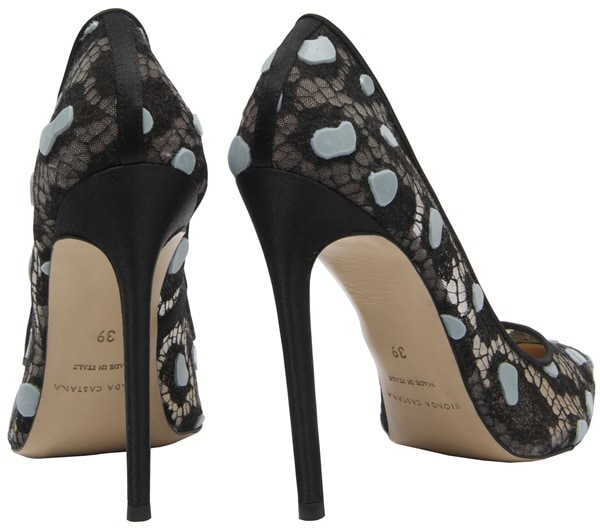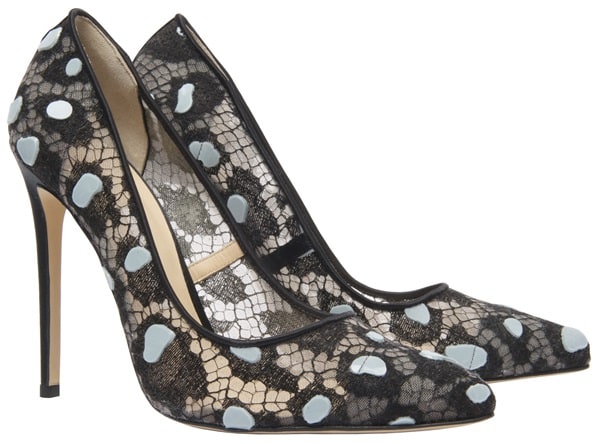 Bionda Castana "Daphne Bis" Lace Pumps, $942 at Bionda Castana
If you like what you see and you can afford to buy expensive designer goodies, you can grab a pair of these pumps from the Bionda Castana website. They retail close to a thousand dollars.
Credit: FayesVision/WENN