41-year-old professional hot chick Jessica Simpson has done a number of questionable — albeit usually iconic — things during her 20-year career in the public eye.
For example, does anyone remember Dessert, her uber 2000s line of edible (edible!) perfumes, lotions, bodywash, and shampoo, with the tagline, "sexy girls want a taste"? Very questionable, but very iconic.
Jessica Simpson released her edible Dessert beauty products line in 2004 (Credit: LK / WENN)
The "I Wanna Love You Forever" singer's most recent foray into the dubious occurred this week when Simpson revealed that she had partnered with Flonase, a corticosteroid nasal spray meant to alleviate allergy symptoms.
Though the former Dukes of Hazzard actress has fully embraced her new "healthy aesthetic mom" image, the collaboration is a bit strange when you consider her previous endorsements, which mainly consist of fashion, beauty, fragrance, and children's brands.
View this post on Instagram
As odd as the Flonase endorsement is in the first place, the strangest part about this whole debacle is the now-deleted video Jessica Simpson posted to her Instagram profile about the partnership.
In the video (which is no longer on her page, but you can watch a repost of it below), the fashion designer's behavior seems abnormal when compared to her usual, put-together appearance.
Though being slender, she appears noticeably gaunt in the video, and her gaze is rarely on the screen. In fact, it appears that there isn't much behind her eyes at all as she stumbles over her words.
While holding a bottle of Flonase, Simpson begins by discussing climate change and the wildfires which ravaged Los Angeles in the last few years before setting her sights on allergies, which she refers to as "invisible monsters."
During the short video's script, the actress spends more of her time gazing off-screen with a dazed look than she does making eye contact with the camera.
As expected, the video did not go over well on the world wide web. Simpson's followers immediately began flooding the star's page with comments about her "fidgety", "unprofessional", and "concerning" behavior.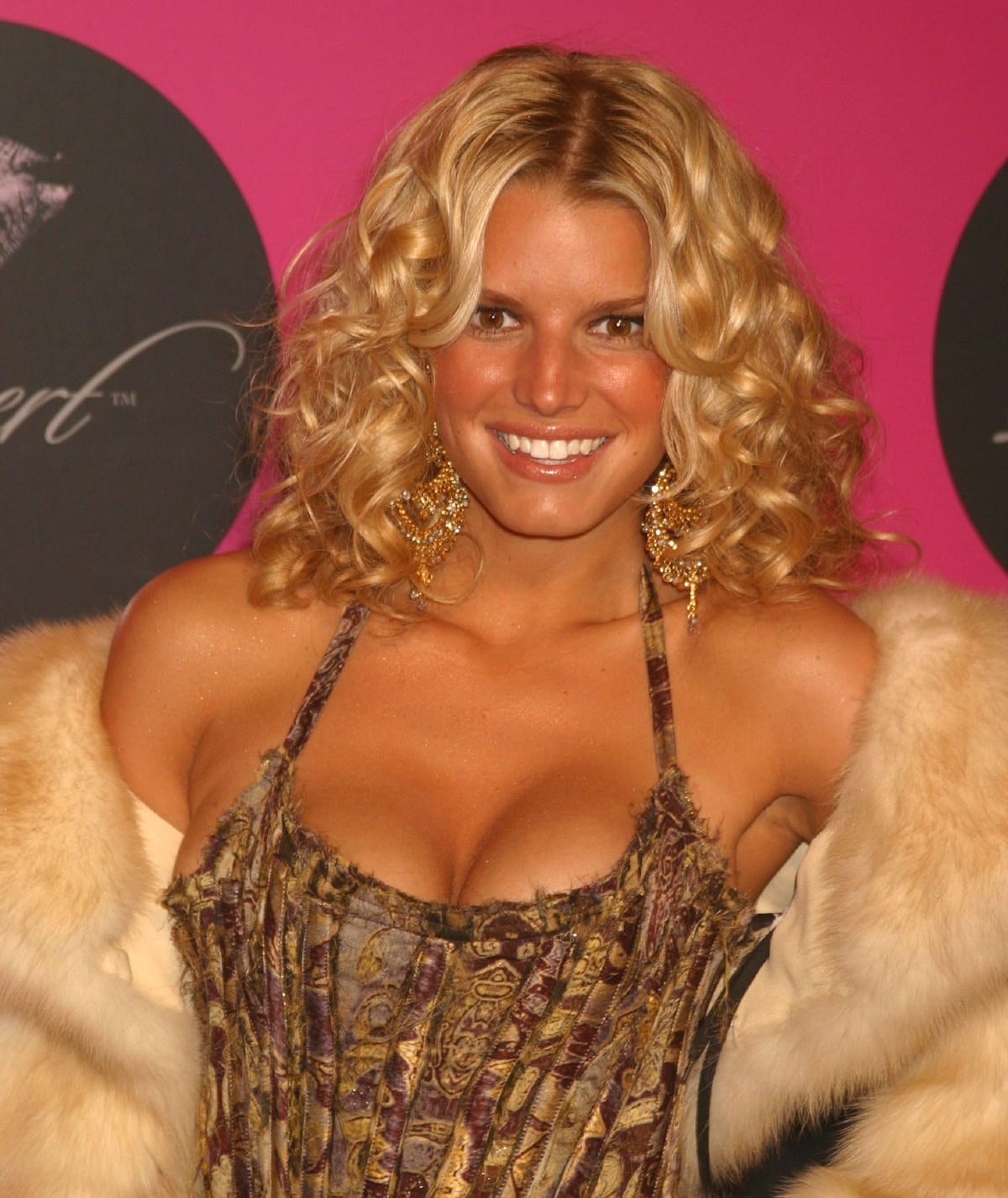 Jessica Simpson at her Dessert Beauty Launch Party at Marquis on April 23, 2004, in New York City (Credit: LK / WENN)
Some commenters thought that Jessica Simpson was simply unprepared for the video.
"Really that's the worst add [sic] / commercial by you. With ur eyes all over the place. You couldn't memorize the cue cards for a simple add [sic]?" one user wrote.
"Damn either hold the cue cards at eye level next time or have her memorize the script next time. This was awful," said another.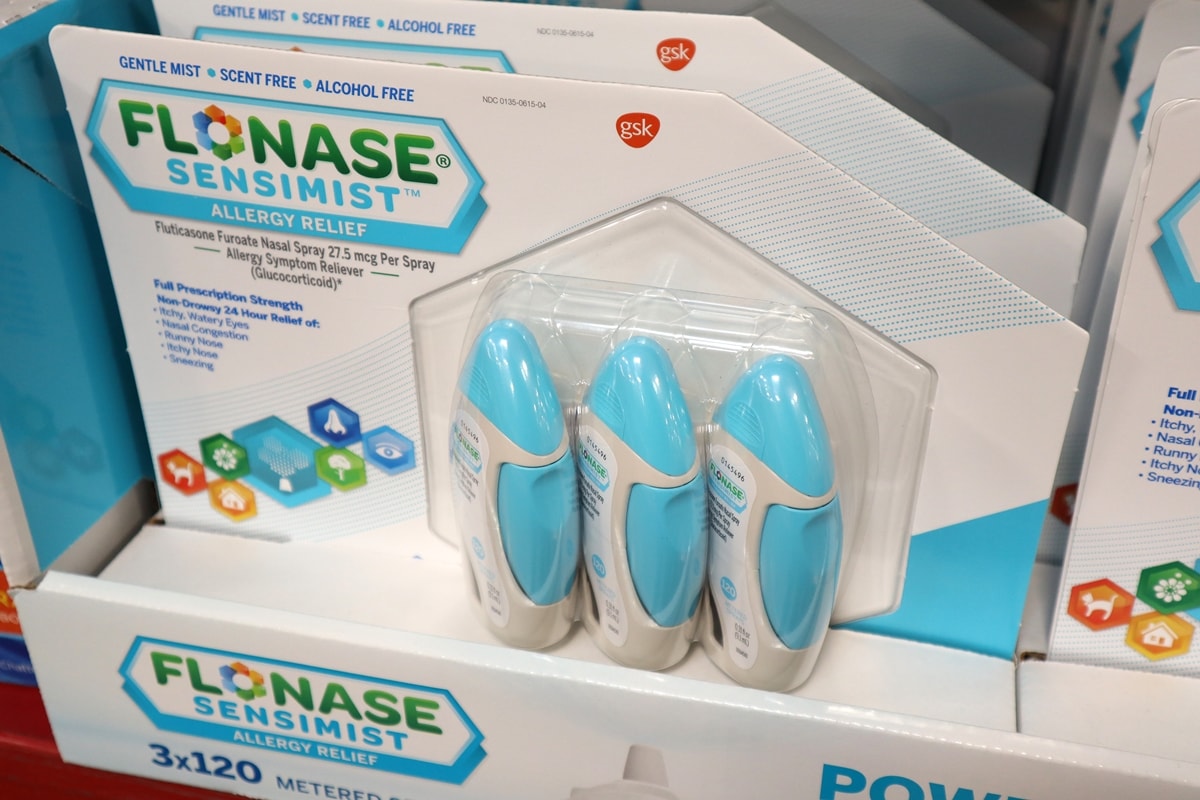 Singer-songwriter Jessica Simpson went viral with her ads for Flonase nasal spray advertisement (Credit: Eric Glenn / Shutterstock)
However, other fans were far more concerned about the star, some even referencing Simpson's prior addictions to pharmaceuticals and alcohol.
"Omg her commercial was awful she slurs her words and she's Soo reading cue cards omg something is up with her. It was so odd…" one fan wrote.
Yet another commenter wondered if she was on drugs, writing, "Hope you are ok, you seem to be on something, definitely odd behavior."
Jessica Simpson's word-slurring Flonase ad sparks concern from fans (Credit: Flonase / Jessica Simpson's Instagram)
In light of the brutal comment section, the video was removed from Simpson's page. All that remains is a single, heavily-filtered photo of the actress smiling as she brandishes a bright green bottle of Flonase.
There is no doubt that Simpson behavior's in the video was out of the ordinary, but we're hoping that it isn't because of our worst suspicions. Perhaps she just took too much Flonase — the spray does act similarly to pseudoephedrine, which can make you feel jittery.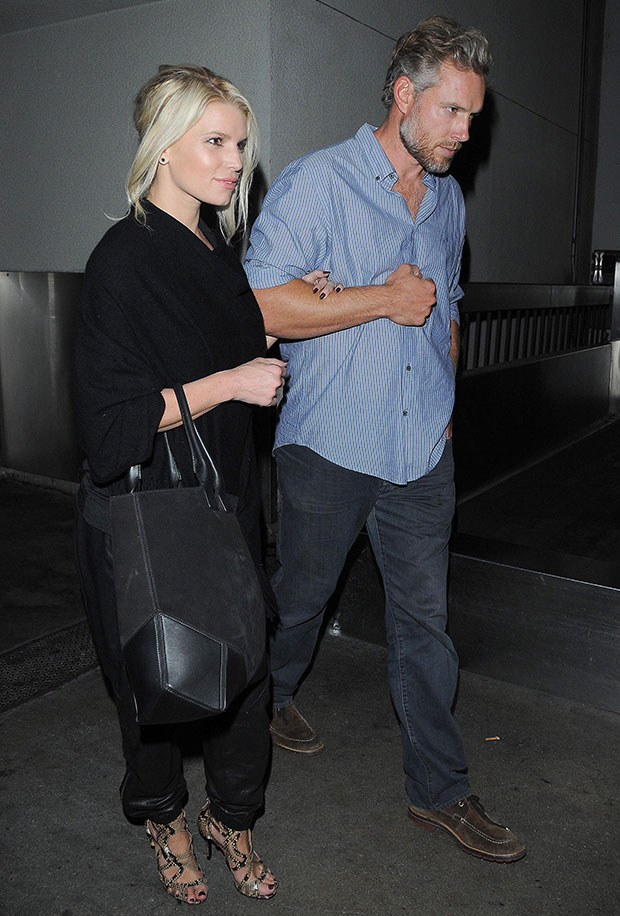 Jessica Simpson and Eric Johnson at Los Angeles International Airport, commonly referred to as LAX, on October 2, 2014 (Credit: WENN)
On an early Thursday morning in October 2014, Jessica Simpson arrived at LAX airport with her husband Eric Johnson after a quick trip to New York City.
Clinging to her husband's arm while sashaying through the terminal, the mom-of-two kept it low key in a black top with a fringed scarf and a pair of loose-fitted leather trousers.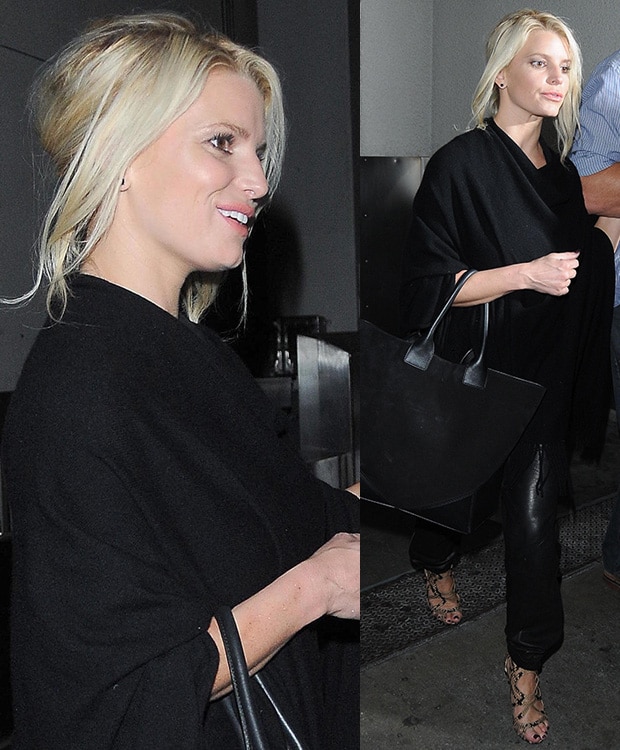 Jessica Simpson styled her python sandals with loose-fitted leather pants (Credit: WENN)
She also carried a large Givenchy tote on her other arm and finished her look with a pair of snakeskin sandals.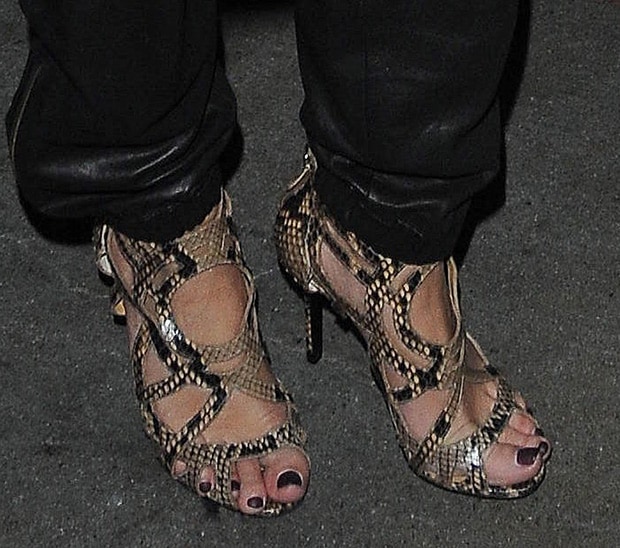 Jessica Simpson displays her pedicured toes in python high heels (Credit: WENN)
Jessica's snakeskin shoes are by Nicholas Kirkwood. They are made of python skin and feature a laser-cut design with open toes, back zip fastenings, and 4.25-inch heels.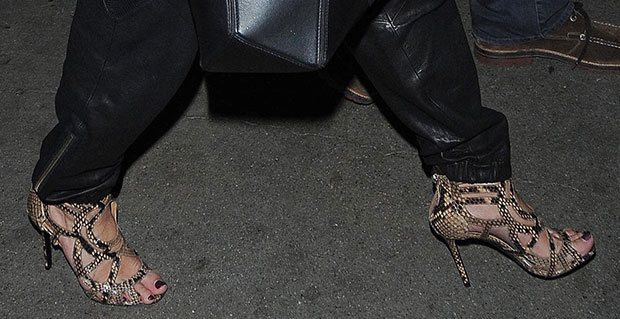 Jessica Simpson shows off her feet in Nicholas Kirkwood sandals (Credit: WENN)
Would you wear these caged sandals? You can buy them at Farfetch.
Nicholas Kirkwood Laser-Cut Snakeskin Sandals, $1,595