Sweet Magnolias is one of those series that captures you right from the word go.
We feel like we really know each cast member, as if Maddie, Helen, and Dana Sue are some of our closest friends. But that's what makes the series so successful, we feel part of the story.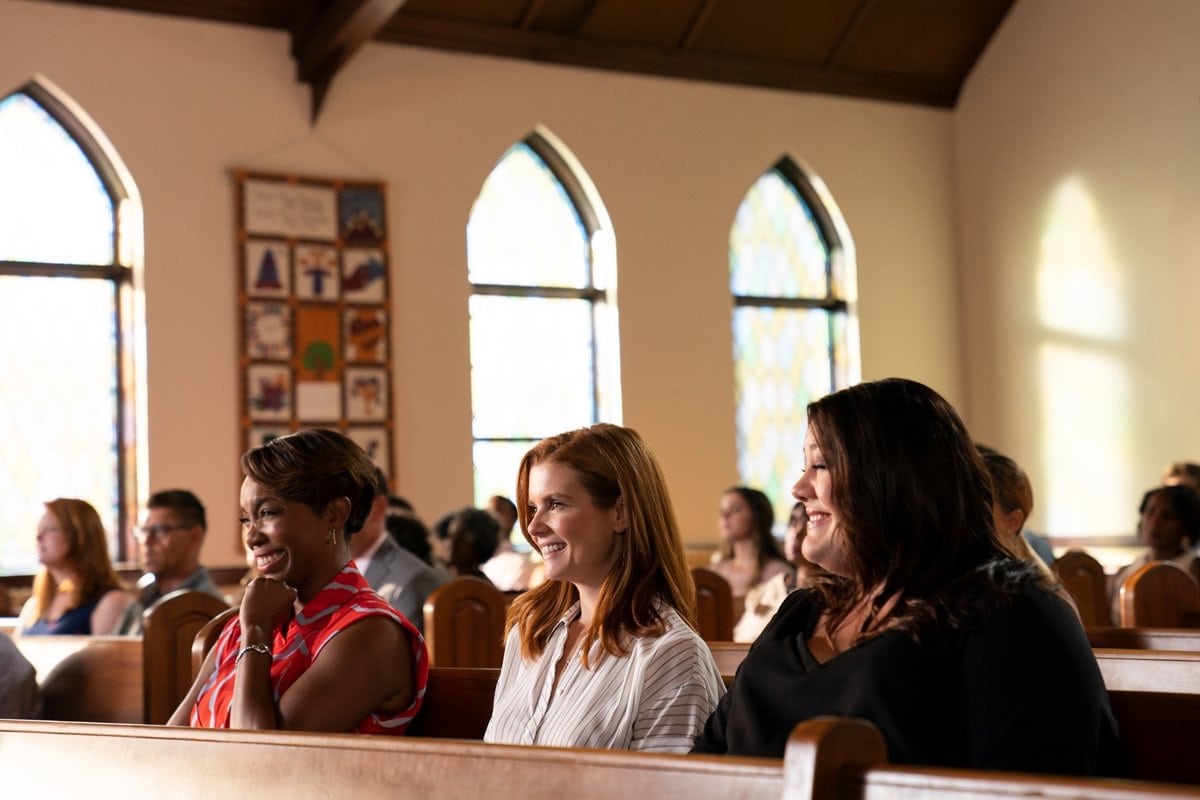 Heather Headley as Helen Decatur, JoAnna Garcia Swisher as Maddie Townsend, and Brooke Elliott as Dana Sue Sullivan in the American romantic drama streaming television series Sweet Magnolias (Credit: Netflix)
As producer Sheryl Anderson said in an interview with Parade, "…we figured out the exact proportions to focus on a deep and abiding friendship that has lasted their entire lives — seasoned with romances, pinches of teen angst, and a lovely icing of hot men."
Based on the novels by Sherryl Woods that have rave reviews on Amazon, this romantic drama series follows three South Carolina women who have been best friends ever since high school.
The trio refer to themselves as the Sweet Magnolias and help each other through life's trials and tribulations all while juggling family, careers, and relationships – with the help of one or two margarita nights.
Sweet Magnolias is filmed in Covington, a city in Newton County, Georgia, located 26 miles east of Atlanta (Credit: Enforcer 1 / Shutterstock)
Filmed on location in Covington, Georgia, which out of interest was also the setting for Mystic Falls in The Vampire Diaries, the series takes place in a small southern town called Serenity.
As we sit waiting in anticipation for news that Season 3 will officially be renewed, we thought an update on our favorite stars 'real love lives' was just what we all needed.
1. JoAnna Garcia Swisher and Nick Swisher (fortunately he's nothing like Bill)
In the series our first Sweet Magnolia, Maddie Townsend, is played by JoAnna Garcia Swisher. JoAnna is married to Nick Swisher, a former professional baseball player.
The couple started dating in 2009 when Nick was an outfielder for the New York Yankees. JoAnna and Nick were married a year later in a romantic ceremony in Palm Beach Florida.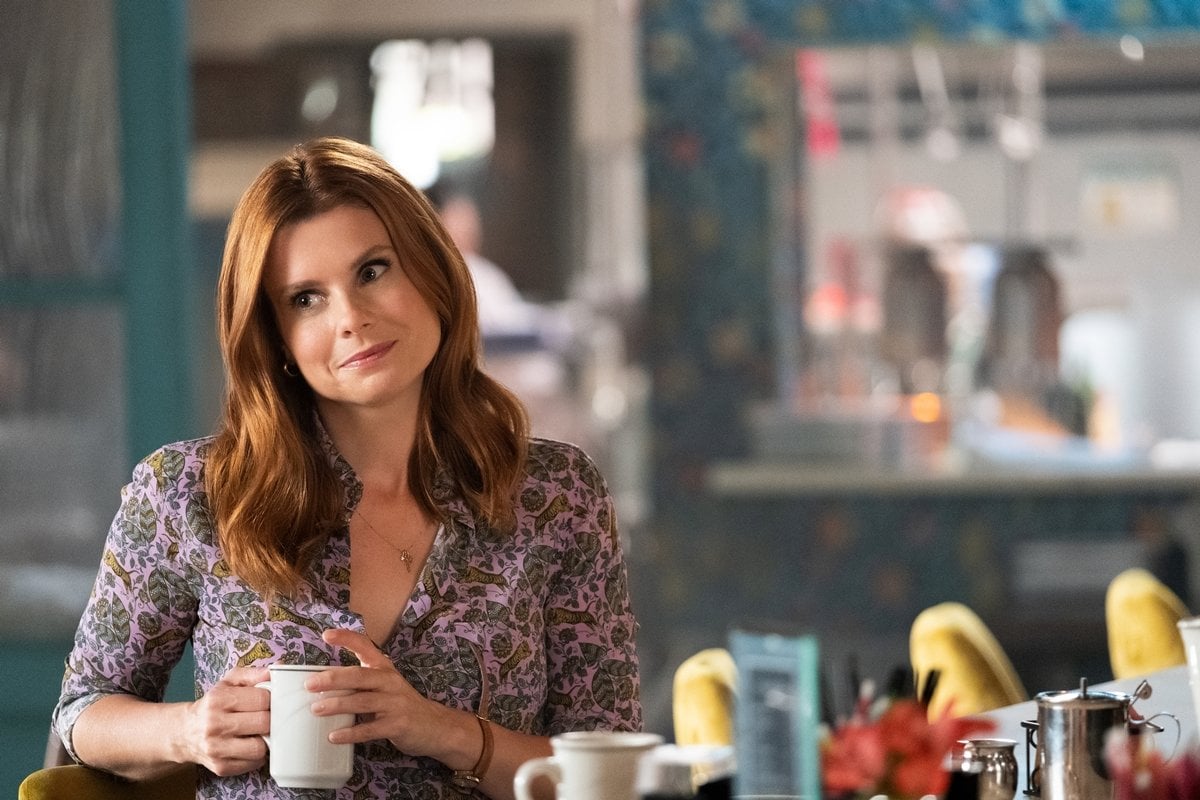 JoAnna Garcia Swisher plays a recently separated woman with three children in Serenity, South Carolina (Credit: Netflix)
The happy couple has been married for over 11 years and have 2 daughters, Emerson, aged 8, and Sailor, aged 5.
Nick is a doting father and told Us Weekly, "[I'm now] able to be home and be able to be a father and a short-order cook or an Uber driver or whatever it is."
Fortunately for JoAnna, Nick is nothing like her onscreen husband and is incredibly supportive of her career.
JoAnna Garcia with her husband Nick Swisher and their daughters Sailor and Emerson at Sonic The Hedgehog Family Day Event on January 25, 2020, in Hollywood, California (Credit: Kathy Hutchins / Shutterstock)
Just before the release of Season 2, he took to Instagram, sharing the trailer along with this wonderful message, "It's finally here!! The wait is over!! I'm so excited and so proud of you baby!! This show is absolutely amazing!!" he wrote.
"I can't wait for everyone to find out #whoisinthecar finally! The girls and I love you so much @jogarciaswisher! Awesome work princess! #sweetmagnolias."
Look out for his sweet cameo appearance in Season 2, Episode 8, where you will see Nick's character flirtatiously saying to Maddie, "Hello gorgeous, how are you tonight?" at a fundraiser she attends with Cal.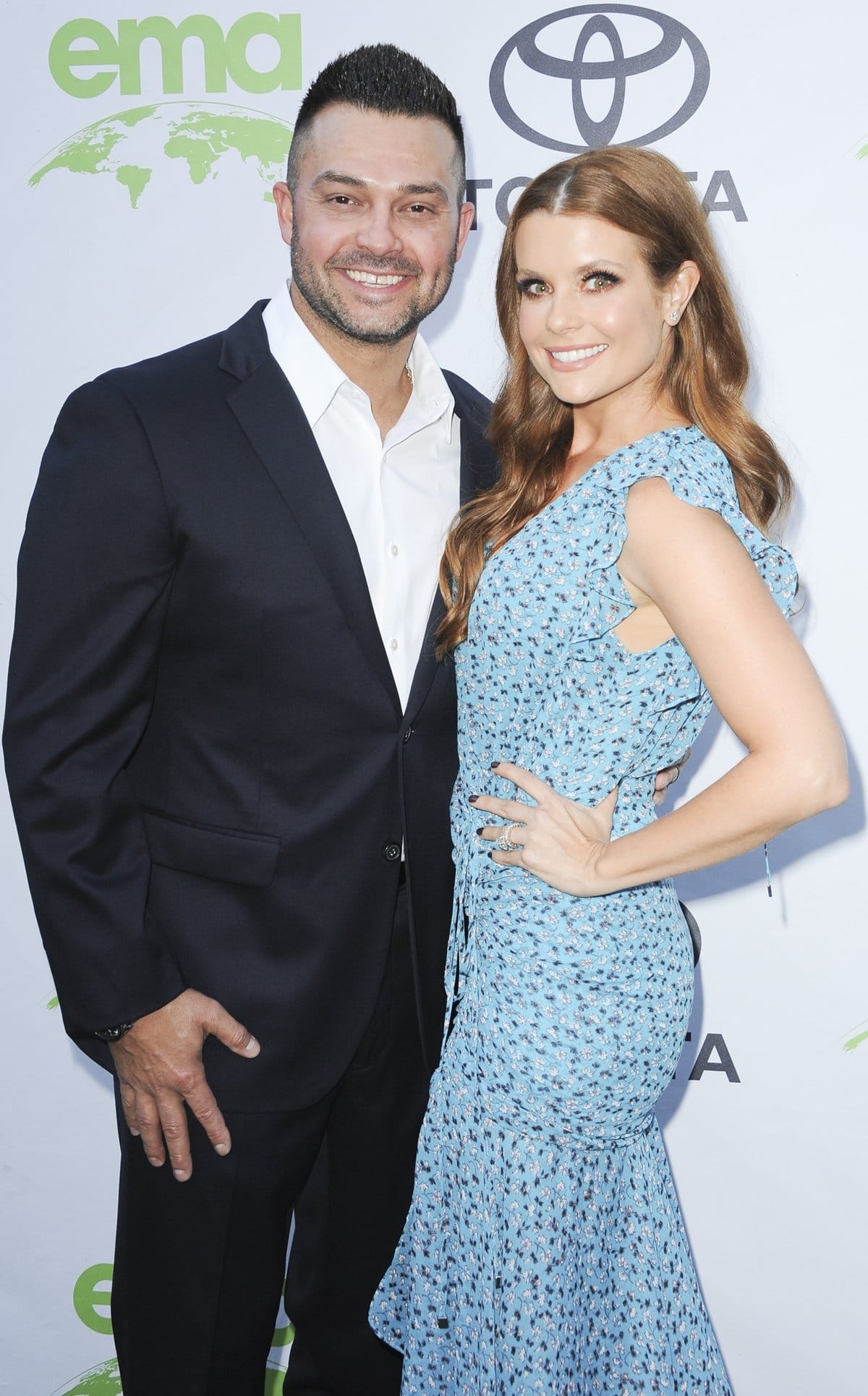 JoAnna Garcia and former professional baseball player Nick Swisher met through a mutual friend and started dating in 2009 (Credit: Apega / WENN)
But if you're wondering what made our favorite leading lady fall for Nick, she revealed the secret in a 2018 interview with Us Weekly.
"He was really consistent and he was very willing to prove himself. He's like, 'I don't want you to think that I'm some stereotypical athlete,'" she said about her husband.
"He was very honest about that. He was like, 'I'm only going to be dating you and you are the only one and until you believe that I'll be here reminding you of that.' And that just really struck me like he's in it to win it."
Well, I am not sure if there are any of us who wouldn't be smitten after hearing those words!
2. Brooke Elliot – Happily Single
Our next Sweet Magnolia is Dana Sue Sullivan, portrayed by Brooke Elliot. And for those of you who didn't know, Brooke is also a talented singer and has appeared on Broadway and in various musical theatre productions.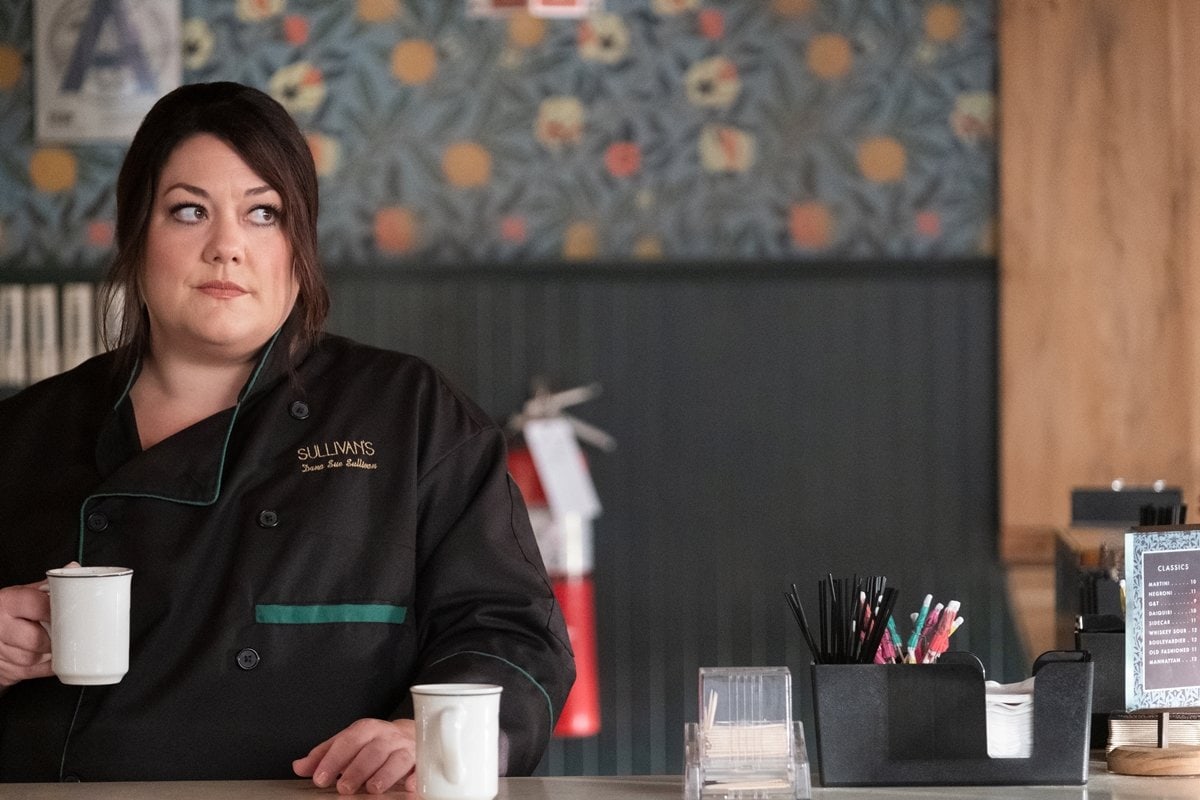 Brooke Elliott plays the owner of a restaurant called Sullivan's in Sweet Magnolias (Credit: Netflix)
One thing about Brooke is she likes to keep her private life exactly that – private.
The last time we received any information about her love life was back in 2012 when she revealed to Glamour that she was in a "low-key" relationship. As to who the mystery man is or was, it seems like we'll never know.
Actress Brooke Elliott flaunts her legs in a blue dress at Hilarity for Charity's Third Annual New York City Variety Show at Webster Hall on June 8, 2017, in New York City (Credit: John Nacion Imaging / Startraksphoto)
So, all we can say on the subject is that Brooke appears to be happily single and if we were her publicist, we would probably add, at the moment she is currently focusing on herself.
3. Heather Headley, Heading for That 20th Wedding Anniversary!
The final member of the trio is Helen Decatur, played by Heather Headley. Heather is not only a successful actress but is also a Tony and Grammy award-winning singer, songwriter, and record producer who happens to have sung alongside Andrea Bocelli!
Heather and her husband Brian, an investment consultant, and former NFL player, have been a couple for over 20 years. The college sweethearts started dating in 2001 and Brian popped that all-important question at the beginning of 2003.
Heather Headley portrays accomplished attorney Helen Decatur in Sweet Magnolias (Credit: Netflix)
Eight months later the couple tied the knot, and they haven't looked back. Heather and Brian have 3 children, John and Jordan aged 12 and 9 respectively, and a daughter, Eliana aged 3.
View this post on Instagram
In an interview with NPR, Heather shared how supportive and encouraging Brian is, "The man that I married has never ever put just a limit on to what I could do and would do as a woman, as his wife, as a mommy."
She went on to say, "He actually pushes me out the door a little sometimes more than I wanted him to."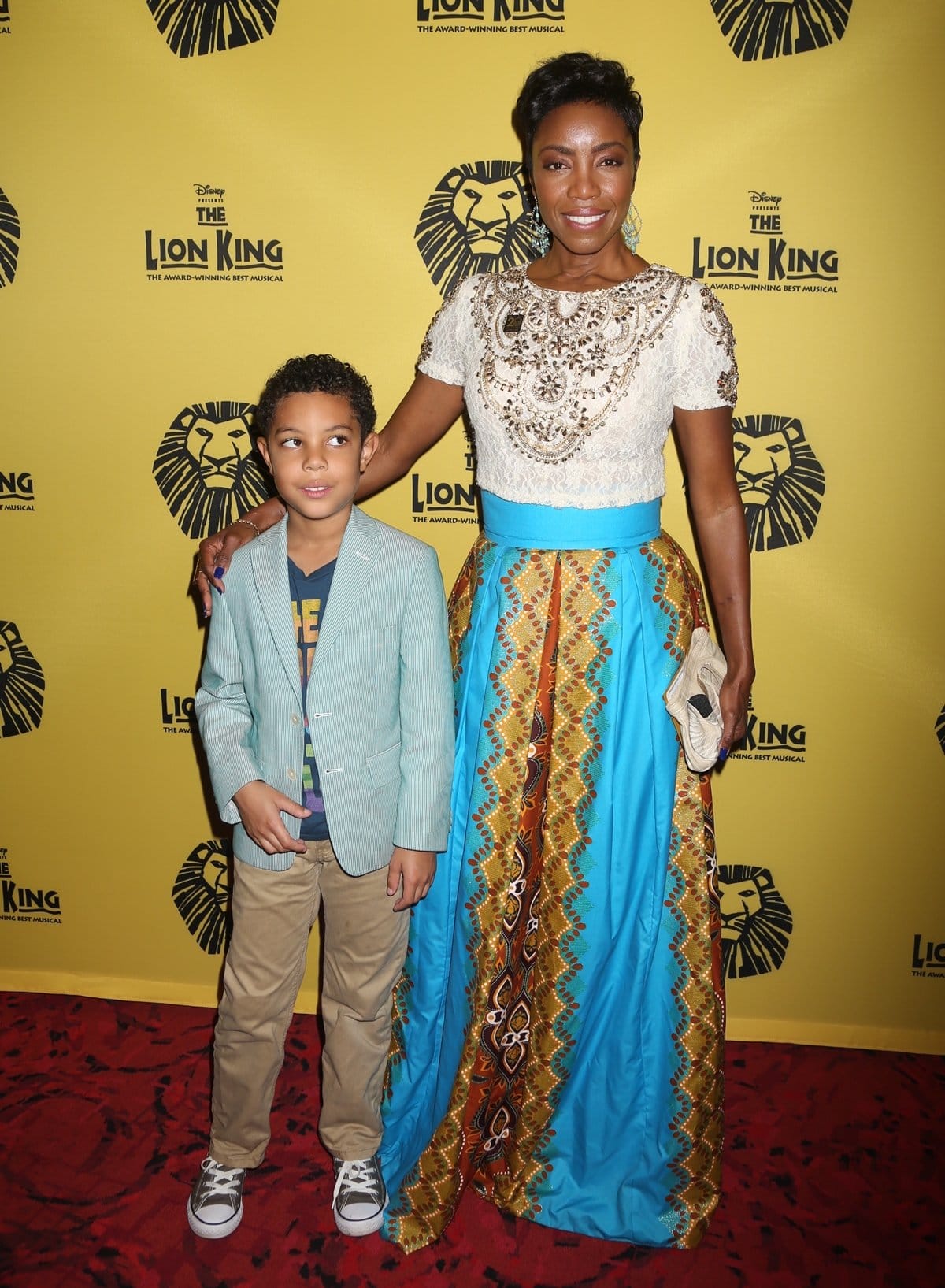 Heather Headley and her son attend the 20th Anniversary Performance of 'The Lion King' on Broadway at The Minskoff Theatre on November 5, 2017, in New York City (Credit: Adam Nemser / Startraksphoto)
The couple was featured in Architectural Digest after Brian decided to add on a coach house a few steps away from their home as a recording studio for Heather.
This project grew to a 3 floor, 2,100-square-foot addition, including her recording studio, an office for Brian, as well as a living room, kitchen, and covered outdoor dining space.
4. Chris Klein – No Medical Assistant in Sight!
Chris Klein stars as Maddie's philandering ex-husband in the series and is, fortunately, nothing like his onscreen character.
Chris Klein and Katie Holmes got engaged in 2003 and split in 2005 (Credit: WENN)
Chris, who was previously engaged to actress Katie Holmes met his wife Laina Rose Thyfault in 2011.
The couple romantically met at a friend's wedding and love was in the air. Three years later Chris was down on one knee proposing and a year later the happy couple tied the knot according to People, in a nature-inspired ceremony in Montana.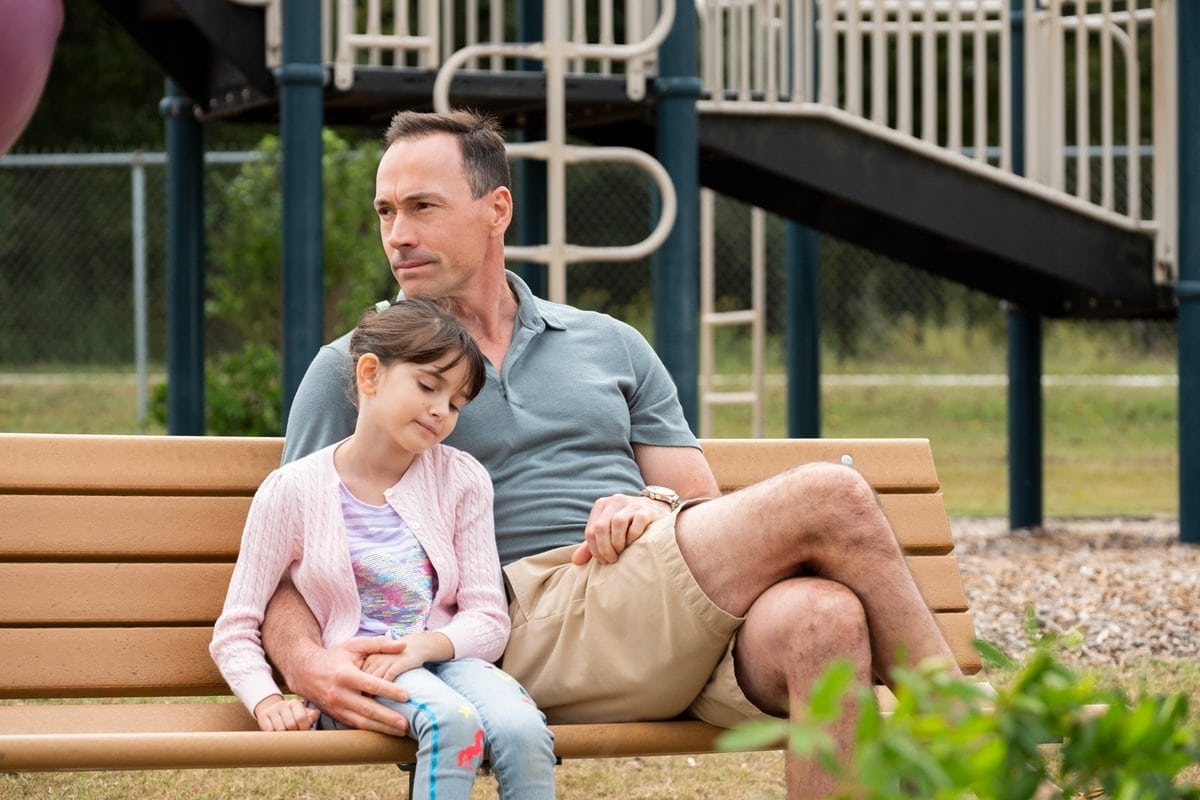 Chris Klein as Bill Townsend and Bianca Berry Tarantino as Katie Townsend in Sweet Magnolias (Credit: Netflix)
Chris and Laina, a travel agent, had their first child in 2016, a son named Frederick Easton and 2 years later Laina gave birth to a baby girl named Isla Rose.
Chris Klein and Laina Rose Thyfault met at a friend's wedding and married in 2015 (Credit: Sara De Boer / Startraksphoto)
Chris took to Instagram to share the birth of his daughter with this special post, "Laina and Isla took the journey together with Courage, Strength and Epic Grace. My Girls, I am so proud of you and so grateful that you were delivered safely back to me. I love you Laina. Thank you for making me a father again." For those of you who are scouring Instagram, according to People, this post has subsequently been removed.
5. Justin Bruening – Proving Love Can Be Found at Work
In the series, Justin Bruening plays Cal Maddox, who is Maddie's oldest son, Ty's coach. The pair meet and their connection inevitably lead to romance.
Justin met his wife, actress Alexa Havins, on the set of "All My Children". The two co-stars fell madly in love and Justin even proposed to Alexa on set during a scene where his character was proposing to her character.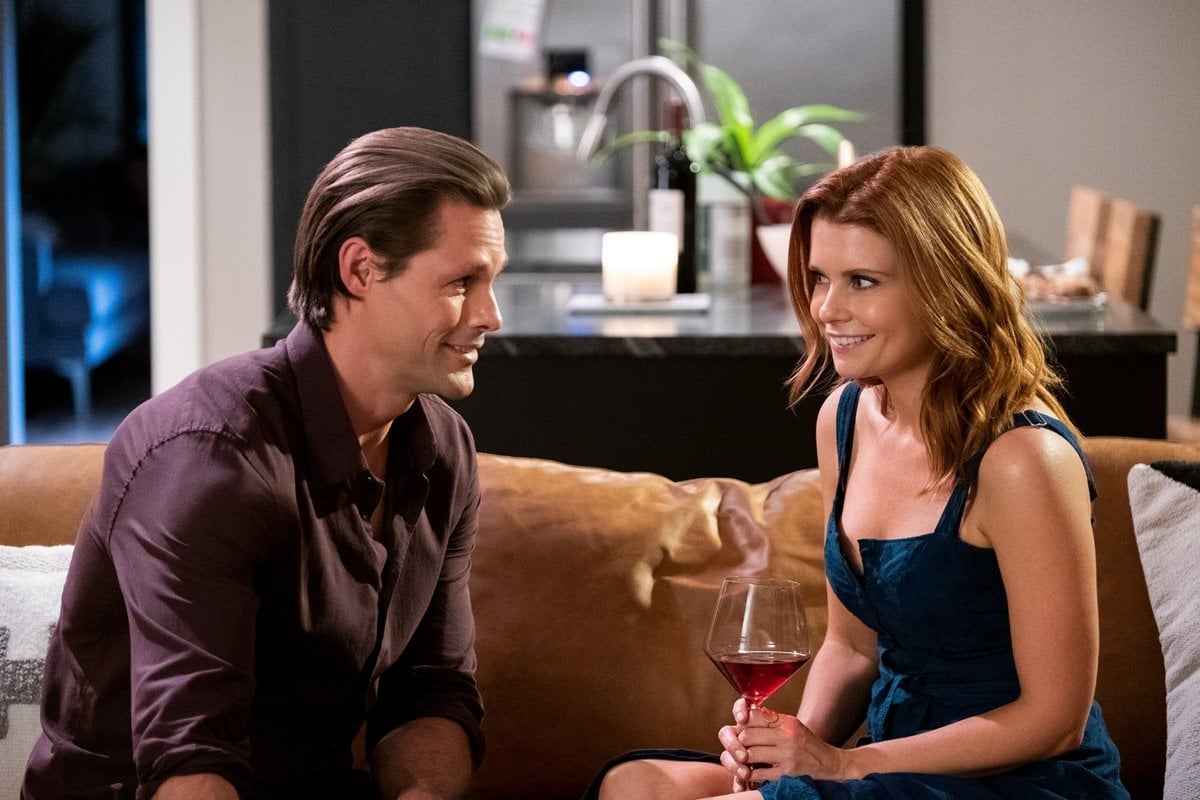 Justin Bruening as Maddie's new love interest Cal Maddox and JoAnna Garcia Swisher as Maddie Townsend in Sweet Magnolias (Credit: Netflix)
In an interview with Soap Opera Digest, Alexa shared, "He put the ring on my finger and I was giggling, screaming, and I turned and our cast and crew was coming out of the woodwork because they had the live feed coming [through the studio]. The producers and hair and makeup came down and they had a cake and champagne and it was a really, really nice moment."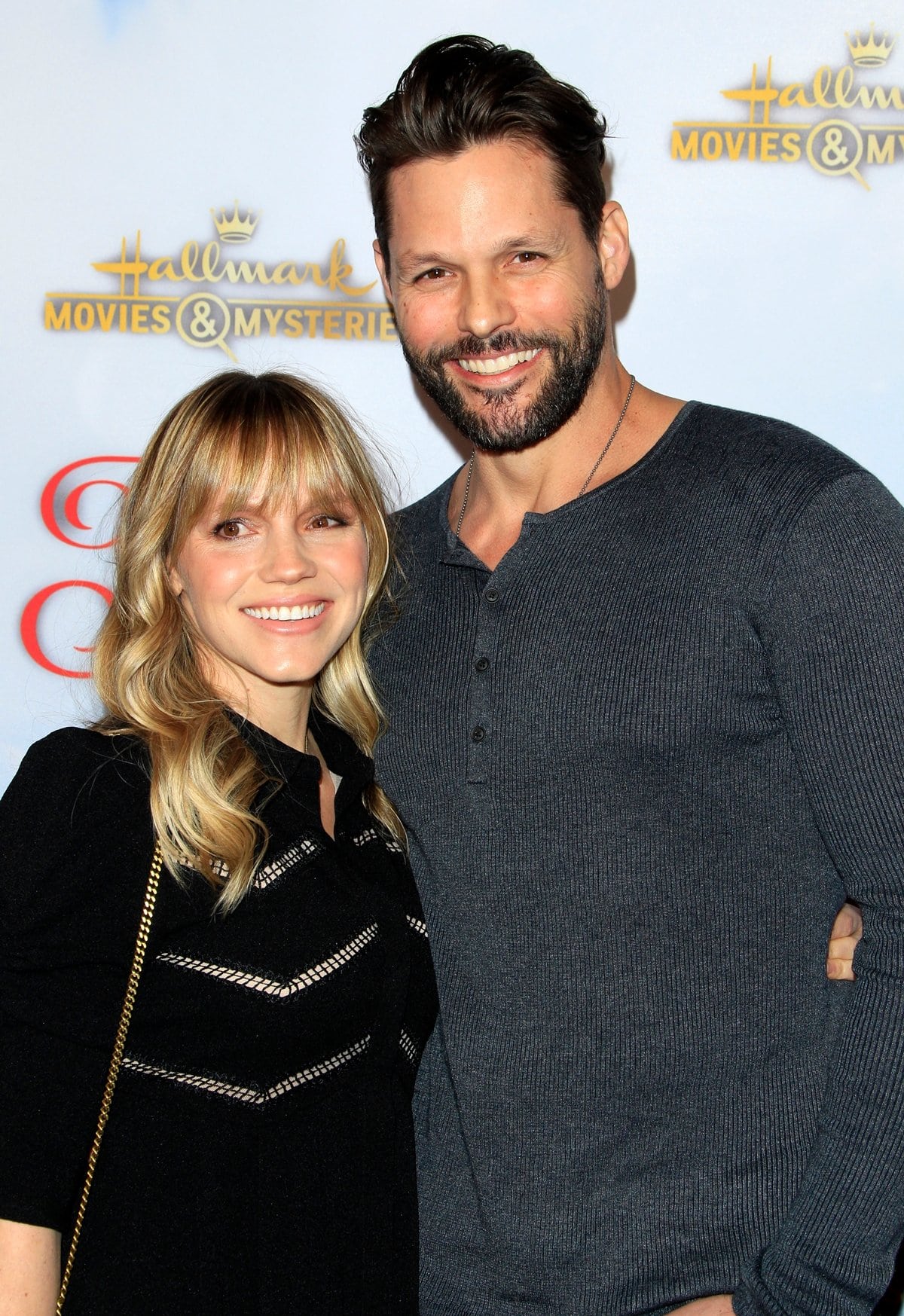 Alexa Havins and Justin Bruening met on the set of All My Children and married in 2005 (Credit: Kathy Hutchins / Shutterstock)
The couple were married in 2005 and have 3 children, Lexington Grace, aged 11, Zane aged 8, and another daughter aged 5.
The couple is intensely private and doesn't make use of any of the standard social media platforms and we have yet to discover the name of their youngest child!
6. Jamie Lynn Spears – Talented in Her Own Right
Jamie Lynn portrays Bill Townsend's fiancé Noreen Fitzgibbons, this has been her first major role since starring as Zoey Brooks in Nickelodeon's "Zoey 101" in the mid-2000s, and its lovely to see her shine at last.
The younger sister of singer Britney Spears, Jamie Lynn was introduced to her husband, Jamie Watson, through mutual friends, and the couple dated intermittently for over 5 years.
According to Jamie Lynn, the couple didn't initially click as she found him awkward.
Jamie Lynn Spears as Noreen Fitzgibbons and Chris Klein as family doctor Bill Townsend in the popular romantic drama streaming television series Sweet Magnolias (Credit: Netflix)
But during a TLC special "Jamie Lynn Spears: When The Lights Go Out", she shared, "I think we grew on each other, which is probably why we are still together. He was always uncomfortable … Looking back though, I think it's kind of sweet, because he was acting that way because obviously he liked me."
Jamie Lynn Spears poses with her husband Jamie Watson, her daughter Maddie and Minnie Mouse in front of Cinderella Castle at the Magic Kingdom Park on August 14, 2014, in Lake Buena Vista, Florida (Credit: Chloe Rice / Disney / Startraksphoto.)
The couple got married in 2014 and celebrated the seventh wedding anniversary last year with Jamie Lynn jokingly taking to Instagram, posting "Even if we decided to get divorced tomorrow, 7 years is a pretty decent amount of time, so like … Good for us."
Jamie Lynn Spears with her daughter Maddie Briann Aldridge attend an exclusive American Girl Place event in NYC on November 10, 2017 (Credit: Michael Simon / Startraksphoto)
Jamie Lynn is the proud mother of 2 daughters, Maddie Briann Aldridge, aged 13, from a previous relationship, and the couple's 4-year-old daughter named Ivey Joan.
7. Dion Johnstone – Happily Married to Actress Lisa Berry
Dion starts as Helen Decatur's love interest, Erik Whitley. On his personal website, Dion describes himself as an actor, graphic artist and lover of life.
Dion met his wife, Lisa Berry while rehearsing for the play "To Kill a Mockingbird," at the Stratford Festival.
According to Lisa, her friends had previously tried to convince her to meet Dion but at the time neither of them was interested in dating anyone.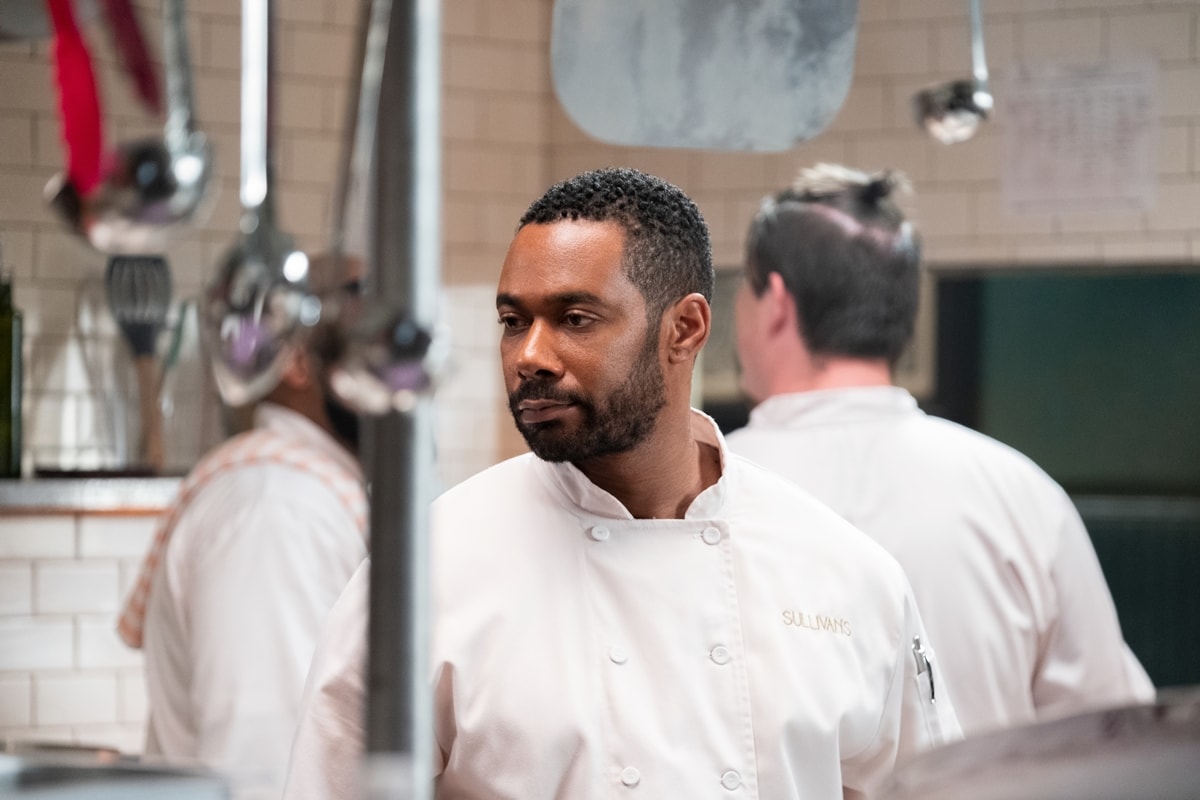 Dion Johnstone as sous chef Erik Whitley in Sweet Magnolias (Credit: Netflix)
Fast forward a year and as Lisa says in an interview with Streets of Toronto, "A year later when I walked into that rehearsal hall and looked up to see this tall, sexy Black man standing across the room. I thought to myself, 'Now I deserve you.' Only to find out it was Dion. Full circle."
View this post on Instagram
Dion proposed to Lisa in 2008 on the top of Blackcomb Mountain. In an interview with The Globe And Mail, Lisa shared, "He had scoped out these chairs that sat on a ledge, which was not easy to get to. He took my arm and kept saying, 'I've got you. I've got you." He's had me ever since."
The couple has a son named Khylin who was born on the 28th of July 2020.
8. Brandon Quinn – Nothing Like Ronnie
Brandon stars as Dana Sue's ex-husband, Ronnie Sullivan, and the father to their daughter, Annie. He couldn't be further removed from his on-screen character if he tried.
Brandon has been married to Rachel Swierenga for over 20 years and has often referred to her on social media as his "soul mate" and "best friend". The couple first met in Montreal when Quinn was filming Big Wolf on Campus in 2000.
View this post on Instagram
The couple is obviously very much in love and even after 20 years, Brandon is still the romantic, taking to Instagram to wish Rachel happy birthday with this heartfelt message, " Happy Birthday to this one… The love of my life, my best friend and soul mate. 22 years and my love for you grows stronger and deeper with every passing day … I love you with all of my heart and soul and am grateful I get to grow old with you and spend my eternity with you."
We don't know too much about Rachel as she prefers to stay out of the limelight but according to her Instagram Bio, she lists her occupation as Personal Trainer and Meal Planner.
Actor Brandon Quinn attends the launch of Diesel's "Only the Brave" fragrance at Diesel Boutique on Melrose on May 9, 2009, in West Hollywood, California (Credit: INFEvents)
Brandon and Rachel have 3 children together, daughters Summer and Chloe and a son named Ezra.
The couple has kept their children's lives private so we don't know much about them, besides that the girls love football which must make Brandon very happy as he is apparently obsessed with the Denver Broncos.
We also know that Ezra has a high opinion of JLo following Brandon's Tweet – Watching #AmericanIdol w/ my wife & kids & my 8 yr old son says "dad, that girl in the middle is HOT" Indeed she is son, indeed she is @JLo.
Sweet Magnolias is an American romantic drama streaming television series starring JoAnna Garcia Swisher, Brooke Elliott, and Heather Headley (Credit: Netflix)
Sweet Magnolias has touched our hearts and we can't wait for them to finally let us know that there will be a Season 3 in the making – personally, we think it should be illegal to not renew a series until they have at least cleared up those cliff-hangers!