She's back on the Brit Awards red carpet for the first time since 2014! But before attending the 43rd edition of the annual ceremony, the very pregnant Jessie J took to social media to reveal the gender of her unborn child and tease a new song.
Jessie J's Reveals First Baby's Gender
While prepping for the show, the former bisexual shared a heartfelt video of herself holding her exposed burgeoning baby bump while singing an upcoming single.
"Since I wrote this song every time I play it or sing it he moves like crazy… so I think this song is the one," Jessie captioned her post. Revealing her baby's gender, Jessie added: "Oh yeah… I'm having a boy."
View this post on Instagram
The Price Tag hitmaker also asked her fans to pre-save her song and later clarified that she was sporting underwear beneath her white silk robe in the clip.
Jessie J announced her pregnancy early this year via Instagram by sharing a video montage with her pregnancy test result, ultrasound, and a few snaps of her growing belly. She said in the post: "I am so happy and terrified to finally share this… Please be gentle with me."
View this post on Instagram
"Honestly, ya girl just wants to ugly cry in public in a catsuit eating a chocolate covered pickle with no questions asked."
The news came a little over a year after she suffered a miscarriage in November 2021.
Jessie J Rocks Her Bare Baby Bump in Brielle Crop Top
Hours after posting her baby's gender reveal, Jessie J made sure all eyes were on her when she arrived at London's The O2 Arena for the BRIT Awards 2023.
She proudly put her growing belly on full display in an all-red ensemble cut from romantic floral-patterned lace by Brielle, a Montreal-based fashion label.
The Domino singer opted for a long-sleeved crop top and kept things comfortable by pairing it with matching leggings.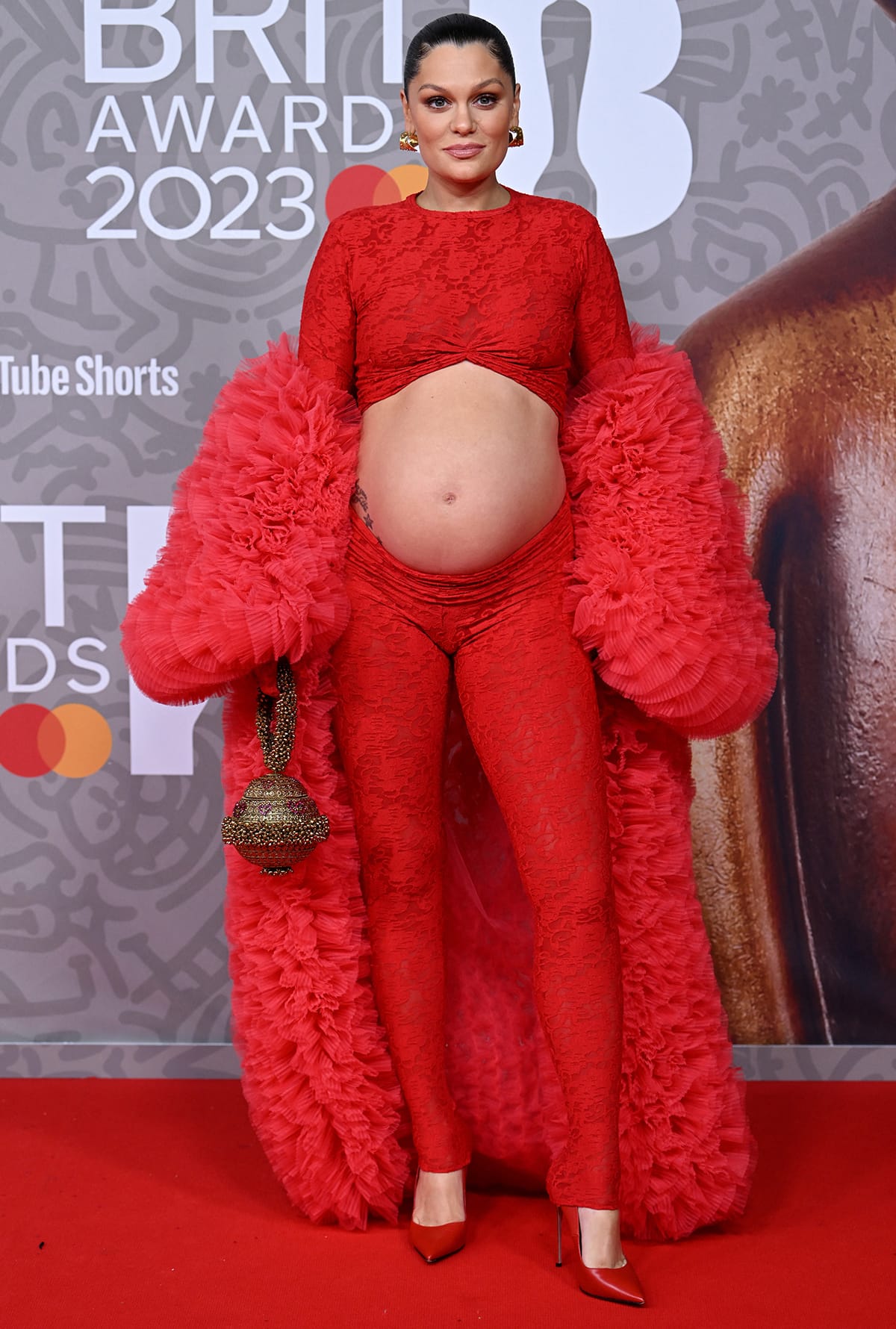 Jessie J showcases her bare baby bump in a floral lace crop top and matching leggings by Brielle at the 2023 BRIT Awards at London's O2 Arena on February 11, 2023 (Credit: Stuart Hardy / ABACA / INSTARimages / Cover Images)
Adding drama to the rather simple outfit, Jessie threw on a $639 Selezza scarlet red coat over her arms. The oversized coat, called the "Carmel," had side seam pockets and layers of ruffled tulle.
Jessie's stylist Madeleine Bowden added a pair of red gloves to the look and boosted her 5'9" height further with Le Silla "Eva" red stilettos.
She also accessorized the striking red ensemble with jewelry by Jill Hopkins, including the "Wrapped Pregnant Body" earrings and the "Pechos Pechos Maxi" ring, which are both part of the Mother collection, created in honor of motherhood and women.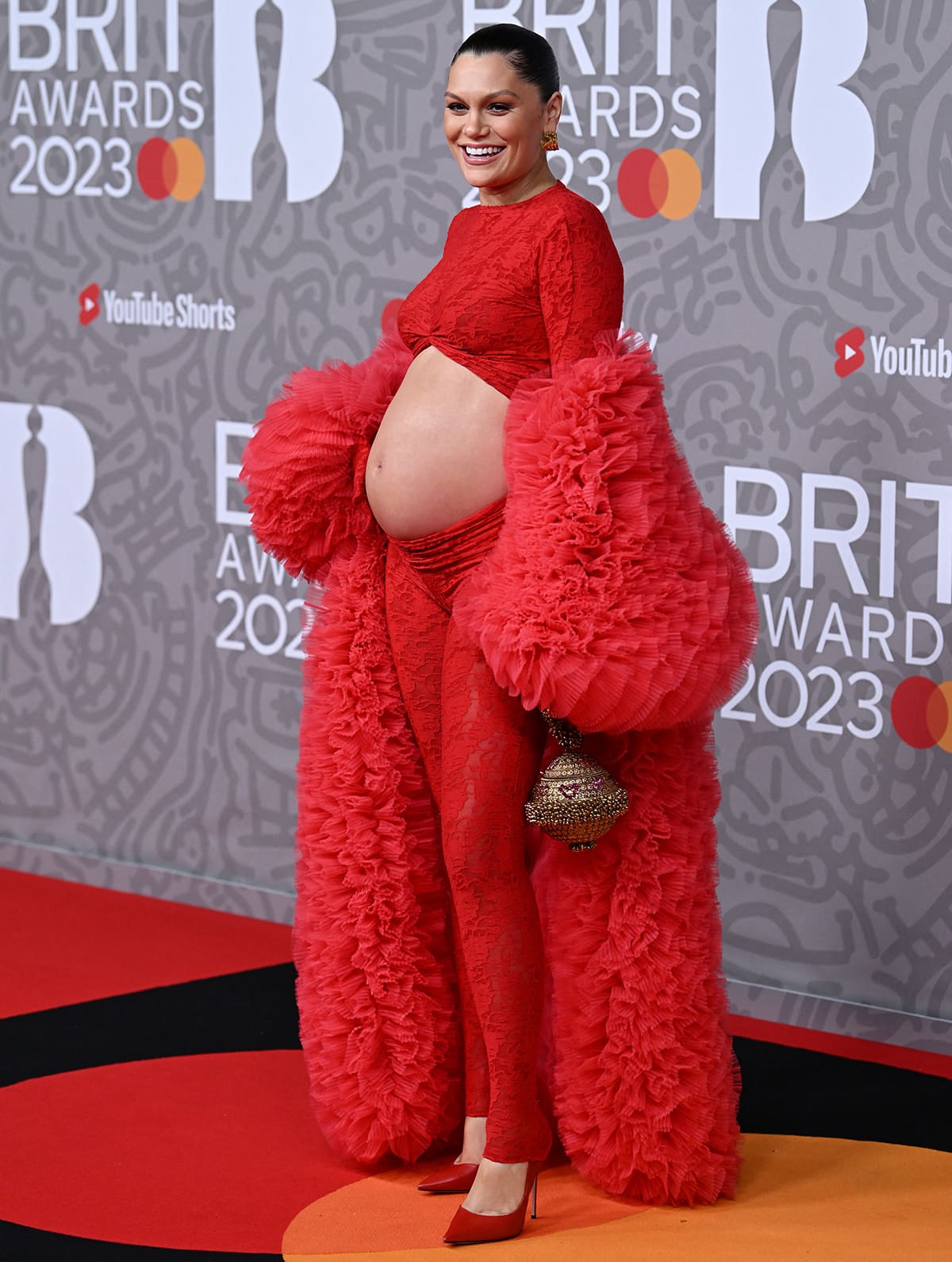 Jessie J adds drama to her modern maternity look with an oversized scarlet red coat with layers of ruffled tulle by Selezza (Credit: Stuart Hardy / ABACA / INSTARimages / Cover Images)
Giving the look a hint of whimsical edge, Jessie J carried her red-carpet essentials in the $338 Mae Cassidy "Simi Sweetheart" clutch embellished with heart-shaped crystals in fuchsia pink and ruby red hues.
It was handmade by a single artisan from "recyclable antique gold-tone metalwork, welded together in a structured circular shape with over 1200 bell detailing."
For her glam, the Flashlight singer wore light makeup, done by Karin Darnell. She applied mascara with subtle smokey eyeshadow, a hint of blush, and a swipe of pale pink lip color. Jessie J reportedly did her own hair, which she scraped back from her face in a tight bun.
Jessie J scrapes her raven hair back into a tight bun and accessorizes with Jill Hopkins jewelry and a whimsical circular metal clutch by Mae Cassidy (Credit: Ian West / PA Images / INSTARimages / Cover Images)
Jessie J Accuses Brit Awards of Snubbing Her
Last year, fans were taken aback when Jessie J asked them not to sing along with her during her sold-out show in London.
She reportedly ranted to the crowd, saying: "If you know you can't sing, no matter what you've been told at the family barbecue, keep it low."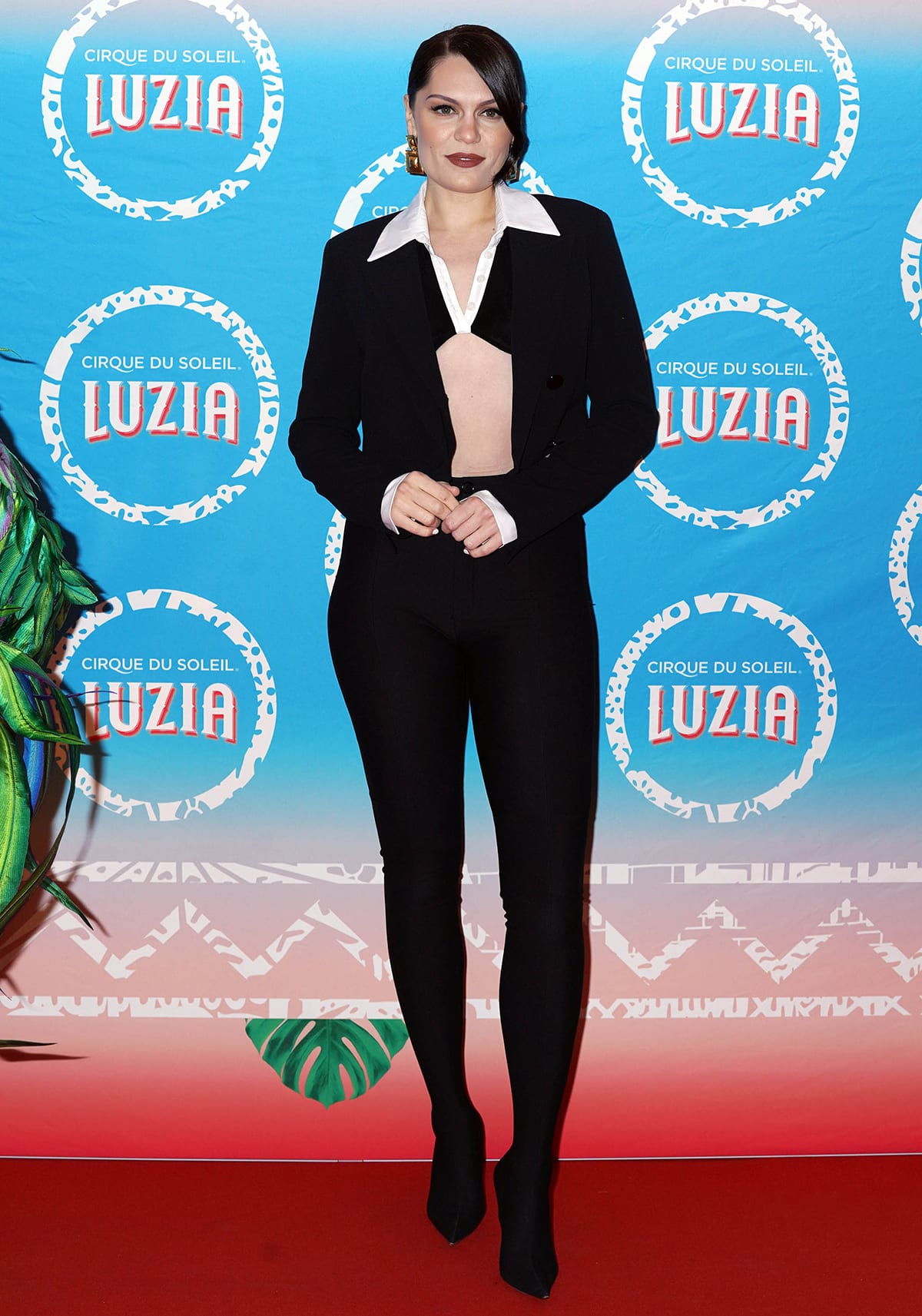 Jessie J has reportedly accused Brit Awards of snubbing her after a decade of not receiving an invitation to the awards show (Credit: Ian West / PA Images / INSTARimages)
"These iPhones are on another level now. It will pick your s***** version of Flashlight and it will be your voice and my face. I don't deserve it," she told the fans who were filming her performance.
Hitting at Brit Awards, she went on to say, "I haven't even been invited to the Brit Awards for 10 years. Don't make it any harder for me than it is."
Who Is Jessie J's Baby Daddy?
Many are curious to know who Jessie J's baby daddy is following her pregnancy announcement.
While she didn't reveal anything about the father, fans believe she's pregnant with her current boyfriend, Chanan Safir Colman.
Chanan is a Danish-Israeli professional basketball player who plays for Hapoel Haifa of the Israel Basketball Premier League.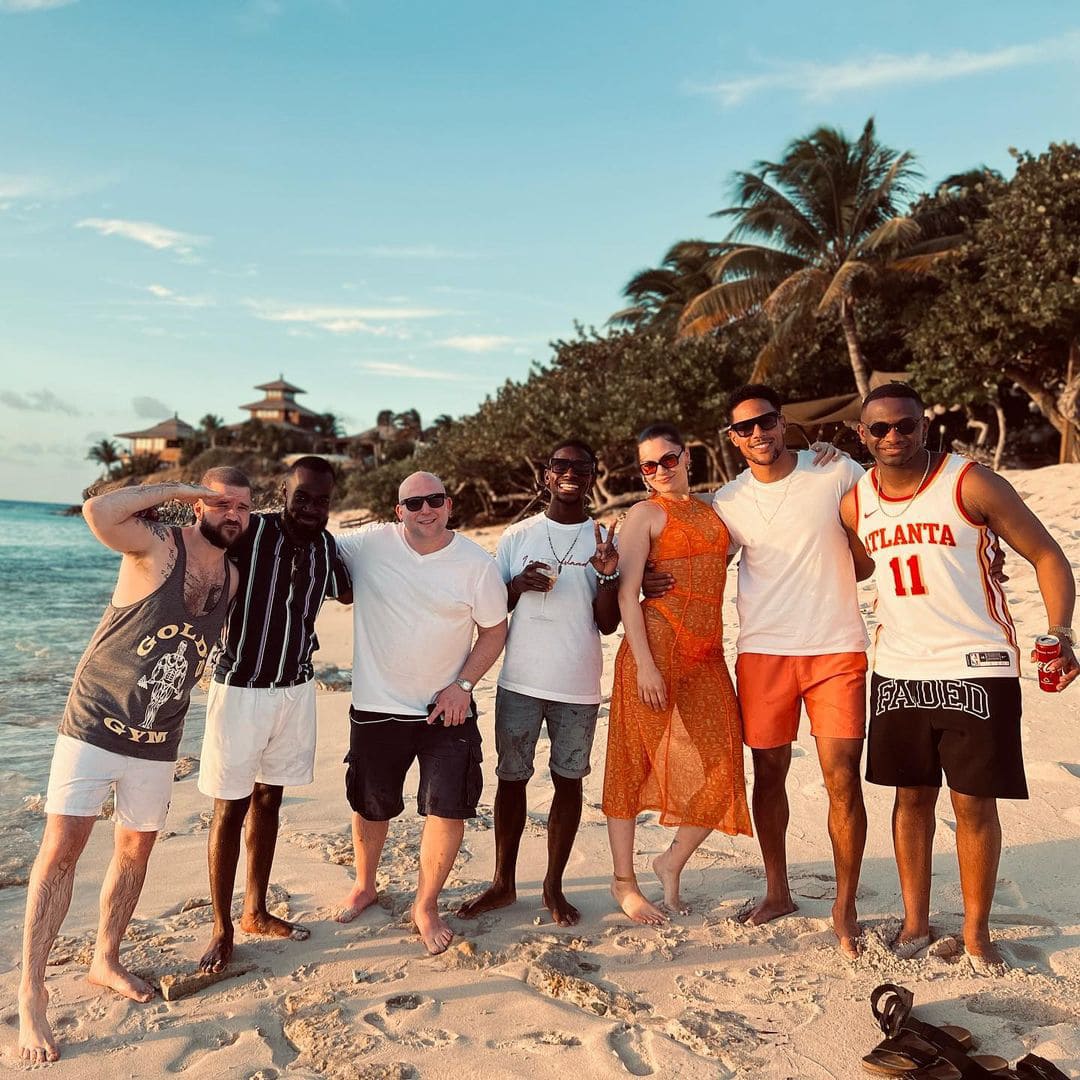 Jessie J with boyfriend Chanan Safir Colman, wearing a white tee and orange shorts, at a beach in March 2022 (Credit: @jessiej / Instagram)
He was born on March 10, 1984, in Gladsaxe, Denmark, to an Israeli mother and an American Jewish father.
Little information is known about him and Jessie J, but they reportedly began dating in 2021, shortly after her breakup with choreographer Max Pham Nguyen.
The singer also dated actor Channing Tatum in 2018 but broke up in 2019. They rekindled their romance in 2020 before splitting again later that year.
Jessie J and actor Channing Tatum, pictured at the 2020 Pre-Grammy Gala, dated in 2018 before splitting in 2020 (Credit: PAPIX / INSTARimages)