Jhené Aiko Efuru Chilombo and Sean Michael Leonard Anderson, known professionally as Big Sean, are expecting their first child together!
The couple, who have been dating since 2016, announced to their fans that they were expecting their first child when Big Sean shared his excitement on an Instagram story.
Jhene Aiko and Big Sean met at the studio of American hip hop and R&B record producer No I.D. in 2012 (Credit: Featureflash Photo Agency / Shutterstock)
"Whole new motivation forreal! Very grateful God continues to bless us, thank you! Can't wait to be a dad."
The Pregnancy Announcement
The couple made the announcement over the July 4th weekend when they were photographed while out and about in Beverly Hills. Aiko was showing off a noticeable baby bump while wearing a skin-tight dress.
Rumors were already swirling about a pregnancy when a fan tweeted about seeing the couple out and about, with the singer sporting a pregnant belly.
"I jus saw Jhené Aiko and Big Sean at Whole Foods and she's very pregnant. Iktr Sean," the fan tweeted.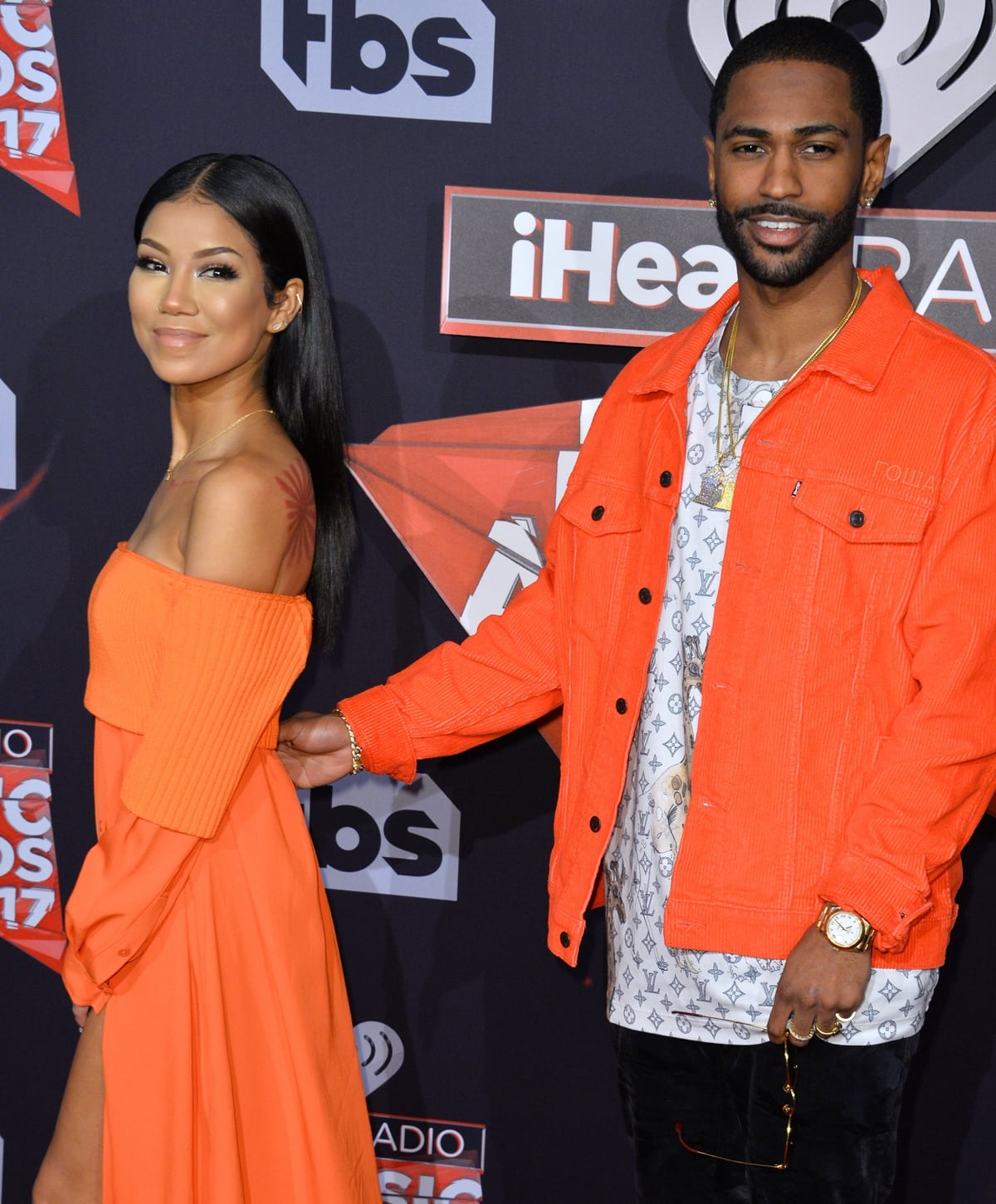 Big Sean and Jhené Aiko started dating in 2016 following her divorce from Dot Da Genius (Credit: Featureflash Photo Agency / Shutterstock)
Aiko also shared a more subtle announcement by posting a picture of herself as a kid holding her belly whit a hug emoji caption. The couple made a public announcement, with a representative of Aiko stating that "The couple is overjoyed and looks forward to this next chapter."
Aiko already shares a 13-year-old with singer O'Ryan, Namiko Love.
This will be Big Sean's first child. Big Sean is 34 years old and measures 5ft 7 ½ (171.5 cm). Aiko is also 34 years old and has a height of 5ft 1 ½ (156.2 cm), significantly shorter than her long-time partner.
Jhene Aiko in an Iris Van Herpen Spring 2021 Haute Couture dress at the 'Shang-Chi and the Legend of the Ten Rings' World Premiere at El Capitan Theatre on August 16, 2021, in Los Angeles, California (Credit: BauerGriffin / INSTARimages / Cover Images)
Big Sean recently took to social media to tell his fans that he is standing taller – literally. The singer has been visiting a chiropractor twice a week for a year and has "grown" by 2 inches, thanks to his now straight spine.
View this post on Instagram
How Did Their Relationship Start?
The artist duo has been collaborating on music since the 2016 release of their album, Twenty88. They have also been dating on and off since 2016.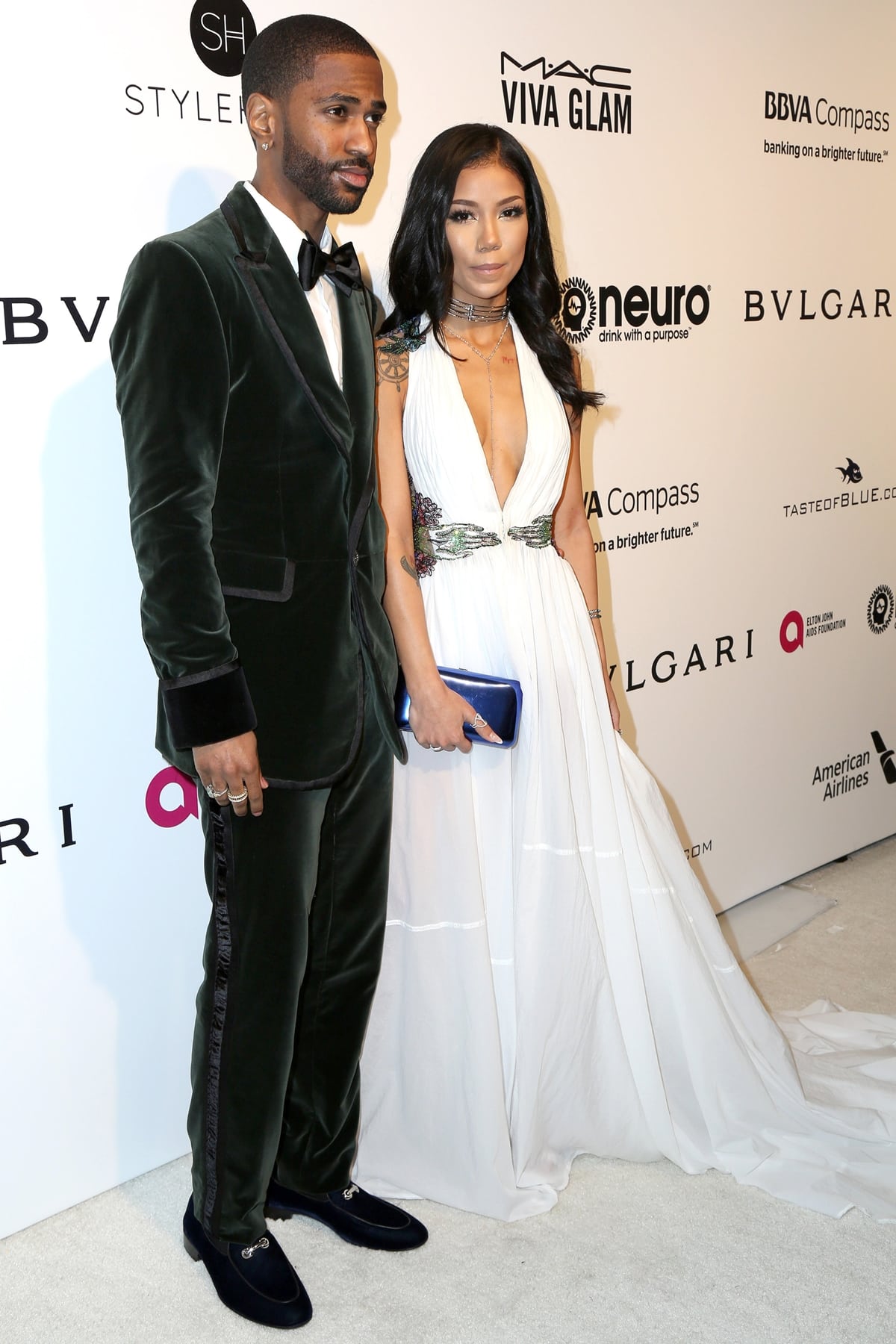 Big Sean and Jhene Aiko attend the 25th Annual Elton John AIDS Foundation's Academy Awards Viewing Party at The City of West Hollywood Park on February 26, 2017, in West Hollywood, California (Credit: Kathy Hutchins / Shutterstock)
Big Sean previously dated his high school sweetheart Ashley Marie. He met her when he was sixteen and started dating at nineteen. The couple split in early 2013, shortly after he met Aiko for the first time.
He was also briefly engaged to Naya Rivera, whom he started dating in 2013. They got engaged in October of that year and split in April 2014.
Big Sean and Naya Rivera started dating after meeting on Twitter in 2013 and split in April 2014 (Credit: Featureflash Photo Agency / Shutterstock)
Big Sean told Billboard about their relationship in 2016, "Jhené is more than just a friend. I don't know how else to describe it — me and her are just cool like that. I love her and I know she loves me. I was down to make that commitment — something that will last and be different from the rest."
During a 2016 interview with Flaunt Magazine, the couple stated that they first met in the studio of legendary producer No. I.D. in 2012.
They started the first of many musical collaborations around that time, with Big Sean's "Beware" and "I'm Gonna Be."
Shortly after they met, they attended a Los Angeles Lakers game, despite Aiko already having a boyfriend at the time. "We went on a date," Aiko told the magazine. "We went to a Lakers game. It was a long time ago […] first of all, I had a boyfriend and me and Sean had already met. We were friends. So he asked me to go out with him and even though I had a boyfriend."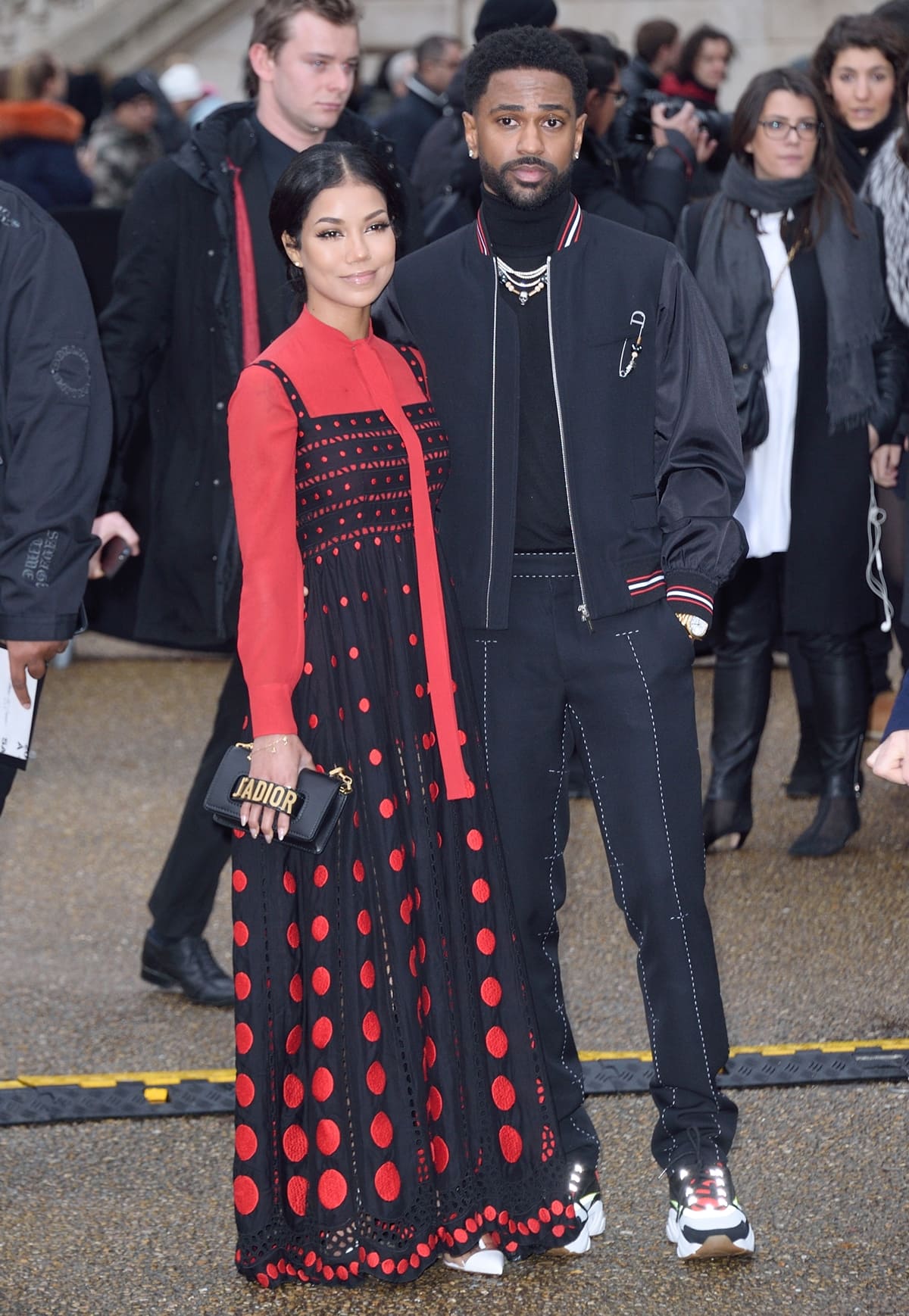 Jhene Aiko and Big Sean attend the Dior Homme Menswear Fall/Winter 2018-2019 show as part of Paris Fashion Week on January 20, 2018, in Paris, France (Credit: INSTARimages)
Big Sean added that he "didn't care" about her having a boyfriend.
Aiko continued, saying," It was pretty obvious after a while it was a date. We had never really been alone together. It was really fun."
Although the pair were still labeling their relationship a friendship, they again teamed up for the track "I Know" in 2015. The pair played two elderly lovers in the music video, sharing a special night together while in an old age home. The pair have showed off their synchronicity throughout their musical collaborations.
They decided to capitalize on their chemistry with the collaborative EP, Twenty88. Fans began speculating that there was something going on between the pair with the album's sexy cover art and the chemistry in the music videos that followed. However, Aiko was married to Dot Da Genius, a producer, during that time.
Jhene Aiko and Big Sean at the Power Stylists Dinner, hosted by The Hollywood Reporter and Jimmy Choo, on March 14, 2017, in West Hollywood, California (Credit: INSTARimages)
Dating rumors sparked to life when Big Sean wrapped his arms around Aiko's waist and gave her a peck on the lips while they performed at Power 105.1's Powerhouse festival in 2016.
Their First Appearance as an Official Couple
Big Sean and Aiko made their first outing as an official couple by attending a Los Angeles Lakers game at the Staples Center.
Aiko had recently filed for divorce from her husband, Dot Da Genius, citing an "irreconcilable difference." The pair were photographed holding hands and laughing as they sat courtside during the game.
Aiko called Big Sean the love of her life in a 2017 interview with Billboard upon the release of her second studio album. "I don't know what the future holds, but as far as my life goes right now, yeah, he's 'L-O-M-L.' "
Singer Jhene Aiko in an Alice + Olivia Emilia snake-embossed metallic gown, Giuseppe Zanotti shoes, a Rauwolf clutch, and an Amrapali necklace at the 2014 American Music Awards at Nokia Theatre L.A. Live on November 23, 2014, in Los Angeles, California (Credit: The Photo Access / Cover Images)
After losing her brother, Miyagi Hasani Ayo Chilombo, to brain cancer in 2012, she went searching for a man who reminded her of Miyagi. The journey led to Big Sean, and she explains their initial friendship is what makes their relationship so strong.
"When I met Sean, I had a boyfriend, and he was showing interest in me, but I was like, I have a boyfriend. But we were friends, it was never, nothing disrespectful ever happened between me and Sean," she said.
"We were forced to really, really get to know each other on a friendship level, you know what I mean? And to the point where he was even at my brother's funeral. We talk to each other on a friendship level throughout all of my relationship."
Jhene Aiko performs during the opening night of the High Road Tour at The Perfect Vodka Amphitheater in West Palm Beach, Florida, on July 20, 2016 (Credit: INFphoto)
She continued telling the outlet that years later, they found themselves single, and their relationship progressed from that point.
"It just came to a point where it was like, 'I'm single, you're single, we love each other.' We actually already loved each other as people, and then it was like, 'Okay, let's just, you know, be together.' So it was different because of that friendship. That comes first, we're friends before anything. We can bicker like a friendship."
Their Relationship Today
Although the pair broke up in 2019, their breakup didn't last for long. In 2020, Big Sean wished Aiko a happy birthday and shared some personal moments of the pair on social media.
View this post on Instagram
He captioned the post with a sweet message, "Happy 3.16 Queen @jheneaiko! Always proud but never surprised cause I know how great you are at everything you do. Even tho we gotta be inside n quarantine, you even make that sound good. I Love you from da past life to the next."
The pair attended the Grammy Awards together in March 2021 and appear to have been together ever since. And now the couple is expecting their first child together!
Diane Kruger accessorized with Monique Péan jewelry (Credit: WENN)
In June 2015, Diane Kruger joined Jhene Aiko, Julianna Margulies, Emmy Rossum, Amanda Seyfried, Janelle Monáe, January Jones, and Kim Kardashian at the 2015 CFDA Fashion Awards held at Alice Tully Hall at Lincoln Center in New York City.
Diane Kruger, Prabal Gurung, and Jhene Aiko at the 2015 CFDA Fashion Awards held at Alice Tully Hall at Lincoln Center in New York City on June 1, 2015 (Credit: WENN)
The then-38-year-old German actress and former fashion model was one of the best dressed in a red garnet bustier gown from Prabal Gurung featuring Swarovski crystals and tonal sequins.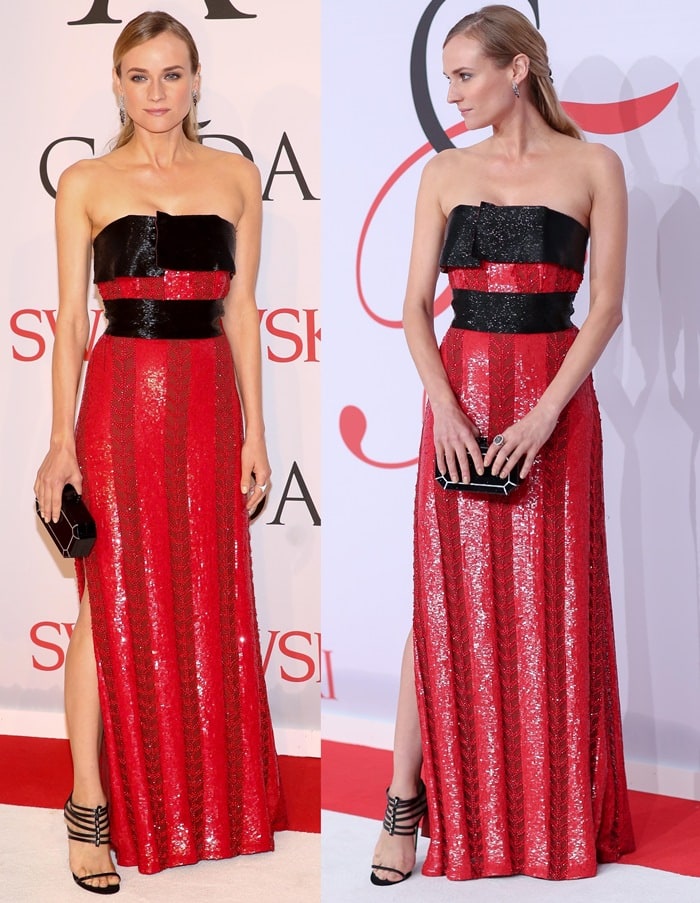 Diane Kruger's red garnet bustier dress with Swarovski crystals and tonal sequins (Credit: Andres Otero / WENN / Ivan Nikolov / Dennis Van Tine / Future Image)
She styled the hand-embroidered custom dress with Monique Péan jewelry, an Edie Parker clutch, and a stunning pair of Prabal Gurung "Berlinde" sandals.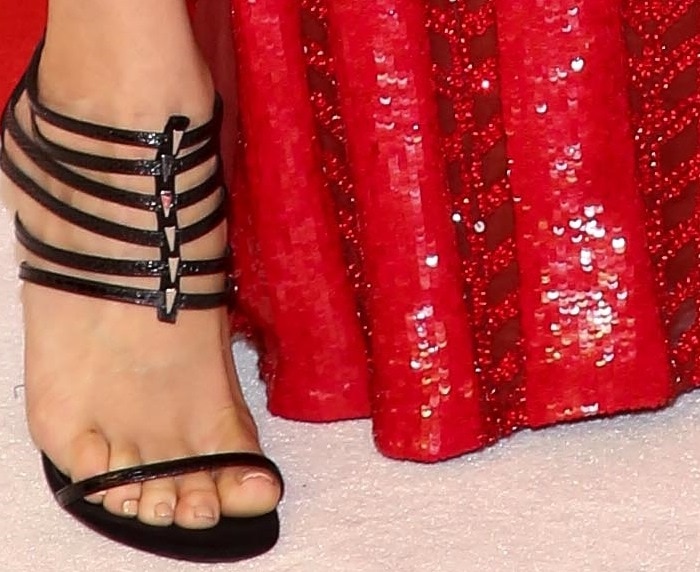 Diane Kruger's sexy feet in Prabal Gurung Berlinde sandals (Credit: WENN)
Do you give her pedicure a pass? How about her high-fashion chic Prabal Gurung ensemble?
Diane's sandals are not available online. However, you can browse the latest from the Singapore-born Nepalese-American fashion designer at Revolve and Shopbop.
Prabal Gurung Cindy Heels, $465