Socialite Jocelyn Wildenstein, famously known as "Catwoman," recently showcased her ageless beauty during a romantic dinner date with her fiancé, Lloyd Klein, in Los Angeles.
Despite their 26-year age difference, the 82-year-old and her 56-year-old Canadian partner shared a playful kiss as they enjoyed a cozy meal together.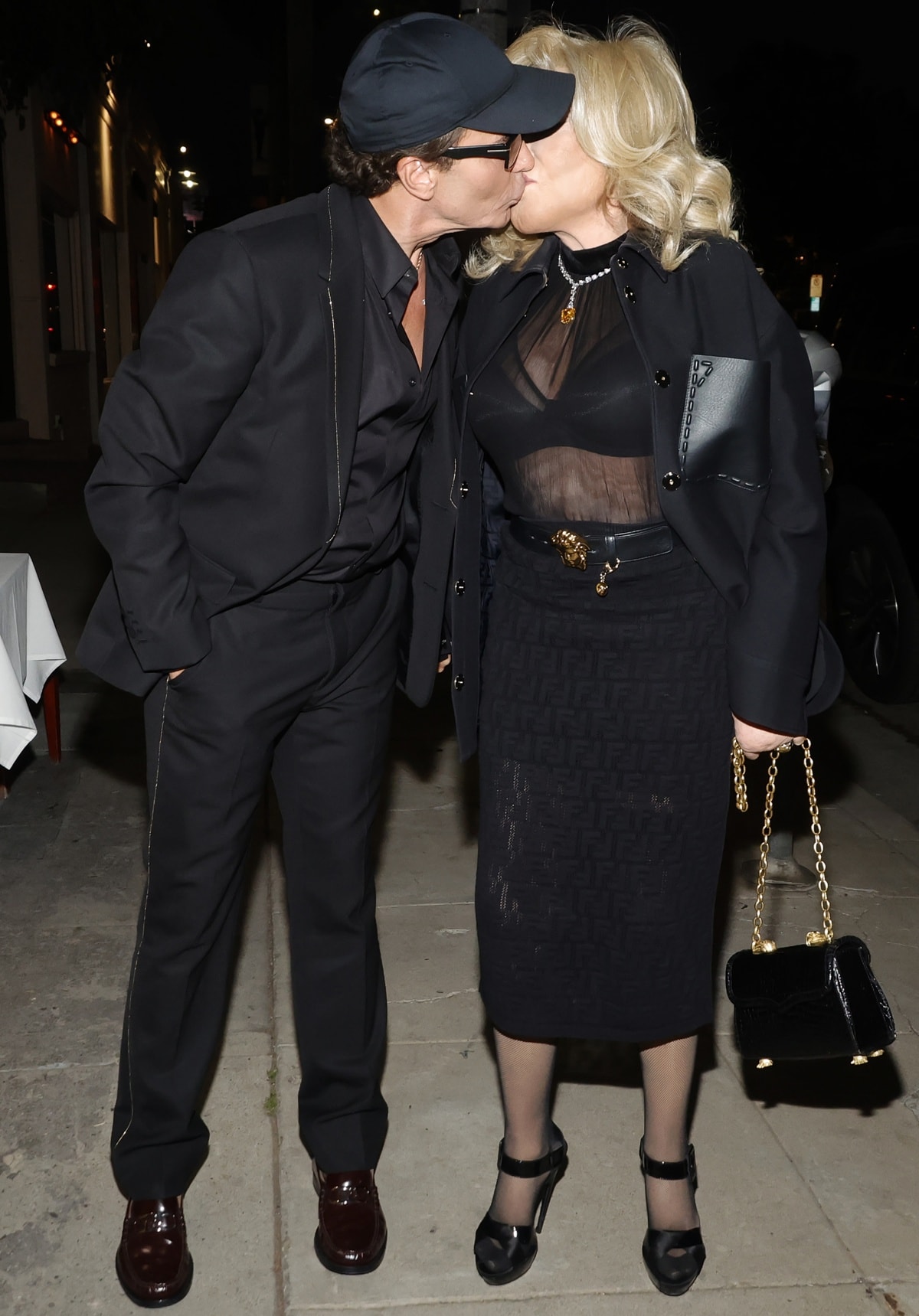 Lloyd Klein and Jocelyn Wildenstein share a kiss as they hold an official engagement dinner with friends at Casablanca Moroccan Kitchen in Los Angeles, California, on May 24, 2023 (Credit: Faye's Vision / Cover Images)
Jocelyn and Lloyd's romantic journey hasn't been without challenges. Both faced misdemeanor assault charges against each other in 2016 and the following year, despite dating for more than 14 years and getting engaged in July 2017.
However, their love endured, and Lloyd proposed to Jocelyn with a remarkable 32-carat diamond ring worth millions.
Their plans to marry in 2018 were delayed, and in a controversial incident, Jocelyn was accused of clawing and slashing Lloyd's chest with scissors at her Trump World Tower apartment.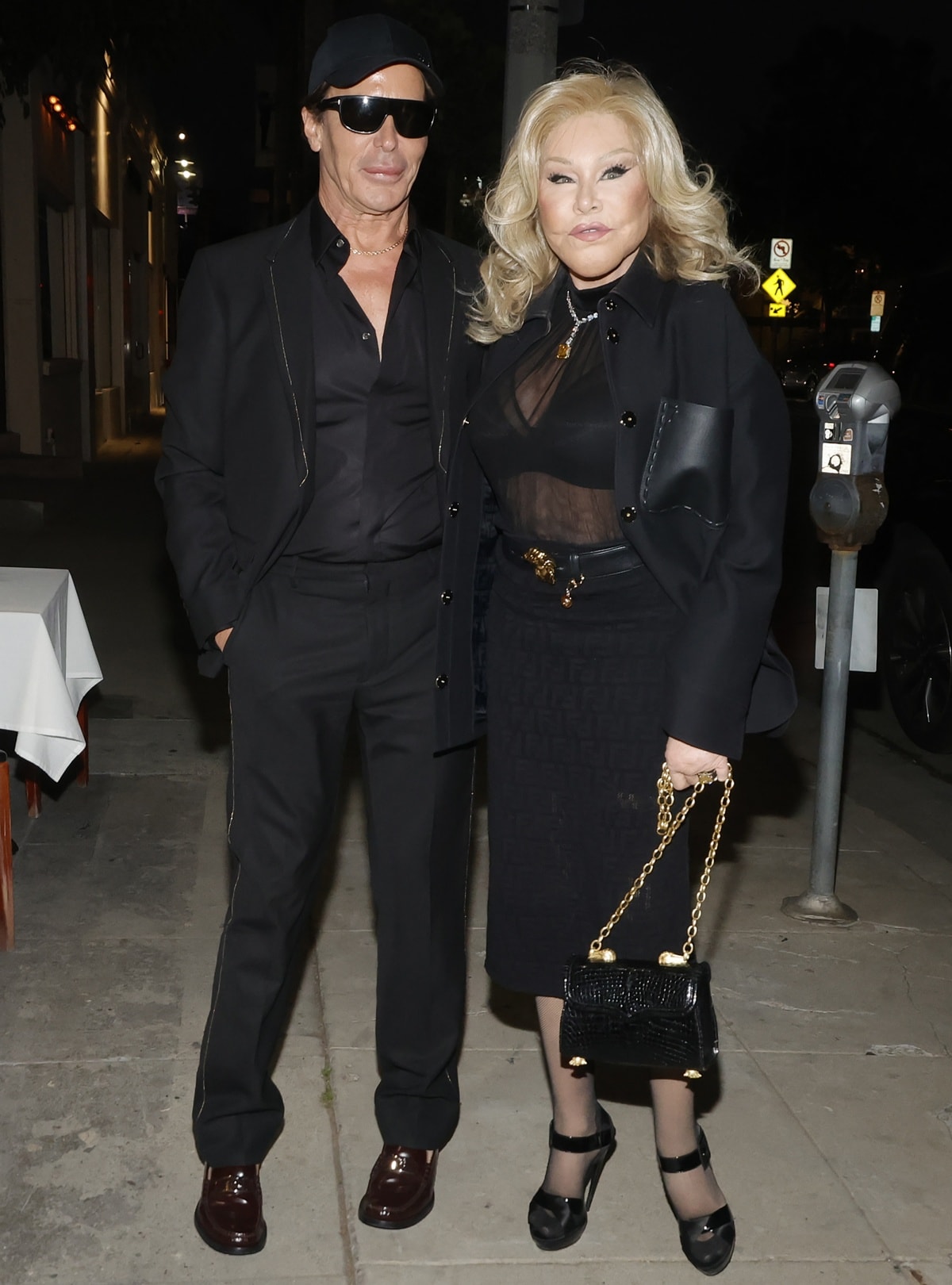 Lloyd Klein and Jocelyn Wildenstein were both dressed in Fendi for their official engagement dinner (Credit: Faye's Vision / Cover Images)
In self-defense, Lloyd reportedly confined Jocelyn until the authorities arrived, though the charges were eventually dropped.
Discover the captivating tale of Jocelyn Wildenstein and Lloyd Klein and explore their unconventional relationship that intertwines passion, plastic surgeries, and resilience.
How Jocelyn Wildenstein and Lloyd Klein Meet
Jocelyn Wildenstein, an American socialite born on September 7, 1940, in Lausanne, Switzerland, and Lloyd Klein, a French designer born on February 15, 1967, in Montréal, Canada, crossed paths in a significant moment that would shape their lives forever.
Their destinies intertwined in 2003 during the New York Fashion Week when Lloyd, captivated by Jocelyn's undeniable allure, graciously invited her to witness his exquisite designs.
In an exclusive interview with People in December 2016, Lloyd fondly recalled, "She said she was enchanted by the collection." This encounter set the stage for moments as they shared dinners and attended social events together.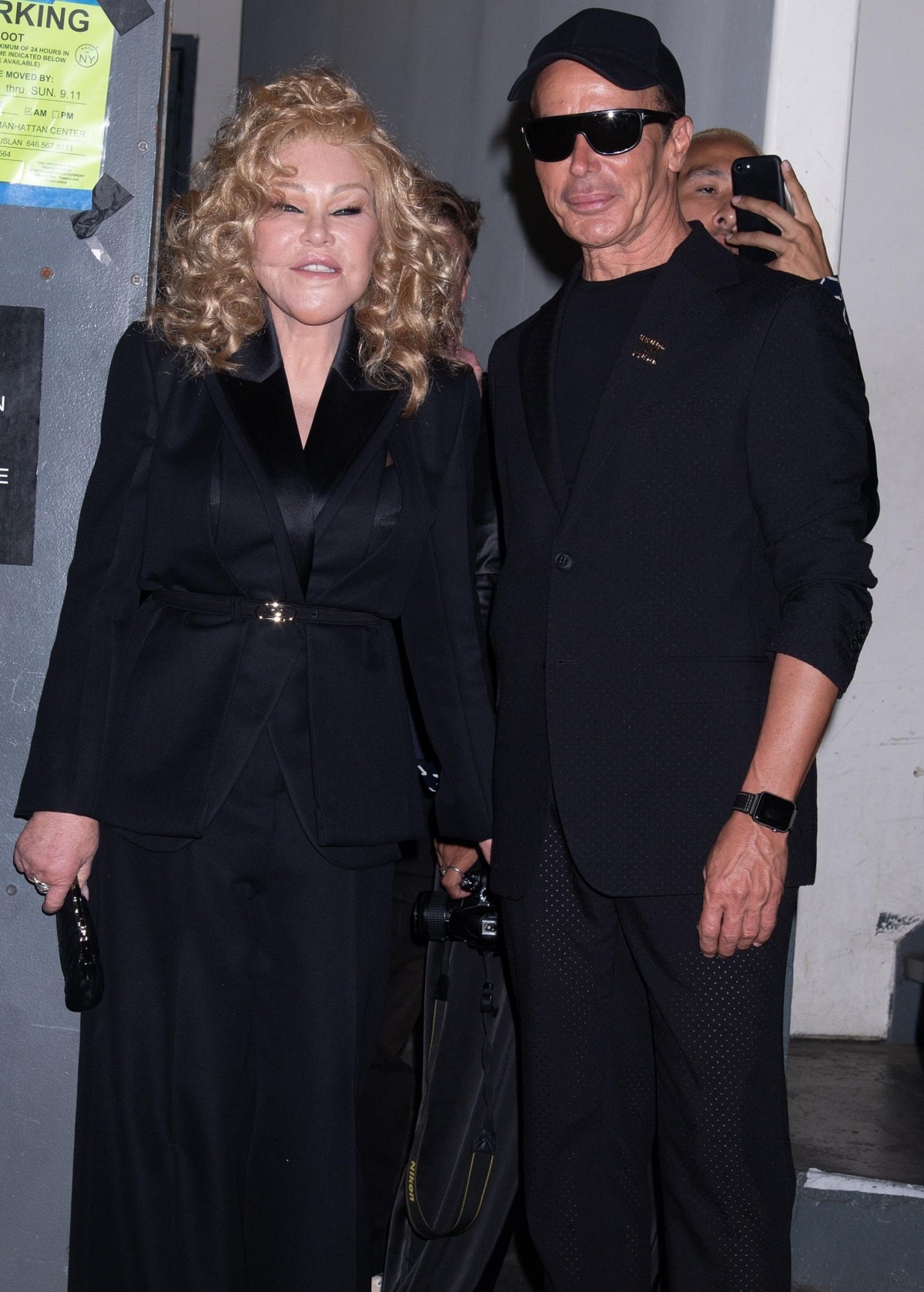 Jocelyn Wildenstein and Lloyd Klein attending the Fendi Spring/Summer 2023 show during New York Fashion Week in New York City on September 9, 2022 (Credit: Janet Mayer / Startraksphoto / Cover Images)
Conversing in the language of their hearts – French – Lloyd and Jocelyn found common ground and a shared understanding of the world of high fashion.
Lloyd emphasized their connection, stating, "We spoke the same language. She understood high fashion. When attending fashion week in Paris, we knew the same people, and we had a great connection. She had impeccable taste."
Their bond deepened, blossoming from acquaintances to passionate lovers, with Lloyd adding, "We became lovers. We tried to meet as much as possible. We had a lot of fun and everything was going extremely well."
However, in 2008, when Jocelyn sold her Manhattan townhouse and relocated to the Trump Apartments, their relationship faced a period of strain.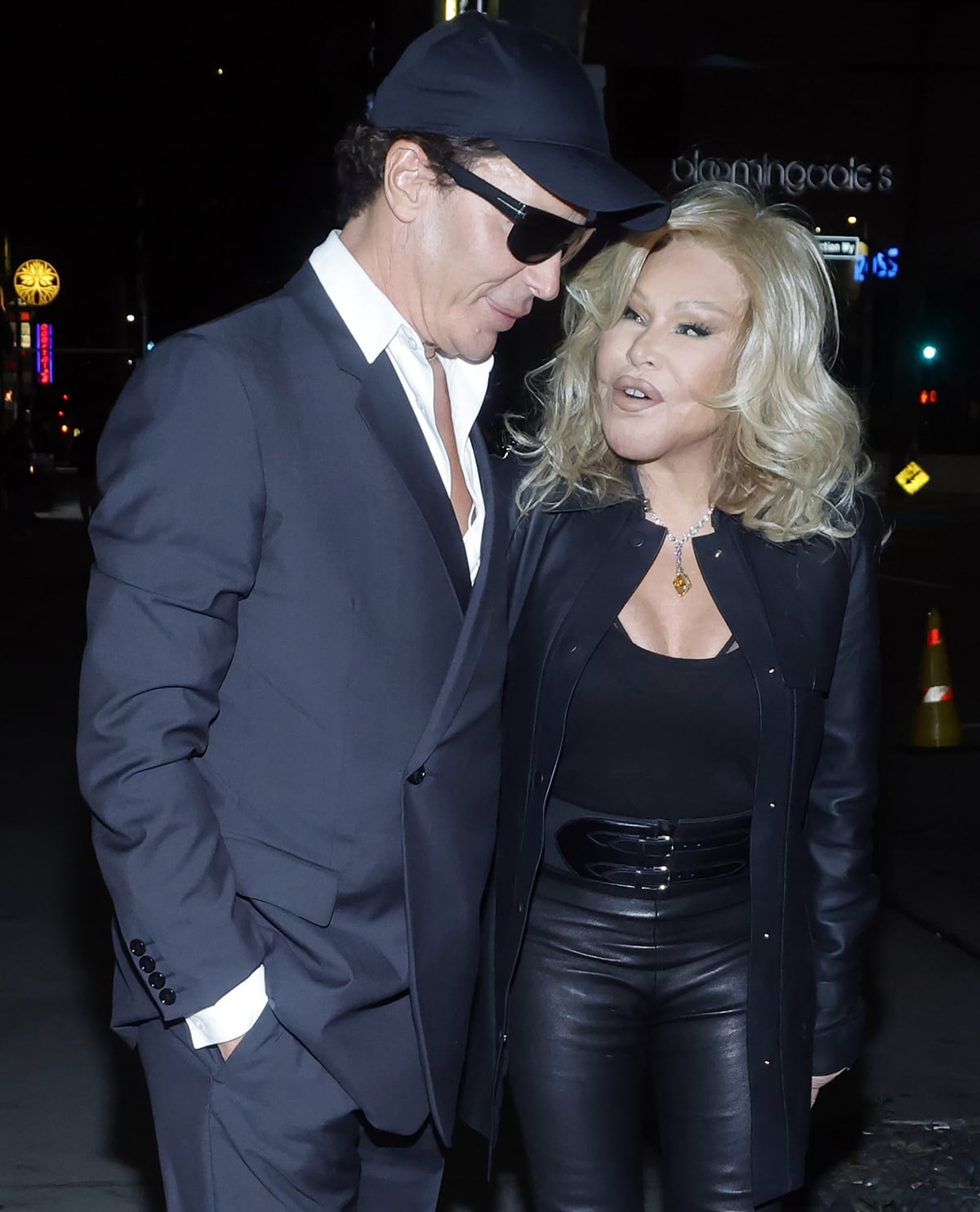 Lloyd Klein and Jocelyn Wildenstein heading out to dinner together in Los Angeles, California on May 23, 2023 (Credit: Faye's Vision / Cover Images)
Lloyd reminisced moments when Jocelyn's emotions would escalate, acknowledging, "There were times when she went into rages, but I mean it's human. Each was okay on its own. It was a little shocking – but I thought she would get better."
Arguments occasionally lead to Jocelyn taking "a cup or glass and throw it to the other side of the room," revealing the complexities of their love.
In an honest reflection reported by the Daily Mail, Jocelyn admitted her faults, recognizing, "In life, we take our frustrations out on those we love the most, and I directed mine towards Lloyd. I let my frustration turn to anger, and it was wrong. I saw red and turned into a woman possessed. I lashed out like an angry cat."
Jocelyn Wildenstein and Her Cosmetic Surgeries
Jocelyn Wildenstein has become a prominent figure in plastic surgery due to her remarkable affinity for cosmetic procedures.
The socialite catapulted into the spotlight during the 1990s amid a highly publicized divorce from art dealer Alec Wildenstein, reportedly securing over $2 billion from the marital split.
However, her extreme transformation has drawn both fascination and concern from the public, with many accusing her of self-mutilation.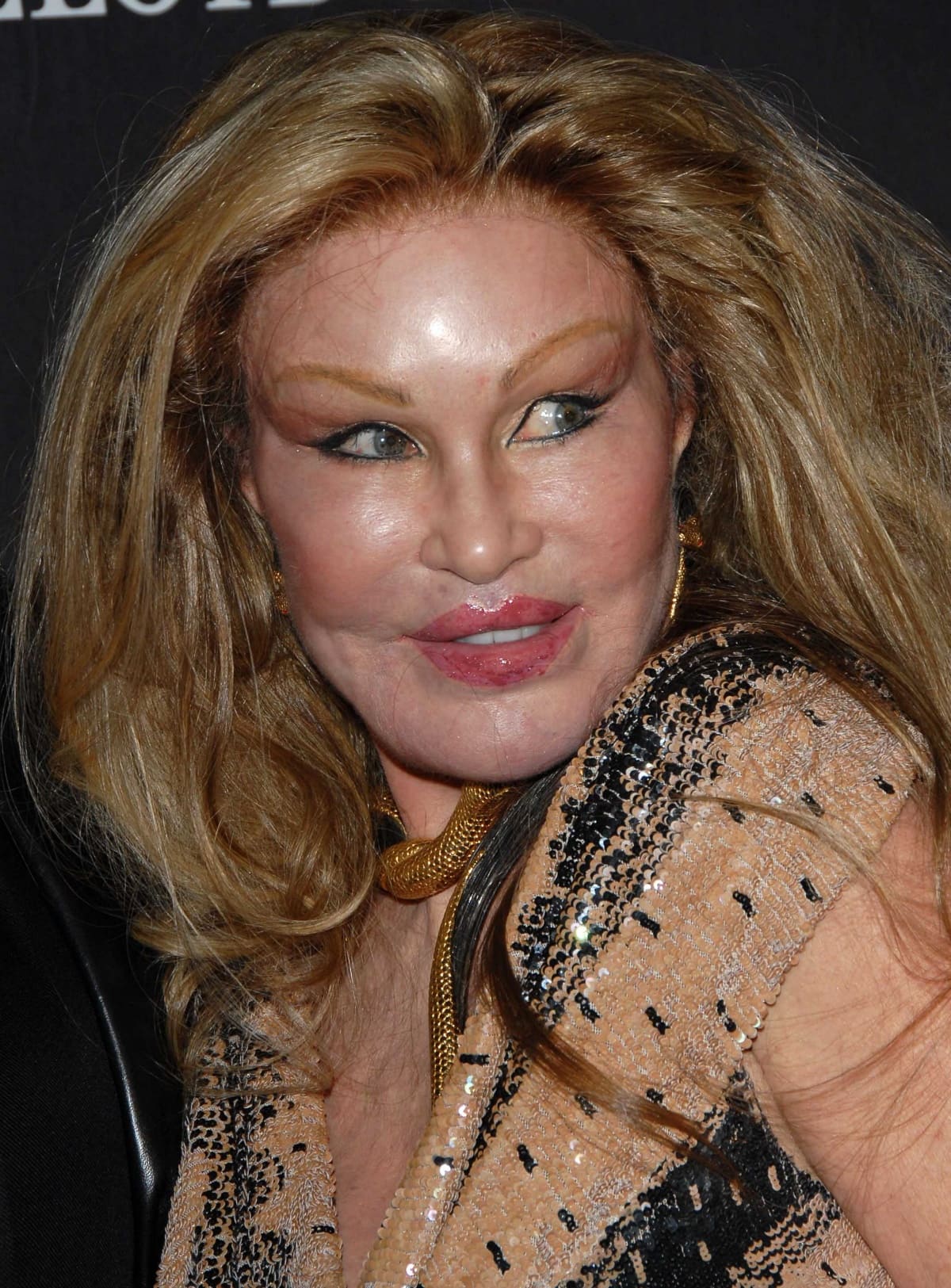 Jocelyn Wildenstein attending the Lloyd Klein Flagship Retail Store, Showroom, and Studio launch party in Los Angeles, California on November 14, 2006 (Credit: Devan / INFGoff)
Throughout her life, Jocelyn has reportedly invested at least $4 million into various cosmetic surgeries.
Before her ventures into the realm of alterations, she captivated audiences as a model, boasting a breathtaking appearance.
Jocelyn's addiction to cosmetic surgery began during her marriage to Alec Wildenstein, a devoted cat lover and art dealer. Eager to please her husband, who spared no expense, she embarked on this transformative journey.
Alec supported her endeavors by financing these procedures without hesitation, reinforcing that external forces drove Jocelyn's change.
In a tragic revelation, Jocelyn reportedly disclosed that her decision to undergo numerous surgeries was primarily influenced by her fear of her husband leaving her.
Her aspiration to modify her face stemmed not from a superficial pursuit but from profound feelings of self-doubt. This vulnerability sheds light on the emotional turmoil behind her drastic transformation.
Jocelyn Wildenstein making an appearance at the Fendi Spring/Summer 2023 show during New York Fashion Week in New York City on September 9, 2022 (Credit: Janet Mayer / Startraksphoto / Cover Images)
As Jocelyn embarked on her transformative journey of cosmetic enhancements, experts speculated that she underwent a series of procedures to achieve her distinctive feline-like appearance.
She is believed to have undergone canthopexy, or eye lift, with her then-husband Alec, which is a technique that elevates the eyes, giving them a cat-like look.
In addition, she is said to have undergone upper and lower eyelid surgery, a brow-lift, face-lift, lip-plumping injections, chin augmentation, and possibly fat grafting and cheek implants.
These interventions combined have undoubtedly played a significant role in shaping her unique and controversial visage.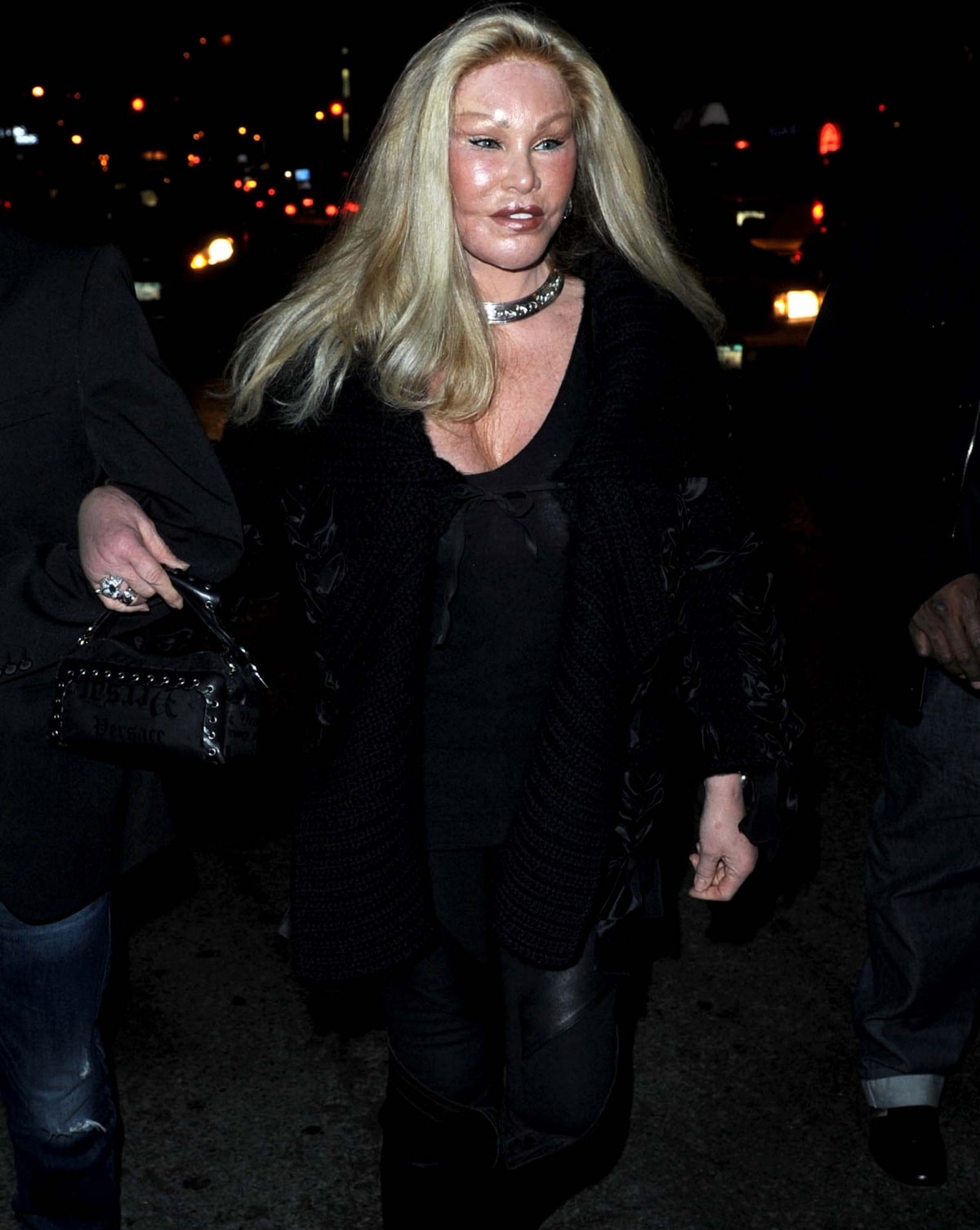 Jocelyn Wildenstein, dubbed as "Catwoman," arriving for dinner at Beauty & Essex in New York City on March 19, 2011 (Credit: Dario Alequin / INFphoto)
Jocelyn Wildenstein Denying Plastic Surgery Allegations
Jocelyn Wildenstein remains steadfast in her unwavering denial of having plastic surgery, standing firm against persistent allegations despite the substantial speculation and media coverage.
Consistently maintaining her stance, Jocelyn has repeatedly and vehemently claimed that she has never undergone any surgical procedures.
In a rather unconventional move in February, she took an unusual approach by accusing others of digitally manipulating her images.
Despite frequently posting heavily filtered photos on her Instagram, Jocelyn shared a picture from her teenage years that appeared slightly altered, using it as evidence to support her claim of not having had any surgery.
View this post on Instagram
She penned a caption that read, "#tbt that's me #jocelynwildenstein at ballet classes in Switzerland at 15 years old – so maybe you should stop speculating on my image ! Press stop ! stop please and stop photoshopping my images because you are all wrong."
In a plea to put an end to the circulation of fabricated images, she added, "Stop posting fake images of me . You will be able to watch the true image of me very soon on screen," referring to her plans to make a documentary series about her life, a project she had originally discussed in 2021.
However, Jocelyn later edited the caption to a simpler statement, "Me getting ready for my ballet classes in Switzerland at 15 years old," and disabled the comment section on the post.
During an interview with DailyMailTV in 2018, Jocelyn firmly reiterated her position, stating that she had never pursued cosmetic procedures.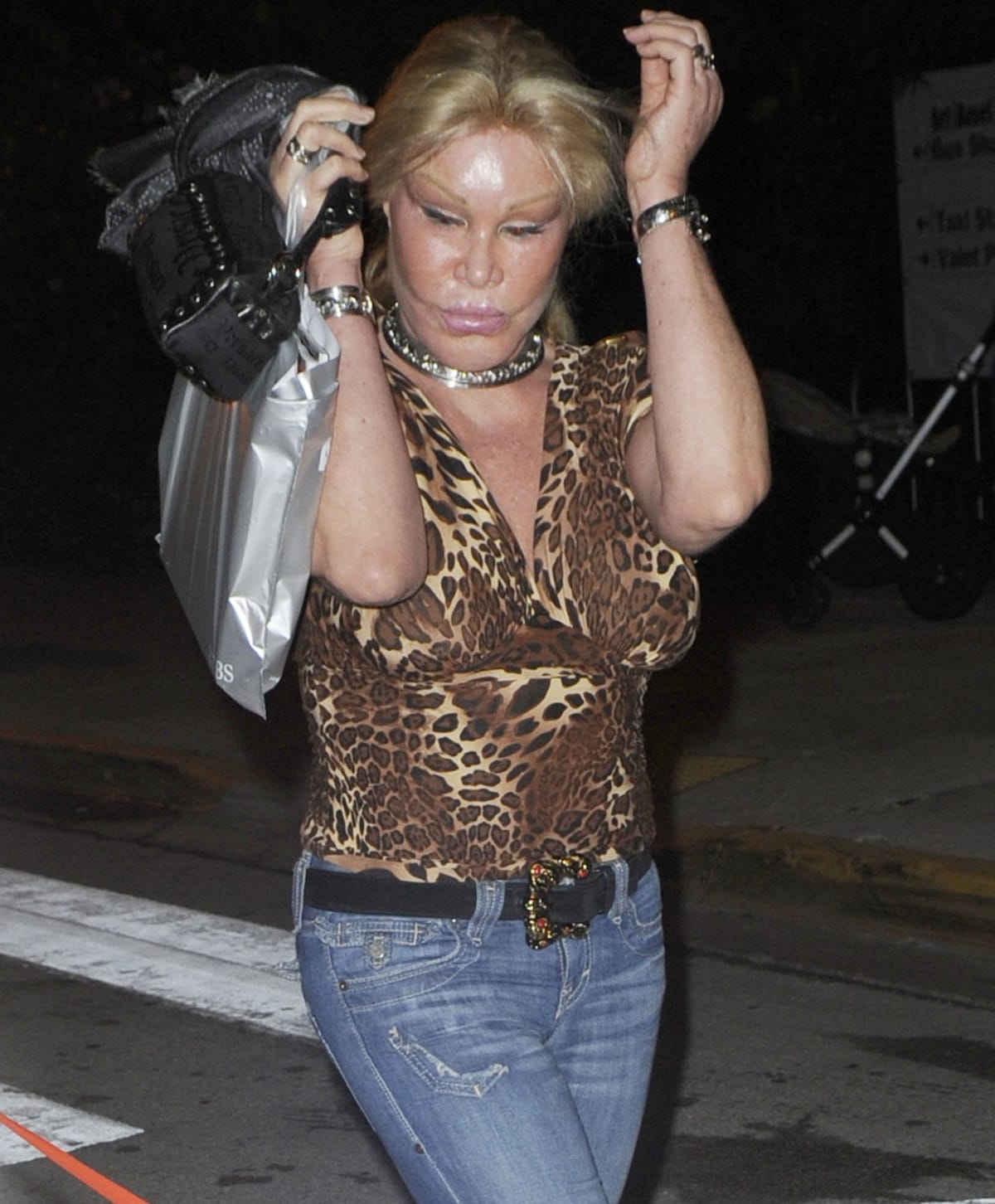 Jocelyn Wildenstein photographed at Art Basel 2009 at the Miami Beach Convention Center in Miami Beach, Florida on December 4, 2009 (Credit: INFphoto)
When asked about the rumored surgeries, she replied, "No, especially when we look back at my pictures – I think of course I am maybe more beautiful [back then]. When we are young there's a certain freshness we lose with the years. But you still find the same eyes, same high cheeks, or same nose. I think I was more pretty."
What Lloyd Klein Says About Jocelyn Wildenstein's Plastic Surgeries
In the same Daily Mail interview, Jocelyn's fiancé, Lloyd Klein, echoed her claims of not having gone under the knife, stating, "I don't understand the whole press and the Catwoman thing because [she has] always looked like that. She never really did anything to change her face. I have pictures from 16 years old where she looks exactly the same as today."
Jocelyn Wildenstein and Lloyd Klein leaving Mr. Chow restaurant in Beverly Hills, California, on January 19, 2013 (Credit: Karl Larsen / INFphoto)
Lloyd further praised Jocelyn's beauty and described her as "beautiful" and "magical."
He expressed his mesmerization with her eyes, personality, and unique qualities: "The first time I met her, I was almost mesmerized by the beauty, the eyes, the personality. And I work in fashion and I see all these supermodels, and I see everyone, and I see the most beautiful women on the runway, right? But Jocelyn has something to offer that not a lot of women have."
Regarding the alleged plastic surgeries, Lloyd acknowledged some enhancements in the interview with People, stating, "Of course, we see that she had some surgery. It's obvious she had 'lifting' and she had some work done. She had some little repairs here and there, but it's not that she tried to look like a cat, she had those features at 18, these same eyes, the nose, the cheekbones."
Lloyd Klein and Jocelyn Wildenstein taking a walk in Tribeca in New York City on June 13, 2015 (Credit: ACE / INFphoto)
However, he claimed to be unaware of any specific alterations she might have pursued during their years together, saying, "If she traveled and did some alterations, I was not present."
Lloyd emphasized that he does not share the same view as others and stated, "I'm not shocked. Beauty is subjective."