Miley Cyrus stopped by the BBC Radio 1 studios for an interview the other day, and, surprise, surprise — she wasn't wearing a crop top or a tight spandex outfit.
We've gotten so used to Miley flaunting her Pilates-toned body that it was a shocker to see her in just a regular "Join A Weird Trip" t-shirt.
Miley Cyrus in a graphic tee paired with an itty-bitty leather miniskirt
Okay, so maybe she paired the Balenciaga t-shirt with an itty-bitty leather miniskirt, but the skirt is definitely a lot longer than some of the stuff she'd been wearing lately.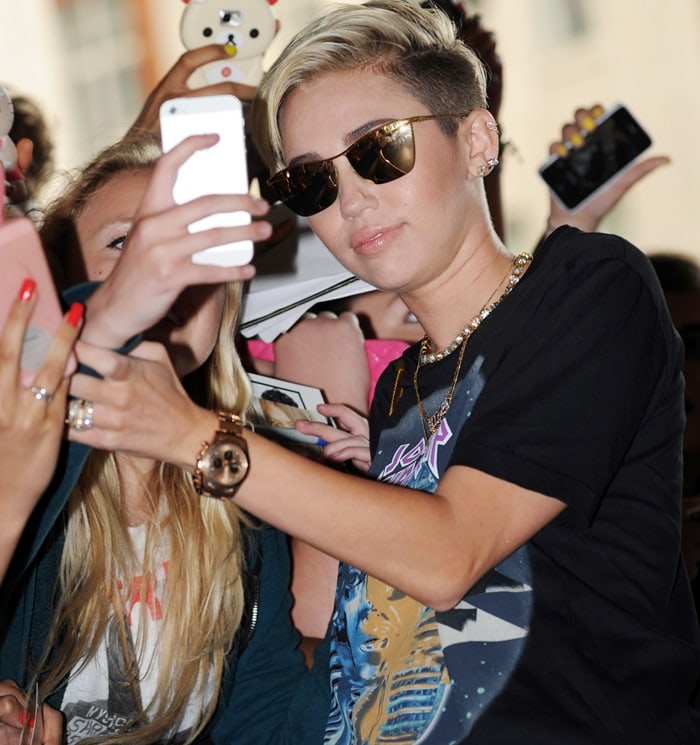 Miley Cyrus arriving at the BBC Radio 1 studios in London, England, on July 18, 2013
Miley retained her Hollywood superstar vibe in her graphic tee with celebrity-must-have sunglasses, piled-on gold and diamond jewelry, a shiny gold shoulder handbag from Celine, and high-maintenance red nails.
On her feet were these barely-there sandals in gray snakeskin:
Miley Cyrus' sexy feet in Celine gray snake sandals
Miley's showing a lot less skin here, but for us, this might be the sexiest outfit she's worn in a while. Do you agree or disagree?
Steal the style of Miley Cyrus' Celine sandals with these very similar gray-and-white snake-print "Vivian" sandals from Calvin Klein that you can purchase at Amazon:
Calvin Klein Vivian Sandals, $35.70 – $120.99 at Amazon
Balenciaga Sphinx Print T-Shirt in Black, $214.00
Balenciaga Join A Weird Trip Printed T-Shirt in Black, $268.00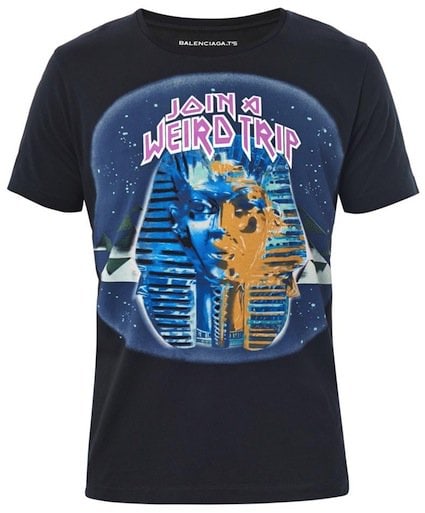 Credit: WENN / Will Alexander