In 1988, director Donald Petrie brought "A Slice of Heaven" to the theater with the classic romantic comedy Mystic Pizza.
This timeless coming-of-age film still holds up decades later, not only because it's a genuinely charming film but also because it's one of the first major roles for star Julia Roberts.
The film follows sisters Kat and Daisy and their friend Jojo as they work together at the Connecticut pizzeria Mystic Pizza. The three find themselves tangled up in a whirlwind of emotions and romance.
The title of Mystic Pizza was inspired by a pizza shop in the village of Mystic, Connecticut at 56 West Main Street (Credit: Enrico Della Pietra / Shutterstock)
Kat's getting ready to go to Yale but, in the meantime, starts falling for an older man whom she babysits for. Meanwhile, the wild child Daisy starts dating a mega-rich guy.
Last but not least, Jojo is supposed to marry her teenage sweetheart, but she's super afraid of commitment – like, passes out at the wedding afraid!
While all that's going on in their love lives, the girls are also trying to make Mystic Pizza famous and are angling to bring more customers to the store. They try their best to bring in a pompous critic from the Fireside Gourmet, Hector.
Donald Petrie made his directorial debut with Mystic Pizza and is also known for movies such as How to Lose a Guy in 10 Days (2003), Miss Congeniality (2000), and Grumpy Old Men (1993) (Credit: Media Punch / INSTARimages)
They think a good review from him will boost sales big time, but unfortunately, their boss Leona hates him and doesn't want to suck up to the guy.
The girls also try to pitch goofy ideas like "designer pizza" for $30 to boost sales, but Leona's not into that idea, either. Will there be a happy ending for the pizza parlor or the girls' romance?
Decades later, even knowing how the movie ends, fans still return to this classic. Not only is it thoroughly charming, but it tackles a surprising number of deep topics like racism and sexuality.
How Mystic Pizza made a star out of Julia Roberts
Julia Roberts stars in the film as Daisy Araújo, a Portuguese-American working as a waitress at the titular Mystic Pizza.
Her character eventually falls in love with Charles, played by Adam Storke. Daisy also has a heartwarming relationship with her sister, Kat (played by Annabeth Gish).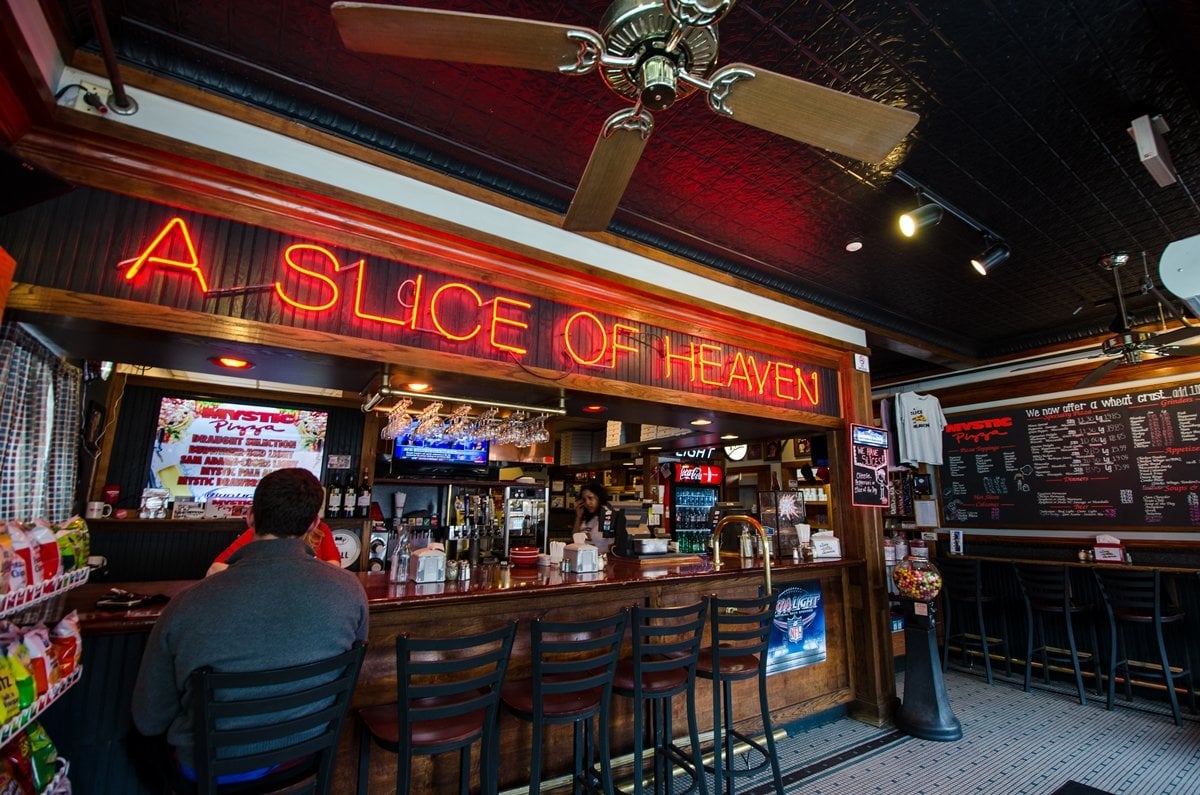 Inside Mystic Pizza, a real restaurant in Mystic, Connecticut, that was founded in 1973 (Credit: melissamn / Shutterstock)
Though it's hard to imagine Roberts playing any other character, she actually didn't audition for the role of Daisy. She read for the part of Jojo. In the end, Jojo ended up being played by Lili Taylor.
Another fun fact is that Gloria Estefan was initially offered the role of Daisy, but she turned it down because she didn't feel seasoned enough as an actress to take on a role that big.
Roberts actually nearly didn't get a part in the movie at all. On David Letterman, she said that while her audition was well-received, she was told that she just didn't look right for the part.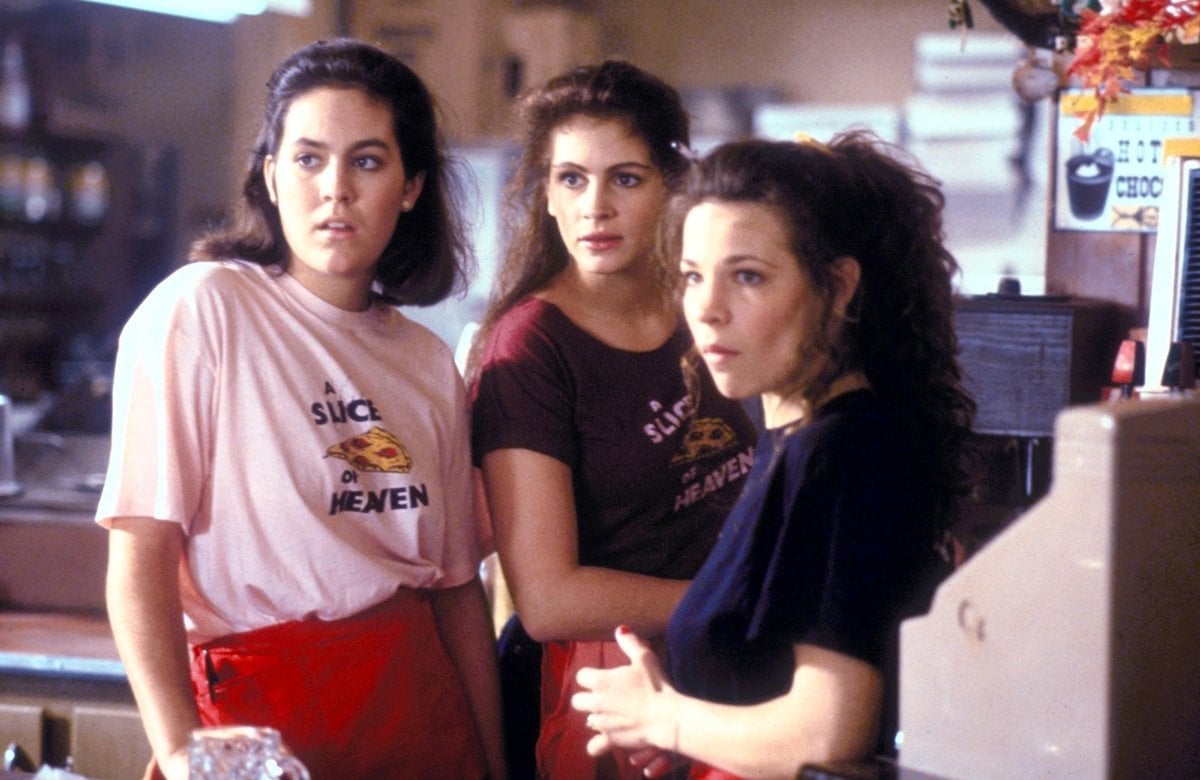 Annabeth Gish as Katherine "Kat" Araújo, Julia Roberts as Daisy Araújo, and Lili Taylor as Josefina "Jojo" Barbosa in the American romantic comedy-drama film Mystic Pizza (Credit: The Samuel Goldwyn Company)
So, she dyed her hair black instead of blond in time for the follow-up audition to physically match Daisy's description better.
She actually ran off to buy cheap black hair dye and applied it right before the audition, which ended up in an awkward moment when co-star Adam Storke went to touch her hair and accidentally rubbed a bunch of black mousse into his palm!
On top of all that, Roberts had already gotten off on the wrong foot with Mystic Pizza's casting director, Janet Hirshenson.
That same year, Roberts was supposed to try out for a role in the fantasy film Willow, but she never showed up for the audition because her car broke down. When Roberts got to the audition for Mystic Pizza, she was pretty unprepared, having only read the script the night before.
She was dressed shabbily in an oversized T-shirt and baggy pants, so there weren't a lot of factors in her favor. Once Hirshenson met her, though, she was wowed by Roberts' charisma. "She simply knocked it out of the park," she said.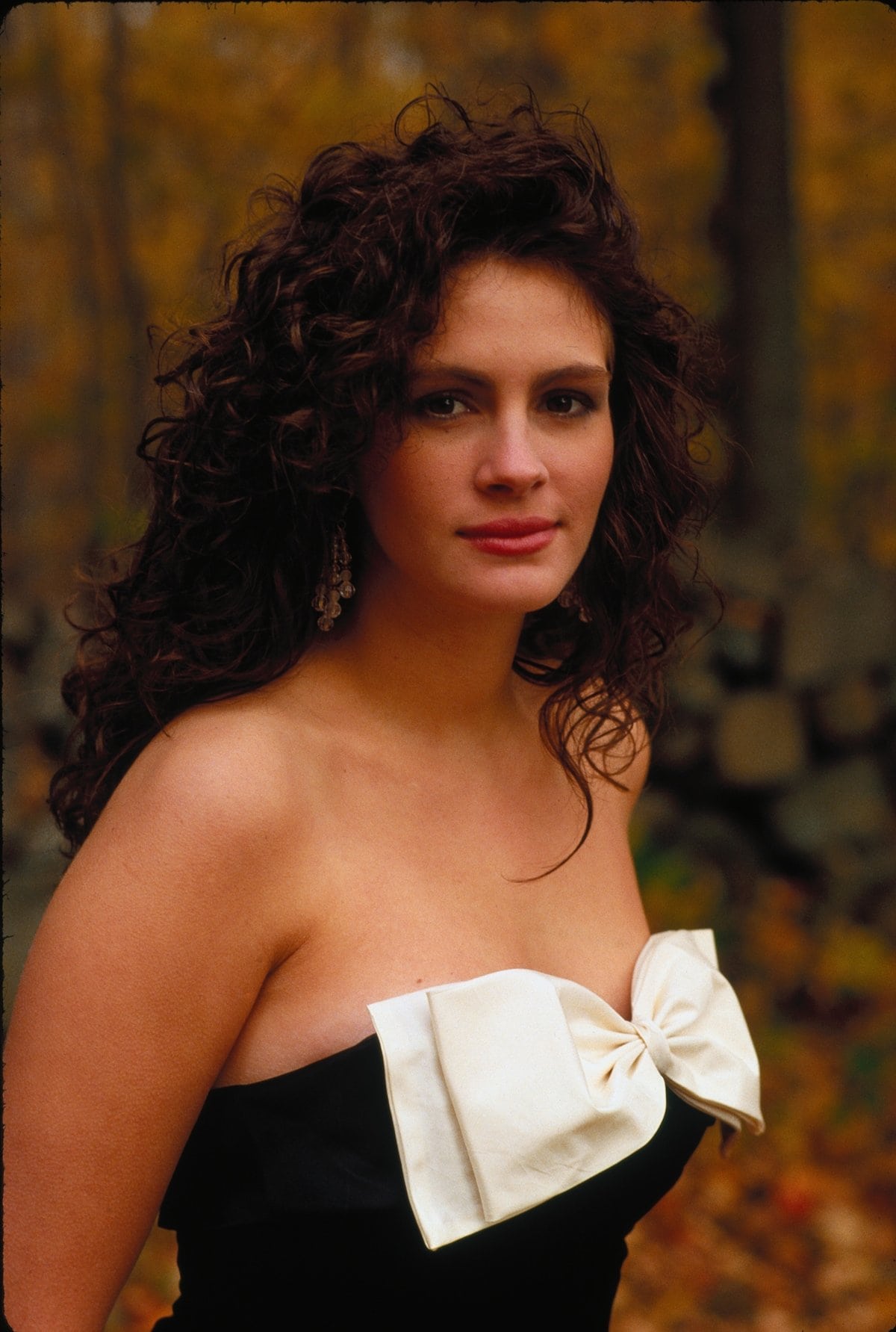 Julia Roberts plays the sexually adventurous Daisy Araújo but first auditioned for the role of Josefina "Jojo" Barbosa (Credit: The Samuel Goldwyn Company)
She also told Letterman that she made it a point to stand out amongst the crowd of young actresses auditioning for the role. While the other women studied their script nervously, she plugged her Walkman in and started singing along to the songs out loud. Not only did it throw off the other actresses, it also made her much more distinct in the eyes of the casting director.
Roberts' performance won rave reviews – in fact, when the movie was released, critic Roger Ebert wrote that the film "may someday become known for the movie stars it showcased back before they became stars."
How right he was! Not only was this a breakthrough role for Roberts, but it marked the big-screen debut of Matt Damon, as well. Of course, Damon only has one line in the movie, so he still had a way to go before hitting superstar status.
Matt Damon was born on October 8, 1970, and was 18 years old when "Mystic Pizza" premiered on October 21, 1988.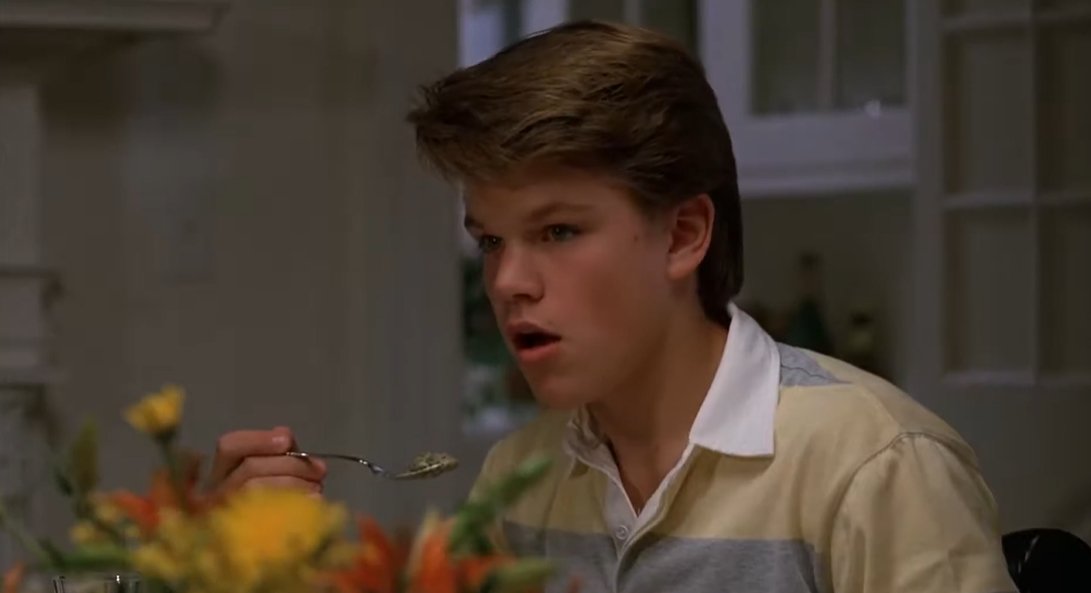 Matt Debut was just 18 years old when he made his movie debut with a small role in Mystic Pizza (Credit: The Samuel Goldwyn Company)
Amazingly, Roberts pulled off this iconic performance at a very young age. Before getting the role, she was just a nineteen-year-old sales clerk in New York City.
She remarked in a video for WIRED that she actually turned 20 on set! She turned out a spellbinding performance before she was even old enough to drink beer!
Interestingly enough, Mystic Pizza wasn't a huge hit when it first came out. I mean, sure, it was critically acclaimed and made a pretty decent amount of money for a tiny independent movie filled with then-unknowns, but it certainly wasn't a mega-hit.
It made $14 million at the box office against a $6 million budget – again, not bad, but compare that to the top movie of 1988, Who Framed Roger Rabbit, which grossed a whopping $156 million.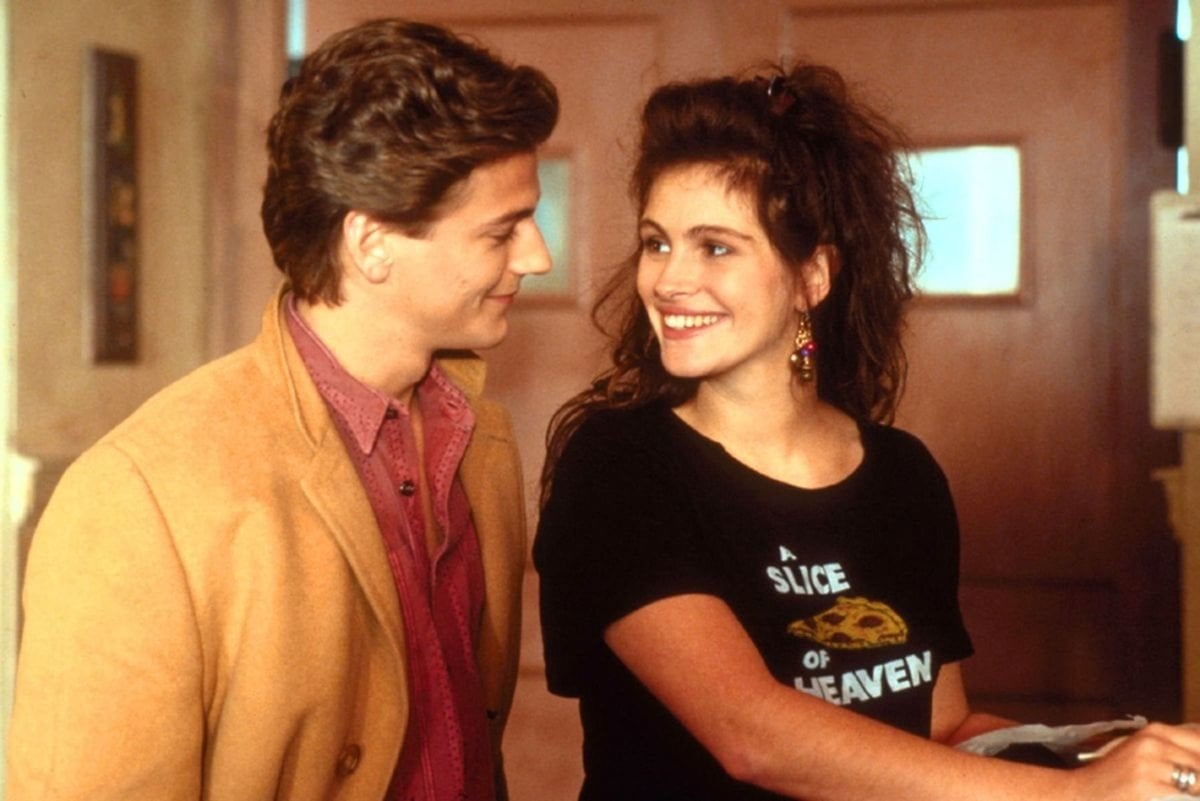 Julia Roberts plays a young waitress who falls in love with Adam Storke as Charles Gordon Windsor Jr. (Credit: The Samuel Goldwyn Company)
But, two years later, when Roberts blew up even bigger with 1990's Pretty Woman, more folks returned to Mystic Pizza to see their new favorite actress in another film.
From there, the movie started to pick up steam, turning the small town of Mystic, Connecticut, into a major tourist attraction.
The then-unknown Julia Roberts was paid a solid $50,000 for her work on the film. Not a bad salary for a total nobody!
Julia Roberts was paid just $50,000 for Mystic Pizza but went on to make $300,00 for Pretty Woman (Credit: Buena Vista Pictures Distribution)
She would go on to make $300,000 for Pretty Women, and these days, she nets a hefty $25 million per role – that's more than Mystic Pizza made at the box office!
What about the other cast members of Mystic Pizza?
Annabeth Gish, who plays Kat, also gave a great performance in the movie. Ebert even likened her to a "young Katherine Hepburn." Like Roberts, she was still in her teens while shooting the movie.
In fact, she was still in high school and actually went to prom right after her appearance on The Today show to promote the movie!
Gish then went on to star in other 80s movies like Shag and notably turned to the world of television acting with her roles on The X-Files, Pretty Little Liars, and Sons of Anarchy.
Annabeth Gish played the sister of Julia Roberts' character in 1988's Mystic Pizza and has been married to Wade Allen since 2003 (Credit: Sara De Boer / Startraksphoto)
Lili Taylor played Jojo, and she actually wasn't expecting the movie to be such a hit. She told Entertainment Weekly that she really didn't think Mystic Pizza would become a classic and that, really, all the stars were just trying their best and having fun.
"We were all sort of innocent," she said. "Maybe that spirit came through." Taylor is also known for her role in the 1989 romantic comedy, Say Anything – in fact, in the 2000s, the two movies were actually released as a double feature on DVD.
Then there's Vincent D'Onofrio, who was a bit of a strange choice to play a handsome young love interest.
Vincent D'Onofrio and his co-star Adria Arjona promote their fantasy drama television series Emerald City at Universal Studios on December 9, 2016, in Los Angeles (Credit: Kathy Hutchins / Shutterstock)
After all, at that point, his earlier roles were as a character named "Lobotomy" in The First Turn-On and as the bullied private in Full Metal Jacket. He actually wasn't super interested in working on Mystic Pizza at all, but he ended up falling in love with the script.
And that wasn't the only thing he fell in love with! Supposedly, D'Onofrio was flirting with EVERYONE on set. He later told Entertainment Weekly that he was "smitten" with all three lead actresses. He also remarked that as soon as he met Julia Roberts, he knew she was destined for stardom.
Kat's love interest was played by William R. Moses. He became a major soap star – before Mystic Pizza, he had a recurring role on Falcon Crest.
William R. Moses attends the premiere of the series finale of ABC's "How To Get Away With Murder' at Yamashiro Hollywood on February 8, 2020, in Los Angeles, California (Credit: Billy Bennight / AdMedia / Media Punch / INSTARimages)
After that, he went on to be in Melrose Place and Touched By An Angel and, more recently, has appeared in How to Get Away With Murder.
Finally, there's Daisy's beau, played by Adam Storke. Like Roberts, he also had to dye his hair for the role of Charlie. Storke appeared in various television shows like Crossing Jordan and Our Generation.
Many of these stars ended up working together again later. Taylor and D'Onofrio would later work together on Household Saints and Brooklyn's Finest.
Annabeth Gish was 17 years old, Julia Roberts was 20 years old, Lili Taylor was 21 years old, Vincent D'Onofrio was 29 years old, William R. Moses was 28 years old, and Adam Storke was 26 years old when "Mystic Pizza" premiered on October 21, 1988.
The cast of Mystic Pizza includes Annabeth Gish, Julia Roberts, Lili Taylor, Vincent D'Onofrio, William R. Moses, and Adam Storke (Credit: The Samuel Goldwyn Company)
Matt Damon and Julia Roberts would meet again for Ocean's Eleven and Ocean's Twelve, as well as Confessions of a Dangerous Mind. And actress Conchata Ferrell (who plays Leona) would later work with Julia Roberts again in 2000 for Erin Brockovich.
The real Mystic, Connecticut
Many folks don't realize that Mystic Pizza is actually a real place. The film's screenwriter, Amy Holden Jones, actually discovered the restaurant while she was on vacation in Mystic, Connecticut. Enamored with the location and that interesting name, she decided to set her film there.
With that being said, the movie wasn't actually shot at the real Mystic Pizza – it was way too small!
Mystic is a village and census-designated place in Groton and Stonington, Connecticut, and is known for its beautiful waterfront and historic homes (Credit: Ollphotograph / Shutterstock)
The crew built a whole new restaurant set for the movie. It was built inside an old warehouse called the Garbo building, and it was on Water Street in Stonington Borough, Connecticut.
The wedding reception location, Peg Leg Pub pool hall, and fishing docks were all filled very close by in Stonington as well. The young cast stayed at the Mystic Hilton.
Ultimately, the only scenes that took place in the town of Mystic were the planetarium scenes and the scenes at the Mystic River Bascule Bridge.
The Mystic River Bascule Bridge is a historic bascule bridge spanning the Mystic River (Credit: Peter Titmuss / Shutterstock)
After the movie came out, the real Mystic Pizza was renovated to look more like its screen counterpart, and the owners of the small restaurant made big bucks from their sudden fame.
Naturally, the film's shooting was a big deal for the townspeople of Mystic. About 700 locals participated as extras in various scenes. Some locals even volunteered to teach the actors how to set up lobster traps!
But the real Mystic Pizza wasn't so magical for employees…
It turns out things weren't all that great at the real Mystic Pizza – at least not in the 2010s. In 2014, it was revealed that Mystic Pizza had committed multiple labor violations.
The Department of Labor determined that the pizzeria had paid workers way below minimum wage.
They also had employees working 93-hour weeks! Mystic Pizza ended up having to pay 110 employees a total of $105,000 to compensate for the violations.
Mystic Pizza: The Musical!
Back in 2021, Mystic Pizza came to the stage. The production went live in Ogunquit, Maine, and featured a score written by Melissa Etheridge.
It was written as a jukebox musical and featured performances of songs like "Girls Just Want to Have Fun," "Hit Me With Your Best Shot," "Manic Monday," and other hits from the '80s.
Funnily enough, back in 2007, the TV show 30 Rock had a (fictional) Mystic Pizza musical subplot.
In the show, Jenna Maroney stars in the musical and had to eat thirty-two slices of pizza on stage a week, thus becoming severely overweight. Luckily, it looks like the cast of the real Mystic Pizza musical didn't have that problem!
Will there ever be a Mystic Pizza sequel?
There had actually been a push for a sequel to the movie in the 90s. It would have been called Return to Mystic Pizza.
Director Donald Petrie even teased fans a bit when he started working on the movie Little Italy – it also was set in a pizza shop and even starred Julia Roberts' niece Emma Roberts!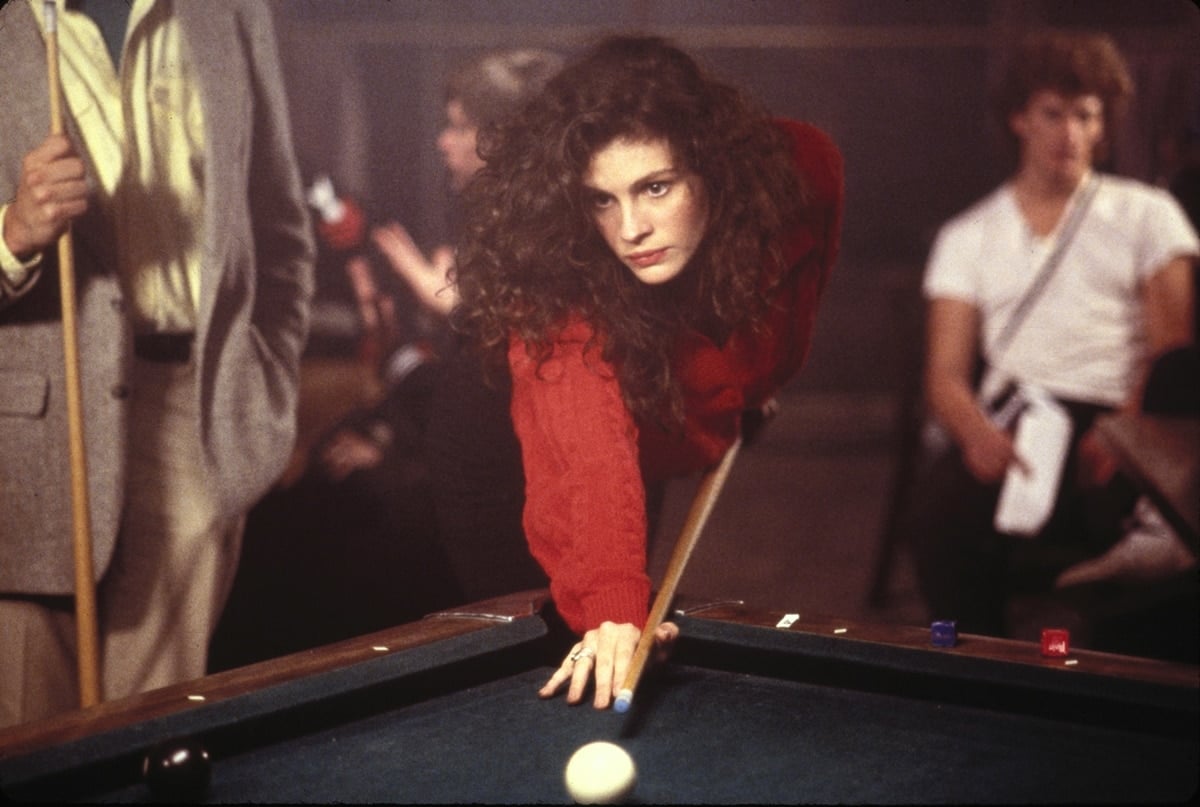 The 1988 coming-of-age movie Mystic Pizza made Julia Roberts a Hollywood star (Credit: The Samuel Goldwyn Company)
When promotional photos came out, Emma was even wearing a "Slice of Heaven" t-shirt, so people were convinced it was a sequel. But nope, it was just a cheeky in-joke about the movie.
As of now, there aren't any plans for a sequel. There has been a Mystic Pizza reunion, though!
Joining Abigail Breslin on the red carpet for the premiere of August: Osage County in December 2013, Julia Roberts donned a two-piece outfit by Givenchy.
Julia Roberts flaunts her legs in a Givenchy ensemble accessorized with a Pomellato ring (Credit: FayesVision / WENN / Apega)
Her ensemble consisted of a crisp white tuxedo shirt, a single-button black light wool jacket with satin details, and a curved skirt.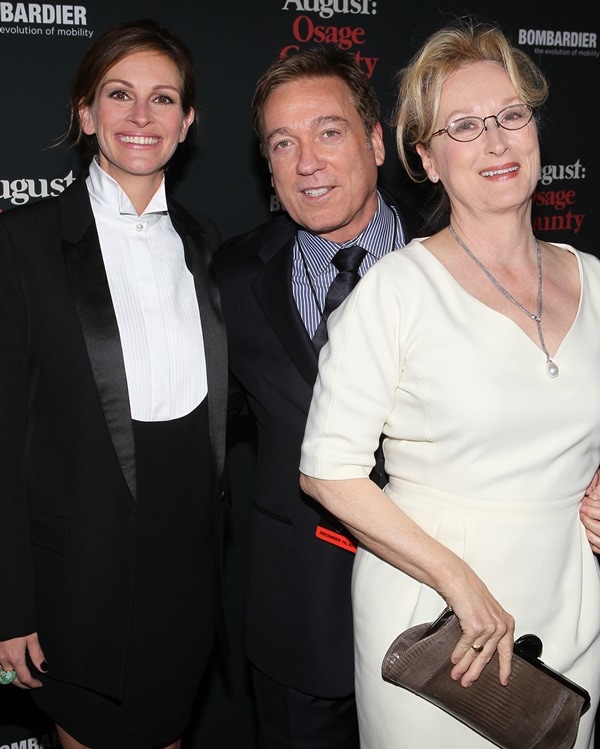 Julia Roberts, Meryl Streep, and Kevin Huvane at the premiere of August: Osage County at Regal Cinemas L.A. Live in Los Angeles on December 17, 2013 (Credit: WENN)
The American actress and producer completed the outfit with a Capri ring in rose gold by Pomellato and black leather ankle-wrap sandals by the French luxury house known for Antigona and Pandora.
Her co-star Meryl Streep, on the other hand, donned a V-neck white dress from the Gucci Pre-Fall 2013 collection.
Julia Roberts showing off a Capri ring in rose gold by Pomellato (Credit: WENN)
How do you like Julia Roberts' androgynous lady tux outfit and the Givenchy bondage sandals?
Fashion critics hated Julia's ensemble, but the then-46-year-old seemed more than pleased with her appearance on the red carpet.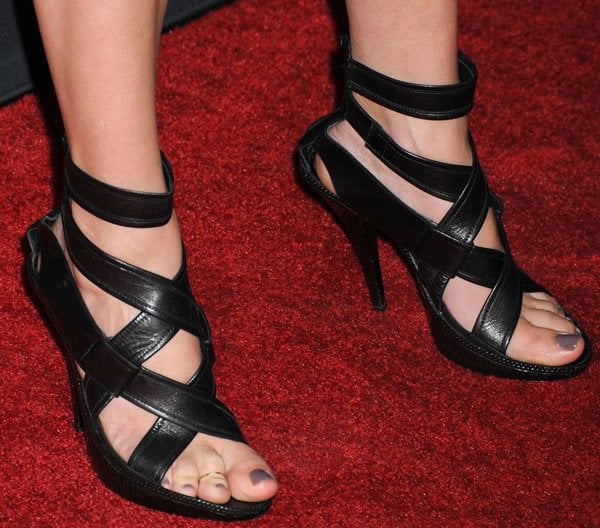 Julia Roberts shows off her feet in black leather ankle-wrap sandals by Givenchy (Credit: WENN)