Where has the time gone? Julia Stiles has been with the "Jason Bourne" franchise since day one, and she can't quite believe it's been roughly 14 years since she was first handed the script.
The actress was only 19-years-old when she first jumped aboard, and it wasn't until two years later that the movie premiered.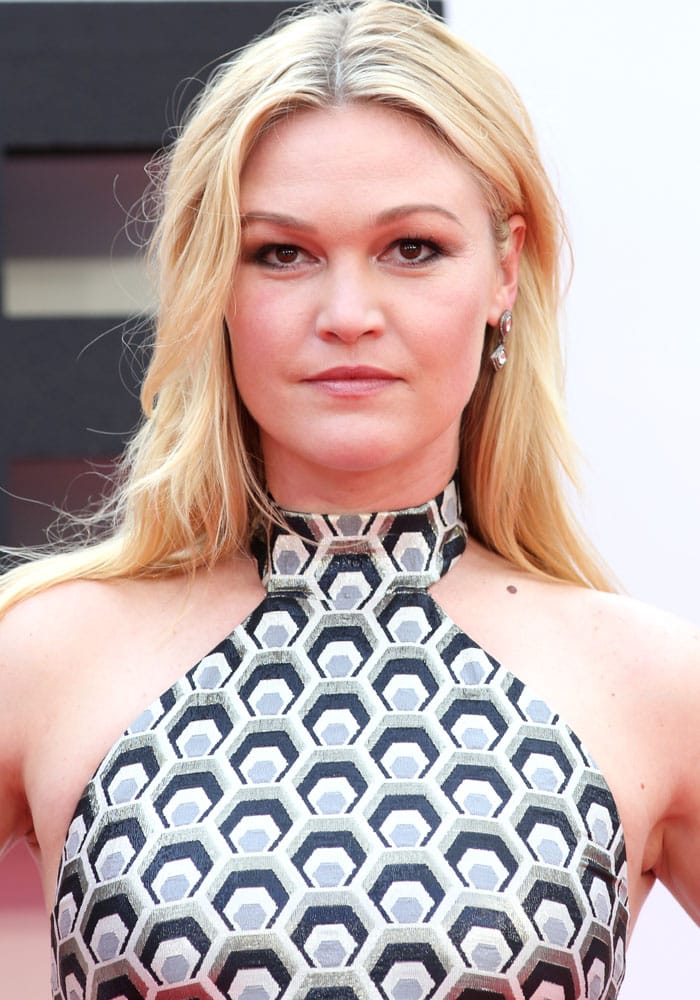 Julia Stiles plays the role of Nicolette "Nicky" Parsons, the primary heroine of the Bourne film series
Julia, now 35, took a minute to reflect on the heavy involvement she's had with the Bourne franchise over the course of her adult life while she attended the latest sequel's red carpet premiere in London.
Julia Stiles at the European premiere of "Jason Bourne" held at the Odeon Leicester Square in London on July 11, 2016
Julia wore a figure-hugging halter dress by New York designer Rubin Singer. The actress styled her dress with jewelry from Amrapali and a pair of "Welch" sandals in black suede and silver leather from Jerome C. Rousseau.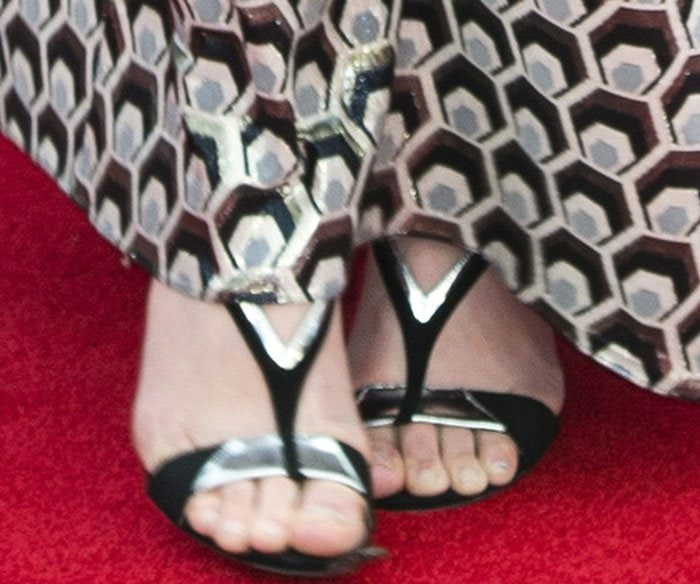 Julia Stiles's feet in "Welch" sandals from Jerome C. Rousseau
We don't have much to say about this outfit. Julia looks great, sure, but it's nothing outstanding. We're still waiting for the actress to break out of her lukewarm style streak and finally own the red carpet.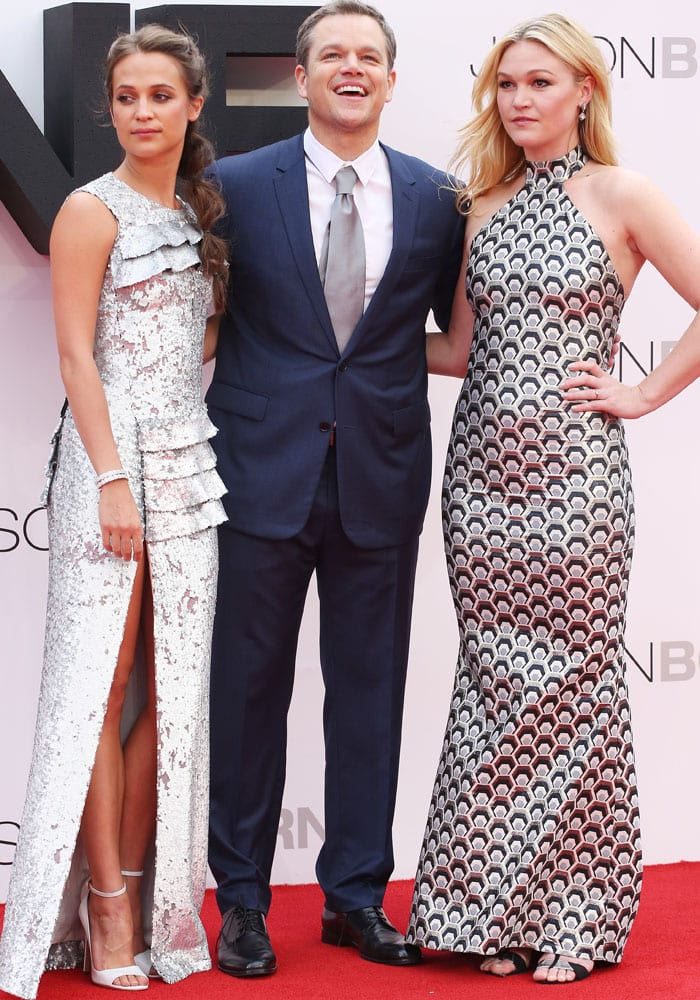 Julia Stiles poses with her "Jason Bourne" co-stars Matt Damon and newcomer Alicia Vikander
Julia clued us in on a little fact in an interview with Entertainment Weekly: She almost turned down the role of Nicky Parsons!
At 19, she thought the filming time for "The Bourne Identity" would take too much of her school time at Columbia University. It's safe to say that 14 years later, she definitely has no regrets.
It was one of the rare situations where I didn't have to audition for it, because the part was originally very small and I had just a bit of success with 10 Things I Hate About You and Save the Last Dance. [Bourne Identity director] Doug Liman sent me the pages for my character, and I remember I was sitting in my dorm room reading it and thinking, "Oh, this was really cool. I want to do it, but am I going to miss too much school?" Luckily, I decided to ignore that. Originally my character was supposed to die too, so the fact that I made it this far I feel pretty lucky.
She graduated with a degree in English literature in 2005. Watch her red carpet interview in London below.
Grab the Jerome C. Rousseau "Welch" sandals in two colors at Amazon.
Jerome C. Rousseau Welch Sandals, $477 – $635.99 (original: $795)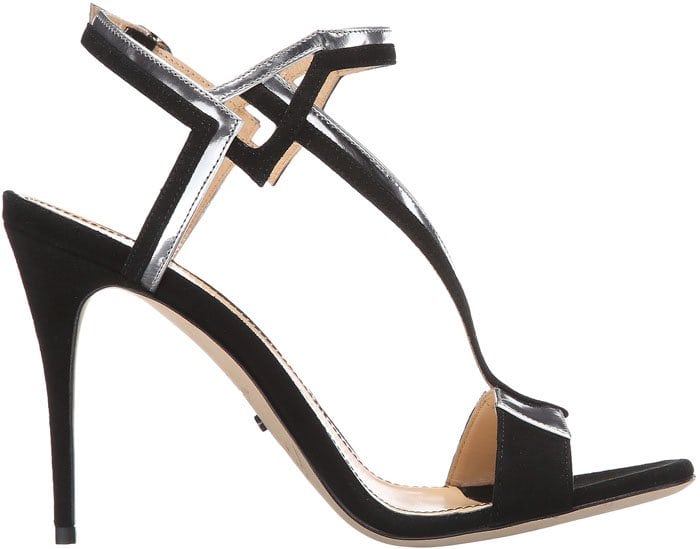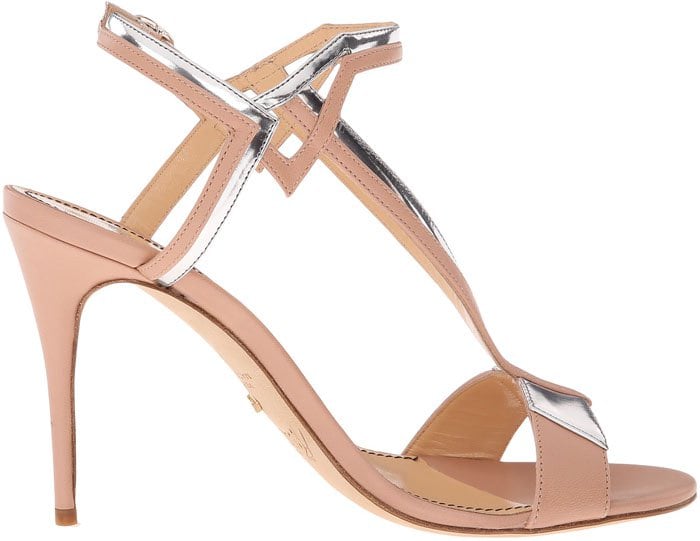 Credit: Jeff Spicer / Future Image / Lia Toby / WENN