After months of speculation and rumors, Justin Long and Kate Bosworth have officially confirmed their engagement and revealed that they are embarking on a new chapter.
The couple shared their exciting news on the latest episode of Long's Life Is Short podcast, published on Tuesday.
Kate Bosworth, wearing a Monique Lhuillier dress with Cicada earrings, and Justin Long at the 2023 Vanity Fair Oscar Party on March 12, 2023, at the Wallis Annenberg Center for the Performing Arts in Beverly Hills, California (Credit: PA Images / INSTARimages)
Amanda Seyfried's ex-boyfriend and the Wonderland actress sparked dating rumors two years ago and have publicly acknowledged their relationship in 2022.
The pair worked together and built a friendship while working on the horror film House of Darkness in 2021.
The 44-year-old actor proposed to Bosworth earlier this year. Their engagement sparked media speculation when the 40-year-old actress displayed her ring at the 2023 Vanity Fair Oscar party last month, which the couple acknowledged as a "little bit of a debut."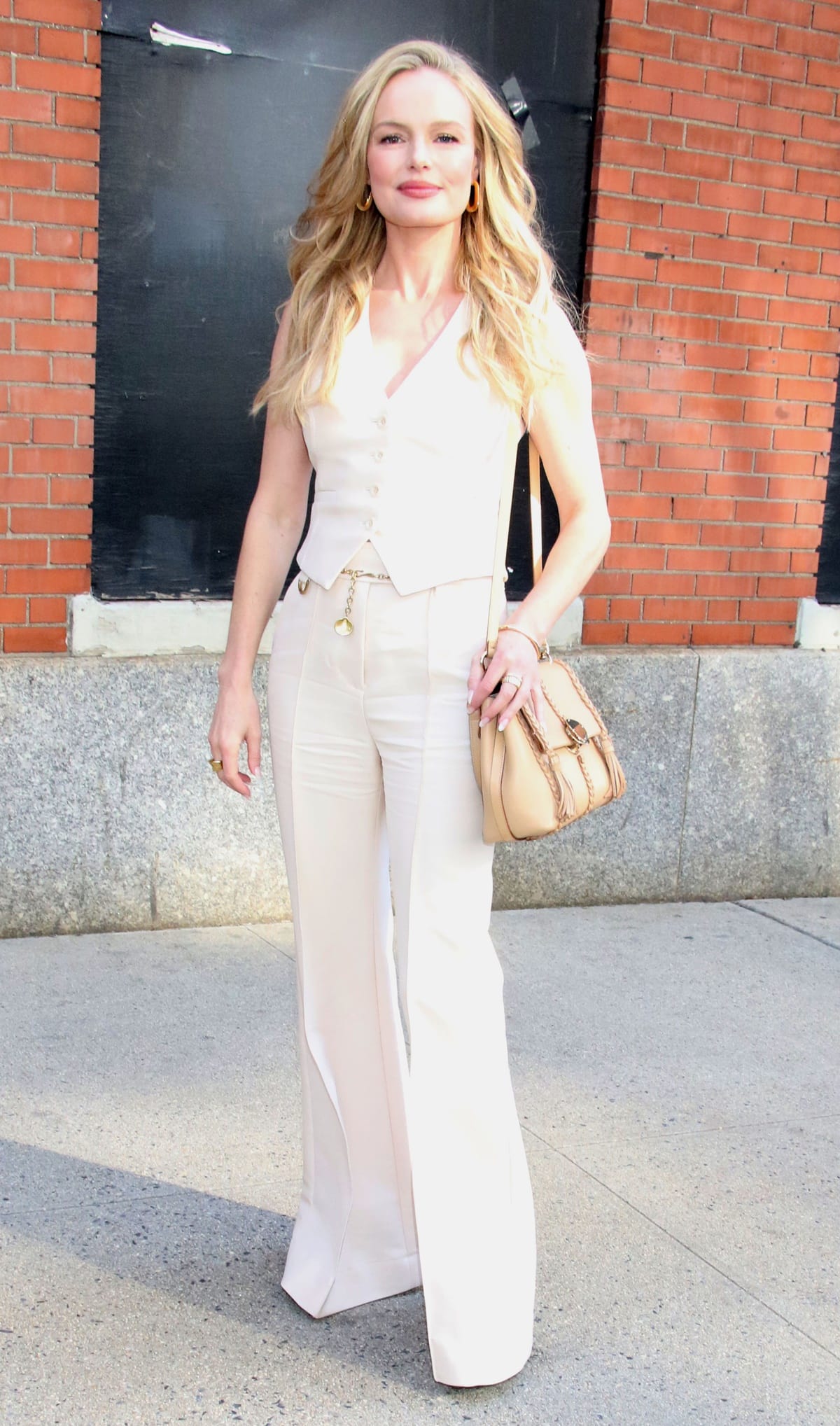 While promoting her new film 'Last Sentinel' with a Chloé Penelope small soft shoulder bag, Kate Bosworth was seen in New York City on March 29, 2023, donning a Zimmermann Wonderland waistcoat and chain-detailed tailored pants from the Spring 2023 collection (Credit: Roger Wong / INSTARimages)
Justin Jacob Long was born on June 2, 1978, and Catherine Anne Bosworth was born on January 2, 1983, making a 5-year age difference between them.
How tall is Justin Long?
There is a noticeable height difference between Justin Long and Kate Bosworth. He stands at 5ft 9in (175.3 cm), while she is 5ft 5in (165.1 cm) tall.
They both agreed they wanted to share their engagement story on a platform that is so important to them, especially after their appearance generated buzz about their relationship status.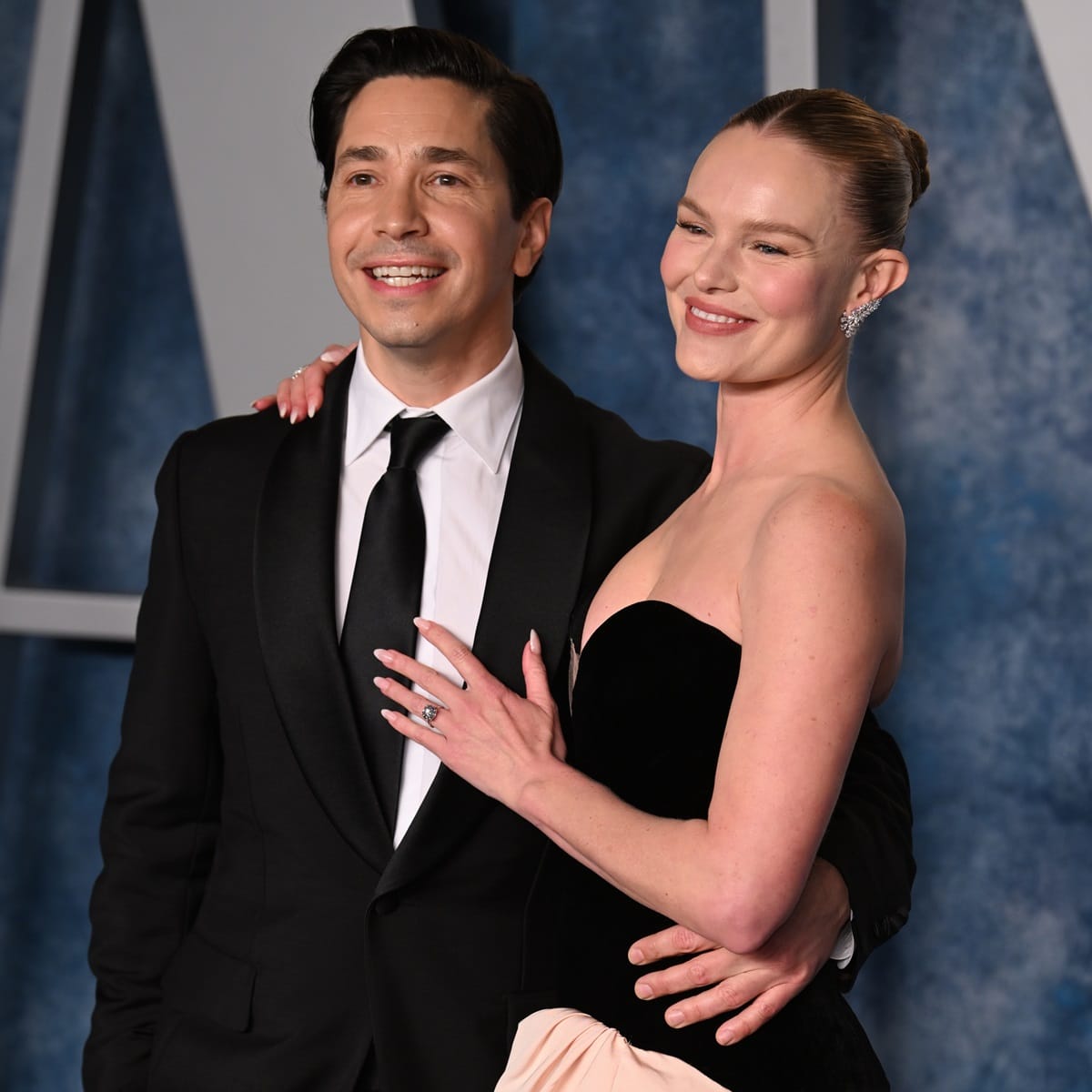 While Kate Bosworth had previously shown off her engagement ring at the Vanity Fair Oscars party, the couple saw Justin Long's Life Is Short podcast as an opportunity to share their proposal story (Credit: PA Images / INSTARimages)
In the podcast episode, the actress said, "We are embarking on a new chapter."
Long then remarked, "People have been asking because Catherine wore a ring that I gave to her when I asked her – well, not when I asked her, but shortly after I asked her – to marry me."
Bosworth explained their red carpet appearance, "We just decided that we were going to live our lives, and I'm going to wear the ring, celebrate our love. And you know there will be photos out there, and hopefully, people will know, 'Oh, they're taking another step.' But there was a lot of speculation."
Kate Bosworth proudly showed off a massive engagement ring from Justin Long (Credit: PA Images / INSTARimages)
Long confessed that his original idea was to pop the question around his girlfriend's birthday in January, but his plans changed.
The actor explained, "I did have a special thing planned around your birthday, and about a month before that, like, we were talking about life, change, and sometimes things happen without warning."
However, despite the change of plans, Long said the proposal happened in the most organic and meaningful way possible.
Long continued, "It was a moment where it just felt so organic, and it felt connected to something very deeply, profoundly personal that we were going through a real-life change. So it came out in a very organic way, as all of these moments with you have. Easy wasn't the right word because we were in a struggle, we were in a very difficult thing, but the asking of it was easy, and it just kinda spilled out."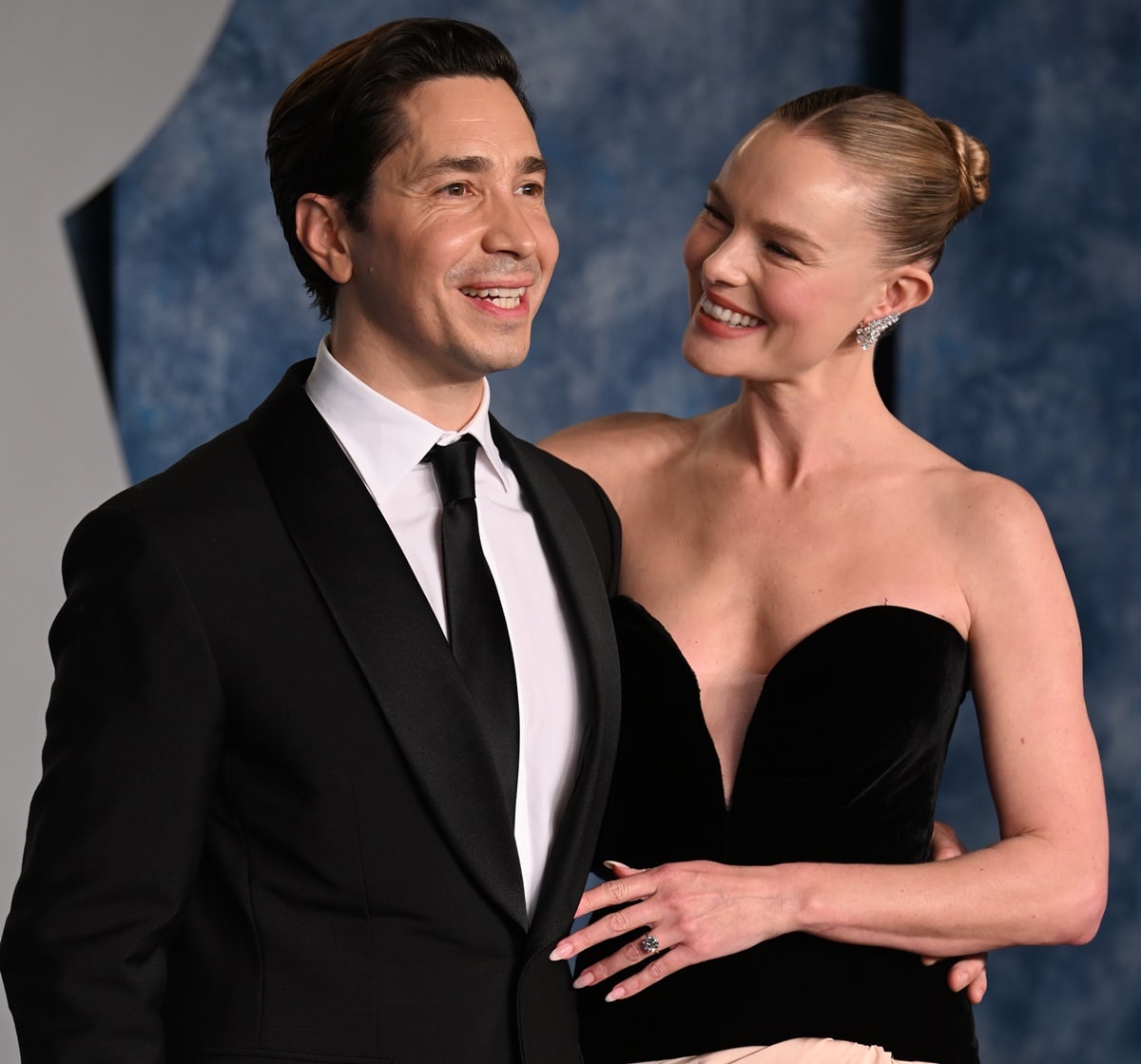 Justin Long and Kate Bosworth revealed that they each knew they had found "the one" shortly after building a friendship while working alongside each other in the 2022 American comedy horror film House of Darkness (Credit: PA Images / INSTARimages)
Bosworth also shared some advice they received from their therapist. She said, "I recall you asking me with a lot of 'clarity,' and we had just gone through this hard thing, and we had spoken to a therapist, and we were trying to move through things at the time. And she gave us a really great piece of advice which was: 'Make sure that you're pretty consistently asking the other what you need, or asking the other what they need.'"
And that's precisely what happened "not so many mornings" after the therapy session.
Bosworth recalled, "I looked at Justin, and I said… I remember I smiled at you, and I said, 'What do you need?' And he, like, really looked at me, and he said, 'To spend my life with you.' And I smiled, and I said, 'Well, yeah, you have that. Oh my gosh, you have that,' and he said, 'No, I mean I really want to spend my life with you.'"
View this post on Instagram
The actor added, "It was the easiest. The words just came out, like, so naturally."
Bosworth described the proposal as "the most romantic, honest, and loving," adding, "Ask to spend one's life with another."
In celebration of their engagement, Long and Bosworth shared the podcast episode and photos of them with the ring on their Instagram accounts, with sweet messages for each other and their future together.
The Blue Crush actress wrote, "If life is short, find the one who brings you endless peace and radical wonder. ✨ @justinlong I am so grateful it's you."
View this post on Instagram
Meanwhile, the actor captioned his post, "I feel eternally grateful that I found a partner who makes each day SO full, whose mere presence IS a reminder of the beauty and brevity of life, and who makes me laugh from the minute we wake up til the one I begrudgingly fall asleep. I cherish the days we've had and the ones to come."
It will be Long's first marriage, while Bosworth was previously married to 52-year-old film director Michael Polish since 2013 before their separation in August 2021.