On Thursday, radiant and captivating, Kate Beckinsale turned heads at the 2023 amfAR Cannes Gala in Cap d'Antibes, France, showcasing her daring sense of style in a mesmerizing Tony Ward gown.
As the Cannes Film Festival unfolded like a two-week fashion extravaganza, the amfAR gala elevated the glamour to new heights with a curated runway by the renowned Carine Roitfeld.
The 49-year-old British actress, known for her impeccable fashion choices on the red carpet, effortlessly commanded attention in a magnificent purple dress that exuded elegance and futuristic allure.
Kate Beckinsale posing in her show-stopping dress from Tony Ward's Spring 2023 Couture collection (Credit: PA Images / INSTARimages)
This eye-catching ensemble from the Tony Ward Spring 2023 Couture collection featured a shimmering overlay, adding an ethereal touch to her appearance.
Kate's sleeveless gown boasted a remarkable design, capturing gazes with its unconventional shape. Its dynamic angular neckline highlighted her graceful appearance, infusing the ensemble with a modern touch embodying contemporary couture.
The Brokedown Palace star's bold, layered skirt cascaded gracefully into a dramatic train, while the tapered waist accentuated her hourglass silhouette.
Complementing her stunning outfit, Kate swept her glossy brunette tresses into a sleek updo, allowing her natural beauty to shine through.
Kate Beckinsale styled her hair in her signature high ponytail, showing off her gorgeous face and stunning earrings (Credit: DDP / INSTARimages)
Every detail was meticulously thought out, from her matching nail color to her exquisite accessories. Large sparkly stud earrings and several Effy Jewelry white gold diamond rings adorned her, amplifying the glamour of the ensemble.
Though hidden, a pair of black strappy heels completed Kate's outfit, providing style and support. These elegant shoes featured delicate straps around the ankles and toes, adding a hint of sophistication to her overall look.
A day before the prestigious gala, Kate Beckinsale captivated attendees at the Cannes Film Festival with her presence at the La Passion De Dodin Bouffant screening. For this occasion, she showcased her impeccable fashion taste in a daring green bejeweled bodysuit.
The Zuhair Murad Spring 2023 Couture creation, adorned with intricate, shimmering seafoam green embellishments on sheer fabric, captivated attention with its numerous cutouts and high collar.
Her outfit showcased a bold long-sleeved design that ended just above her thigh, leaving an irresistible glimpse of her flawless legs, complemented by a captivating backless feature.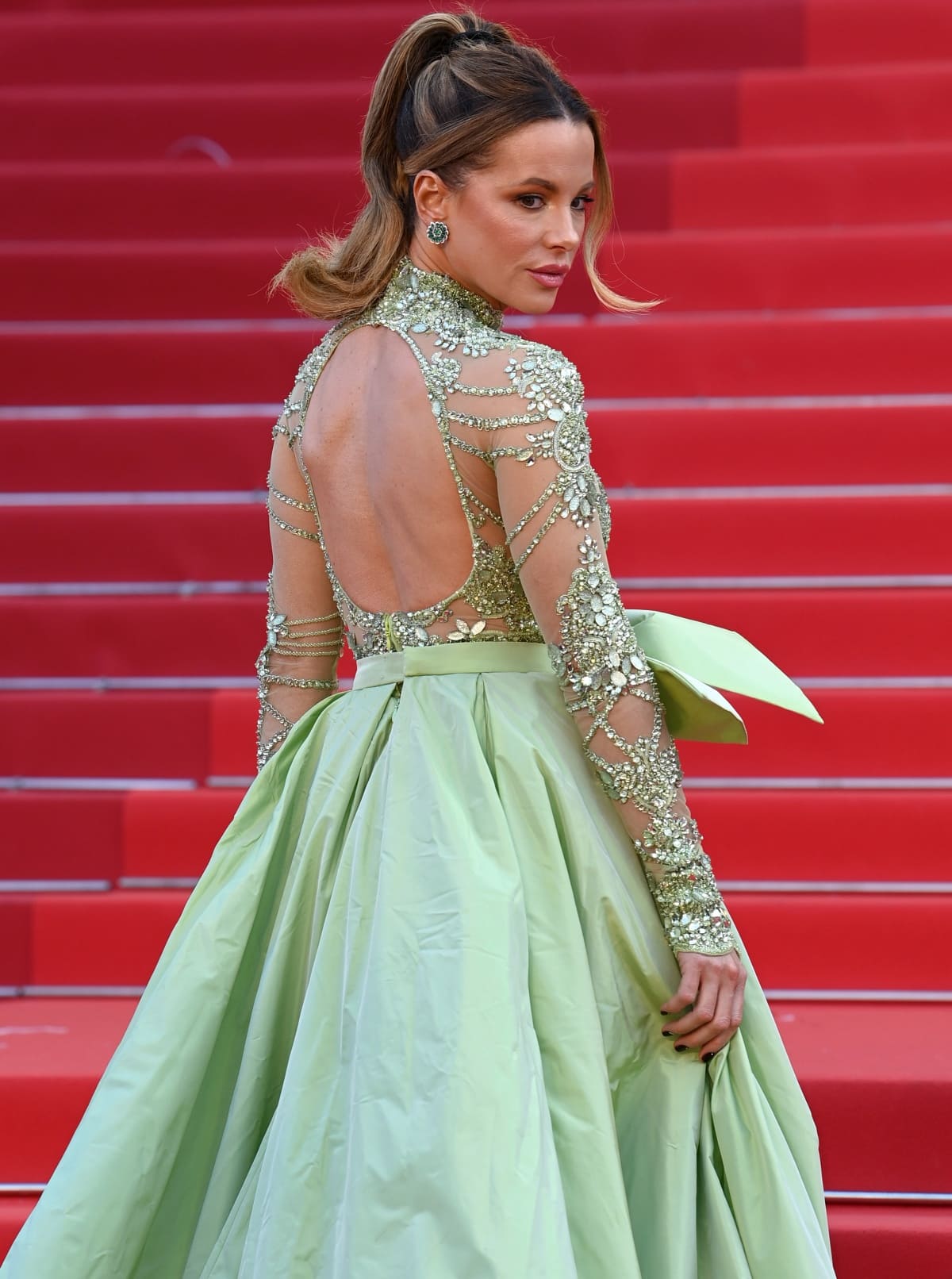 Kate Beckinsale showing off the backless design of her Zuhair Murad Spring 2023 Couture dress at the La Passion De Dodin Bouffant premiere (Credit: PA Images / INSTARimages)
The Jolt star's clever color choice contrasted beautifully against the red carpet, guaranteeing Kate's remarkable prominence amidst much high fashion.
Enhancing its irresistible charm, a cascading pastel green skirt delicately fastened in a bow around her waist gracefully followed her with each stride, crafting a picture-perfect statement of elegance.
Kate opted for sky-high Stuart Weitzman Nudist Hollywood platform sandals to enhance her appearance, exuding confidence and glamour.
The almond-toe design of her shoes boasted a luxurious metallic leather upper and sole, complemented by thick straps that elegantly secured around her ankles and over the tops of her toes.
Kate's slender stiletto heels gave her a comfortable lift while maintaining impeccable balance.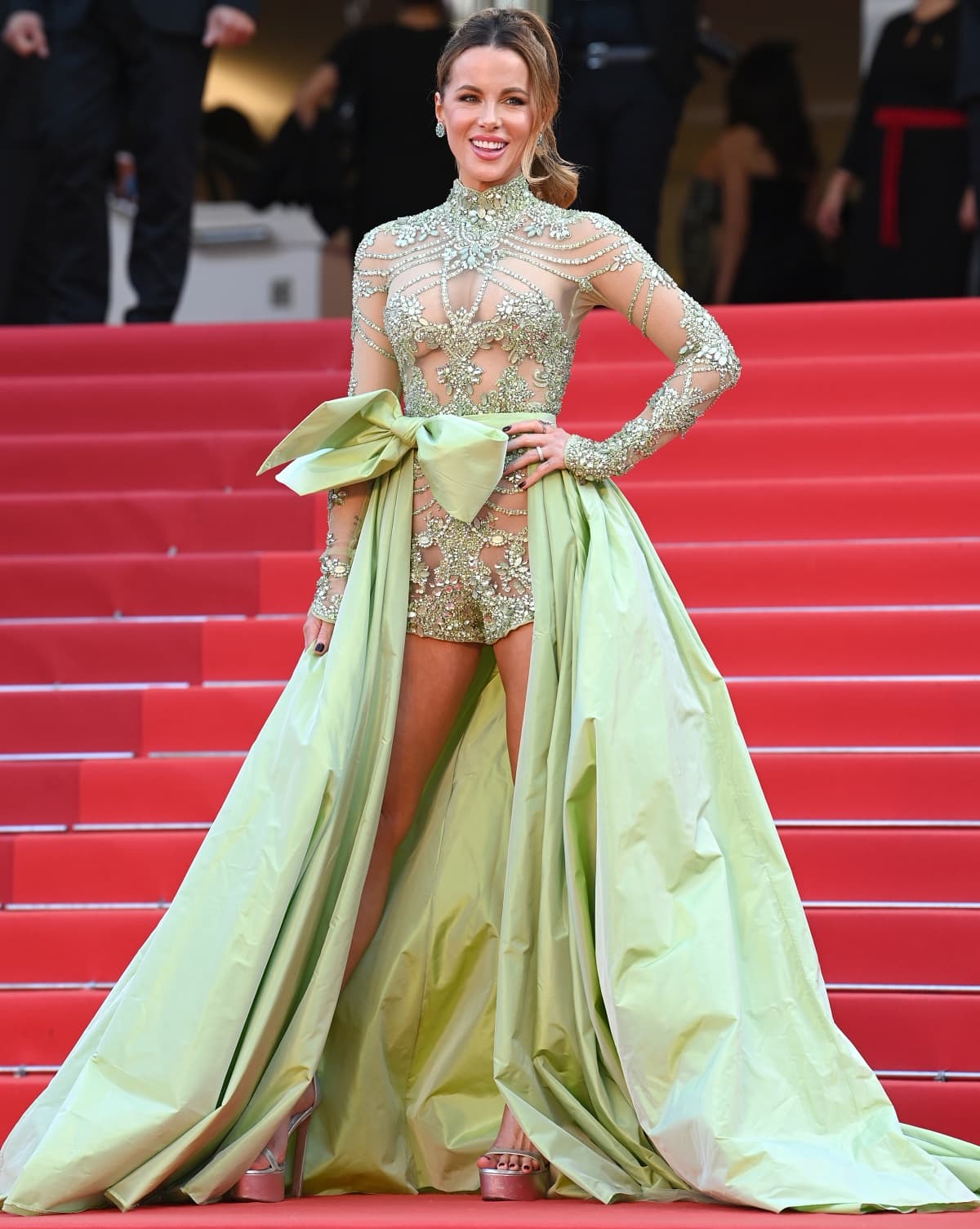 Kate Beckinsale making a stunning entrance at the La Passion De Dodin Bouffant premiere during the 76th Cannes Film Festival in Cannes, France on May 24, 2023 (Credit: PA Images / INSTARimages)
Her brunette locks were styled into a super-high ponytail, featuring a bouncy updo that perfectly complemented the overall aesthetic.
No detail was left untouched as the wealthy actress completed her ensemble, accentuating it with dark nails and a pair of eye-catching emerald earrings that complemented her look's color palette.
The overall effect was nothing short of breathtaking, solidifying Kate Beckinsale's status as a true fashion icon on the red carpet.