Released in August 1999, Brokedown Palace is a compelling drama film directed by American film producer Jonathan Kaplan. The movie tells the story of two young American women imprisoned in a Thai jail after being accused of drug smuggling.
One of the film's stars is the talented Claire Danes, born on April 12, 1979. At the time of the movie's release, Claire was only 20 years old, yet she delivered an outstanding performance showcasing her incredible acting abilities.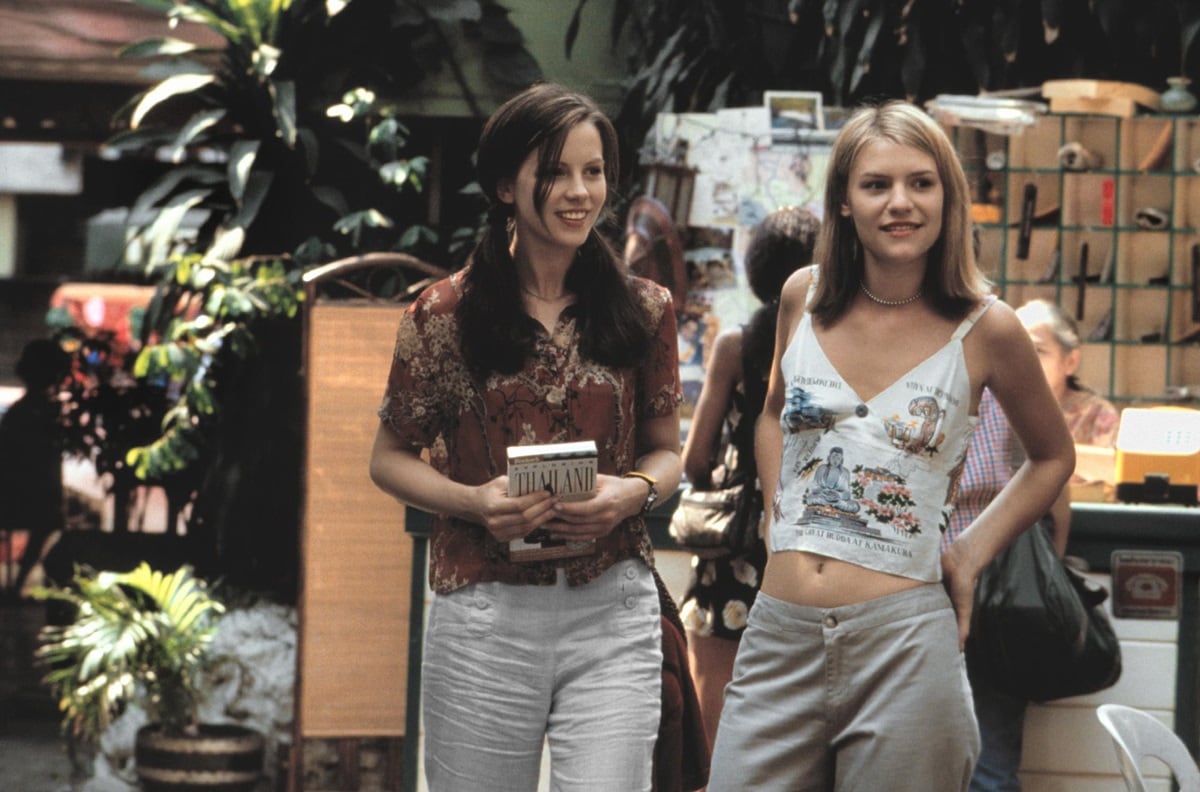 In 1999, when "Brokedown Palace" was released, Kate Beckinsale was 26 years old, while Claire Danes was 20 years old (Credit: 20th Century Fox)
Her portrayal of Alice Marano, one of the imprisoned women, was powerful and gripping, leaving a lasting impression on audiences. Another star of the film is the stunning Kate Beckinsale, born on July 26, 1973.
She was 26 years old at the time of the film's premiere, and her performance as Darlene Davis was equally as captivating as Claire's. Jennifer Love Hewitt was unable to take on the role of Darlene in the film due to scheduling conflicts, leading to the casting of Kate Beckinsale in the role.
Brokedown Palace is a 1999 drama film starring Claire Danes and Kate Beckinsale about two American friends who are imprisoned in Thailand for drug smuggling (Credit: 20th Century Fox)
Due to its critical portrayal of the Thai legal system, much of the filming for the movie was done in the Philippines, while some of the panoramic views were shot in Bangkok. Ninoy Aquino International Airport Terminal 1 was used as a substitute to replicate Don Mueang International Airport.
The scenes set in prison were filmed at the Sanctuary Center for Psychotic Female Vagrants, a mental asylum for women in Mandaluyong, Manila. A temporary wall was built to separate the inmates from the shooting area.
During filming, some inmates reportedly protested by throwing feces over the dividing wall while others wailed loudly. Claire Danes, who had a role in the film, caused controversy when she commented negatively about Manila during an interview for Vogue in April 1998.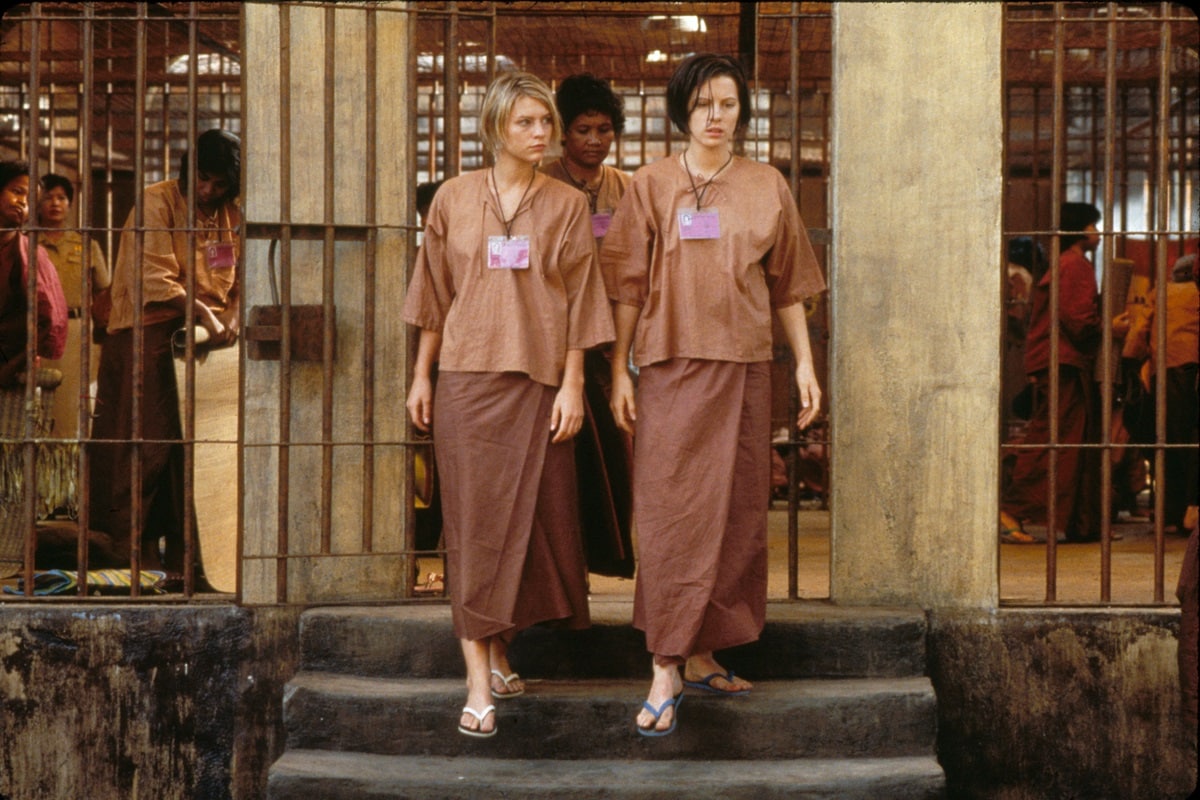 Brokedown Palace was shot in the Philippines because of the negative portrayal of Thailand, requiring the conversion of a mental institution into a prison and the alteration of street signs from English to Thai (Credit: 20th Century Fox)
She called the city "ghastly and weird," but a local city council member dismissed the remarks as the irresponsible statements of youth.
However, in a subsequent interview for Premiere magazine in October of the same year, Danes made further derogatory comments, saying Manila "smelled of cockroaches, with rats all over, and that there is no sewerage system, and the people do not have anything – no arms, no legs, no eyes."
Claire Danes expressed her dissatisfaction with the conditions in the Philippines, citing factors such as heat, humidity, filth, cockroaches, and the presence of poor and disabled people (Credit: 20th Century Fox)
As a result of these comments, the Manila city council passed a resolution banning Danes and her films in the city.
Danes later apologized, clarifying that her comments were directed at the impoverished locations where the cast had been filming and not at the Filipino people, whom she praised as warm, friendly, and supportive.
In July 2016, Kate was spotted looking ethereal in a sleepwear-like outfit as she rushed into the airport to catch a flight.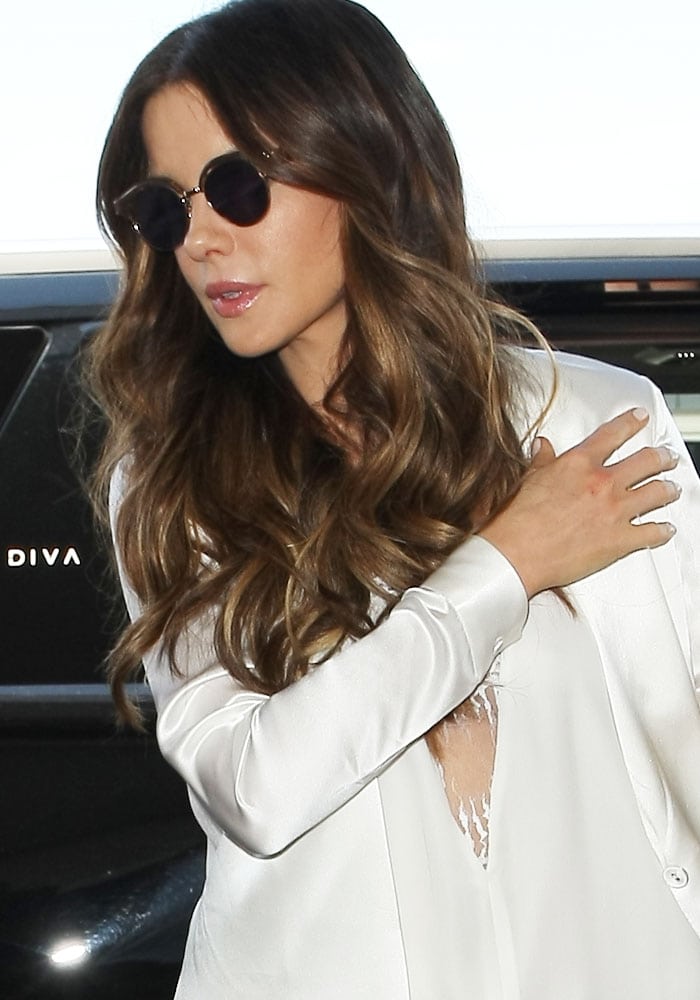 Kate Beckinsale wears her hair down as she arrives at the Los Angeles International Airport on July 6, 2016 (Credit: WENN)
The 40-something actress caught a flight to New York in comfortable-looking satin pants styled with a matching cover-up and a lace-adorned blouse.
Kate Beckinsale leaves for a flight in a pair of satin pants with a matching blouse (Credit: WENN)
Kate hid her eyes behind a pair of Christian Dior "Run" sunglasses and carried an oversized heart-print Burberry scarf for the flight.
Len Wiseman's ex-wife added a pop of pink to her look with a pair of Salvatore Ferragamo "Susie" pumps.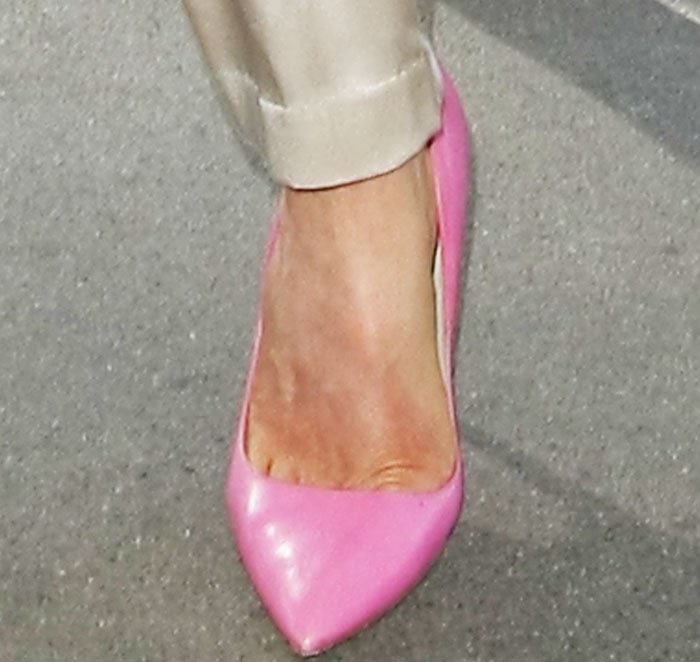 Kate Beckinsale's feet in bubblegum pink Salvatore Ferragamo pumps (Credit: WENN)
You can check out Kate's pink pumps from Salvatore Ferragamo at Farfetch and Mytheresa.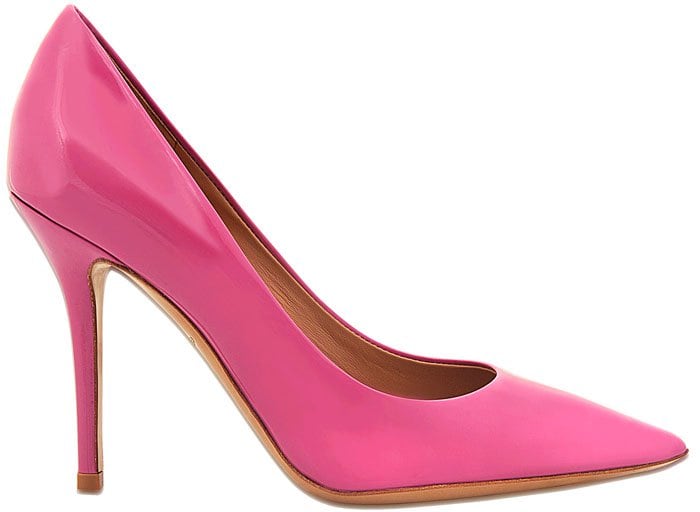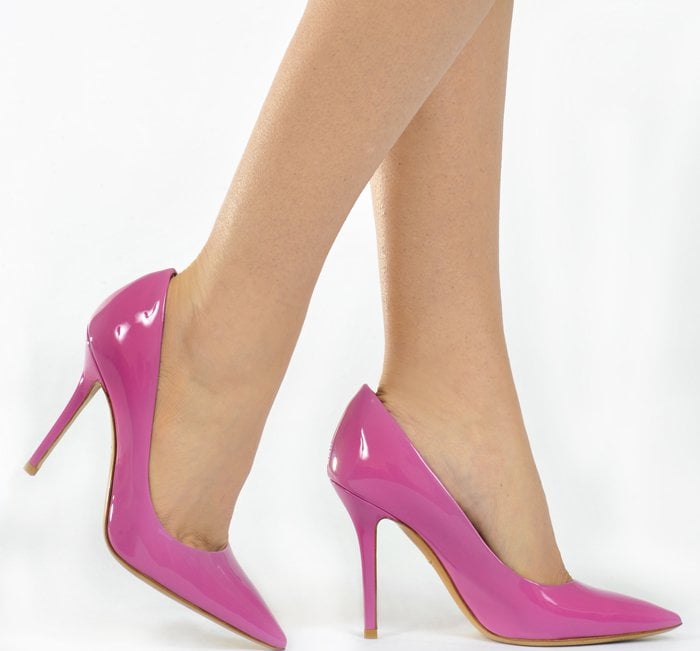 Pink Salvatore Ferragamo "Susie" Patent Pumps, $466