Kate Mara left the Netflix series House of Cards at the beginning of season two when her character, Zoe Barnes, was pushed in front of a subway train.
Actress Kate Mara flaunts her legs in an embellished Prada dress at the House Of Cards Season 2 special screening at Directors Guild Of America on February 13, 2014, in Los Angeles, California (Credit: Featureflash Photo Agency / Shutterstock)
Mara's character was having an affair with the married politician played by Kevin Spacey, who threw her in front of the train. While the plot twist was a major shock for fans, the ending was the perfect and violent exit Mara expected.
Why Mara Left House of Cards
Although a shock for fans of the show, Mara's exit from House of Cards did not come as a surprise to the actress. Her contract for the show was for 14 episodes, and she was promised a gory death for her character.
Actress Kate Mara in a bright yellow Christian Dior dress, Giuseppe Zanotti shoes, a Gilan ring, Plukka necklace, and a Nancy Gonzalez clutch on the red carpet premiere for the launch of Netflix Original Series House of Cards on January 17, 2013, in London, United Kingdom (Credit: Featureflash Photo Agency / Shutterstock)
Mara told the Daily Mail's You magazine, "I knew from the moment I accepted the role that I was only contracted for 14 episodes and would have a grisly death at the start of the second season. I probably wouldn't have signed on otherwise."
She continued, "Kevin is amazing and hilarious. I adored working with him, and the show is genius; it has so many layers. I still binge-watch it just like everyone else. But I was ready to go and liked that I got such a definitive ending."
Despite only appearing for a handful of episodes in the series, Mara's character remains one of her best-known roles. She was 30 years old when the first episode aired on February 1, 2013.
Kate Mara signed up for 14 episodes of House of Cards and knew that her character, Zoe Barnes, would die (Credit: Netflix)
Mara was nominated for the Primetime Emmy Award for Outstanding Guest Actress in a Drama Series. She told You that she was relieved not to win after she was nominated. "I was sitting there in the audience panicking, thinking, 'Oh help, what if I win? Please don't make me have to go up there!'"
She is not the only actress in the Mara family to have won numerous awards. Mara's sister, Rooney Mara, starred in The Girl With The Dragon Tattoo and has won numerous awards for her acting prowess.
The Mara family are sports royalty in the State, as their great-grandparents on both sides founded the Pittsburgh Steelers and New York Giants.
Mara Opens Up About The Kevin Spacey Situation
House of Cards came to an end in 2018 after six seasons. The cancellation of the Netflix series was prompted by the Buzzfeed article where actor Anthony App alleged that Kevin Spacey sexually assaulted him in 1986, when Spacey was 26 and Rapp was 14.
Kevin Spacey was charged with multiples sexual assault charges. As a result, he was fired from his starring role as Frank Underwood in House of Cards. Robin Wright replaced him in the leading role of the show.
"I love Robin! She has always been one of my favorite actresses of all time so I think she's been sort of gearing up to take over for a long time," Mara told ET in 2018 about Wright taking over the lead role on the show.
"Her character, and also Robin in real life, is just such an incredible force. So I'm excited to see it!"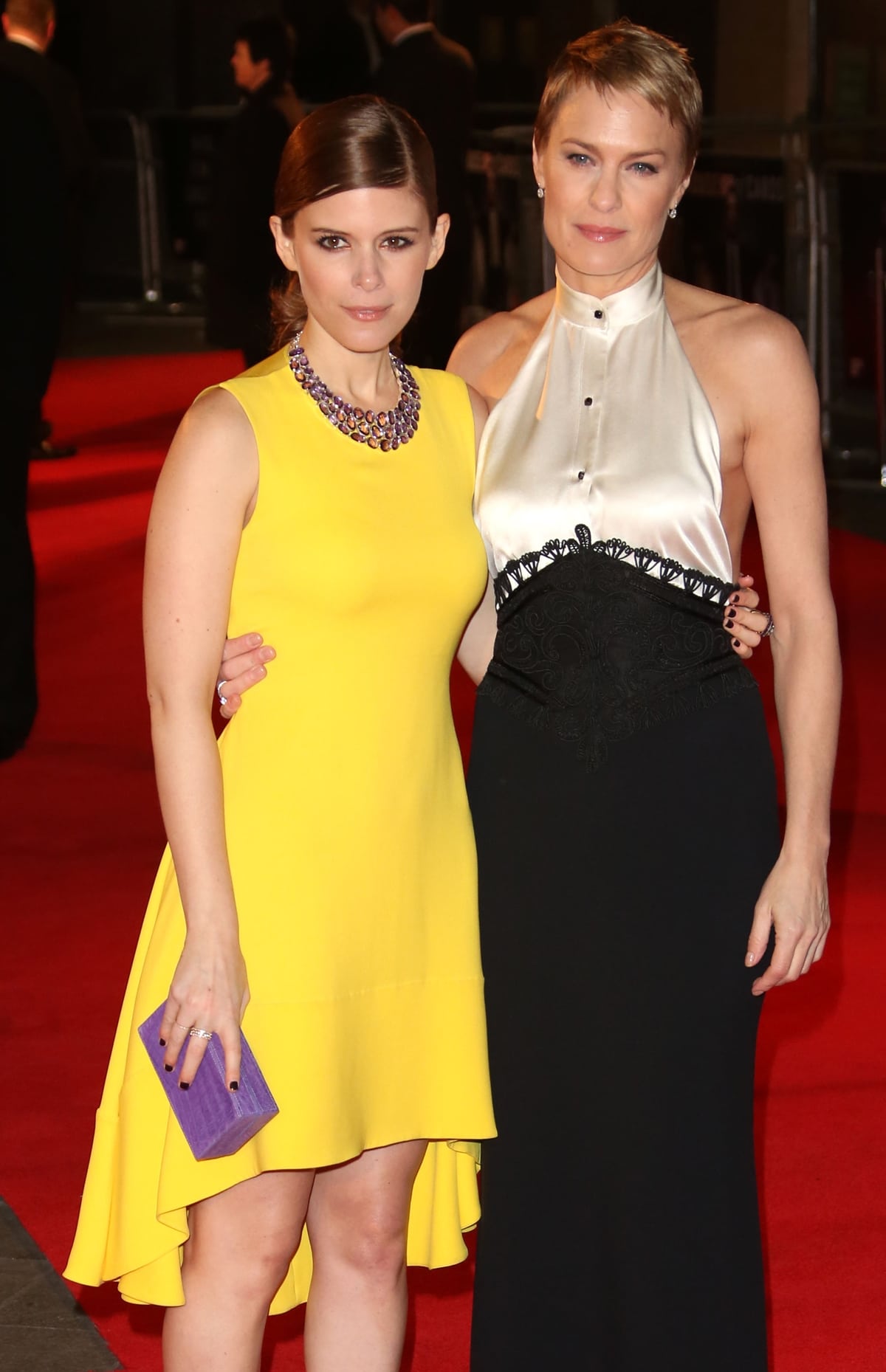 Kate Mara says American actress Robin Gayle Wright is one of her favorite actresses of all time (Credit: Featureflash Photo Agency / Shutterstock)
Mara was asked about her experience working with Spacey in regard to the sexual assault allegation. Mara did not say much about the situation when asked about working with Kevin Spacey on the Netflix drama. "I had a really amazing experience on that show for the 13 episodes I was on it," the star said.
Kate added that she was excited to see Robin Wright take on the leading role. "Oh my God, I will tell you that from Day 1, I've been waiting for Robin to take over!" she admitted. "There's nobody like her."
After her role in House of Cards, Mara went on to star in Fantastic Four (2017) as Sue Storm, the Invisible Woman. She also appeared in American Horror Story as Hayden McClaine.
Kate Mara slicks her short hair back at the Metropolitan Museum of Art Costume Institute Gala held on May 2, 2016, at the Metropolitan Museum of Art in New York City (Credit: Andres Otero / WENN)
In May 2016, Kate Mara brought her fashion A-game to the 2016 Met Gala held at the Metropolitan Museum of Art in New York City.
The then-33-year-old actress looked chic and stylish as she stood next to her handsome boyfriend Jamie Bell on the red carpet.
Jamie Bell and Kate Mara pose together on the steps of the Metropolitan Museum of Art prior to the 2016 Met Gala (Credit: Andres Otero / WENN)
Her dress featured mod-looking circles fastened together in a sultry chain mail display, definitely fitting with the gala's "Fashion in an Age of Technology" theme.
Kate's Paco Rabanne dress also boasted a black bandeau and high-waisted briefs under the sheer plastic paneling.
Kate Mara poses on the Met Gala steps in a mod-inspired Paco Rabanne dress (Credit: Andres Otero / WENN)
Kate's short dress also had ruffled plastic trim along the hemline that drew attention to the actress's legs.
The "Shooter" star added some glam to the look with several rings by Jennifer Fisher and a black bag — also by Spanish fashion designer Paco Rabanne.
Kate Mara carries a black clutch and accessorizes with gold rings and a black manicure (Credit: Andres Otero / WENN)
Kate wore her short brown tresses tucked behind her ears and sported gorgeous smoky blue eyeliner to continue the sleek theme of the ensemble.
The wealthy actress added a bit of height to her look by showing off her feet in a towering pair of Francesco Russo sandals.
Kate Mara's feet in strappy black Francesco Russo sandals (Credit: Andres Otero / WENN)
These strappy sandals are made of patent leather and feature a toe strap, an adjustable thin ankle strap, and about 4.5-inch heels. They also matched the shine of her dress.
Unfortunately, we can't find these sandals online, but you can shop more from the designer at Farfetch.
After the gala, Kate was quick to ditch the high heels in favor of something more comfortable.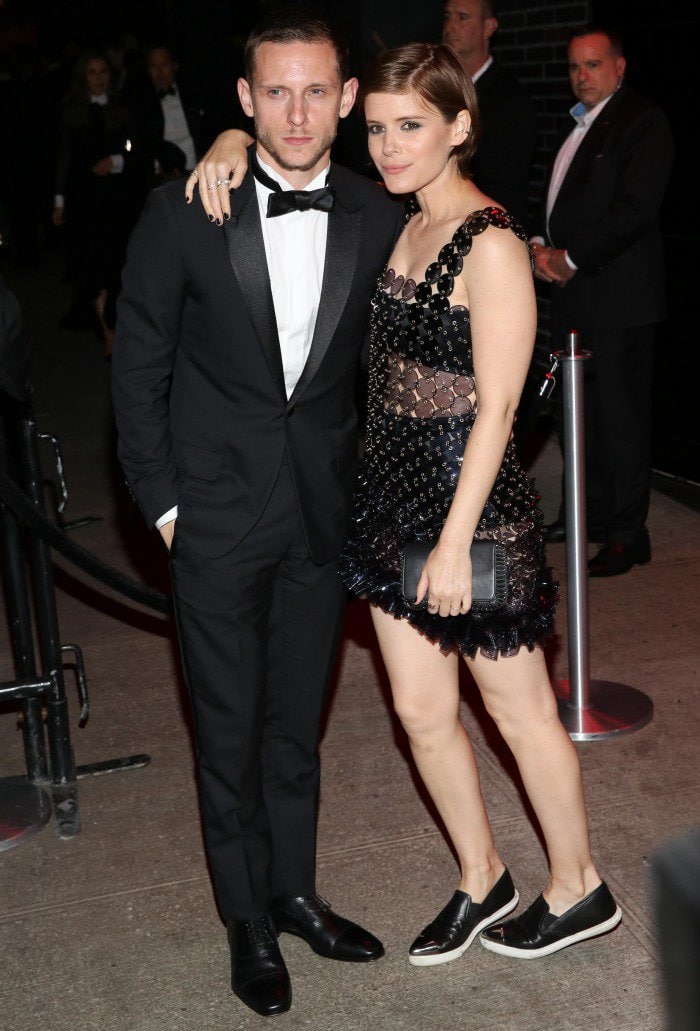 Jamie Bell and Kate Mara pose together at the Met Gala after-party
We think these Miu Miu cap toe slip-on sneakers are just edgy and stylish enough to complement her outfit.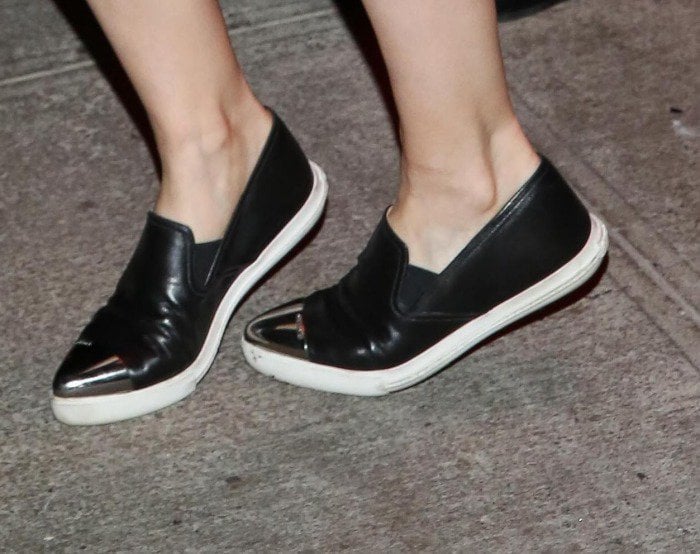 Kate Mara's feet in black Miu Miu slip-on sneakers
Her shoes are made of black leather with shiny silver cap toes and rubber soles and are comfortable and fashionable. Add a pair to your closet by shopping at Saks Fifth Avenue.
Miu Miu Cap Toe Slip-On Sneakers in Black Leather, $495.00