We are huge fans of the silver fox look (hello, George Clooney!), but we are not the only ones. Even though some people find relationships with a significant age gap unsettling, 38-year-old Katharine McPhee and her 72-year-old husband, David Foster, have found a way to make it work.
Amy S. Foster (L), David Foster, and his wife Katharine McPhee attend George Lopez Foundation's 15th annual celebrity golf tournament pre-party at Baltaire Restaurant on May 1, 2022, in Los Angeles, California (Credit: MEGA / WENN)
The pair have seen their fair share of criticism about their marriage, but the singer and her producer hubby have been able to shrug off the hate comments and are still going strong.
Follow along to learn more about how Katharine McPhee and David Foster went from being an unlikely couple to couple goals.
Katharine McPhee Has a Thing for Older Men
Before hooking up with her current hubby, Katharine McPhee demonstrated that she loves a man with — ahem — experience.
In 2005, the 5'8" vocal powerhouse was shot into international stardom after coming in second on the fifth season of American Idol.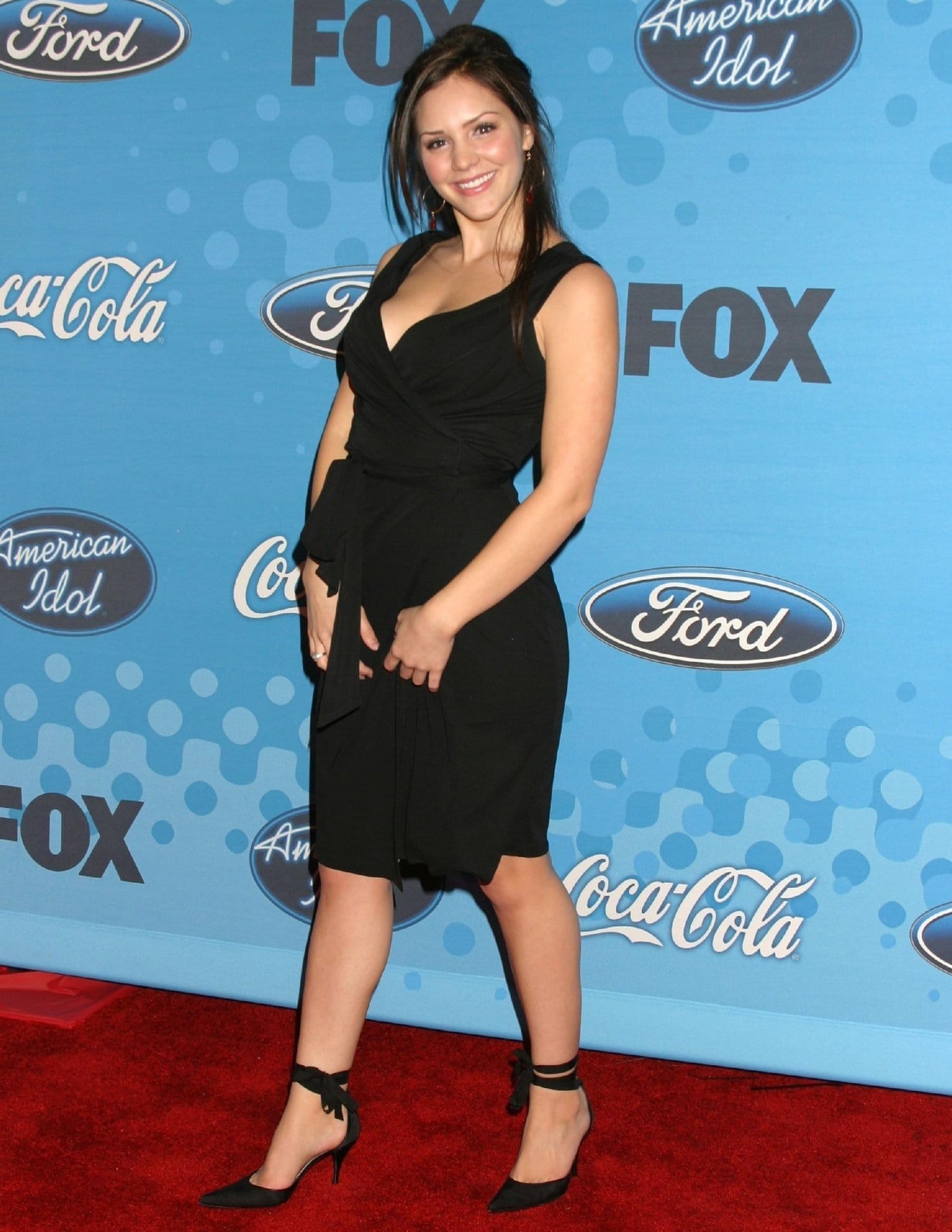 American singer-songwriter Katharine Hope McPhee Foster was the runner-up on the fifth season of American Idol in 2006 (Credit: Nikki Nelson / WENN)
As opportunities began to open up for the young singer and her fanbase began to grow, she finally dropped the bomb that she was, indeed, dating someone.
In 2006, McPhee revealed that she was dating actor Nick Cokas (there is a 99.9% chance you have never seen anything he's appeared in), which was shocking not only because McPhee had been remarkably private about her dating life during her stint on American Idol, but because of the age difference between the two.
At the Time, McPhee Was Only 22, While Cokas Was 41
Unbothered by shocked fans, the pair got engaged in 2007 before being married in an extravagant ceremony that hosted more than 300 guests.
The singer-turned-actress wore an expensive strapless gown by designer Manuel Mota and an estimated $250,000 worth of Neil Lane jewelry. Cokas matched the glam (almost) in a sleek Armani tux.
There was also a moment where McPhee serenaded Cokas during a duet with David Foster. Even though it sounds like something out of a rom-com, it must have been a gut punch for the actress' then-husband to remember years later.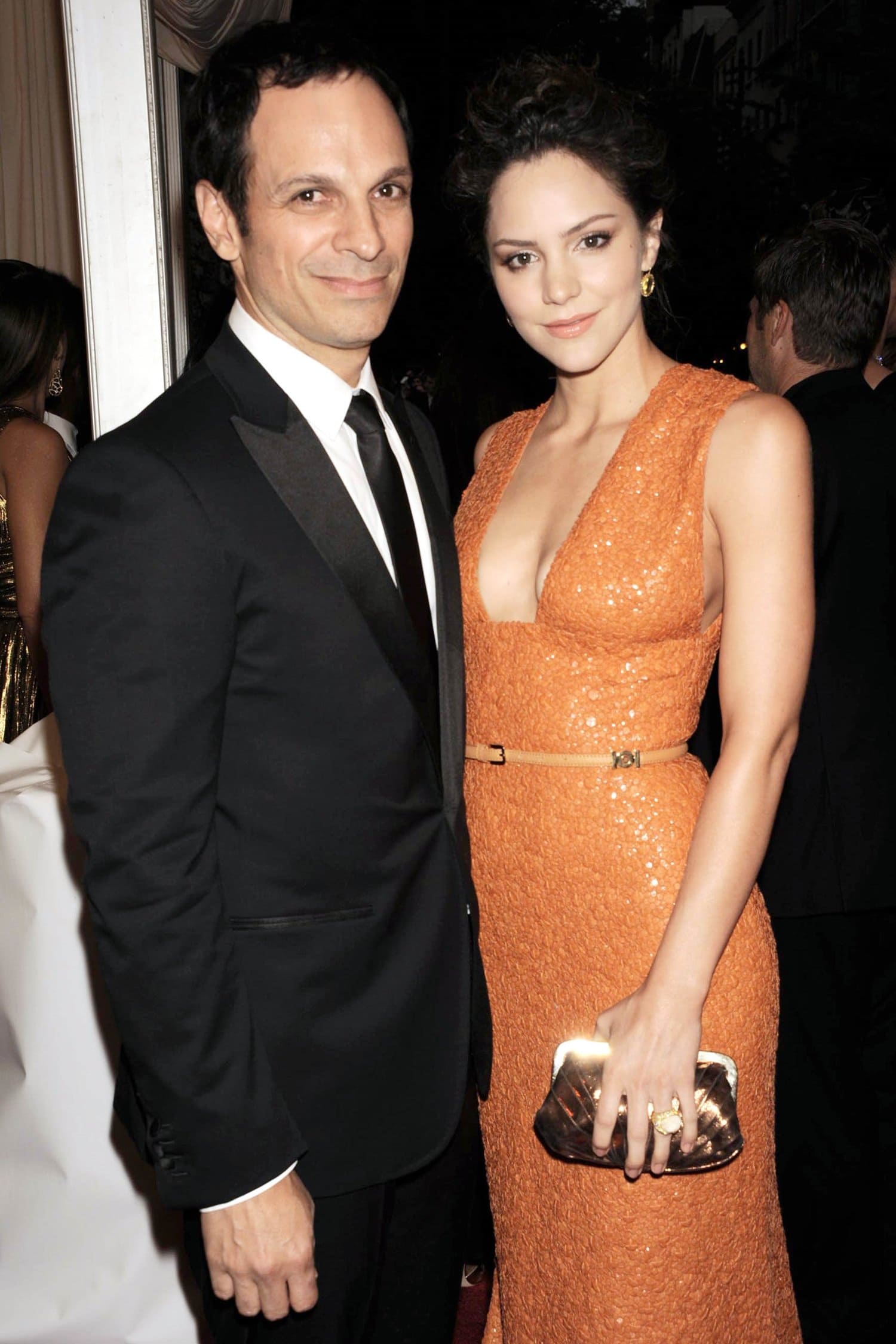 Katharine McPhee filed for divorce from her husband Nick Cokas in May 2014 (Credit: Bill Davila / Startraksphoto)
"[He's] the love of my life," McPhee dreamily said about Cokas in an interview with People at the time. "This is a once in a lifetime occasion and everything is just perfect."
As you already know, this turned out to be incorrect. The pair spent six years together before separating in the spring of 2013. Their divorce was finalized in February of 2016.
"After six years of marriage, and having been separated for the past year, Katharine McPhee has filed for a dissolution of marriage from Nick Cokas. The two have an amicable relationship and will remain friends. They ask that people respect their privacy during this time," a representative of the actress said in a statement.
Luckily, McPhee's divorce allowed her to meet her next silver fox.
David Foster Has Been Seriously Unlucky in Love
At 72 years old, It makes sense that there have been other women in David Foster's life. Since most of his marriages happened before the Golden Age of the internet, there isn't much information available about the intricacies of each of his romances. Still, we do know that Foster has been married a whopping five times.
First, Foster married singer BJ Cook (he has an eye for talent, it seems) during a road trip in 1972. In his first age gap relationship, Cook was eight years older than Foster. They welcomed a daughter before ending things in 1982.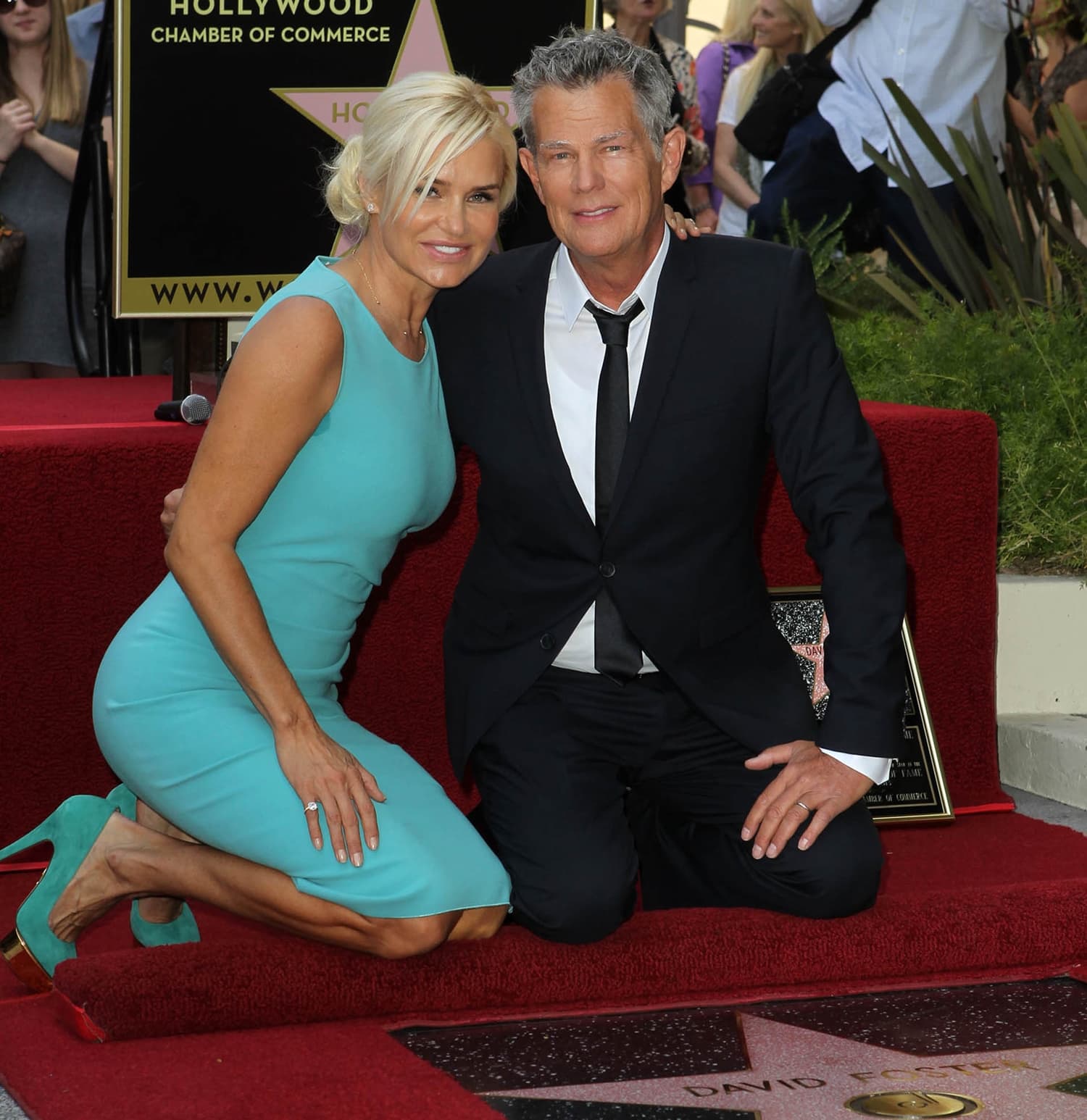 Reality television star Yolanda Hadid Foster and her husband \David Foster attend a ceremony honoring David Foster with the 2,499th star on the Hollywood Walk of Fame on May 31, 2013, in Hollywood, California (Credit: FayesVision / WENN)
Second, the producer found love with actress and model Rebecca Dyer. They were married for four years between 1982 and 1986 and had three daughters.
Unfortunately, the third time was not the charm. After tying the knot with actress Linda Thompson — who was previously married to Caitlin Jenner of Keeping Up With the Kardashians — in 1991, the couple had a solid, 14-year run before divorcing in 2005.
Former beauty pageant queen Linda Thompson and David Foster were married from 1991 to 2005 (Credit: DFree / Shutterstock)
Still steadfast in his search for the perfect wife, Foster met pretty young thing Yolanda Hadid, who is 14 years his junior. Yes, that Yolanda Hadid, mother to Gigi, Bella, and Anwar. Their marriage lasted six years, from 2011 to 2017.
Finally, David Foster wed his fifth wife, Katharine McPhee, in 2019.
Katharine McPhee and David Foster Met Due to Their Shared Passion
Even though you may wonder what on earth the couple has to talk about considering their 34-year age gap, they have one big thing in common: their love for music.
The pair first met in 2006 while McPhee was on American Idol. She was singing a rendition of Whitney Houston's "I Have Nothing," which, coincidentally, Foster wrote. He stopped by the studio to help McPhee practice, noting, "Katharine has a great, great future."
Little did they know — that "great" future involved him!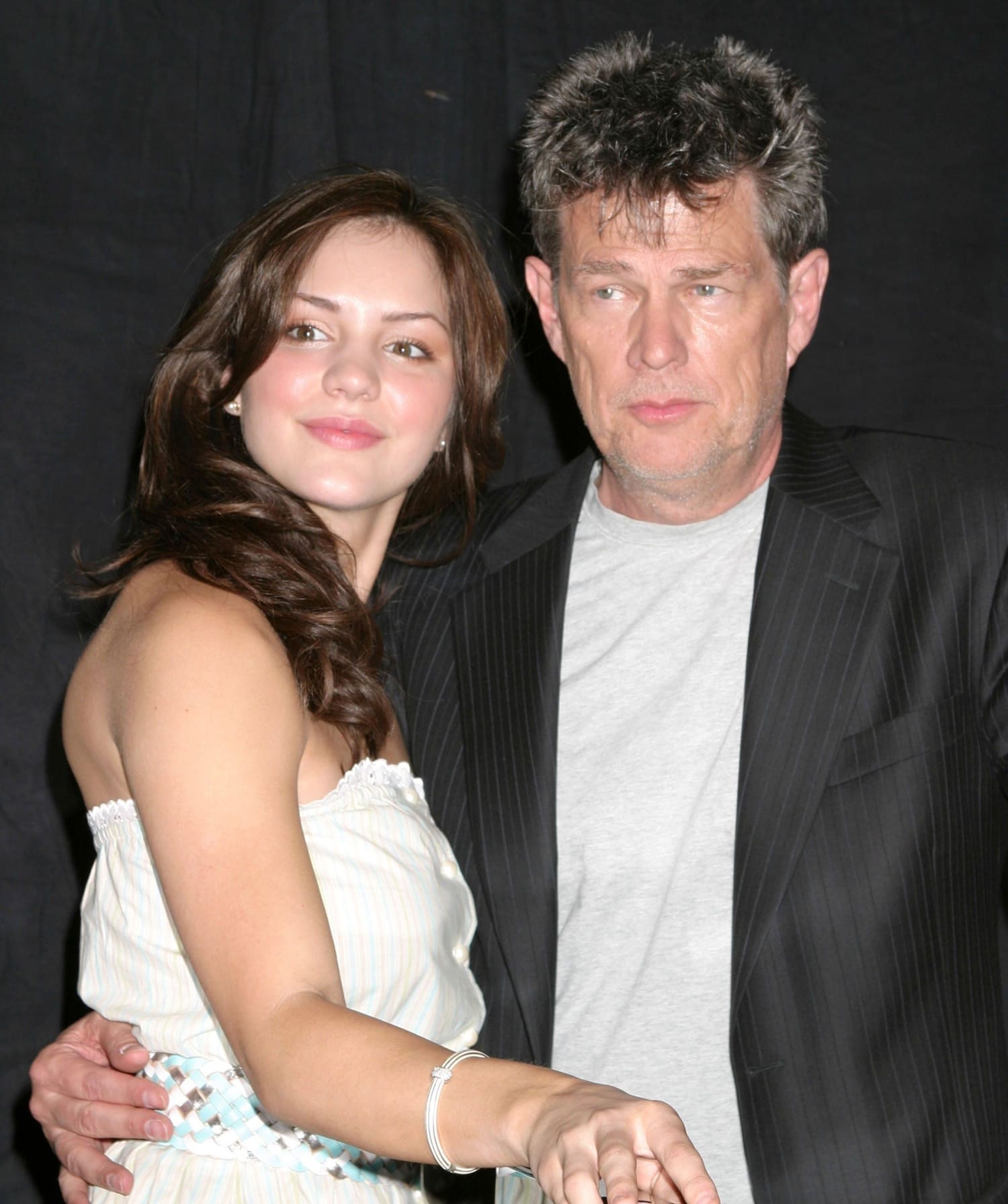 Katharine McPhee and David Foster first met on American Idol in 2006 when she sang one of his songs as a contestant (Credit: Nikki Nelson / WENN)
McPhee and Foster were fast friends and were often seen together at events. Still, at the time, their relationship appeared to be completely platonic, likely due to the fact that both were married to other people (in Foster's case, multiple times).
Finally, in 2017, things began to get steamy when the pair were photographed together at Nobu. After years of being plain ol' pals, it appeared that McPhee and Foster were on a date!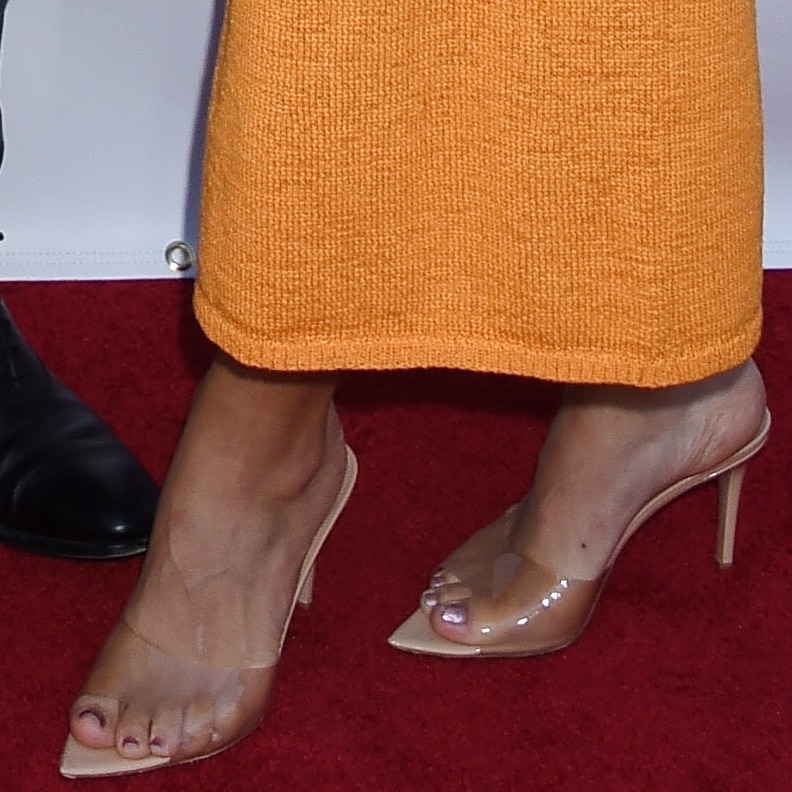 Katharine McPhee shows off her sweaty feet in transparent high heels (Credit: MEGA / WENN)
However, their relationship was completely unconfirmed, with the pair asserting that they were just friends. That is — until Foster's divorce from Yolanda Hadid was finalized later that year. After that, McPhee and Foster were inseparable.
After years of friendship, there was seemingly no need for a long getting-to-know-you period, as Foster popped the question in July of 2018, only a year after relationship rumors had surfaced.
Not to be outdone by their previous weddings, the couple tied the knot on June 28, 2019, at the Church of Saint Yeghiche in London, decked out in designer duds before their 150 guests.
Katharine McPhee and David Foster married in June 2019 and welcomed their first child together, son Rennie David, in February 2021 (Credit: FayesVision / WENN)
"Exactly 13 years ago today, my very first single, "Somewhere Over the Rainbow," was released right after Idol. Today…I'm marrying the man who produced it. Life is full of beautiful coincidences, isn't it? Thank you for taking me over the rainbow, David," McPhee shared in an adorable Instagram post.
Since then, McPhee and Foster have welcomed a bouncing baby boy into the world, Rennie David Foster, and their lives appear to be full of joy.
"It's great. It's the best," she told Entertainment Tonight at Clive Davis' 90th birthday celebration in April 2022, while her husband added, "She's a fantastic mother. An amazing mother, and we are having the best time."
"I love it, absolutely. I mean, last night was a little rough, the time…he was up and then you know, when you're traveling with the kid, you have your moments where you get over-tired and frustrated," she said about being a mother for the first time.
View this post on Instagram
"But it's just so precious because it's just a moment in time that is not going to last forever, so, in my perspective I just cherish," she added about her son Rennie David.
Even with such a huge gap between them (34 years!) Katharine McPhee and David Foster are living proof that almost anybody can make it work — though it probably helps to be rich and successful!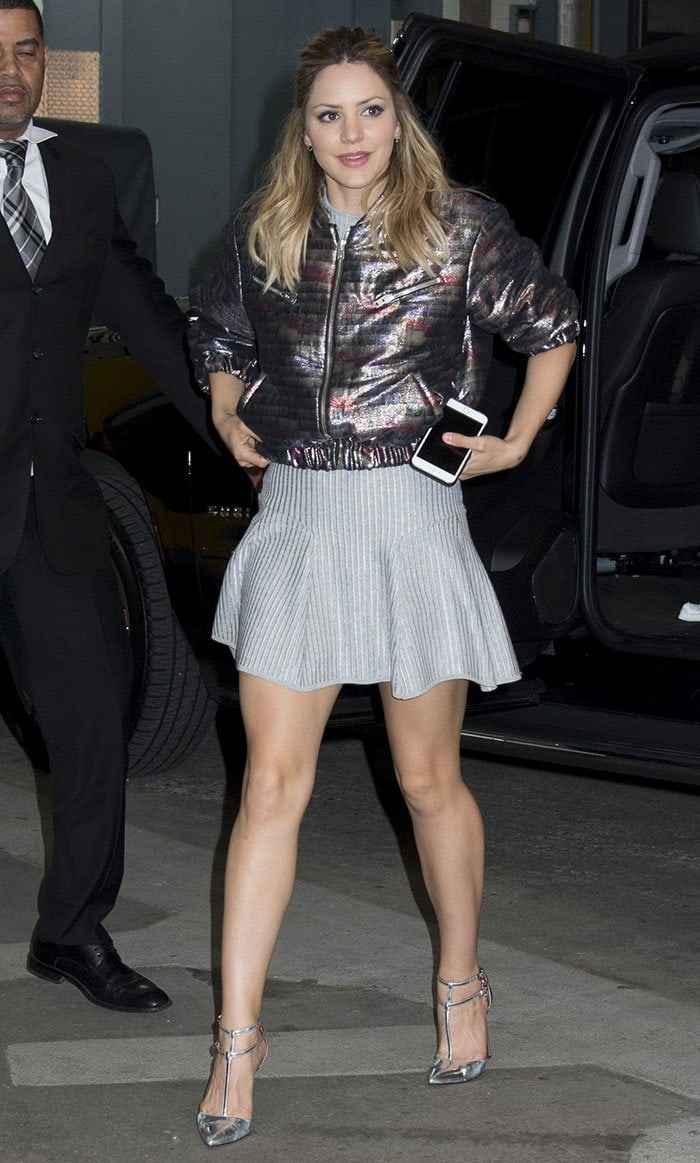 Katharine McPhee wears her hair half-up, half-down at the AOL Build Speaker Series held on April 18, 2016, in New York City (Credit: WENN)
In April 2016, Katharine McPhee rocked her signature style outside the AOL studios in New York City.
The then-32-year-old actress attended the AOL Build Speaker Series to discuss her CBS action drama television series "Scorpion," which was canceled in 2018 after four seasons and mediocre reviews.
Katharine McPhee wears a two-piece RVN ensemble out in New York City (Credit: WENN)

Katharine has some of the most enviable legs in Hollywood, and she has become quite the expert at showing them off.
She also gave us an eyeful of her abs in a two-piece ensemble from RVN's Spring 2016 collection during her live interview series.
The outfit included a ribbed racerback crop top with circular cutouts down the middle and a matching thigh-skimming flare skirt.
Katharine McPhee signs autographs in a metallic silver IRO jacket (Credit: WENN)
She covered up on her way to the studio with a metallic puffer jacket by IRO and completed her ensemble with a pair of silver strappy pumps.
She wore her hair in a half-up, half-down style and kept her makeup simple with a swipe of pink lipstick.
Katharine highlighted her legs further with a striking pair of metallic silver "Starlet" pumps by Cesare Paciotti.
Katharine McPhee's feet in metallic silver Cesare Paciotti pumps (Credit: WENN)
These T-strap pumps feature double adjustable ankle straps with the label's signature dagger charms, pointed toes, and 4.5-inch heels.
Cesare Paciotti "Starlet" Pumps, $819 – $858