It was recently revealed that Kendall Jenner has a net worth of around $30 million. Until recently, it was estimated that her net worth is under $20 million, but the amount has been adjusted following stories about her fat paychecks.
While her net worth pales in comparison to Kim Kardashian's $200 million, Forbes estimates that she made $7 million just from modeling in 2016. In 2017 and 2018, her annual earnings more than doubled thanks to deals with fashion houses like Calvin Klein, Estee Lauder, Marc Jacobs, Fendi, Karl Lagerfeld and more.
That makes her one of the best-paid models in the world. She has also earned substantial revenue from appearing on the E! reality television series 'Keeping Up with the Kardashians', her apparel and footwear collaborations, and a series of sponsorship deals.
Being one of the most followed celebrities on Instagram, don't be surprised if her net worth increases by another $10 million in 2019!
Kendall Jenner's net worth is estimated to be around $30 million
Full Name:
Kendall Nicole Jenner
How old is Kendall Jenner?
She was born on November 3, 1995, in Los Angeles, a sprawling Southern California city.

Kendall Nicole Jenner turned 26 on November 3, 2021, and will turn 27 on November 3, 2022.
Boyfriend:
In March 2020, she started dating American professional basketball player Devin Booker. They split in June 2022 after two years of dating.

Her past boyfriends include Fai Khadra, Ben Simmons, Blake Griffin, ASAP Rocky, Jordan Clarkson, Lewis Hamilton, Justin Bieber, Harry Styles, and Julian Brooks.
What is Kendall Jenner's net worth?
She is an American reality television star and fashion model with an estimated net worth of $45 million.
Source of Wealth:
Modeling, endorsement deals, and reality television.
Is Kendall Jenner the tallest Kardashian?
Yes, she's s the tallest sister in the Kardashian-Jenner family.

Kendall Jenner is believed to be 5ft 9 ¼ (175.9 cm), in other words just short of 5′ 10″.
Is Kendall Jenner the richest Kardashian?
No, she's rich but not the wealthiest Kardashian.
What is Kendall Jenner's shoe size?
She's believed to wear a shoe size 10 (US).
What do people say about Kendall Jenner's toes?
Famous for being unusually long, Kendall says they're "the longest toes in the world" and calls them "spider toes."
Last year, the American model and television personality joined her half-sisters Kim Kardashian West and Kourtney Kardashian at the 2018 CFDA Fashion Awards held at the Brooklyn Museum in New York City.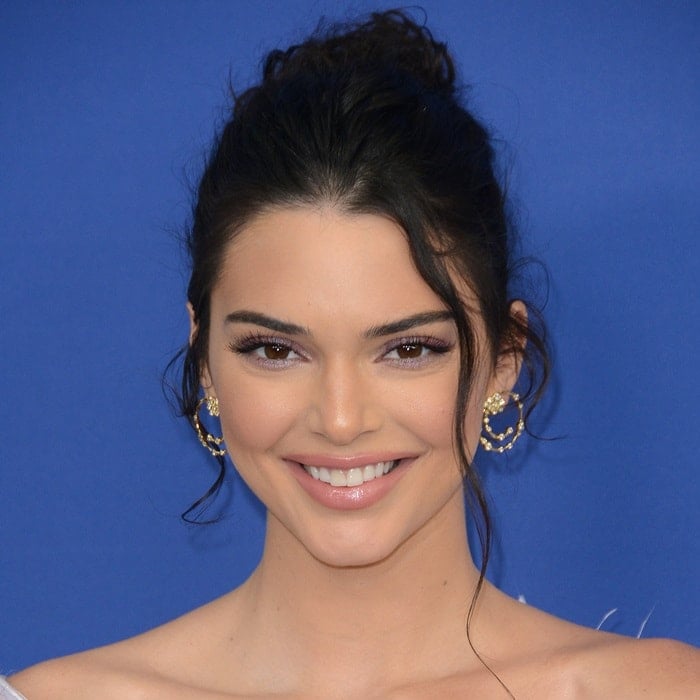 Kendall Jenner's diamond earrings designed by Ippolita Rostagno
For the annual Council of Fashion Designers of America Awards in New York, Kendall donned a lavender feather dress from the Alexandre Vauthier Couture Fall 2017 Collection featuring a daring asymmetrical hemline that barely skimmed one of her hips.
Kendall Jenner 's annual earnings seem to be increasing every year
Accessorizing with diamond earrings and a bangle designed by Ippolita Rostagno, she completed her look with pointy-toe 'Anouk' pumps from Jimmy Choo (available at Farfetch and Jimmy Choo).
Kendall Jenner in a lavender feather dress from the Alexandre Vauthier Couture Fall 2017 Collection
Kendall Jenner wearing pointy-toe 'Anouk' pumps from Jimmy Choo at the 2018 CFDA Fashion Awards held at the Brooklyn Museum in New York City on June 4, 2018
Credit: WENN / Ivan Nikolov / Lia Toby