Kesha is everywhere these days. She showed off her trashy feet at two events while she was in London for the past week, namely the Shockwaves NME Awards and the 2010 Brit Awards.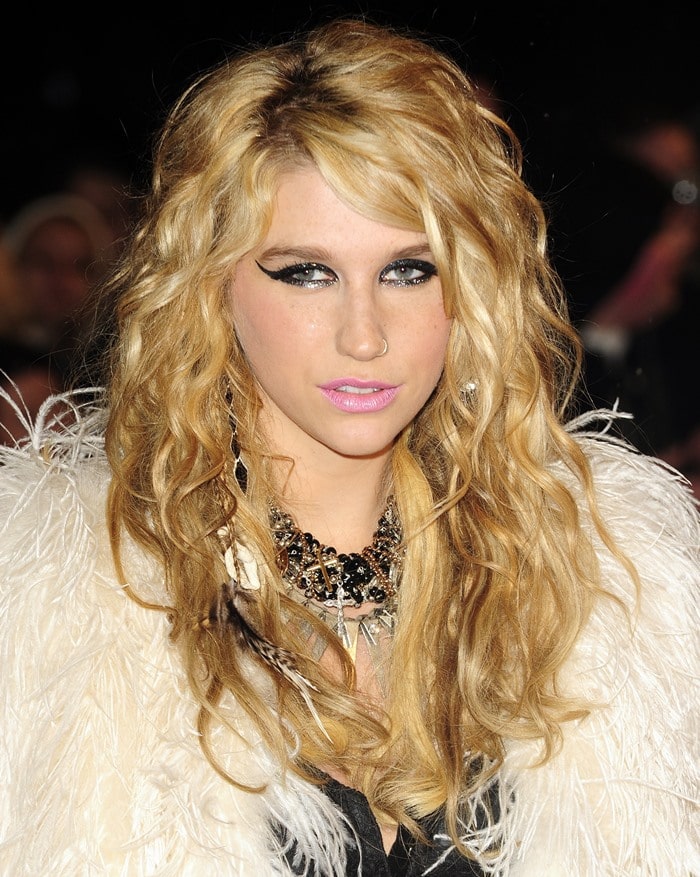 Kesha with false lashes and bubblegum pink lips
I'm not really a huge fan of the clothes she wears on the red carpet, but I do like her shoe choices.
Kesha Rose Sebert, known mononymously as Kesha, is an American singer, songwriter, rapper, composer, and actress
I liked the t-strap platform gladiator sandals she wore at the Grammys, and I am quite fascinated with the woven platforms she wore to the London-based award shows.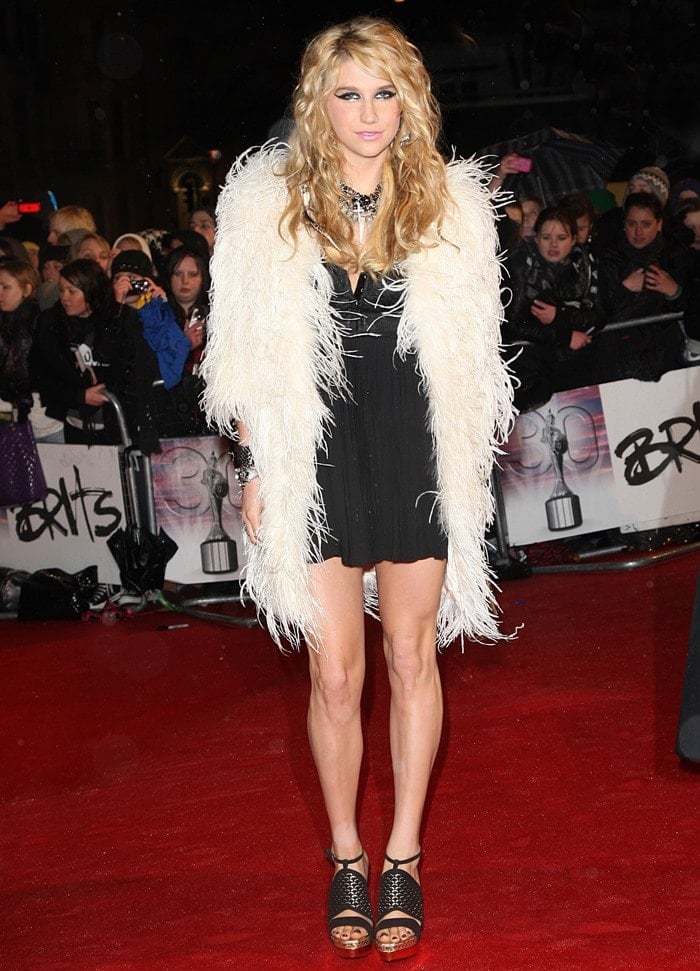 Kesha aka Ke$ha flaunts her legs in a black Dolce & Gabbana cocktail dress and a feathered coat from Temperley London at The Brit Awards 2010 held at London's Earls Court on February 16, 2010
The Tik Tok singer styled them with a black Dolce & Gabbana cocktail dress and a long cream-colored feathered coat from Temperley London.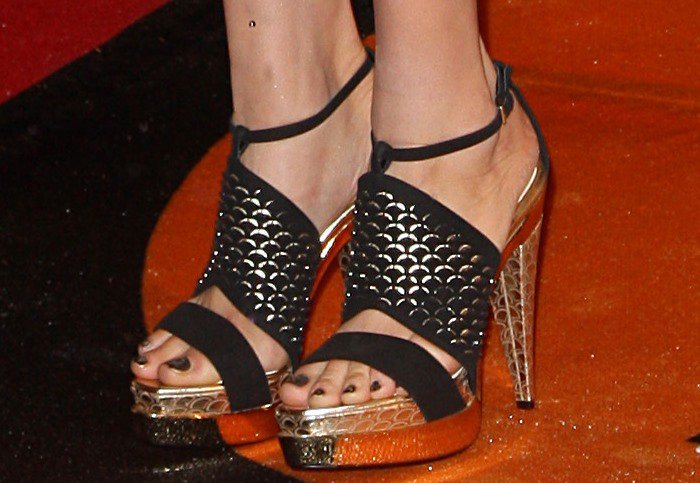 Kesha shows off her feet in gold and black platform sandals

If you look closely, the shoes appear to be a hybrid or blend of sorts, like a cross between t-strap, bootie, and sling-back, all mounted on thick gold angular platforms and high heels.
Kesha aka Ke$ha highlights her long legs at the Shockwaves NME Awards 2010 held at the O2 Academy Brixton in London on February 24, 2010
I did some research to ID the shoes but unfortunately, I have found no information on them…yet
"I'm throwing a huge animal party, performance and life should be about having fun and I embrace that message all the time," the "Blah Blah Blah" singer told The Daily Star.
"I hope I'm still on stage with these animals when I'm 45. I prefer the animals to humans."
Kesha showed off her pedicured toes in woven platform sandals

Now to get the look, I was able to find a couple of woven platforms at Nordstrom and Zappos, nothing exactly like the ones on Kesha, but somewhat similar:
GUESS Karaoke Heels, $119.99
Chinese Laundry Bounty Heels, $124.99
Tell me if you are feeling these shoes I've picked out or not. Feel free to give me your suggestions as well. Or better yet, make my day by helping me ID Kesha's shoes so I can go and get a pair myself. 🙂
Credit: Lia Toby  /WENN / Daniel Deme