Kim Kardashian opened the New Year with a bang in a cleavage-baring top she wore for a shopping trip to Barneys.
The 33-year-old reality TV star and proud mom went for a shopping trip around the Beverly Hills area with entrepreneur friend Laura Arrillaga-Andreessen.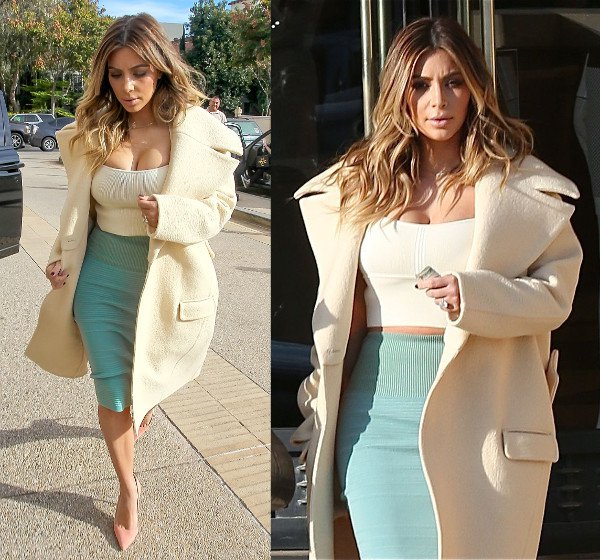 Kim Kardashian in a cleavage-baring crop top in Beverly Hills, Los Angeles on January 6, 2014
While her friend was decidedly gothic chic, Kim was more cosmopolitan in her sexy, pastel-themed outfit.
The ShoeDazzle founder wore a sleeveless, white crop top with a figure-hugging mint green skirt, both by Alaïa. She matched them to salmon pink pumps by Manolo Blahnik and a gorgeous nude coat by Celine.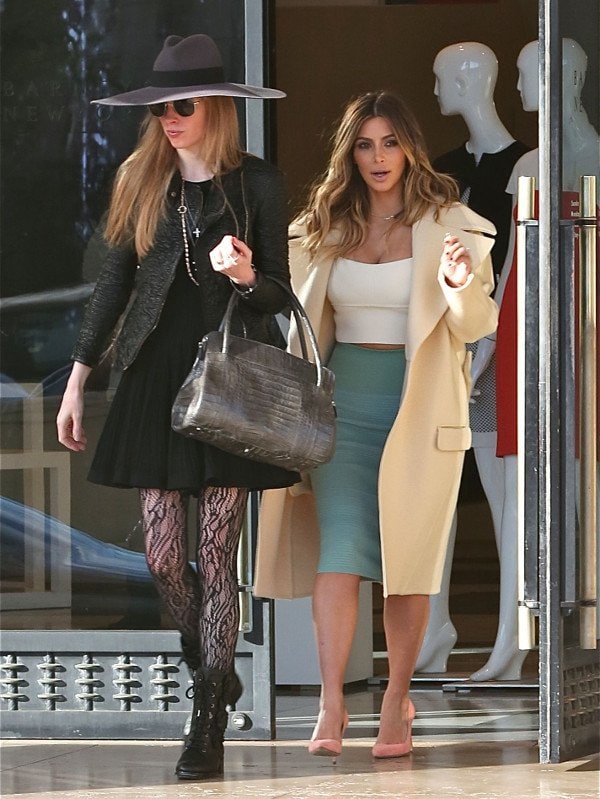 Kim went shopping around town with entrepreneur friend Laura Arrillaga-Andreessen
While the rest of us are finding ways to hide our post-holiday bodies, Kim strutted her stuff around Los Angeles.
Previously criticized for going up to 200 lbs. while pregnant, the reality star seems to be back to her pre-baby body after giving birth last June. She has attributed her weight-loss success to a strict workout regime and the Atkins diet.
All those hours at the gym certainly paid off as Kim reveals a stunning post-baby body
Kim's outfit is composed of a white crop top and green skirt by Alaïa and a nude coat by Celine
Kim Kardashian shows off her feet in salmon pink pumps by Manolo Blahnik
And probably because everything was going so well, Kim gave her valet a hefty $100-tip before driving off to Cartier Rodeo Drive.
There, Kim experienced a snag in her day when she received a parking ticket for parking her Rolls Royce illegally. Oops.
Kim tips the valet $100 before driving off in her Rolls Royce
Later at Cartier Rodeo Drive, Kim receives a parking ticket for illegally parking her car
Credit: revolutionpix / WENN