Kim Kardashian is no stranger to unusual and often scary-looking beauty treatments (like her iconic vampire facial, which is when your own platelets and hyaluronic acid are injected back into your skin) but has recently revealed that her latest obsession is lasers.
"I care. I really, genuinely care about looking good," the 41-year-old reality star said in an interview with Allure magazine.
"I probably care more than 90 percent of the people on this planet. It's not easy when you're a mom and you're exhausted at the end of the day or you're in school, and I'm all of the above. I do my beauty treatments usually late at night. After everyone's in bed, I'm doing laser treatments."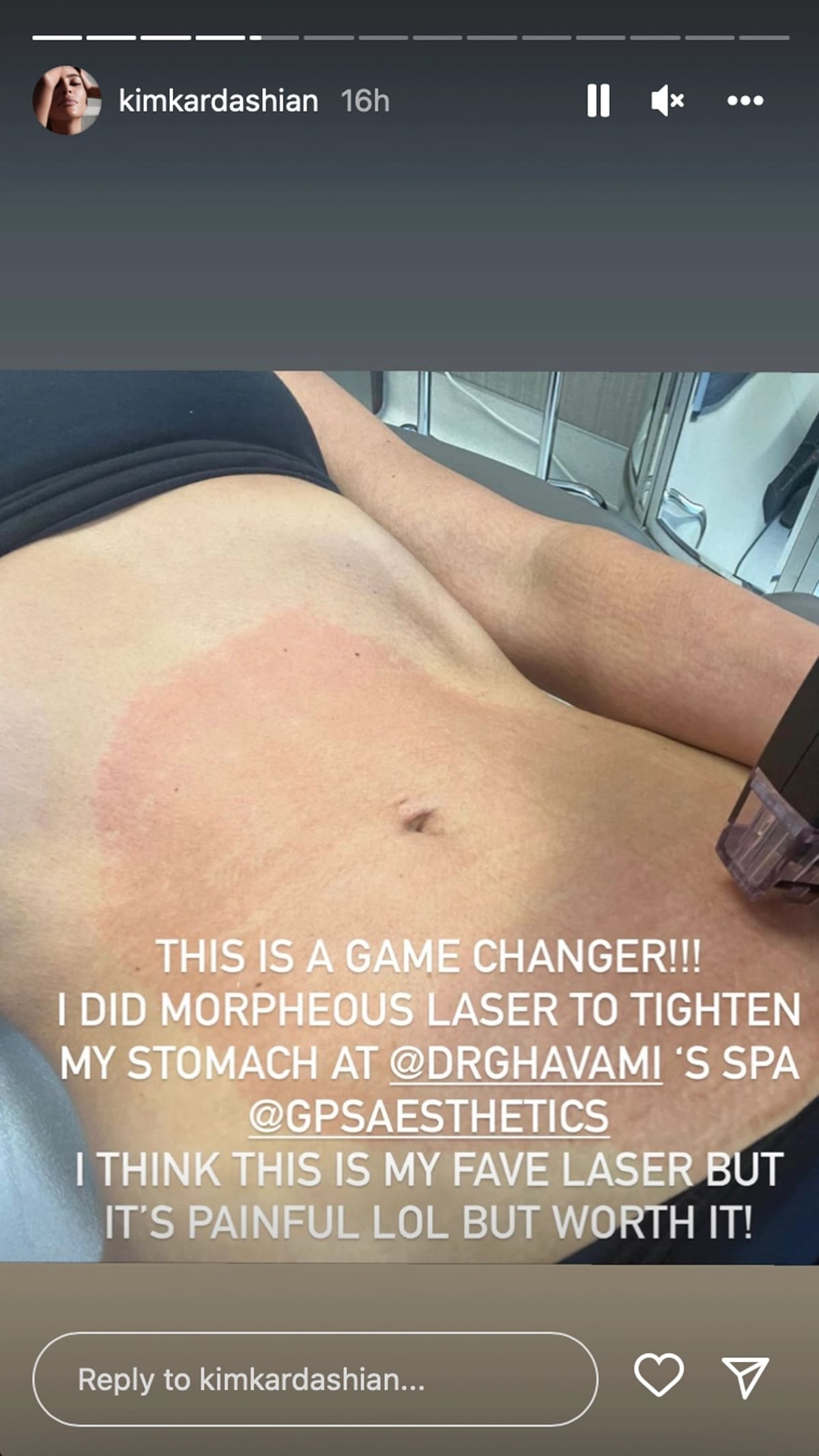 Kim Kardashian reveals she underwent a skin tightening procedure on her stomach (Credit: Kim Kardashian's Instagram)
Though Kim Kardashian does have her own, at-home laser treatment machines, she also debuted her new "fave laser" last week on her Instagram story.
Sharing a photo of her stomach, which appears to be red and irritated as a Morpheus8 laser zaps along her skin, she captioned the photo, "This is a game changer!!! I did a morpheus laser to tighten my stomach @drghavami's spa @gpsaesthetics"
According to the spa's Instagram page, the Morpheus8 laser is "a non-surgical skin-tightening treatment for the face and body. It combines microneedling and radiofrequency to target adipose fat which is notorious for creating saggy skin. Morpheus8 is great for patients wanting a non-surgical solution to tighten the skin all over (face, neck, abdomen, arms, thighs, elbows and knees)!"
Kim Kardashian received Morpheus laser treatment, which is approved by the FDA to "reduce fine lines and wrinkles, improve skin tone and texture, and tighten areas of skin laxity on the face" (Credit: Elena Stroud / Shutterstock)
However, it looks a bit painful (likely due to the combination of needles), which Kim Kardashian confirmed, posting, "I think this is my fave laser, but it's painful lol but worth it!"
Kim is definitely a fan of Dr. Ghavami's GPS Aesthetics spa, as she appears multiple times on the spa's page. In another post, we see the reality star receiving the MOXI + BroadBand light treatment combo, which allegedly helps to reduce the size of the star's pores while smoothing the skin's color and texture.
Kim once notably said to The New York Times, "If you told me that I literally had to eat poop every single day and I would look younger, I might. I just might."
View this post on Instagram
So it's no wonder the newly-singly reality star (goodbye, Pete Davidson) is ready to drop some serious cash on weird, painful beauty treatments. Unfortunately, this makes fans a bit dubious about Kim's claims about the effectiveness of her new skincare brand, SKKN by Kim.
After sharing her stomach tightening treatment, Kim Kardashian took to Instagram yet again, this time bare-faced, to promote her SKKN by Kim exfoliating treatment.
View this post on Instagram
Though some fans liked seeing the star go makeup-free, others were quick to call her out, knowing the extensive treatments she regularly undergoes…not to mention the hefty price tag that goes along with her skincare brand. The SKKN by Kim Complete Collection set will run you $575, to put things in perspective.
We don't blame fans for being skeptical, though. How can you trust that a skincare brand is as effective as Kim claims, considering she gets regular laser tightening and a bevy of other spa treatments every week? We sure don't.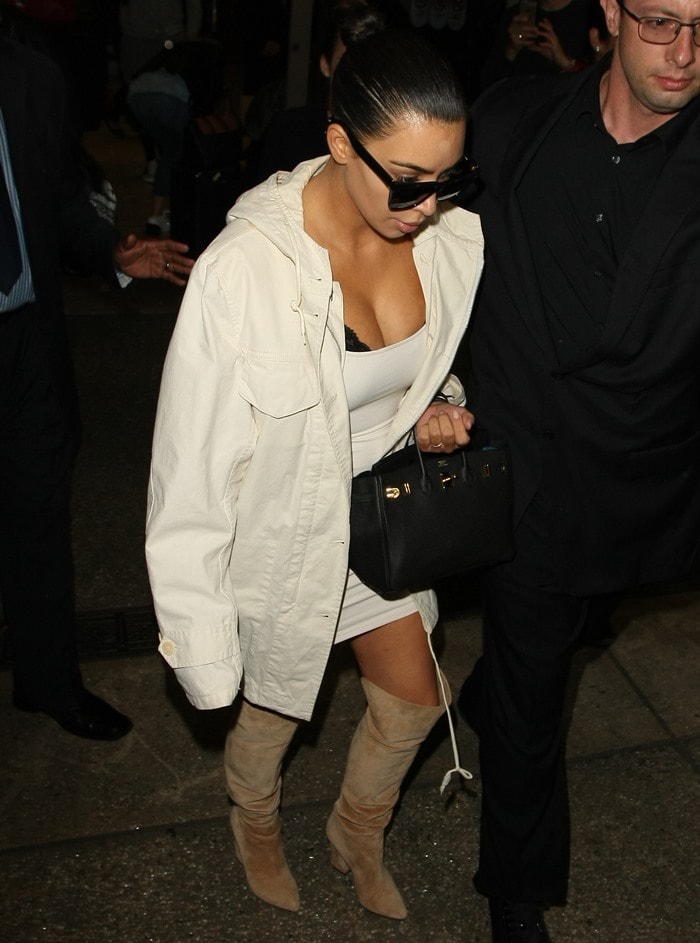 Kim Kardashian slicks her hair back as she arrives at Los Angeles International Airport on May 18, 2016 (Credit: WENN)
In May 2016, Kim Kardashian sported a pair of thigh-high boots while touching down at the Los Angeles International Airport
She was joined by her momager Kris Jenner as they returned from the 2016 Cannes Film Festival.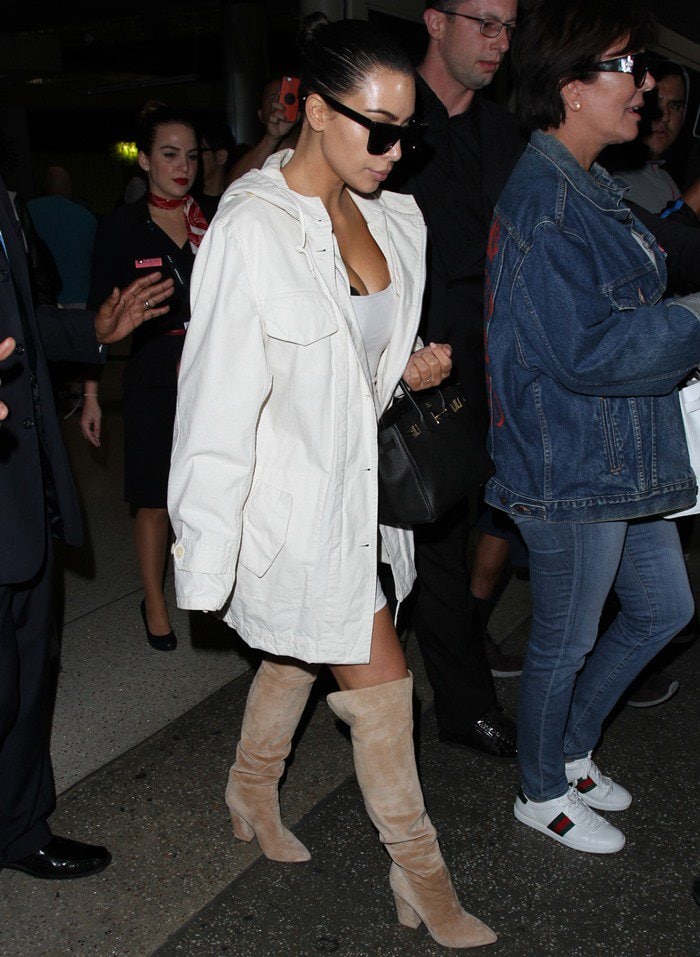 Kim Kardashian wears thigh-high suede boots at LAX (Credit: WENN)
The then-35-year-old reality star styled her sexy boots with a skintight cream dress and a matching safari jacket.
She also carried her favorite "Birkin" handbag from Hermès. Kris, on the other hand, wore a denim-on-denim ensemble.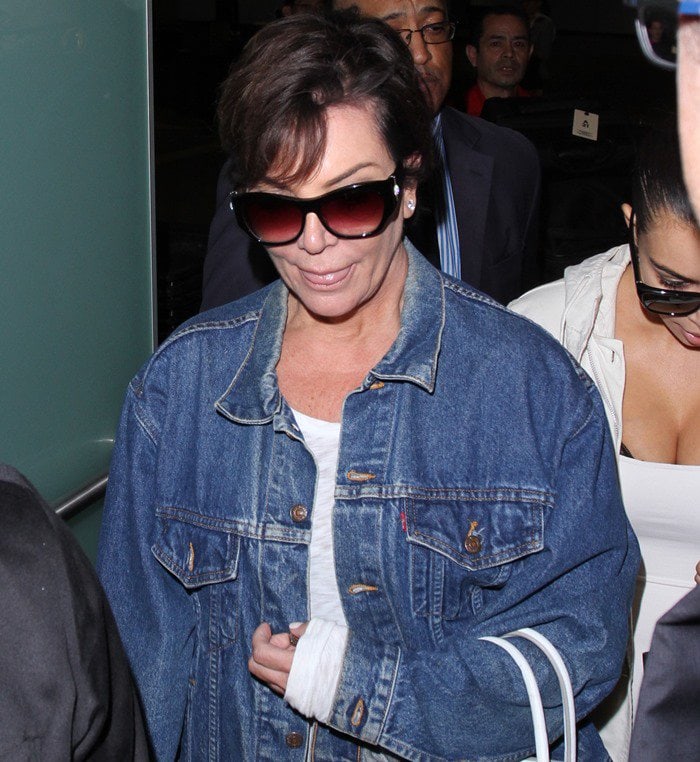 Kris Jenner wears dark sunglasses and a denim jacket as she arrives at the Los Angeles International Airport (Credit: WENN)
Both women sported dark sunglasses to hide any traces of jetlag.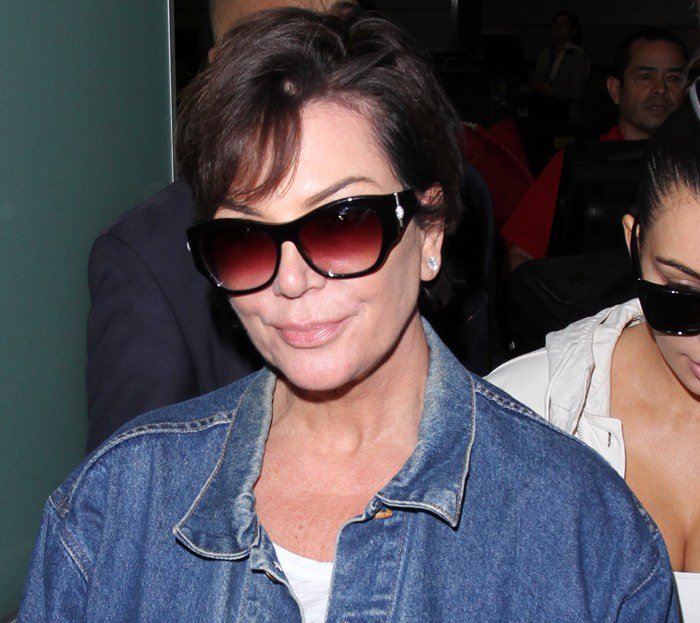 Kris Jenner wears dark sunglasses as she arrives from France at LAX (Credit: WENN)
Kim's honey-colored suede over-the-knee boots from Italian shoe designer Sergio Rossi are unfortunately out of stock at Farfetch.
Sergio Rossi 'Scarlett' Over-the-Knee Boots, $1,250