If Jennifer Lawrence was the Little Mermaid of the 2014 Golden Globes, Lupita Nyong'o was the Cinderella of last night's Oscars. The Kenyan-Mexican actress had her princess moment in a custom-made ice blue Prada gown with a plunging neckline, both in the front and the back. Sparkling crystal beads lining the pleats added to the fairy-tale fantasy.
What completed the actress' Cinderella transformation was a gold headband and gold-and-diamond fan earrings that were strikingly similar to the original Disney princess'.
We couldn't think of a more fitting way to cap off Lupita's magical night than winning the Oscar for Best Supporting Actress. Lupita's first-ever Oscars was perfect in every way, and it showed in her pictures.
Lupita was clearly having fun with her Prada gown on the red carpet.
When she stepped into the flower-filled press room with her Oscar in hand, we half-expected birds to come out singing because she really did remind us of Cinderella among all those bouquets.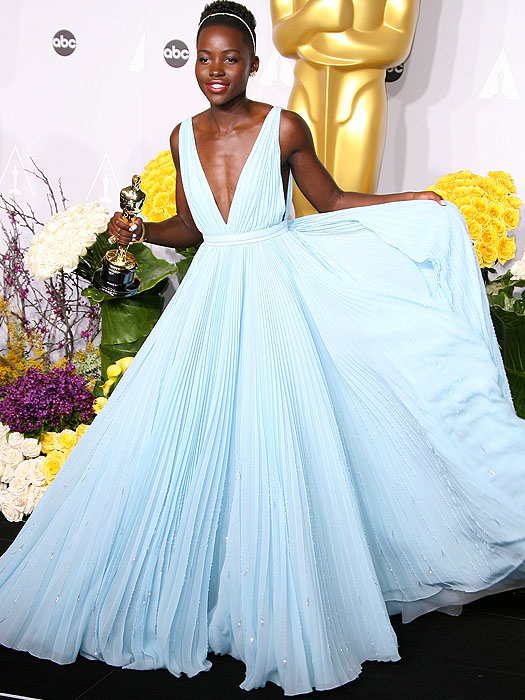 Lupita Nyong'o's retweeted pic on Twitter of her shining on the red carpet at the 2014 Oscars
Congratulations on the win, Lupita Nyong'o! And like everything else she does, the acceptance speech she gave was moving, heartwarming, and beautiful.
Lupita Nyong'o reportedly wore Prada satin platform sandals with her Prada gown, but we weren't able to find any pictures of her feet peeking out from under her dress. So, we're just imagining her wearing these eye-catching, glittery Prada sandals instead:
Prada Glitter Platform Sandals, $790
Or, since she chose gold jewelry and accessories, she could also have opted for the following gold-tone Prada sandals:
Prada Metallic Leather-and-Suede Sandals, $690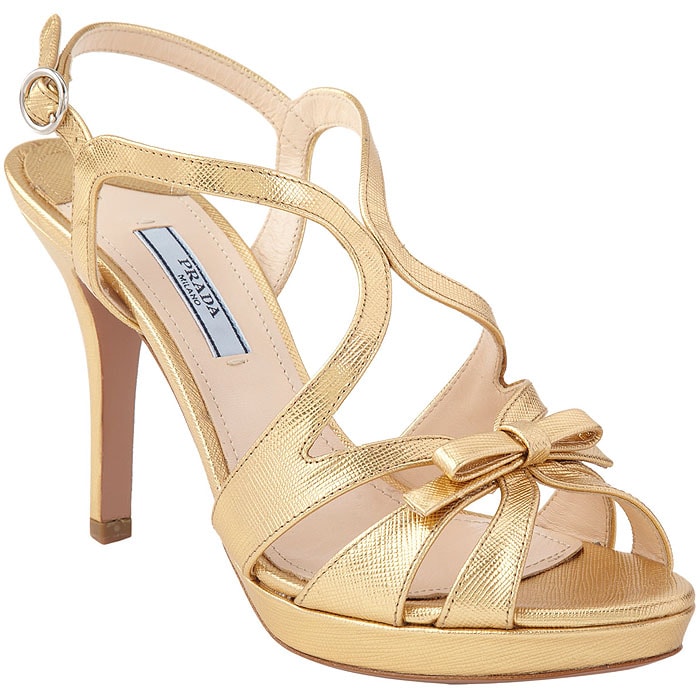 Prada Strappy Bow Platform Sandals, $830
She also could have gone matchy-matchy and have worn these light blue Prada slingbacks:
Prada Suede Slingback Sandals, $390
Credit: Adriana M. Barraza / WENN / Lupita Nyong'o's Twitter