Are you ready to meet the newest addition to the Jonas family?
Nick Jonas and Priyanka Chopra have finally revealed their precious bundle of joy to the world.
Baby Malti Marie Chopra Jonas just made her first public appearance at the pop rock band Jonas Brothers' Hollywood Walk of Fame ceremony.
Malti Marie Chopra looked adorable in a woolen cardigan and white hairband while she sat with her mother, Priyanka Chopra, and Sophie Turner during the ceremony (Credit: Featureflash Photo Agency / Shutterstock)
Born on January 15, 2022, baby Malti was already stealing hearts and making her big debut in the entertainment world on Monday, January 30.
The 40-year-old Indian actress and her 30-year-old singer husband have been known to hide their baby's identity. But during the Los Angeles event, the Quantico star carried the adorable 1-year-old child, making it their first outing in public.
Malti Marie, who made her public debut on Priyanka Chopra's lap, smiled and giggled during her first big event. The baby's tan dress with a white headband was too precious to resist.
Sophie Turner donned a stunning red ensemble from head to toe. She paired a vibrant red Magda Butrym ruffle flower blazer with matching skinny tailored trousers, both from the same designer.
To complete the look, she slipped into a pair of stunning Manolo Blahnik Sinbelahi red velvet pumps, adding a touch of elegance to the already eye-catching outfit.
Danielle Jonas, Kevin Jonas, Priyanka Chopra, Nick Jonas, Joe Jonas, Sophie Turner, and (front) Alena Rose Jonas and Valentina Angelina Jonas attend The Hollywood Walk of Fame star ceremony honoring The Jonas Brothers on January 30, 2023, in Hollywood, California (Credit: Featureflash Photo Agency / Shutterstock)
In January 2022, the couple shared the news that they had welcomed a daughter into the world via surrogacy. They disclosed their toddler's early birth and extended stay in the hospital's intensive care unit in May.
When their daughter Malti finally arrived home, the proud parents posted a photo of their new family to Instagram with a heart emoji on their baby's face.
Nick captioned the post saying, "Every family's journey is unique and requires a certain level of faith, and while ours was a challenging few months, what becomes abundantly clear, in retrospect, is how precious and perfect every moment is."
Nick Jonas and Priyanka Chopra's daughter, Malti Marie Chopra Jonas, made her public debut as she accompanied her parents at a star-studded event in LA (Credit: Featureflash Photo Agency / Shutterstock)
The Jonas Brothers' ceremony on Monday honored the 2,745th star on the Hollywood Walk of Fame.
Brothers Kevin, Joe, and Nick Jonas started the boy band in 2005, and their popularity skyrocketed thanks to their series on Disney Channel.
Their success stems from albums like It's About Time (2006), Jonas Brothers (2007), and A Little Bit Longer (2008). The group reconciled in 2019 and released a top-charting album, Happiness Begins, following a hiatus in 2013.
Aside from Priyanka, the spouses of Joe and Kevin, Sophie Turner from Game of Thrones, and Danielle Jonas were also present at the ceremony to support their husbands.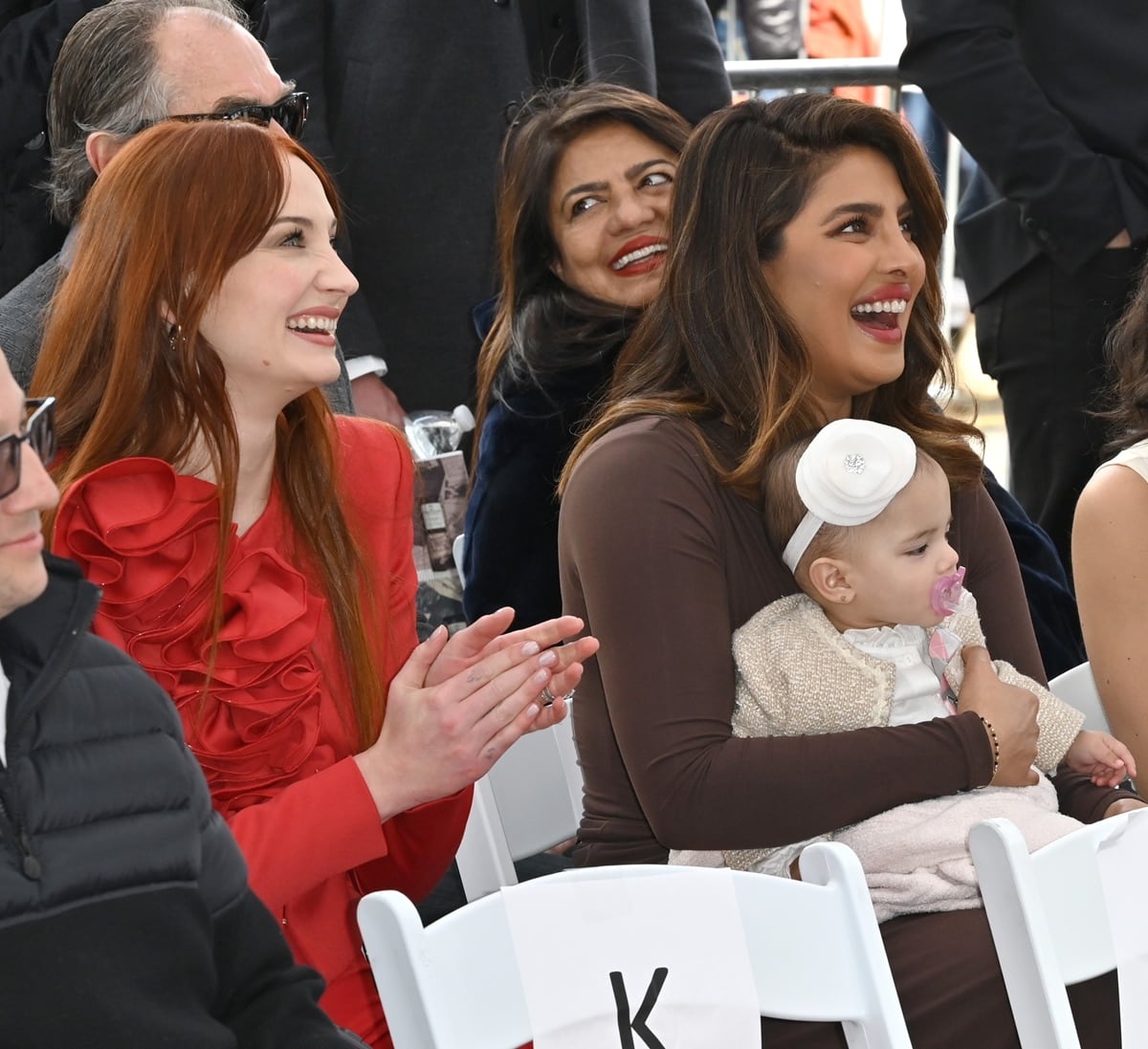 From left to right, Sophie Turner, Priyanka Chopra, and Malti Marie Chopra Jonas attended an event honoring The Jonas Brothers with a star on the Hollywood Walk of Fame (Credit: Featureflash Photo Agency / Shutterstock)
Priyanka's mom Madhu; Jonas Brothers' parents Kevin Sr., Denise, and brother Franki were there, as was Kevin's sister-in-law Kathleen. Baby Malti was joined by Kevin's two daughters, Alena, age 8, and Valentina, age 6.
At the event, which took place on Hollywood Boulevard, the Jonas Brothers expressed their gratitude to their loved ones and fans for their support throughout their 18-year career. The brothers also expressed their appreciation to their wives and daughters.
Kevin Jonas said, "Danielle, my beautiful wife. I love you so much. I could not have done this without you. Your support for the past 15 years– you've seen us through all of it … thank you for everything. Alena, Valentina, this is a pretty cool moment, don't you think? This is cool, but you two are my brightest stars."
Joe Jonas referred to Sophie Turner, who played Jean Grey in X-Men: Dark Phoenix, as his "partner-in-crime" and mentioned his two daughters. He assured his children, "Daddy loves you to the moon and back."
The Jonas Brothers secured their place in history with a permanent symbol – a star on the Hollywood Walk of Fame (Credit: Featureflash Photo Agency / Shutterstock)
Nick Jonas dedicated his speech to his wife and their daughter. He said, "To my beautiful wife, you are the calm in the crazy, the rock in the storm, and I love being married to you. It is the greatest gift. I love being a parent with you."
The proud father spoke to her infant daughter, saying, "Malti Marie, I can't wait to come back here with you in 15 years and embarrass you in front of your friends."
As soon as Nick finished his remarks, the other brothers revealed that their new album, The Album, will be released on May 5. The Jonas Brothers will be touring in support of it.