Nick Jonas and Priyanka Chopra announced to the world in January 2022 that they had welcomed their first child via surrogate. After 100 plus days in the NICU, the couple is thrilled to have brought their little girl come home.
Their newborn's name is Malti Marie Chopra Jonas. Aa Sanskrit word, Malti means small fragrant flower or moonlight.
View this post on Instagram
The couple recently shared the first images of their newborn with the world on Instagram. Chopra and Jonas wrote about their journey into motherhood with a sweet Mother's Day caption.
The Couple Write a Heartfelt Mother's Day Post
The couple announced that their little girl had come home in the Instagram post.
"On this Mother's Day we can't help but reflect on these last few months and the rollercoaster we've been on, which we now know, so many people have also experienced. After 100 plus days in the NICU, our little girl is finally home."
The Quantico star went on to say, "Every family's journey is unique and requires a certain level of faith, and while ours was a challenging few months, what becomes abundantly clear, in retrospect, is how precious and perfect every moment is."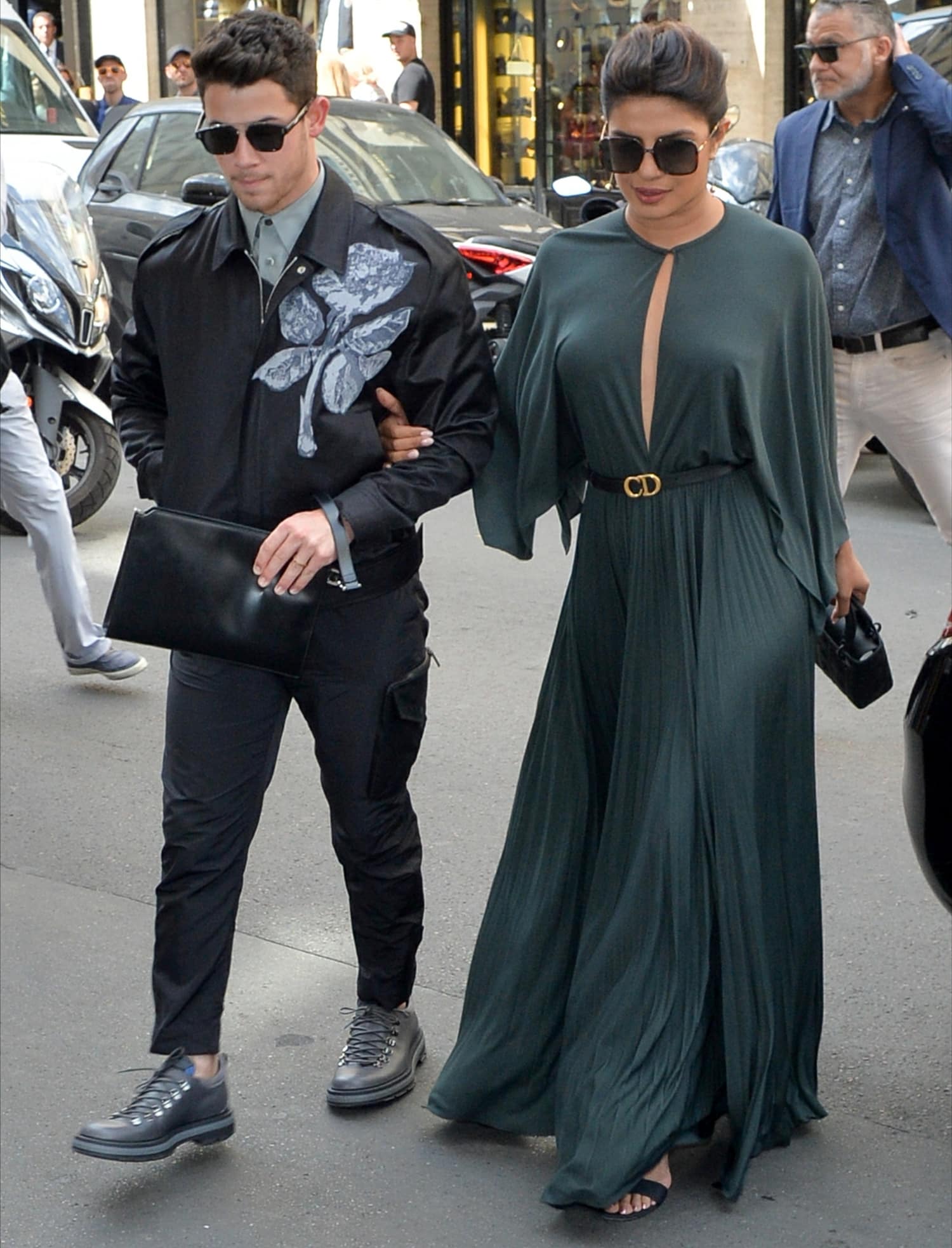 Priyanka Chopra, in a forest green maxi dress, and her husband Nick Jonas attend the Christian Dior Haute Couture Fall/Winter 2019 2020 show as part of Paris Fashion Week on July 1, 2019, in Paris, France (Credit: Palace Lee / INSTARimages)
Priyanka Chopra took the time to thank the medical staff who helped their little girl come home.
"We are overjoyed that our little girl is finally home, and just want to thank every doctor, nurse, and specialist at Rady Children's La Jolla and Cedar Sinai, Los Angeles, who were there selflessly every step of the way."
She ended the post with, "Our next chapter begins now, and our baby is truly a badass. Let's get it MM! Mommy and Daddy love you." The couple ended the post with a thank you to all of the caretakers in their lives.
Jonas Wished His Wife A Happy Mother's Day
Jonas also wished his wife a special Mother's Day on her first Mother's Day as a mom in his Instagram post.
"Babe, you inspire me and every way, and you are taking to this new role with such ease and steadiness. I am so grateful to be on this journey with you. You are already an incredible mother. Happy Mother's Day. I love you.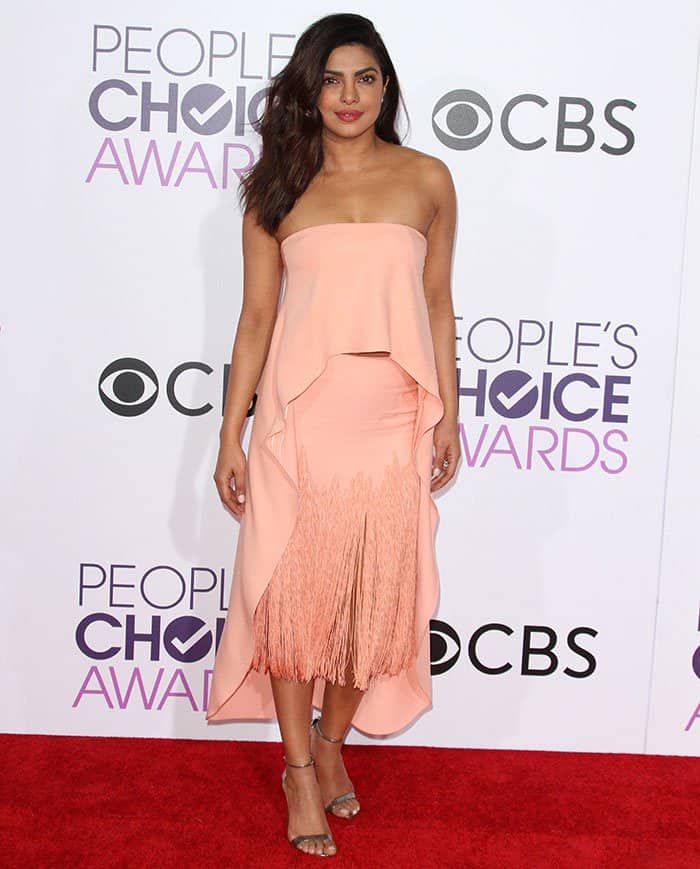 Priyanka Chopra styled her Sally LaPointe Spring 2017 dress with metallic ankle-strap sandals
In January 2017, it had been a week since Priyanka Chopra suffered an accident on the set of her drama series "Quantico," but the actress appeared to be back in good spirits at the 43rd People's Choice Awards in Los Angeles.
"I was a little nervous… I didn't know if I would make it, but I got so bored sitting on my couch for three days," she said about her injury.
Chopra had to be hospitalized after suffering a concussion when she slipped and fell during the filming of her ABC thriller drama television series.
"I was supposed to be saving someone, as usual, Alex Parrish-style," Priyanka added. "The doctors said another couple of days, and I should be okay."
Priyanka Chopra in a peach dress at the 2017 People's Choice Awards held at the Microsoft Theatre in Los Angeles on January 18, 2017 (Credit: Adriana M. Barraza / Dave Bedrosian / Future Image / WENN)
The then-34-year-old actress looked sensational in a peach-colored ensemble from Sally LaPointe's Spring 2017 collection.
The Indian beauty showed just the right amount of flesh, pairing a strapless dipped-hem top with a matching fringe skirt.
Defeating Ellen Pompeo, Kerry Washington, Taraji P. Henson, and Viola Davis, Priyanka was named Favorite Dramatic TV Actress at the event. When she took to the stage to accept her trophy, she gave a short speech to the audience.
Priyanka Chopra in a peach Sally LaPointe top at the People's Choice Awards
"This has been an incredible journey," she said. "Every single woman that was nominated with me today, all of these incredible actresses, were the reason I joined television."
Priyanka let her outfit take center stage. She kept her accessories to a minimum, opting for just a pair of earrings and silver heels.
She rounded out her look with voluminous waves, a swipe of pink lipstick, and well-defined eyebrows.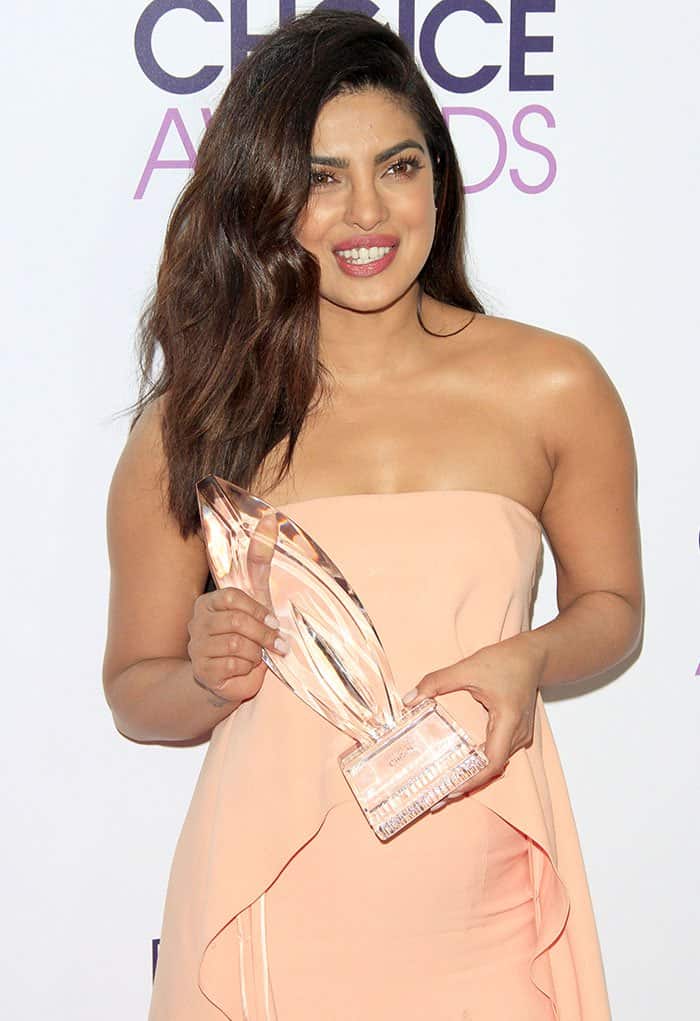 Priyanka Chopra won her second consecutive People's Choice Award for Quantico (Credit: WENN)
Priyanka selected the Casadei "Blade" sandals for her feet. These metallic silver leather sandals have adjustable ankle straps, cutout details on the heel counters, and 4.3-inch sculpted heels.
You can order these heels at Farfetch and Casadei.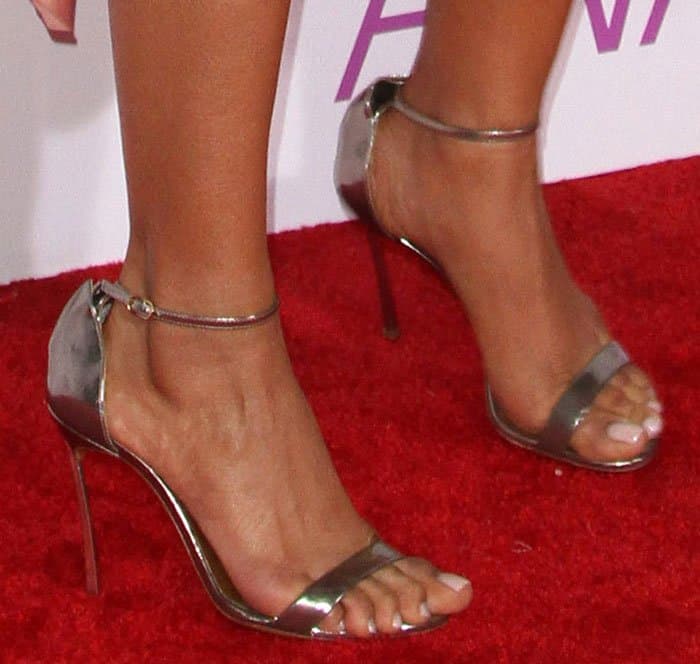 Priyanka Chopra displays her feet in metallic Casadei sandals (Credit: WENN)