At the end of January, Priyanka Chopra and her husband Nick Jonas welcomed the birth of their first child.
They announced the arrival of the new addition to their family with an Instagram post: "We are overjoyed to confirm that we have welcomed a baby via surrogate," they stated.
View this post on Instagram
"We respectfully ask for privacy during this special time as we focus on our family. Thank you so much."
They have been enjoying privacy together with their baby since birth.
Early Hints at the Baby's arrival
The couple had reportedly been ready for some time to welcome a child into their family, which they did on January 15.
On the Jonas Family Roast in November 2021, Chopra jokingly said, "We are expecting… to get drunk tonight and sleep in tomorrow."
She had the audience roaring with laughter but did not confirm that the couple was expecting a baby within the next few months.
View this post on Instagram
The new parents later confirmed that they were expecting by giving a sneak peek into their nursery on a carousel of pictures on Chopra's Instagram feed.
They have kept the news on their baby quiet, a source telling Entertainment Tonight, "Priyanka and Nick love being new parents and have been spending a lot of downtime at home."
A Family Home
The couple bought their home in the San Fernando valley in 2019 for $20 million, breaking Encino records for the most expensive property sold in the area.
A source revealed that "When they bought the house together, they had children in mind." Jonas, 29, and Chopra, 39, spent months renovating their home to be more family-oriented.
View this post on Instagram
A source stated that a child is "Something they have both wanted. Now is their time, and they could not be more ready to raise a child," a source stated.
The couple has reportedly let their close family meet their newest addition and have kept their first months with their child very private.
The Glamorous Wedding
Although the power couple has kept the news about their child down low, they have spoken about having children since their marriage.
In a 2019 interview with InStyle, Chopra said, "I want my existence to have meant something. I want my kids to turn around and be like, 'Yeah, that was my mom.'"
View this post on Instagram
In 2018, the couple tied the knot in two enchanting ceremonies – one Christian and one Hindu – at the Umaid Bhawan Palace in Jodhpur, India.
The glamorous festivities spanned 5 days with 225 guests in attendance. "It was literally what dreams were made of," Chopra Jonas said of the occasion.
Plenty of Family to Enjoy
The couple hasn't released the name of their new addition, but she will have plenty of cousins to play with.
Kevin Jonas and his wife, Danielle Jonas, have two daughters, Valentina Angelina, 5, and Alena Rose, 7.
View this post on Instagram
Joe Jonas and Sophie Turner have daughter Willa, and Turner is pregnant with the couple's second child. The cousins will provide plenty of company for the new addition to the Jonas family.
The newest addition to the Chopra Jonas family has been kept private but will surely be a great addition.
Priyanka Chopra only spent three years of her childhood in America, but she's taken a liking to the seasons pretty quickly.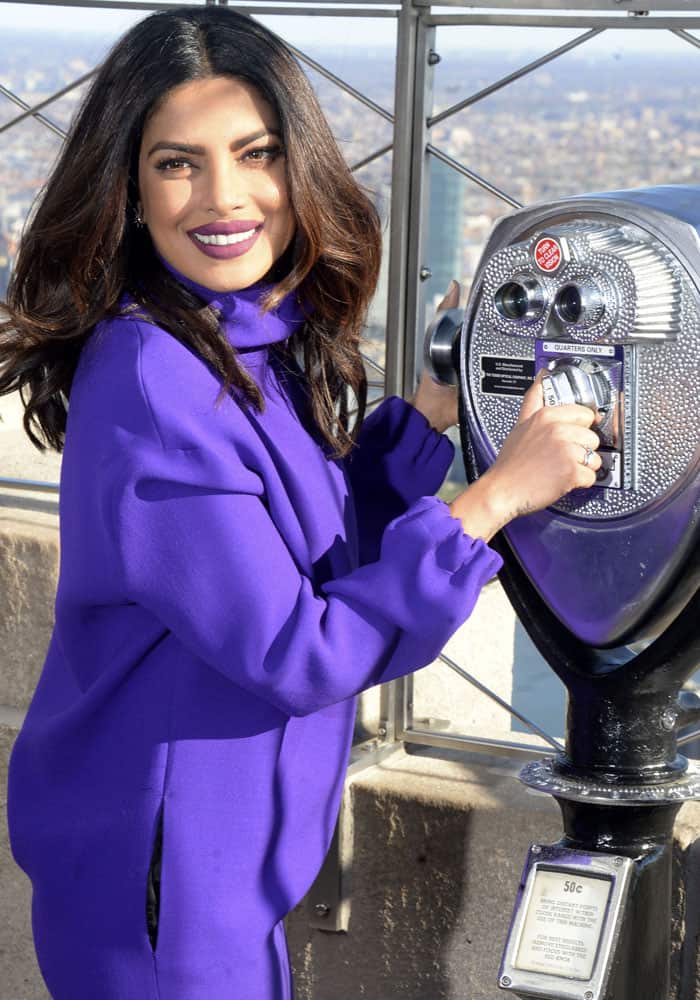 Priyanka Chopra at the Empire State Building celebrating her move to New York on November 11, 2016 (Credit: WENN)
Even though Priyanka grew up mostly in northern India — dealing with sunshine and monsoons — she's not a stranger to cold weather.
In November 2016, Nick Jonas's wife talked about her favorite season as she visited the Empire State Building in New York.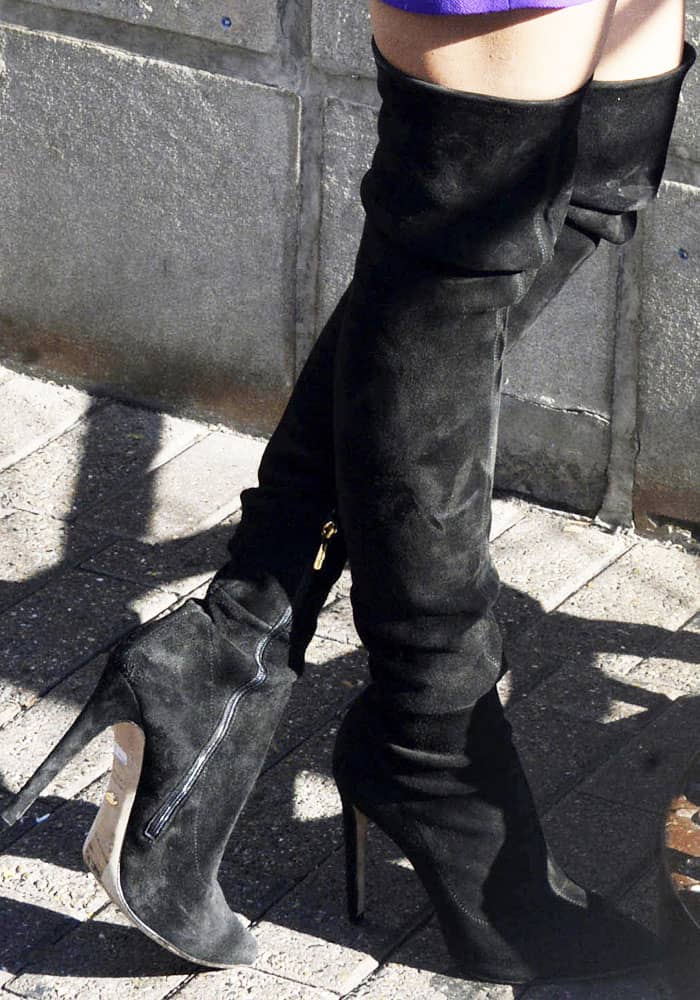 Priyanka Chopra warms up her legs in a pair of Jimmy Choo "Toni" boots (Credit: WENN)
The actress bundled up to brace herself from the cold weather in a purple turtleneck dress by Costume National. The dress featured a gathered hem at the sleeves and side pockets with a raw finish.
Priyanka finished her look with round sunglasses and a pair of Jimmy Choo "Toni" boots.
Priyanka Chopra celebrates in a cozy-looking dress by Costume National (Credit: Ivan Nikolov / Dennis Van Tine / Future Image / WENN)
Priyanka said her favorite New York season is autumn. The actress went up the iconic building to celebrate her move to New York, taking it all in with her favorite season.
The then 34-year-old also uploaded a selfie with the caption, "I took a pill in Ibiza… #purplehaze #falldaze." Priyanka included emojis of autumn leaves and musical notes.
Priyanka Chopra rocks reflective Garrett Leight sunglasses and a purple long-sleeve mini dress featuring a high collar (Credit: Priyanka Chopra's Instagram)
Get stylish like Priyanka in a pair of Jimmy Choo "Tony" boots. You can order a pair at Net-A-Porter and Farfetch.
Jimmy Choo "Toni" Thigh High Boots, $1,795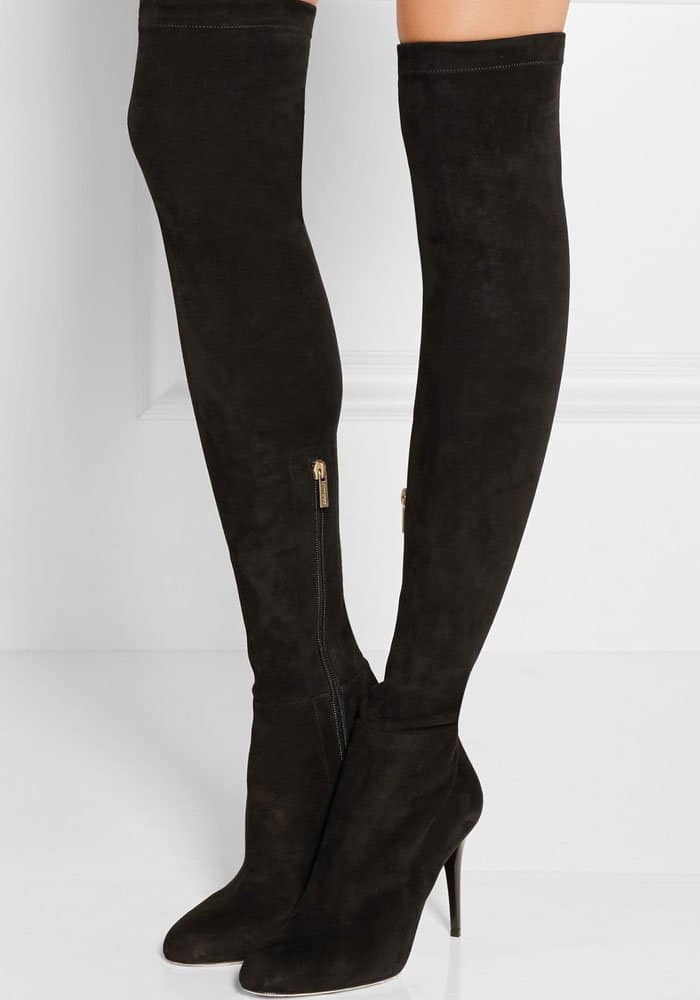 Jimmy Choo's over-the-knee boots in black suede are a blend of opulence and simplicity
Sky-high and sleek, these army green over-the-knee boots are a sophisticated yet alluring accompaniment to day-to-night ensembles
Add a sophisticated element to your footwear line-up with Jimmy Choo's tan Toni over-the-knee boots