Sophie Turner and shorter hubby Joe Jonas stepped out on the town for a date in Los Angeles, and with a super-cute matching knitwear moment, it's clear why they are one of Hollywood's favorite couples (we could be biased).
The 26-year-old Game of Thrones alum wore an adorable apple green button-down ribbed knit dress by Finders Keepers (you can get your own at Fashion Bunker for only $70).
Joe Jonas and Sophie Turner stopped by the relaxed neighborhood eatery All Time for lunch on February 16, 2022, in Los Feliz, California (Credit: Bauergriffin / Instarimages)
The actress accessorized with a pair of black Vagabond mules, geometric gold Monica Vinader earrings, a yellow gold plated Maria Black ring that reads "MOM", and topped off the look with chic, dark Thierry Lasry shades to block out the blazing Los Angeles sun.
Finally, Sophie added a fun detail with her iPhone's whimsical cottage core-inspired phone case by Casetify.
Sophie looked fantastic — we love how she paired a bright spring-type minidress with such sleek, modern accessories. Better yet, most of the pieces she wore are pretty affordable, and the ones that aren't (looking at you, Thierry Lasry sunglasses) have plenty of dupes out there that are easier on the wallet.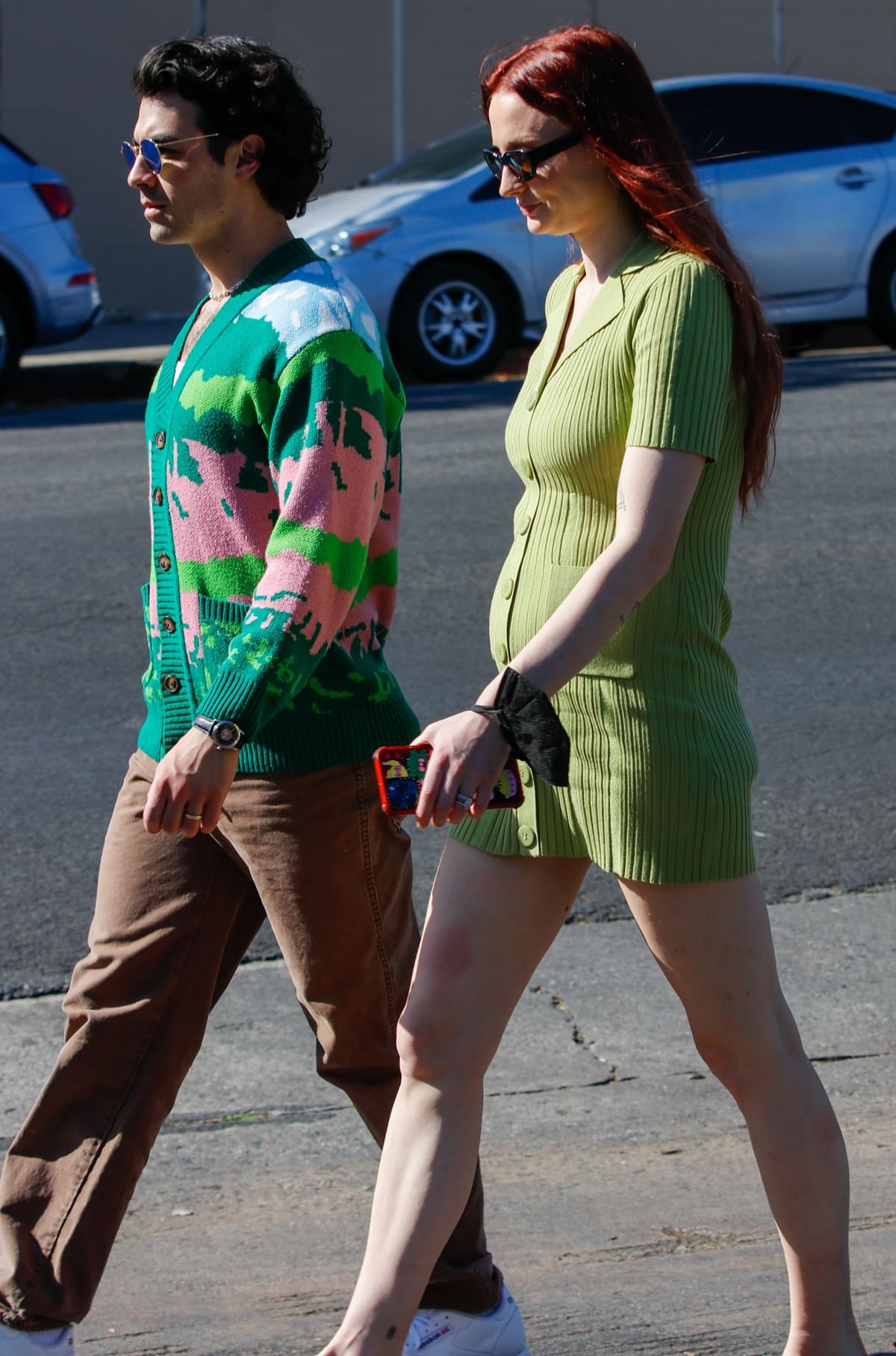 Sophie Turner sparked pregnancy rumors in a green Finders Keepers Sadie knit dress with button and buttonhole closure at center front (Credit: Bauergriffin / Instarimages)
Sophie's most important accessory of the day, however, was none other than her 32-year-old husband Joe Jonas! The singer showed off his wardrobe by matching his wife with a multicolored — but mostly deep green — button-down cardigan.
Imagine their conversation before leaving the house that day… Perhaps Joe or Sophie said, "Well, one of us has to change!"
However, their matching green knitwear outing only furthered the rumors that Sophie is currently pregnant with the couple's second child. Her Finders Keepers dress clung to her curves perfectly, and fans couldn't help but notice that Sophie was sporting an… ahem… extra curve.
Neither Sophie nor Joe have publicly addressed these rumors, but this makes sense considering that they were mum during Sophie's first pregnancy.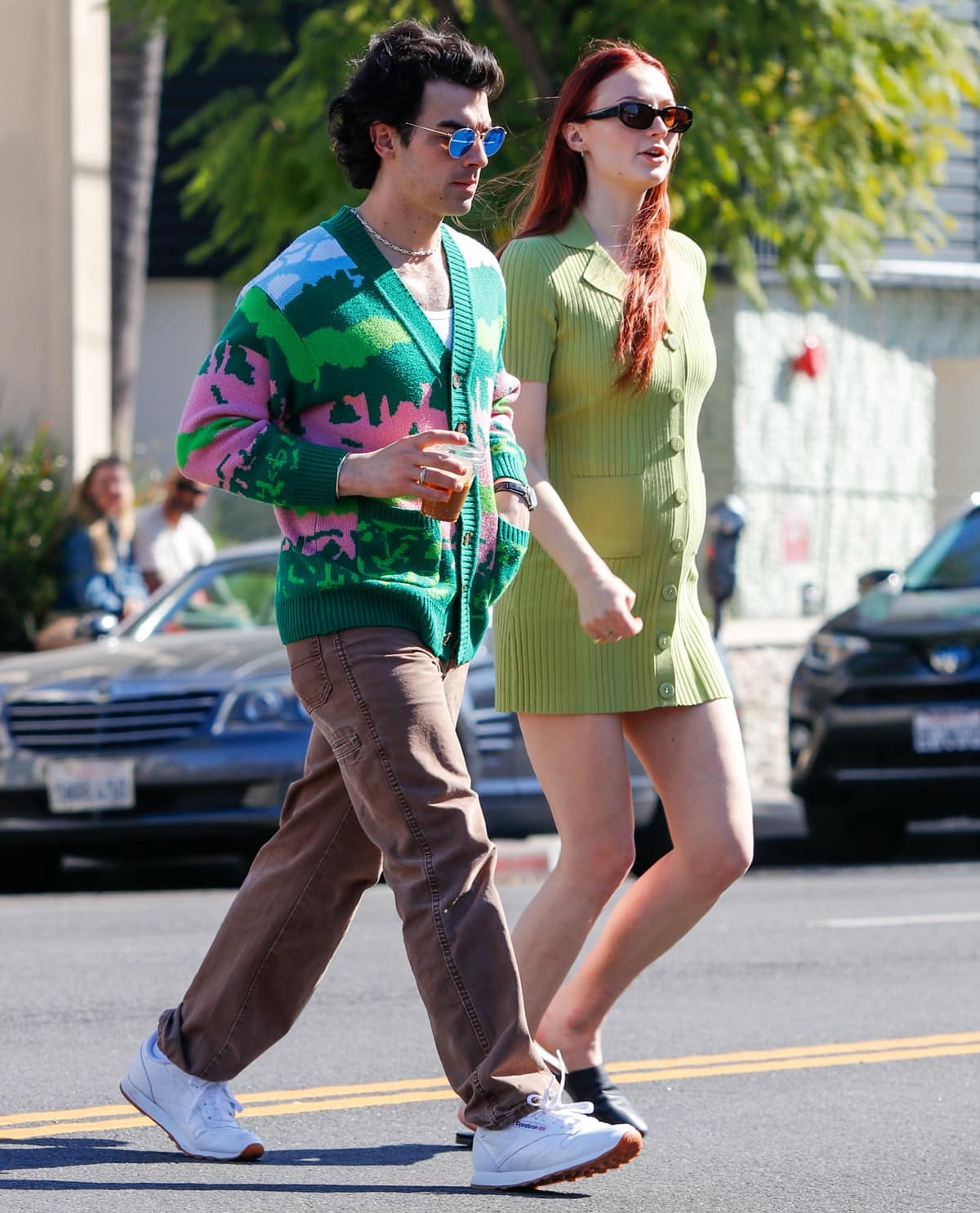 Sophie Turner styled her apple green dress with Vagabond Katlin mules and Thierry Lasry Victimy sunglasses (Credit: Bauergriffin / Instarimages)
In fact, fans were kept out of the loop until after the birth of their daughter in July 2020, when the couple's representatives released a statement simply saying, "Sophie Turner and Joe Jonas are delighted to announce the birth of their baby."
Considering the couple's secrecy last time around, we may not know whether Sophie Turner is indeed pregnant with her second child or simply had a great meal that day (no judgment here) — at least, not for a while!
In January 2015, Game of Thrones stars Maisie Williams and Sophie Turner made quite a showing at the 21st Annual Screen Actors Guild Awards held at the Shrine Auditorium in Los Angeles, California.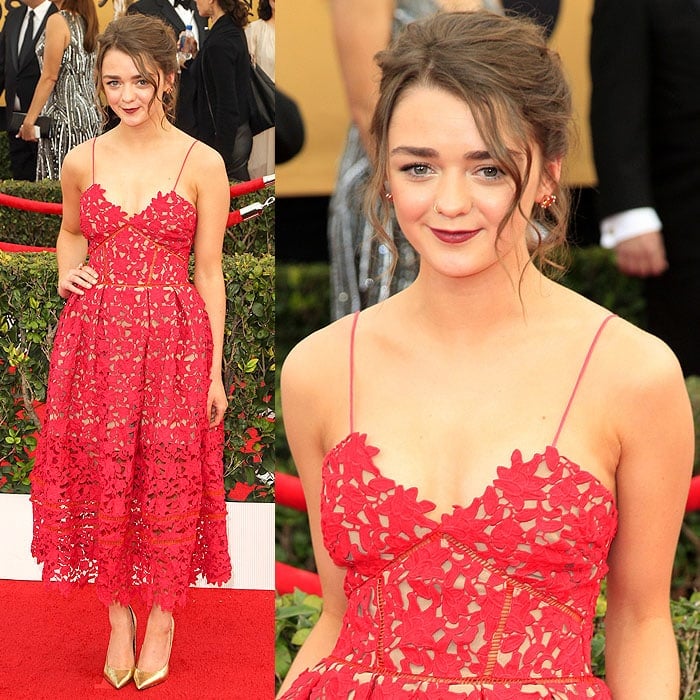 Maisie Williams at the 2015 Screen Actors Guild Awards held at the Shrine Auditorium in Los Angeles, California, on January 25, 2015 (Credit: WENN)
At first glance, the two appeared to be dressed in the traditional sweet style for young girls their age, but once you get a closer look, you'll see that they had put their own touches of sprite and spunk.
The then 17-year-old Maisie, who plays the tough Arya Stark, was soft and girly in a red Self-Portrait floral laser-cut dress and gold pointy-toe pumps.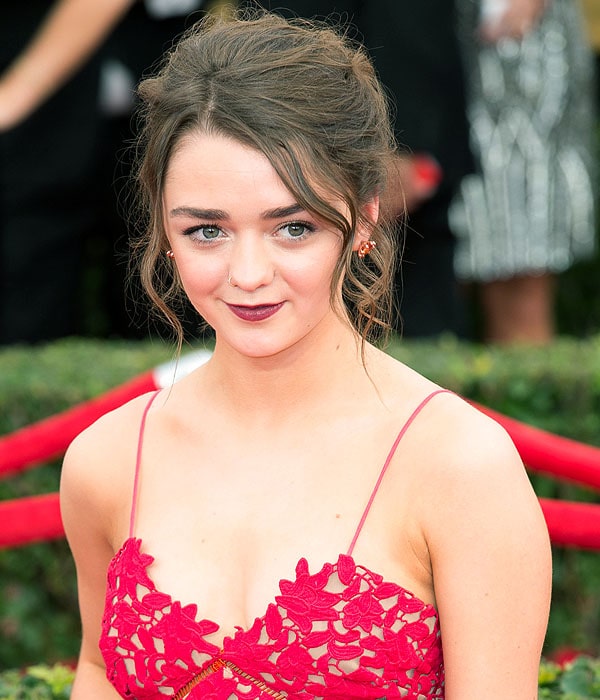 Maisie Williams wearing burgundy lips, red-jewel gold stud earrings, and a small hoop nose ring (Credit: WENN)
Considering that Maisie is someone who doesn't shy away from wearing Irregular Choice shoes and a dress made out of the pages of a comic book, her SAG look was tame by her standards.
Maisie Williams loving the pockets on her Self-Portrait spaghetti-strap laser-cut dress (Credit: WENN)
We bet she couldn't resist adding the subtle bits of intensity in the dark, bold color on her lips, and the hoop ring pierced through her nose!
Maisie Williams reveals toe cleavage in Topshop Gemini pointy-toe pumps in cracked metallic gold (Credit: WENN)
Topshop Gemini Cracked Metallic Pointy-Toe Pumps, $75
A flashy metallic finish provides a glamorous update for a quintessential court shoe.
Sophie Turner, on the other hand, was already smoldering as soon as she stepped on the 2015 SAG Awards red carpet.
She gave the cameras plenty of intense gazes through her side-swept red locks. Sharp angles on the square neck and waist cutouts of her black Osman dress added even more edge to her fierce look.
Sophie Turner wearing Vicki Sarge gold hoop earrings (Credit: WENN)
But as you draw your eye down towards the bottom half of Sophie's ensemble, it immediately melts into a younger, cuter, and more playful look.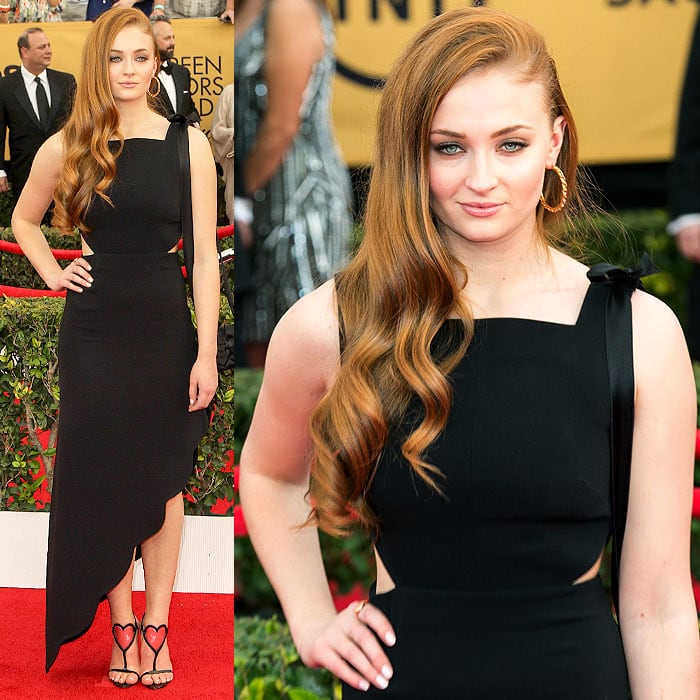 Sophie Turner arrives at the 21st Annual Screen Actors Guild Awards (Credit: WENN)
Peep the soft scallops on the asymmetrical hemline, the satin bows on her shoulder bag, and the pink hearts on her sandals in the pictures below.
Sophie Turner showing more angles of her Osman dress to the cameras (Credit: WENN)
Sophie may have been smoldering, but "sexy" was clearly not what she was going for with this look.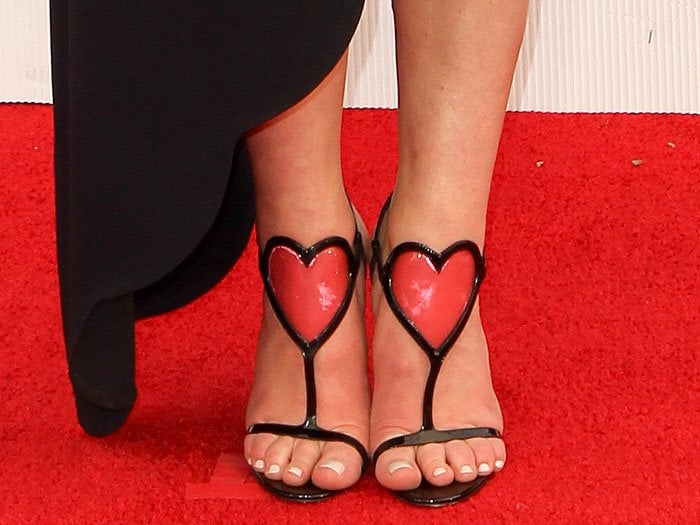 Sophie Turner's sexy feet in Christian Louboutin Cora Heart sandals (Credit: WENN)
Her Christian Louboutin patent leather sandals featuring PVC hearts are unfortunately no longer available online.
Christian Louboutin Cora Heart Sandals, $845