Jenny McCarthy was genuinely shocked when seeing the unmasking of Cluedle-Doo in The Masked Singer.
In the semifinals episode that aired on May 19, 2021, Cluedle-Doo was revealed to be Jenny's real-life husband Donnie Wahlberg.
A masked performer who never sang, Cluedle-Doo simply doled out clues and hints to the identities of the contestants. Revealing himself after a performance of "Return of the Mack" by Mark Morrison, McCarthy was literally floored seeing her husband.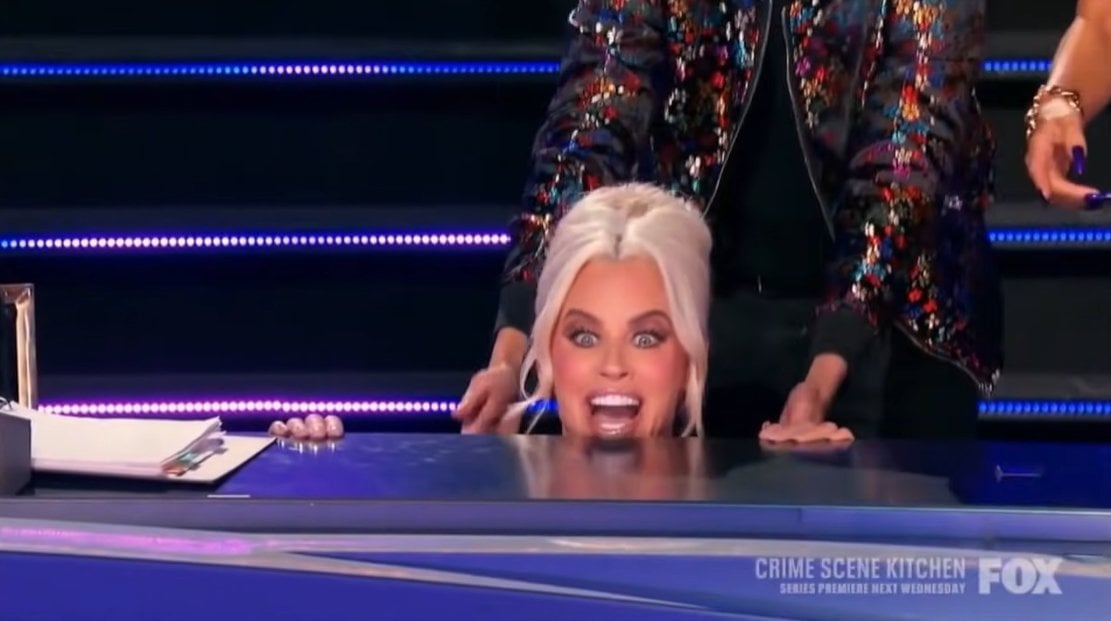 Jenny McCarthy was shocked after Cluedle-Doo was unmasked on The Masked Singer (Credit: Fox)
"I can't believe it!" a visibly shaken McCarthy said after the unmasking. Series executive producer Craig Plestis told EW how they managed to keep it a secret from panelist Jenny McCarthy.
"It was a lot of extra work and a lot of coordination, whether it was when he was in town, or working on his performance from afar with our team. It just came together in a really good way, but it just took a lot of extra work on our side," he said about keeping the identity of Cluedle-Doo a secret from Jenny McCarthy.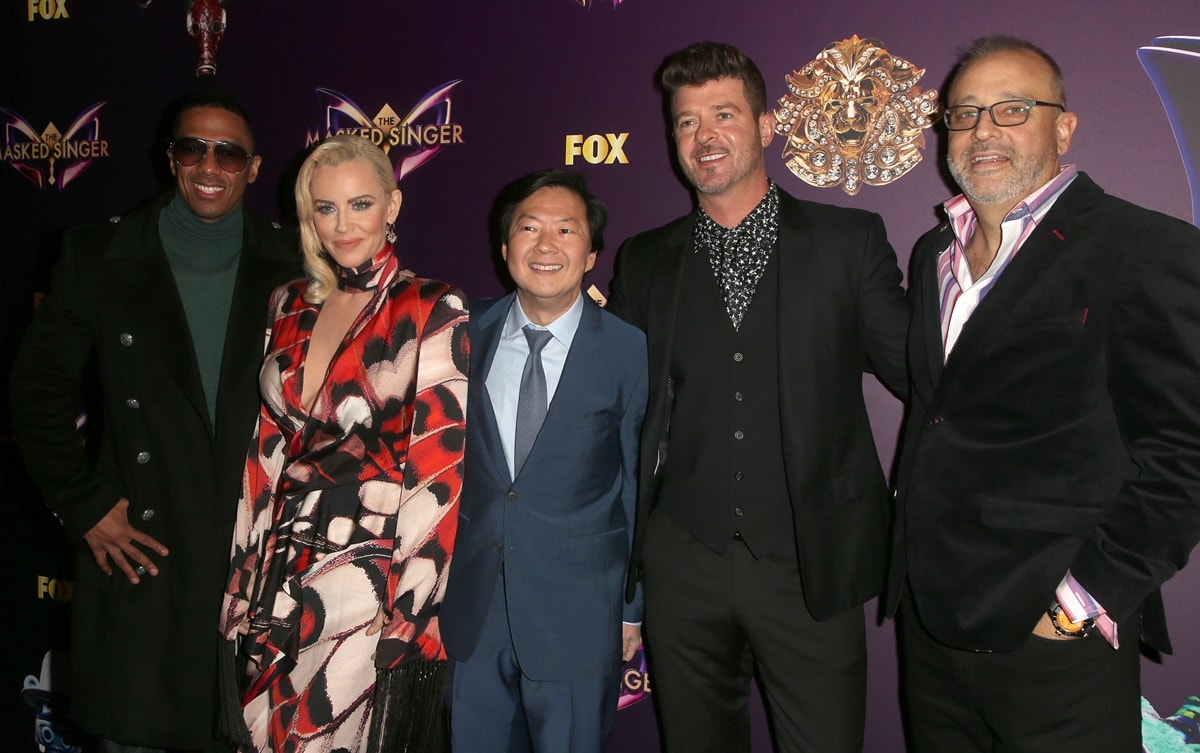 (L-R) Nick Cannon, Jenny McCarthy, Ken Jeong, Robin Thicke, and executive producer Craig Plestis attend Fox's 'The Masked Singer' Premiere Karaoke Event at The Peppermint Club on December 13, 2018, in Los Angeles, California (Credit: FayesVision / WENN)
"Although, really all the thank yous go to Donnie for not telling his wife. That was the hard part right there. The easy part was keeping the secret on the production side."
Jenny McCarthy didn't notice her husband Donnie Wahlberg was on Masked Singer before the Cluedle-Doo unmasking (Credit: Fox)
"She knows how I move my hips and everything I do, and it actually probably helped disguise my moves and gesticulations that you might have picked up on had I not been in the costume," Wahlberg said about his wife in the post-unmasking interview.
"Maybe she was told she couldn't guess her hubby anymore since she'd already guessed me 112 times per season for four years," he added on Twitter.
"This is gonna take a while to get over. The shame," his wife admitted in a tweet with a video of the couple. "I shook my ass, you didn't recognize that either," the New Kids on the Block pointed out.
"I'm supposed to have golden ears and I didn't recognize my husband's voice," Golden Ear trophy winner McCarthy lamented.
Jenny McCarthy in a black dress and studded high heels on Day 2 of the 35th Annual Nightclub & Bar Show and World Tea Expo at the Las Vegas Convention Center on June 29, 2021, in Las Vegas, Nevada (Credit: DJDM / WENN)
In April 2013, Jenny McCarthy channeled her fashionable and philanthropic side at the Hotel Durex charity event benefitting the dance4life organization held at New York City's Dream Downtown.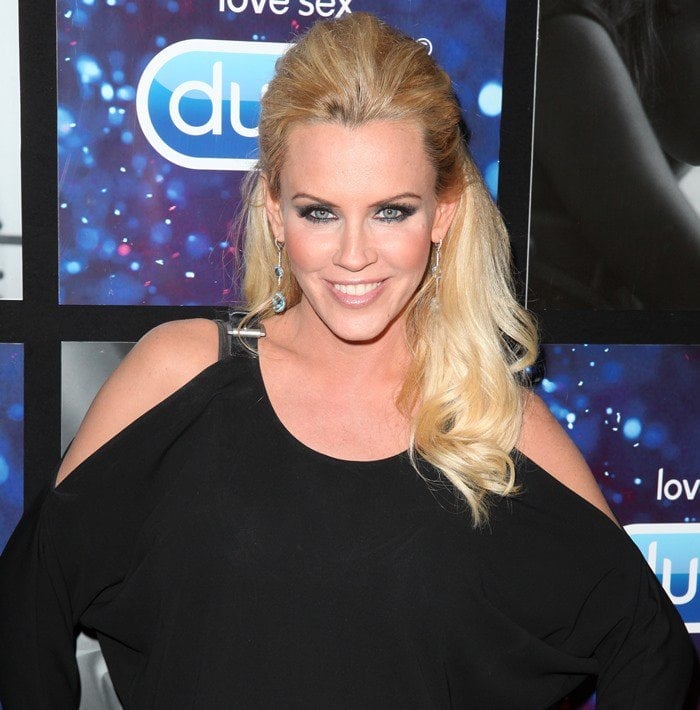 Jenny McCarthy attends the Hotel Durex charity event benefitting dance4life held on April 2, 2013, at Dream Downtown in New York City (Credit: PNP / WENN)
According to the organization's site, dance4life works with young people toward a world without AIDS by teaching sex education in schools through song and dance.
What better way to celebrate the cause than by dancing to fabulous music from DJ Kiss and DJ Lindsay Luv?
Jenny McCarthy wears a black dress on the red carpet of the Hotel Durex charity event (Credit: PNP / WENN)

The American model, television host, comedienne, actress, author, and screenwriter put on her dancing shoes for the event — a pair of animal-print Giuseppe Zanotti stilettos.
Gwyneth Paltrow and Heidi Klum share Jenny's taste in shoes.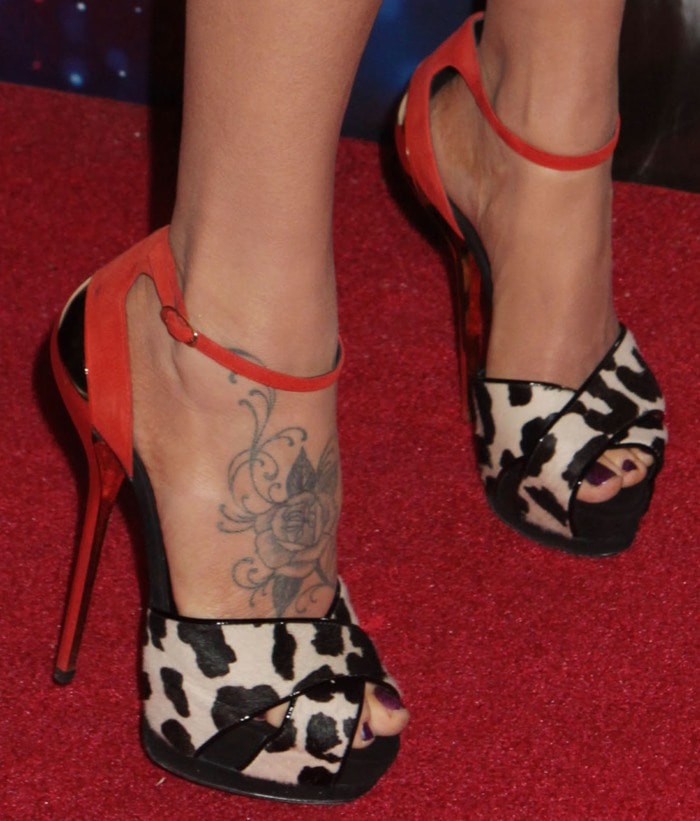 Jenny McCarthy's feet and foot tattoos in animal-print Giuseppe Zanotti heels (Credit: Michael Carpenter / WENN)
We love how Jenny paired them with a black dress, so the focus was all on the shoes. What do you think of her taste in shoes?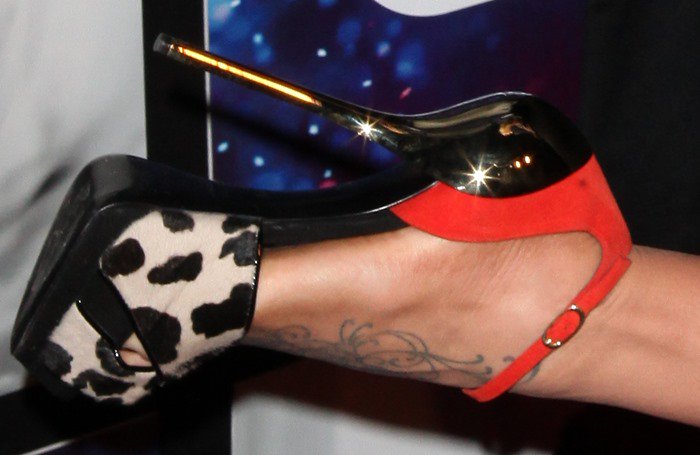 Jenny McCarthy's foot tattoo in animal-print Giuseppe Zanotti stilettos (Credit: PNP / WENN)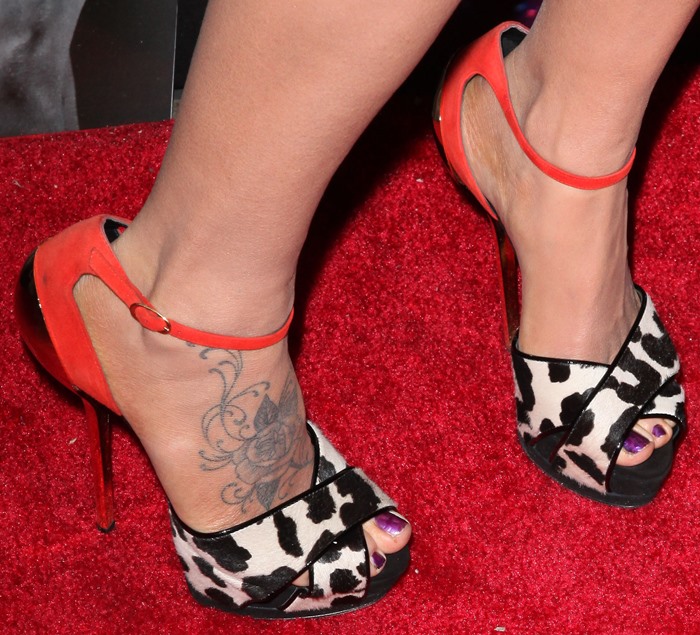 Jenny McCarthy's feet and foot tattoo in orange suede animal print Giuseppe Zanotti heels (Credit: PNP / WENN)

Giuseppe Zanotti Animal-Print and Calf Hair and Suede Sandals, $956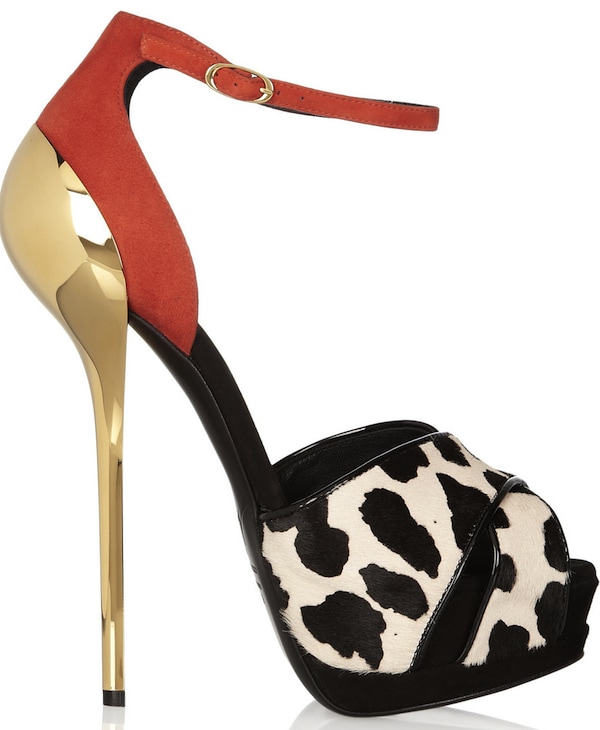 DJ Lindsay Luv followed in McCarthy's footsteps, wearing a black dress and standout shoes — orange strappy sandals with clear heels. Who do you think looked better?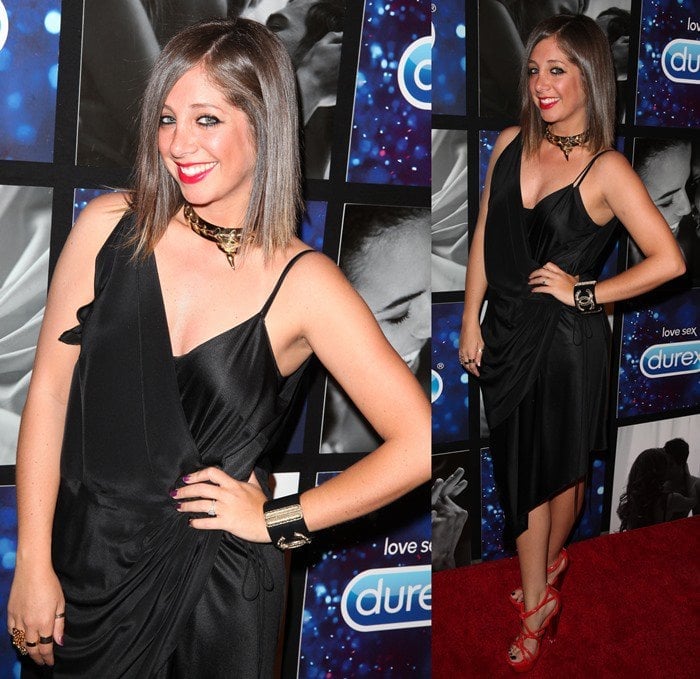 DJ Lindsay Luv flaunts her legs in a black dress at the Hotel Durex Charity Event Benefiting dance4life at Dream Downtown on April 2, 2013, in New York City (Credit: PNP/ WENN)
Lindsay Luv shows off her feet in strappy high heels (Credit: PNP/ WENN)