Zendaya flaunted her incredible legs while walking the red carpet for the premiere of her movie Space Jam: Legacy at Regal LA Live on Monday in downtown Los Angeles.
The 24-year-old actress, who was just six months old when the 1996 American live-action/animated sports comedy film Space Jam came out, voices the role of Lola Bunny in the new standalone sequel that will be released later this month.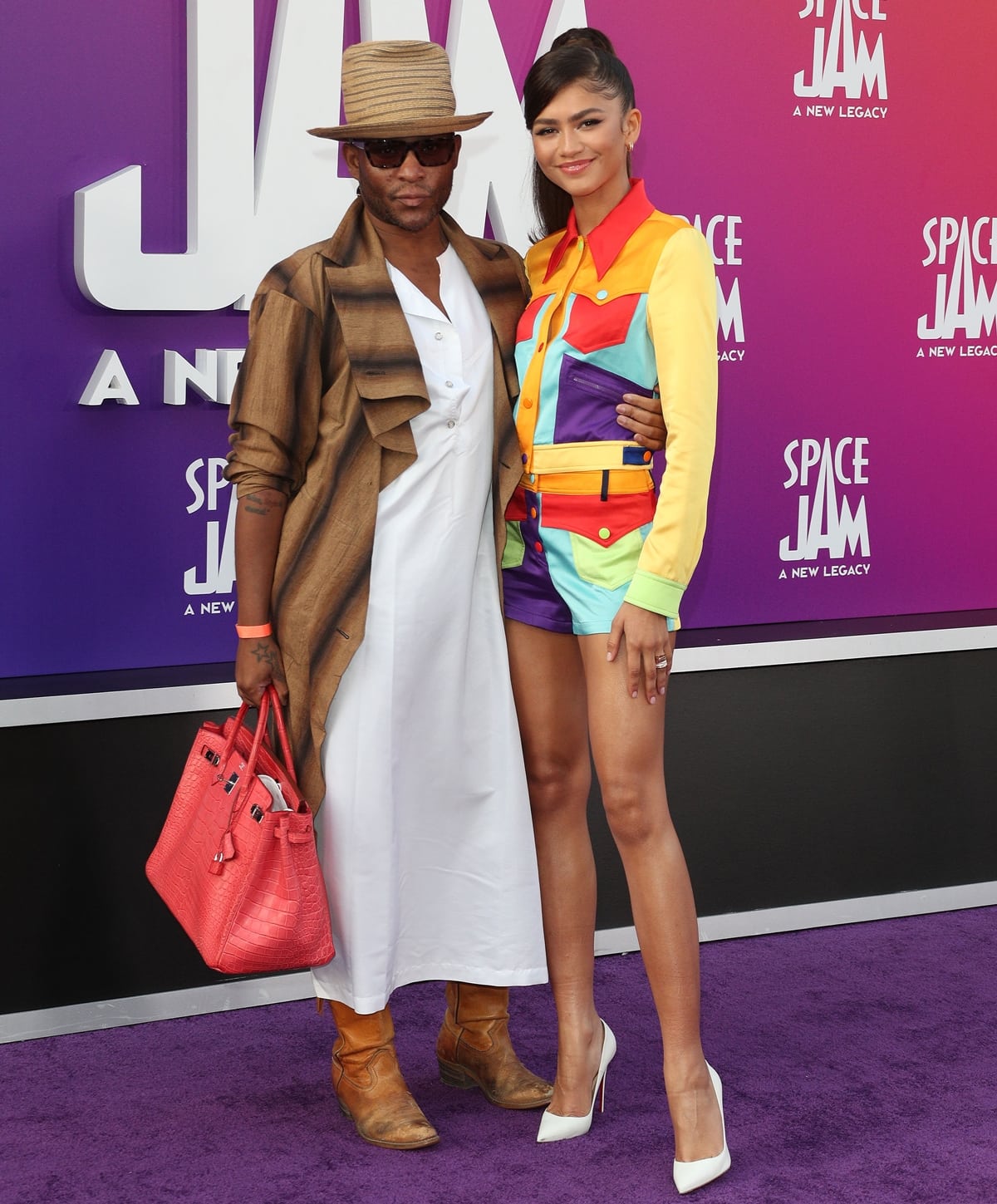 Zendaya and American stylist Law Roach attend the premiere of Warner Bros "Space Jam: A New Legacy" at Regal LA Live on July 12, 2021, in Los Angeles, California (Credit: MEGA / WENN)
In an interview with EW, Zendaya opened up about her relationship with the original Space Jam movie that starred basketball player Michael Jordan. She portrays an anthropomorphic female rabbit named Lola Bunny.
Anthropomorphic female rabbit Lola Bunny (L) is the girlfriend of Bugs Bunny (R) (Credit: MEGA / WENN)
"I grew up with it because I come from a basketball family. My mom is 6-foot-4, she was a basketball player in college, and my father also played basketball and was a basketball coach and wanted me to be a basketball player. So I highly identify with LeBron's son in this film, because I too had this issue of, 'Well, I don't want to do that. I kind of have a different idea of what I want to do.' But I also relate to the fact of having amazing support from my parents, being like, 'We support you in your dreams and what you want to do,'" she said.
Zendaya wears a jacket and matching shorts in red, orange, blue, purple, and yellow (Credit: MEGA / WENN)
Clearly influenced by her character in the film, Zendaya hit the red carpet in a brightly colored Moschino Resort 2022 look, a side-swept ponytail, white Christian Louboutin pumps, and Bulgari jewelry.
Zendaya flaunts her long legs in Christian Louboutin pumps paired with a colorful Moschino outfit (Credit: MEGA / WENN)
The K.C. Undercover actress has quickly become one of our favorite young stars to watch on the red carpet. She has never been afraid to stand out and take fashion risks, and her unpredictable sense of style has been keeping things exciting!
Zendaya's brightly-colored Moschino look was inspired by Lola Bunny (Credit: Nicky Nelson / WENN)
In February 2016, the then 19-year-old actress opted for an effortlessly chic look as she attended the 2016 Essence Black Women in Hollywood Luncheon.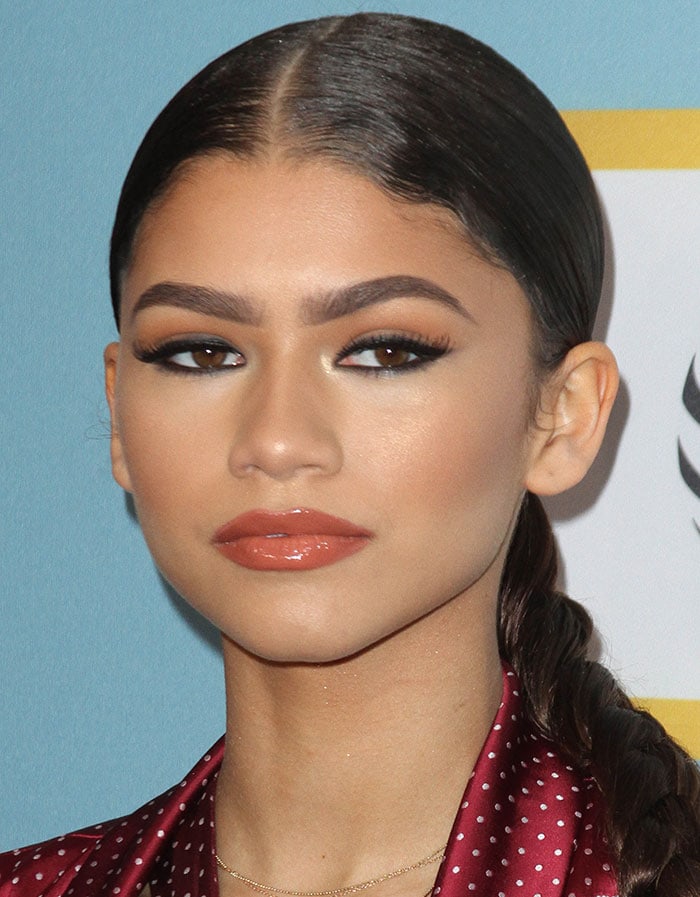 Zendaya wears her hair back and braided at the 9th annual Essence Black Women In Hollywood Luncheon held on February 25, 2016, at the Beverly Wilshire Hotel in Beverly Hills (Credit: Adriana M. Barraza / WENN)
The Shake It Up actress wore a dotted jumpsuit by Thakoon paired with a matching silk robe.
The silky maroon jumpsuit featured a scoop neck, a crossover neck sash, a pleated keyhole at the front, and a drawstring tie waist. She added drama to the look with a long, matching sleeveless robe embellished with large fringed dots.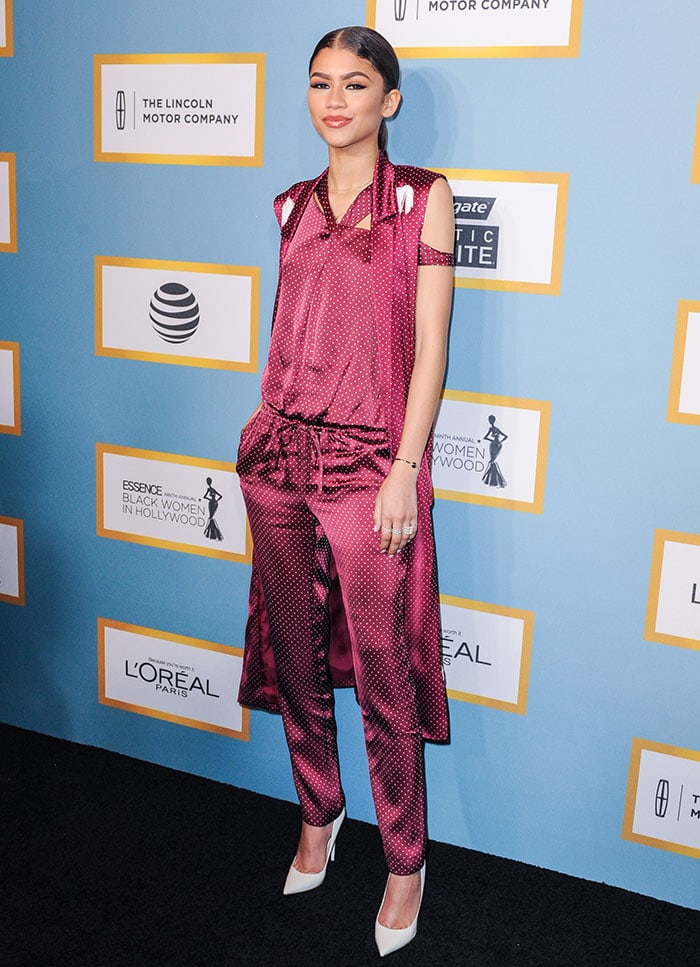 Zendaya wears a dotted Thakoon jumpsuit and matching robe (Credit: Adriana M. Barraza / WENN)
"I thought it was very chic and laid-back, but also still fancy enough and it is really comfortable," she said of her look.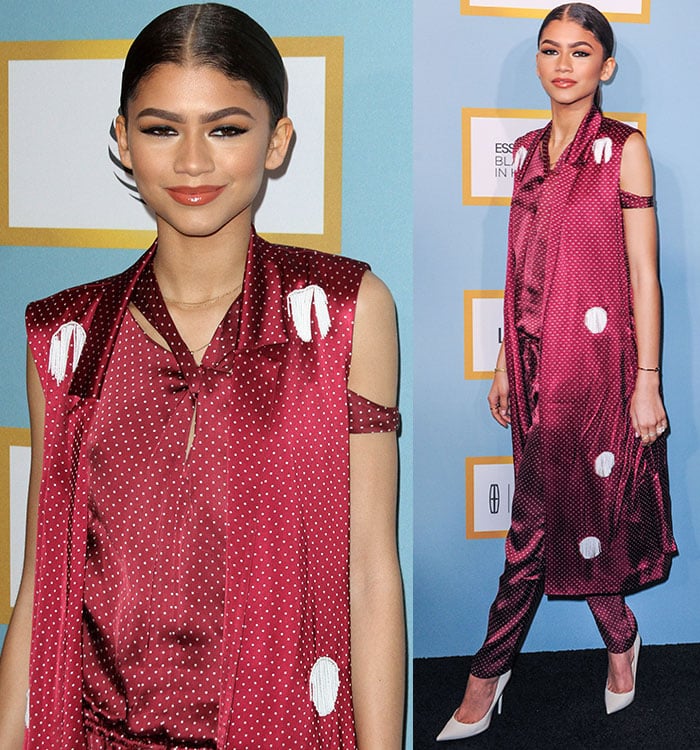 Zendaya wears a dotted-and-fringed silk Thakoon jumpsuit on the black carpet (Credit: Adriana M. Barraza / WENN)
"I feel like every kind of fashion choice that my stylist Law [Roach] and I have made have kind of developed us creatively," she told People.
"We've been able to grow more. We've learned more about ourselves. It's allowed me a lot of freedom and confidence."
Zendaya shows off the fringed polka dot embellishments on her silk Thakoon robe (Credit: Adriana M. Barraza / WENN)
The former Disney star kept her jewelry to a minimum, wearing only a selection of rings, bracelets, and a necklace. She completed her ensemble with a pair of white pumps and styled her hair in a braided ponytail with a center parting.
Zendaya opted for full makeup that highlighted her eyes and lips.
Zendaya in Thakoon drawstring jumpsuit (Credit: Adriana M. Barraza / WENN)
We aren't 100 percent sure as to the designer behind Zendaya's white pumps, but we're almost certain they're Jimmy Choo's "Anouk" heels.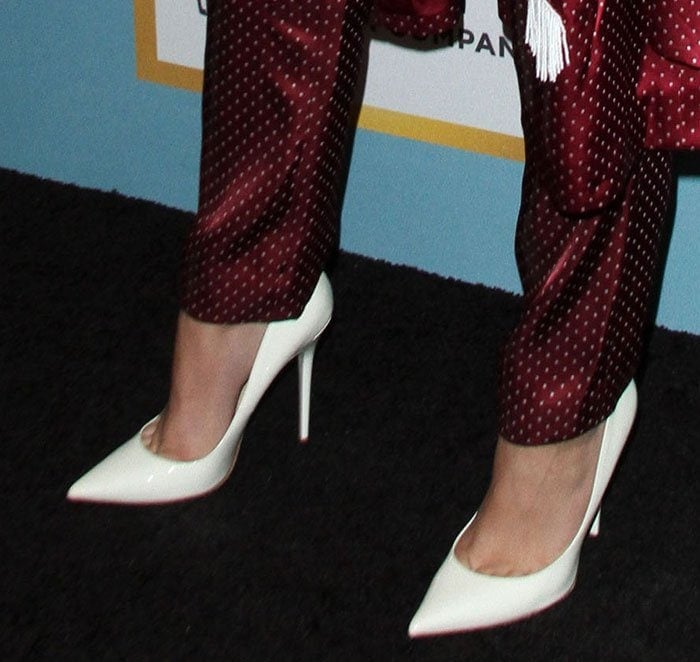 Zendaya's feet in white Jimmy Choo pumps (Credit: Adriana M. Barraza / WENN)
These classic leather pumps feature pointed toes and about 4.8-inch stiletto heels.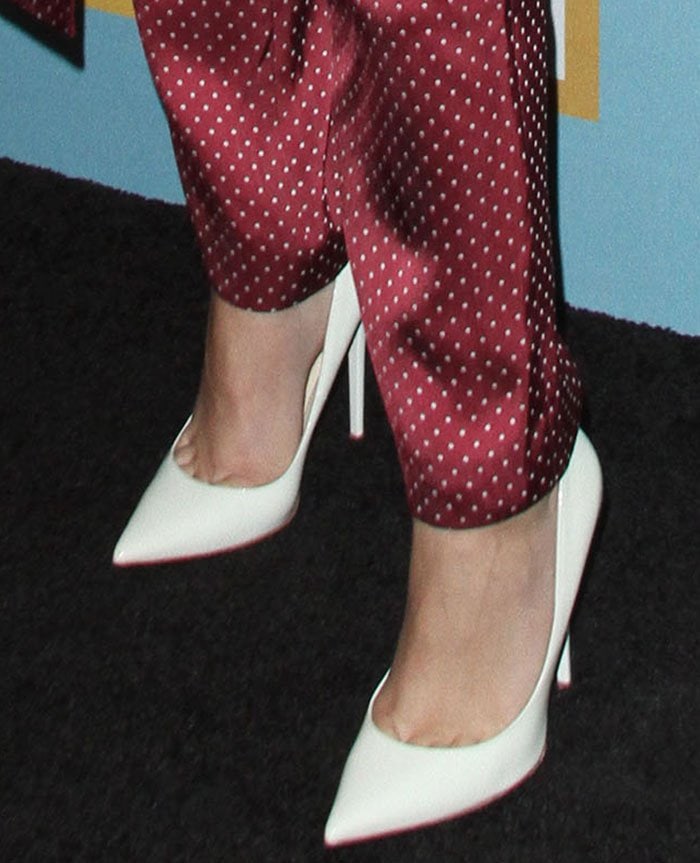 Zendaya's feet in leather "Anouk" pumps (Credit: Adriana M. Barraza / WENN)
A nude version of the Jimmy Choo "Anouk" pumps is available at Mytheresa, while a similar style in white, called "Abel," can be purchased at Nordstrom.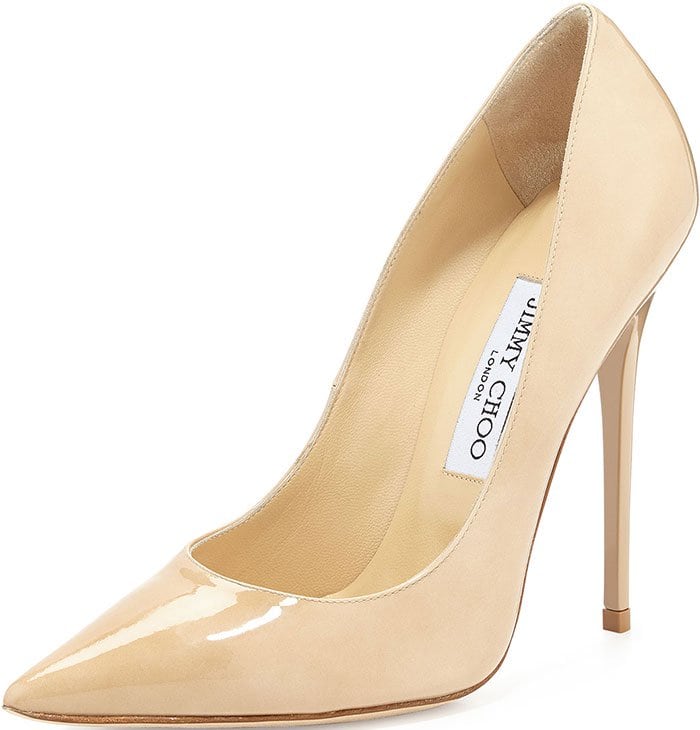 Jimmy Choo "Anouk" Patent Leather Pumps, $595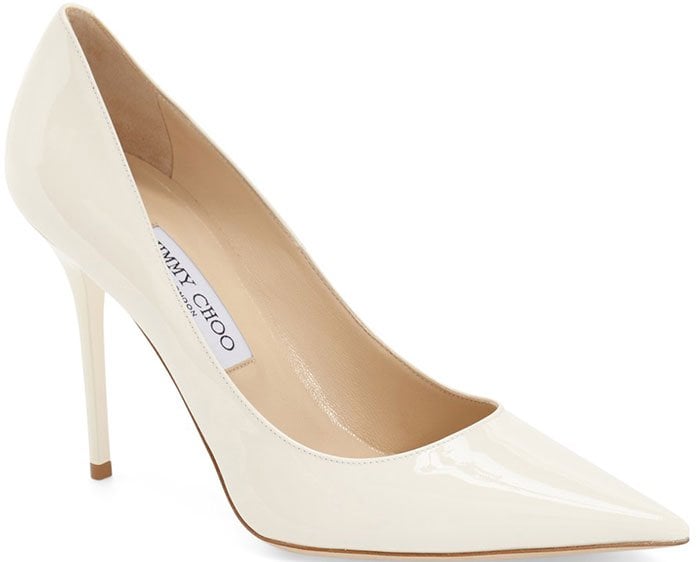 White Jimmy Choo "Abel" Pointy-Toe Pumps, $595