First lady Melania Trump joined her husband President Donald Trump for the National Day of Prayer at the White House Rose Garden on May 7.
The couple, who celebrated their 15th wedding anniversary early this year, were seen holding hands as they headed to the podium to deliver their speech.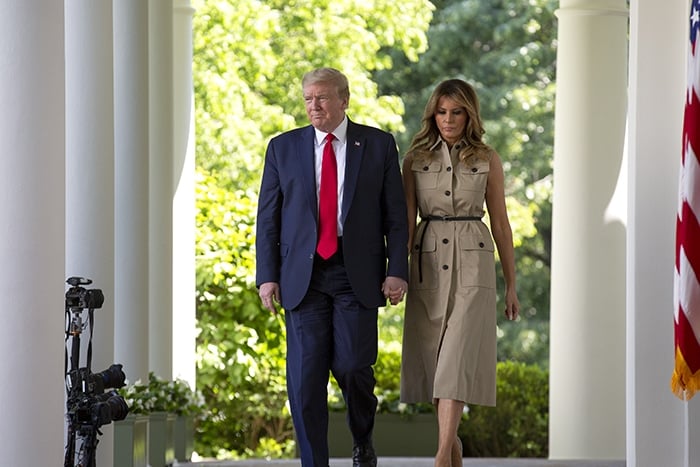 President Donald Trump and First Lady Melania Trump hold hands before taking the podium during the National Day of Prayer on May 7, 2020
For the solemn ceremony, the former model highlighted her toned frame in a khaki-colored sleeveless trench dress from Christian Dior. The collared frock features a button-up front, large pockets, and a skinny black leather belt that cinched her waist.
To jazz up her look, she slipped into a pair of multicolored python-patterned sequin pumps by Christian Louboutin. The "So Kate" silhouette features sexy low vamps, pointed toes, and about 4.75-inch heels. This style has unfortunately sold out at Matches Fashion and Saks Fifth Avenue.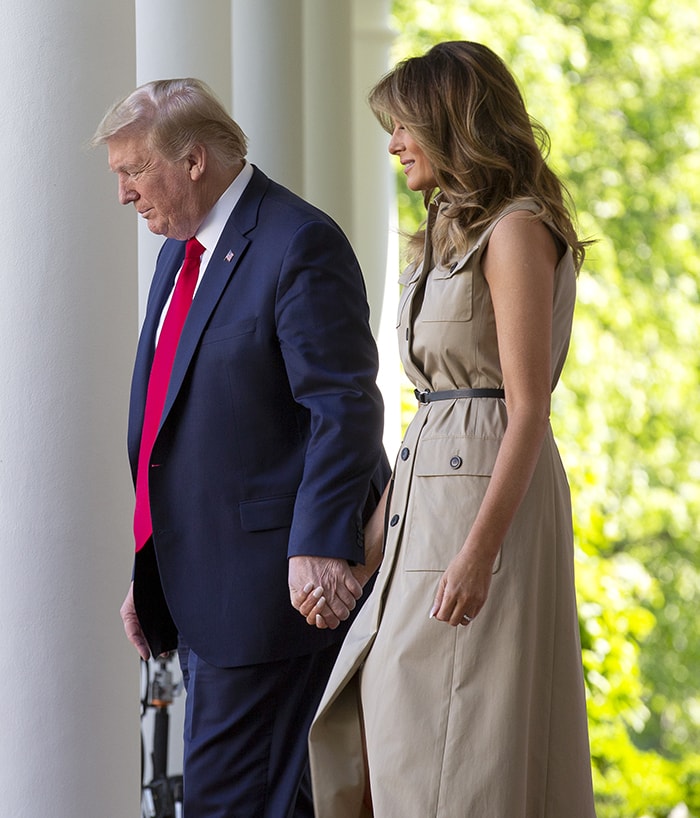 Donald Trump dons a navy suit while Melania Trump wears a Christian Dior trench dress
Her businessman-turned-president husband dressed in his usual suit, comprised of a blue jacket, a white shirt underneath, and a red tie.
The National Day of Prayer, which is observed annually on the first Thursday of May, focused on protection from the coronavirus pandemic. Religious leaders offered their prayers for those who are suffering from the virus, the families bereaved by COVID-19, and front liners and healthcare workers who are leading the fight against the disease.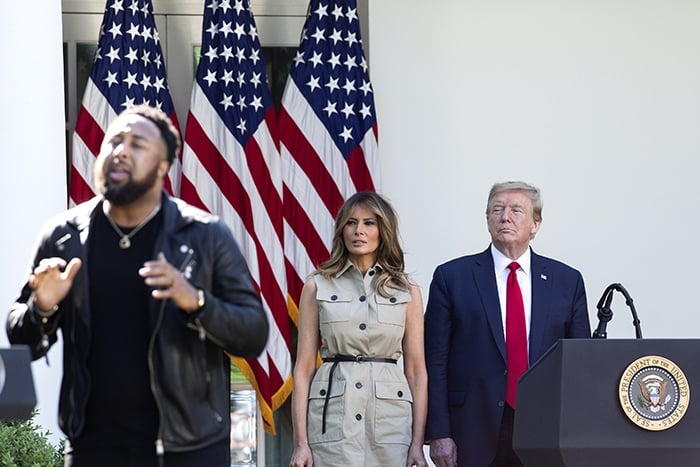 Donald and Melania Trump observe National Day of Prayer at the White House Rose Garden
In her introductory prayer, Melania extended her sympathy to the families of those who lost their loved ones to the virus. She also offered prayers to those who are ill, suffering, and serving on the front lines.
She added: "When evil darkens our world, give us light. When despair numbs our souls, give us hope. When we stumble and fall, lift us up. When doubts assail us, give us faith. When nothing seems sure, give us trust. When ideals fade, give us vision. When we lose our way, be our guide that we may find serenity in your presence and purpose in doing your will. Amen."
Melania Trump delivers her introductory prayer
Following Melania's speech, President Trump asked "all Americans to join their voices and their hearts in spiritual union as we ask our Lord in heaven for strength and solace, for courage and comfort, for hope and healing, for recovery and for renewal."
"In recent days and weeks, our country has endured a grave hardship. We pray for every family stricken with grief and devastated with a tragic loss. We pray for the doctors, the nurses, and first responders waging war against the invisible enemy."
He added: "We pray for the scientists' and researchers' pioneer treatments, that they find therapies and vaccines and that they find them soon. We pray for the frontline workers keeping our nation fed, nourished, and safe, and secure. May God watch over them all."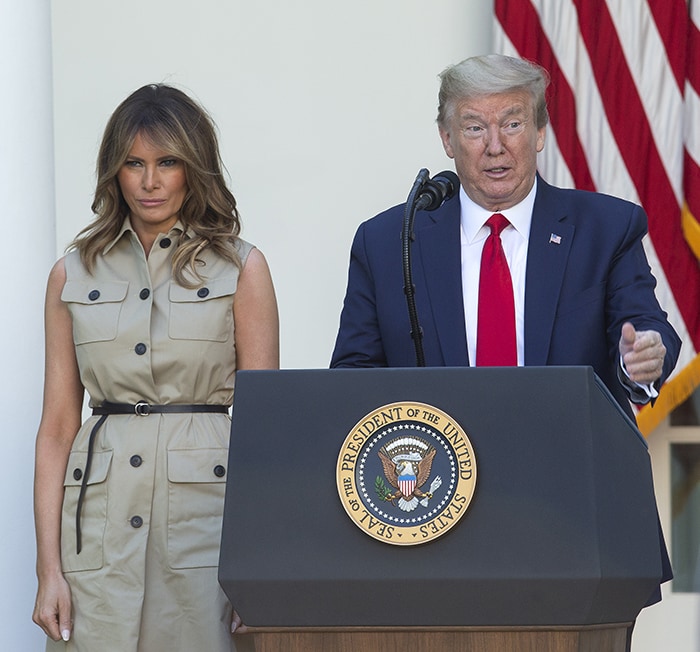 President Donald Trump calls for a spiritual union in the fight against COVID-19
A day later, President Trump and Melania Trump participated in a wreath-laying ceremony at the World War II Memorial on the National Mall to commemorate the 75th Anniversary of Victory in Europe Day.
Also known as the VE Day, the event celebrates the defeat of Nazi Germany, following Germany's surrender to the Allies in World War II.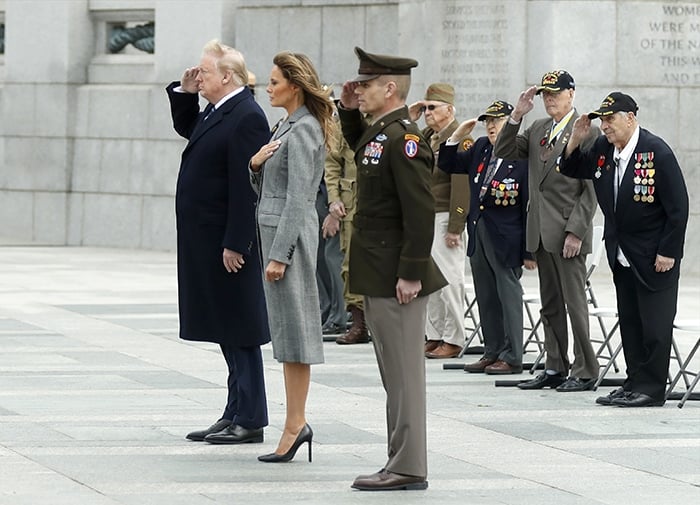 President Donald Trump and First Lady Melania Trump commemorate the 75th Anniversary of Victory in Europe Day on May 8, 2020
For the occasion, Melania wore a double-breasted plaid coat dress by Altuzarra. The gray-colored wool-blend topcoat features a sharply tailored silhouette with glossy buttons, notched lapels, four-button cuffs, and front flap pockets.
She paired it with a classic pair of black pumps by Manolo Blahnik. Her "BB" pumps have pointed toes, low-cut topline, and 4-inch wrapped stiletto heels.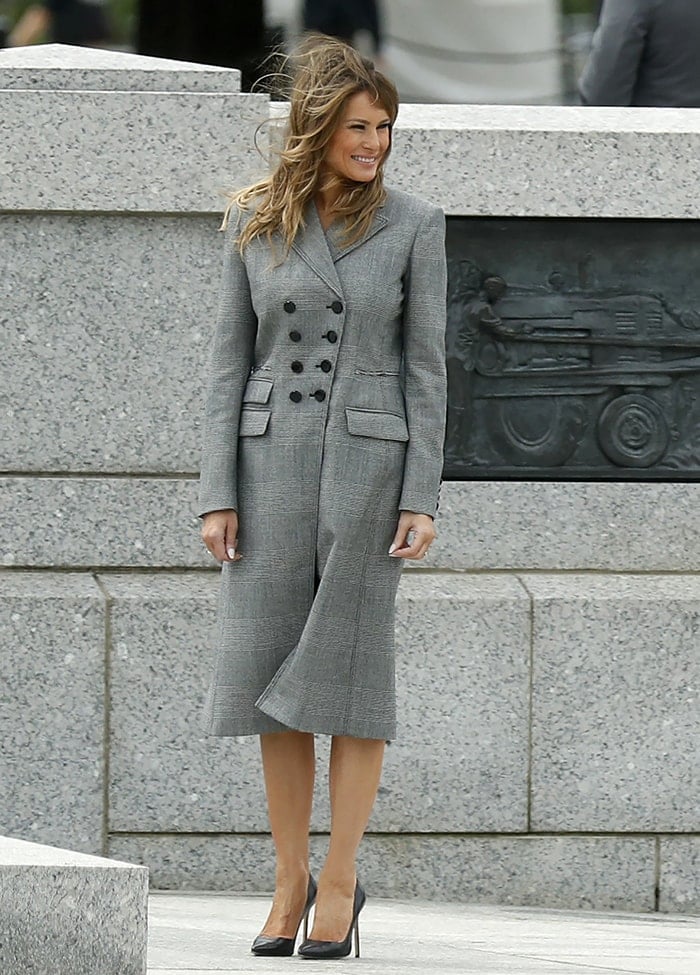 Melania Trump in a gray Altuzarra plaid coat dress and Manolo Blahnik pumps
Manolo Blahnik 'BB' Pumps in Black Suede, $625 at Nordstrom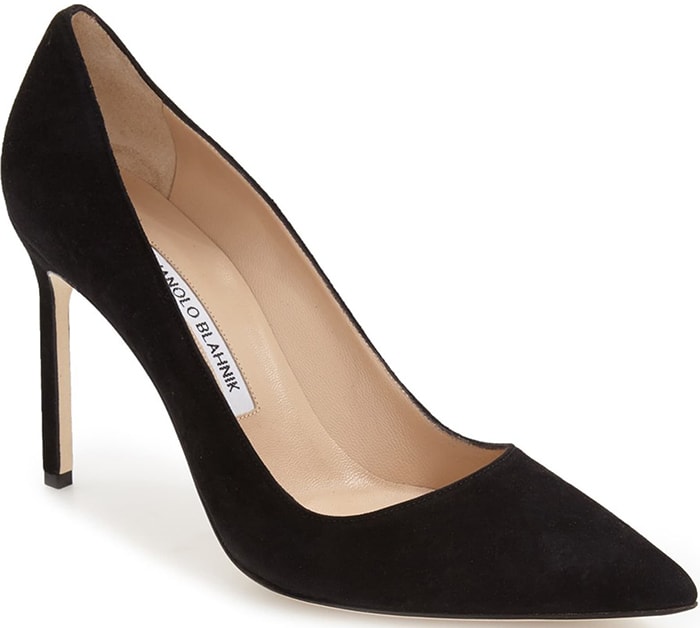 Credit: Instar / WENN