Late last year, Jessie J updated her fans on her diagnosis of Meniere's disease. She also clarified some details that she felt haven't been reported accurately.
A disorder affecting the inner ear, Ménière's disease can lead to severe dizziness, ringing in the ear, and hearing loss, according to the National Institute on Deafness and Other Communication Diseases (NIDCD).
British singer Jessie J recently has been diagnosed with Ménière's disease (Credit: WENN)
Going to the hospital after suffering pain in her ear on Christmas Eve, she was prescribed medication and sent home. Told to relax, Jessie watched Netflix's coming-of-age period drama miniseries "The Queen's Gambit" with her finger in her ear because her struggle to hear made it hard to focus.
"I woke up and felt like I was completely deaf in my right ear, couldn't walk in a straight line," Jessie explained.
Jessie J and Channing Tatum attend the Pre-GRAMMY Gala and GRAMMY Salute to Industry Icons Honoring Sean "Diddy" Combs on January 25, 2020, in Beverly Hills, California (Credit: WENN / Avalon)
"Basically I got told I had Meniere's syndrome," Jessie continued. "I know that a lot of people suffer from it and I've actually had a lot of people reach out to me and give me great advice, so I've just been laying low in silence. Now's the first time I've been able to sing and bear it."
"I am now watching Queens Gambit with my finger in my ear. I've done the first episode 4 times because I zero focus and my ear sounds like someone crawled in and turned a hairdryer on," Jessie shared on Instagram.
She continued: "It could be way worse, it is what it is. I'm super grateful for my health. It just threw me off. But I'm glad I went early and they worked out what it was really quick and I got put on the right medicine so I feel a lot better today."
Jessie J has been diagnosed with Ménière's disease, a disorder of the inner ear that can lead to dizzy spells (vertigo) and hearing loss (Credit: Yuriy K / Shutterstock)
A few days later, Jessie emphasized that she wasn't actually hospitalized.
"I have often in the past been open and honest about health challenges I have faced. Big or small. This was no different," Jessie clarified about her disease in a new Instagram post.
"BUT… Since going live I have watched the media take 3 words from this live and create a very dramatic version of the truth. I'm not surprised BUT I also know I too have the power to set the story straight."
"I wasn't aware of Menieres before now and I hope this raises awareness for all the people who have been suffering way longer or worse than I," she continued.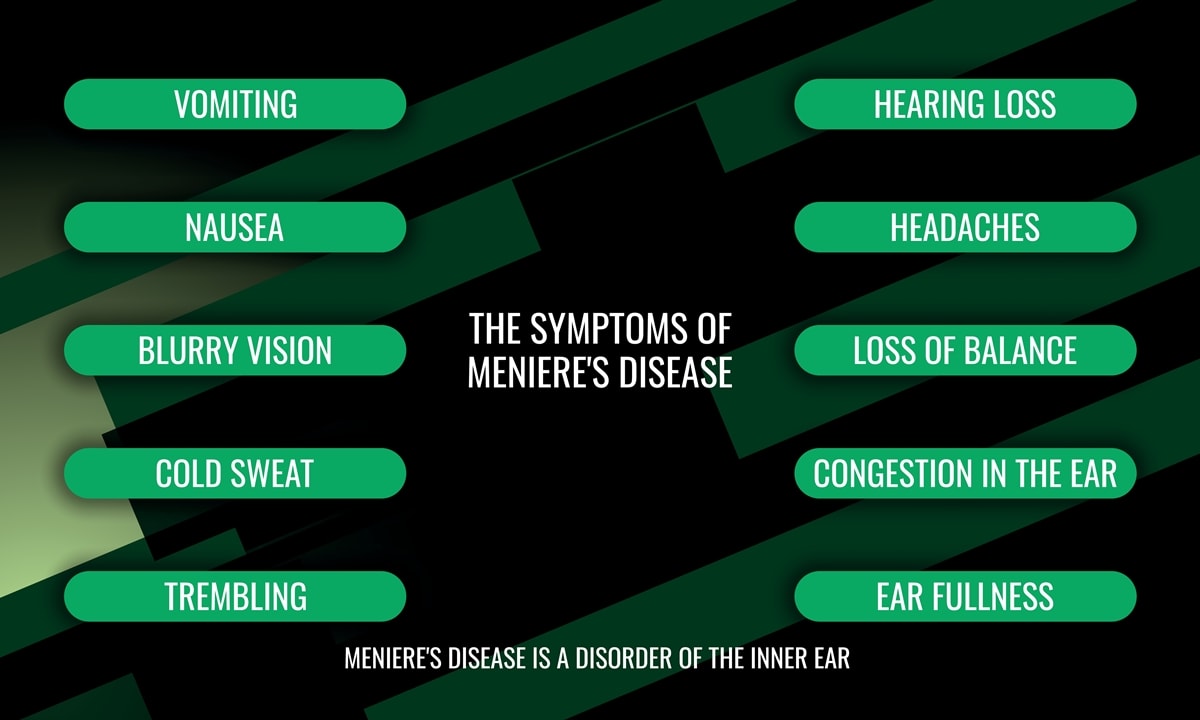 Common symptoms of Ménière's disease include a spinning sensation (vertigo), hearing loss, ear ringing (tinnitus), and ear pressure (Credit: A-H-K / Shutterstock)
"Appreciate EVERYONE who has taken the time out to check on me, those who have offered advice and support. Thank you. You know who you are."
In December 2014, some of the biggest names in the music industry gathered at the Madison Square Garden in New York City for Z100's Jingle Ball 2014.
The likes of Pharrell Williams, Gwen Stefani, Taylor Swift, Iggy Azalea, and Rita Ora were all present. Other celebrities, including Sarah Jessica Parker and Emma Roberts, also showed their support for the music station's Holiday concert.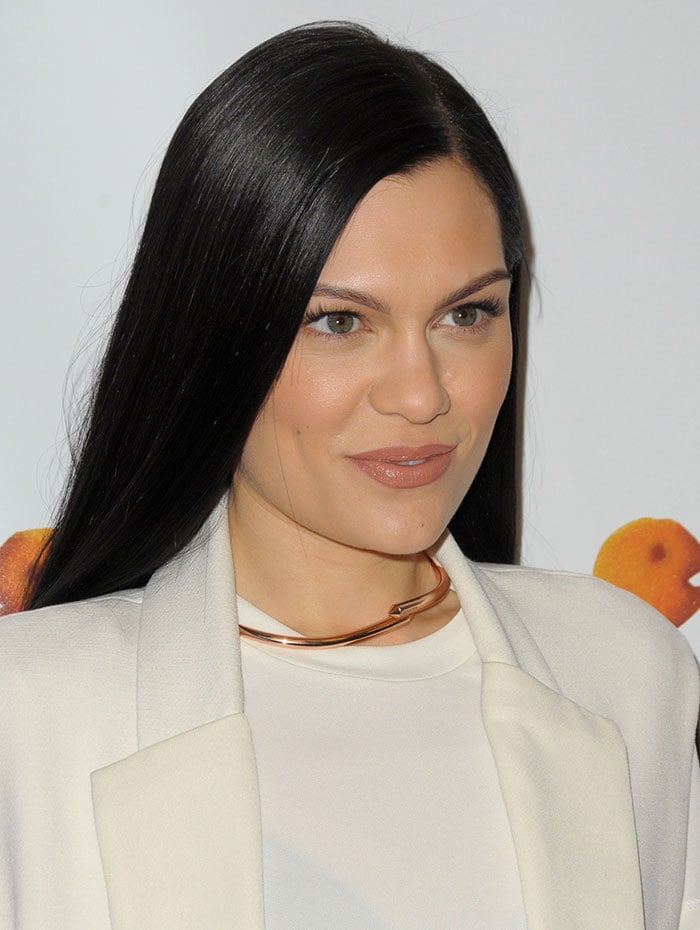 Jessie J's slick raven locks were styled straight and parted to the side at Z100's Jingle Ball 2014 in New York City on December 12, 2014 (Credit: Ivan Nikolov / WENN)
Jessie J, who had relocated from London to Los Angeles earlier the same year, was also on hand.
After showing off some serious side boob at the 2014 Billboard Women in Music Luncheon, the then 26-year-old singer covered up for Jingle Ball.
Jessie J flaunts her long legs in black leather pants and snakeskin sandals (Credit: Ivan Nikolov / WENN)
She arrived on the red carpet wearing a white top, a pair of black leather trousers, and a long cream coat. Her slick raven locks were styled straight and parted to the side, while her makeup was simple, giving her a fresh look.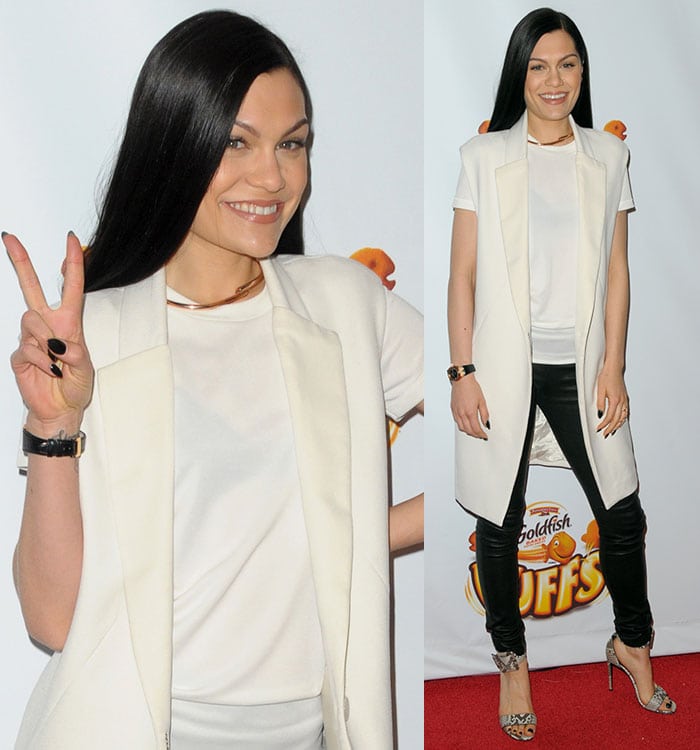 Jessie J covered up in a white top, a pair of black leather pants, and a long cream coat (Credit: Ivan Nikolov / WENN)
Completing the British singer's monochrome outfit were her snakeskin sandals. We're not sure, but she seemed to be wearing the "Jane" sandals by Saint Laurent.
Aside from the bicolored snakeskin design, these sandals feature ankle cuffs with large adjustable buckles, open toes, front straps, and self-covered heels that measure about 4.13 inches.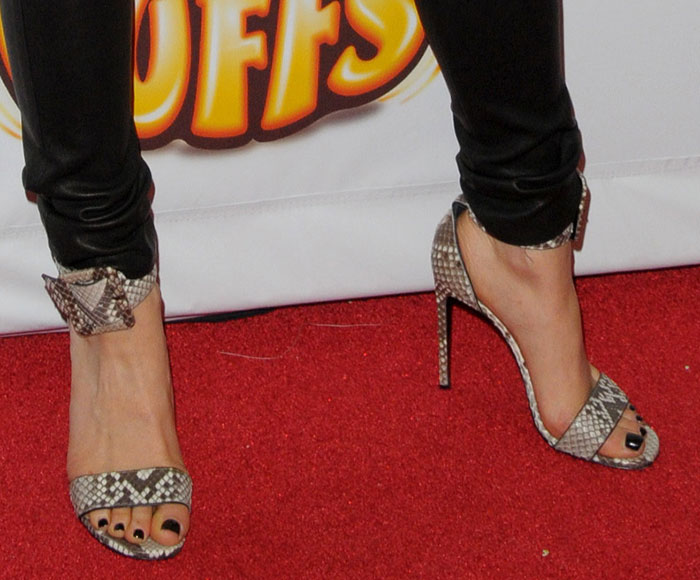 Jessie J shows off her feet in snakeskin sandals (Credit: Ivan Nikolov / WENN)
You can buy the black-and-white version of these sandals at Saks Fifth Avenue.
Jane Snakeskin Exotic Sandals, $1,395