Meryl Streep, 74, and Don Gummer, 76, who have been married for 45 years, recently disclosed that they had been apart "for more than six years."
In an exclusive statement first seen on Page Six, a representative for Streep said, "Don Gummer and Meryl Streep have been separated for more than 6 years, and while they will always care for each other, they have chosen lives apart."
The two were introduced by Meryl's brother in 1978. They tied the knot six months later, on September 30, 1978, and share four children and five grandchildren.
Her eldest child is Henry Wolfe Gummer, and she has three daughters: Mary Willa Gummer, often referred to as Mamie Gummer, Grace Jane Gummer, and Louisa Jacobson Gummer.
Meryl Streep and her husband of 45 years, Don Gummer, pictured at the 2014 Oscars, have reportedly been separated for more than six years (Credit: INFphoto)
In a 2002 Vogue interview, Meryl said that the secret to their long marriage was "Goodwill and willingness to bend—and to shut up every once in a while."
"There's no road map on how to raise a family: It's always an enormous negotiation. But I have a holistic need to work and to have huge ties of love in my life. I can't imagine eschewing one for the other."
The three-time Oscar-winning actress and her sculptor husband were last seen in public together at the 2018 Academy Awards, where Streep was up for Best Actress for her portrayal of Katherine Graham in The Post.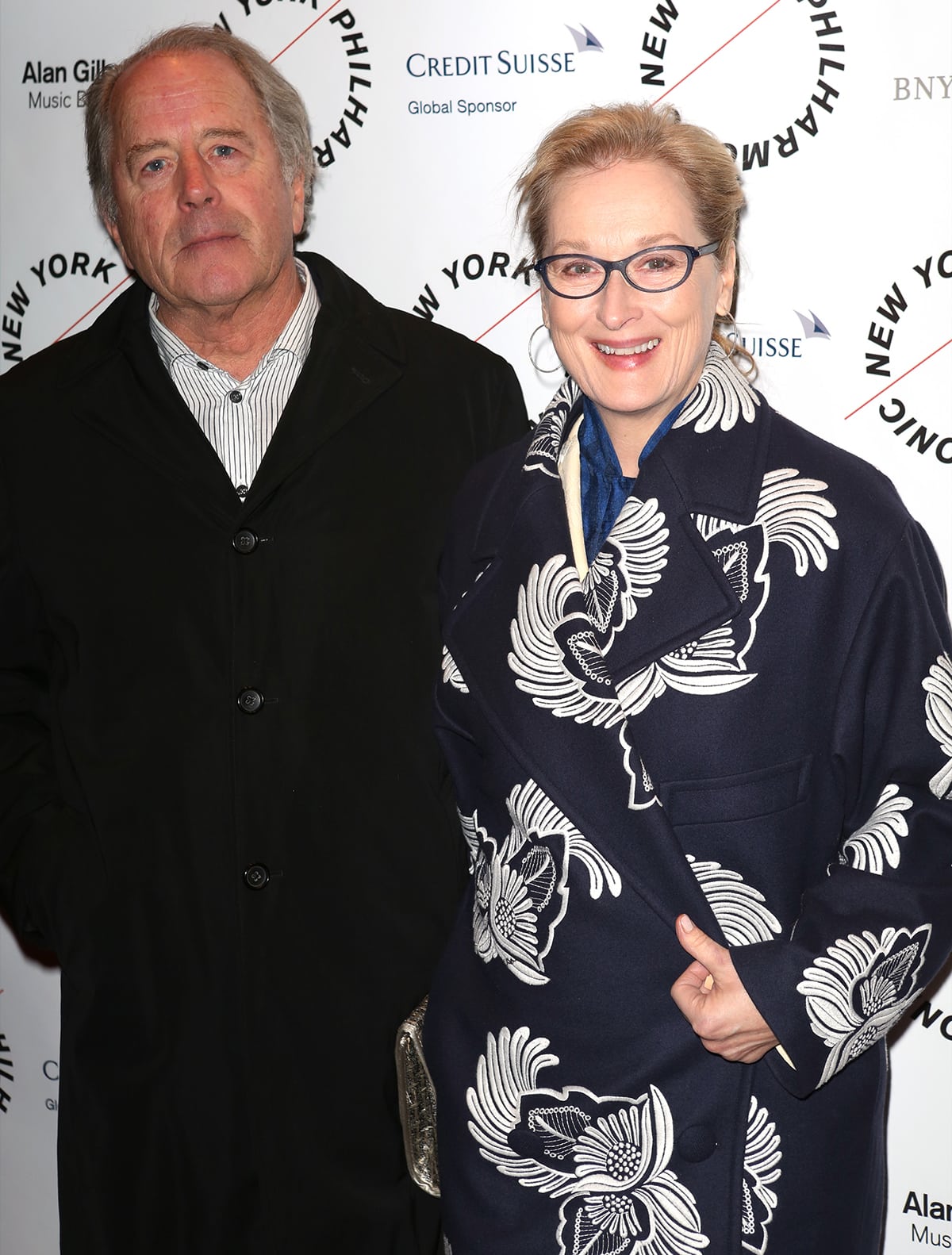 Don Gummer and Meryl Streep at the opening night gala performance of the New York Philharmonic staged production of Sweeney Todd: The Demon Barber of Fleet Street on March 5, 2014 (Credit: Walter McBride / INFphoto)
Streep is still photographed wearing her wedding band even after splitting up.
It was spotted on the actress on Friday while attending the Princess of Asturias Awards ceremony in Spain, where she was honored with the prestigious Princess of Asturias Arts award.
It was one of the eight awards given out to individuals, groups, or organizations from around the world for their notable achievements in categories including Communication and Humanities, Social Sciences, Literature, Sports, Technical and Scientific Research, International Cooperation, and Concord.
Crown Princess Leonor, for whom the award foundation is named, officially gave each recipient their prizes, which included 50,000 euros and a sculpture by Spanish Catalan artist Joan Miró.
Meryl Streep is honored with the prestigious Princess of Asturias Arts award at this year's Princess of Asturias Awards ceremony in Spain on October 20, 2023 (Credit: Abaca Press / INSTARimages)
Streep opted for quiet luxury for the occasion, wearing a black plissé dress with a plunging neckline, long sleeves, and an ankle-length hem. To help define her waist, The Iron Lady actress wore a black belt with a crystal-encrusted buckle.
She paired the look with black tights and slipped into a pair of pointy black pumps with dainty ankle straps.
Keeping things understated, she accessorized with pearl drop earrings, a gold bracelet, and a black clutch.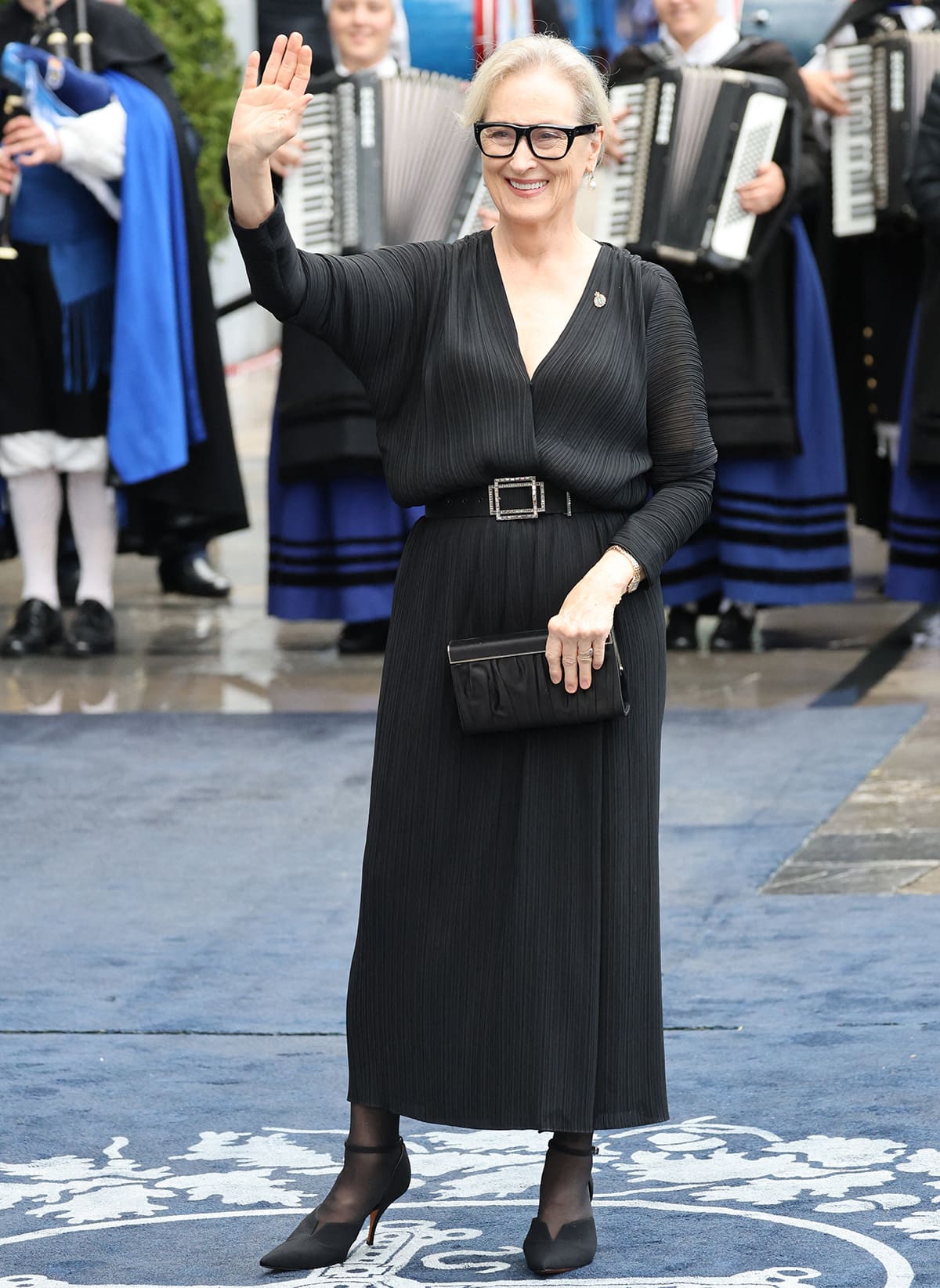 Meryl Streep embraces quiet luxury in a black plissé dress, black tights, and black heels (Credit: Abaca Press / INSTARimages)