Following his role as Rooster in Top Gun: Maverick, 35-year-old Miles Teller has become a bona fide Hollywood heartthrob.
Miles Teller as Lieutenant Bradley "Rooster" Bradshaw in the 2022 action film Top Gun: Maverick (Credit: Paramount Pictures)
Unfortunately for those of you out there crushing on him, Miles Teller is no longer single. In fact, he has been in a long-term relationship since 2013 and has been married since 2019.
Here is everything you need to know about Miles Teller's wife, Keleigh Sperry, and their adorable relationship together.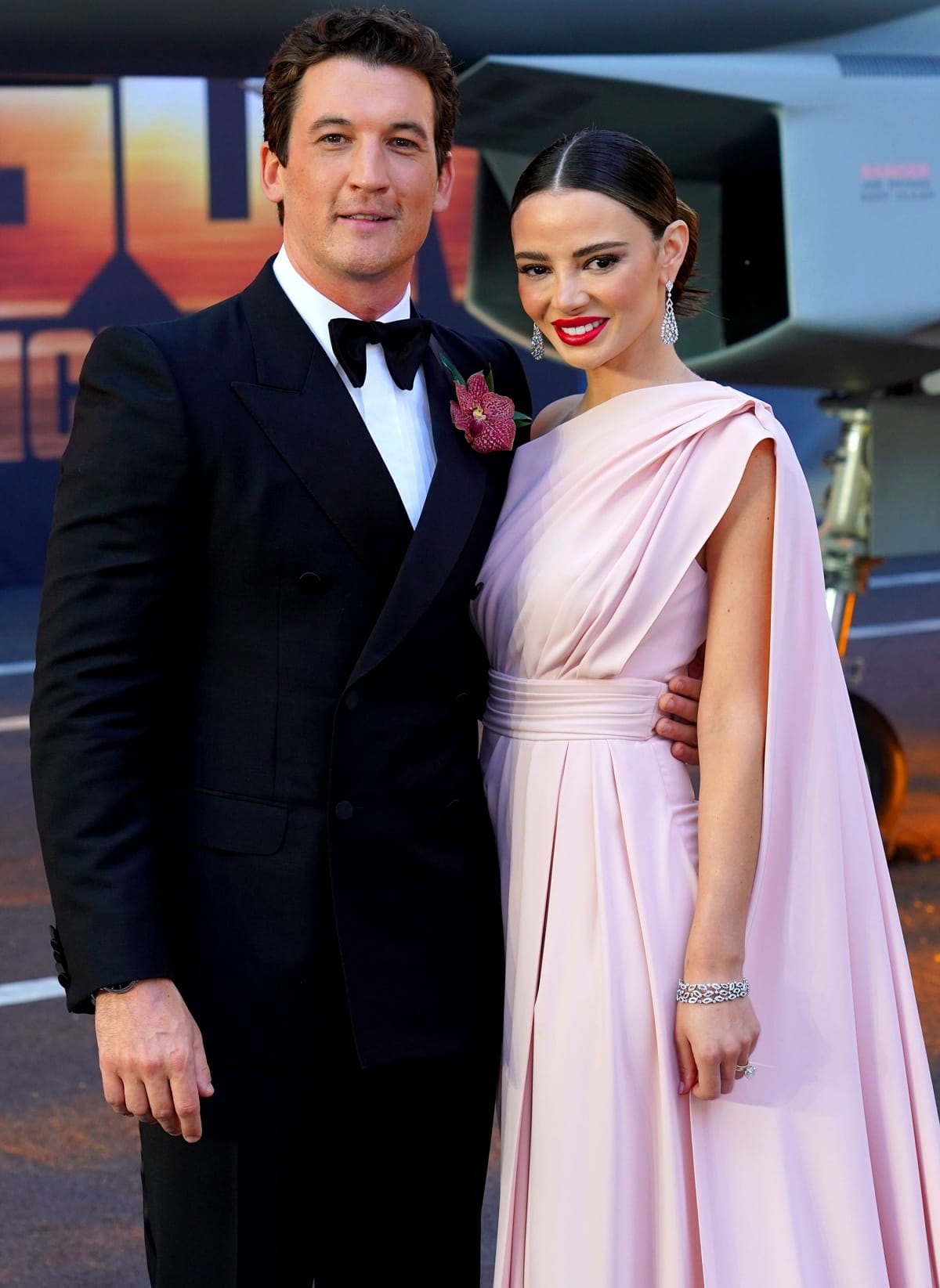 Miles Teller and Keleigh Sperry at the UK premiere of Top Gun: Maverick in London, England, on May 19, 2022 (Credit: PA Images / INSTARimages / Cover Images)
Who Is Keleigh Sperry?
If you haven't heard of Keleigh (pronounced as "Kelly") Sperry before now, there's a good reason for that! Unlike her husband, Sperry is not an A-lister, but she has a number of interesting projects under her own name.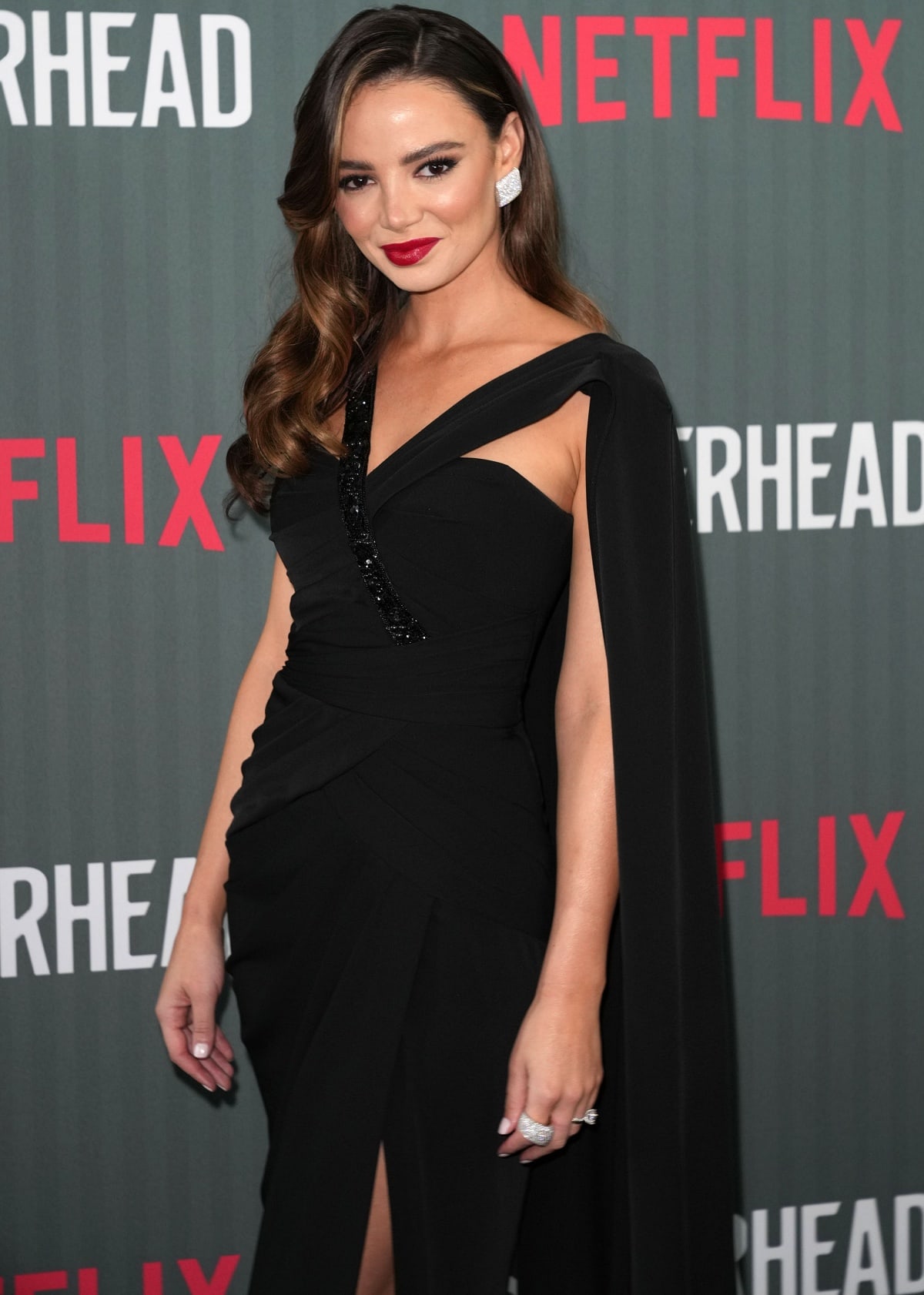 Keleigh Sperry wearing a black gown with diamond jewels at the Spiderhead premiere in New York City on June 15, 2022 (Credit: JOHN NACION / Startraksphoto)
She grew up in the lap of luxury, as her father, Rand Sperry, is the founder of SVN International, a wildly successful real estate firm with offices all over the world.
Keleigh Sperry comes from a large family and has five older siblings. Her three sisters work together as event planners, while her brothers are entrepreneurs.
On her own, Keleigh Sperry has earned her keep as a model, signing with ONE Management and LA Model Management.
She has made frequent appearances in music videos, such as The Devil's Orchard by the Swedish metal band Opeth. Sperry has also tried her hand at acting, starring in a short film called Dance in 2017.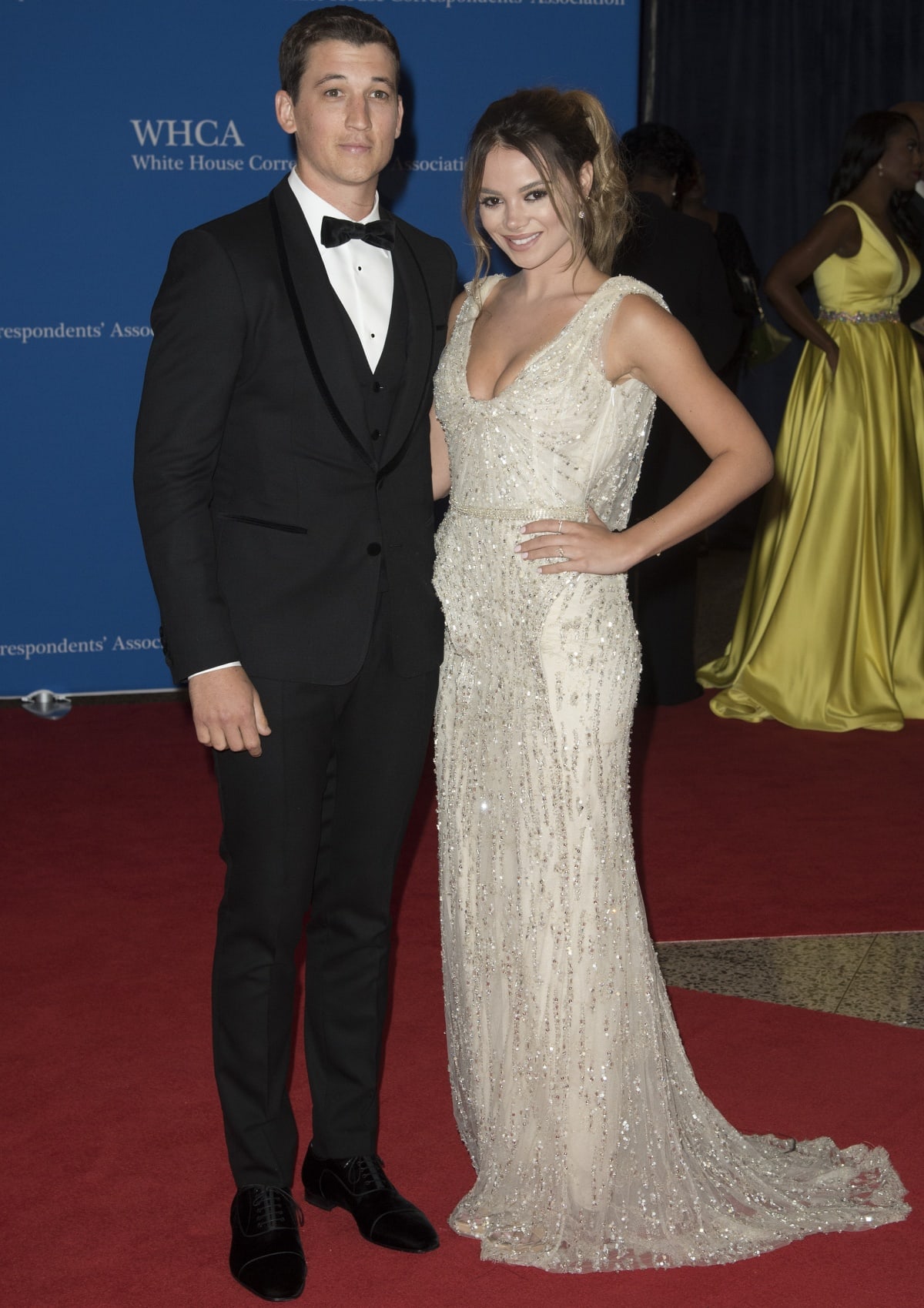 Miles Teller and Keleigh Sperry attend the 2016 White House 102nd Correspondents' Association Dinner held at the Washington Hilton Hotel in Washington, D.C. on April 30, 2016 (Credit: Marcus Owen / Startraksphoto)
More than just a pretty face, Keleigh Sperry is a philanthropist and political activist, working with the charity Wells of Life to help bring clean water to people around the world.
She even served as the first female ambassador and advisor to the former Prime Minister of Uganda, Ruhakana Rugunda, through her work with the project.
However, according to Miles Teller, Sperry's "full-time gig" is being with him. Too cute!
Miles Teller and Keleigh Sperry Met at a Grammy's Afterparty in 2013
Way back in 2013, Miles Teller attended a Grammy's afterparty for the alternative rock band The Black Keya (who ended up winning three Grammy Awards that year: Best Rock Performance and Best Rock Song for Lonely Boy, as well as Best Rock Album for El Camino).
It was there that he first laid eyes on his future wife, Keleigh Sperry. "We both had mutual friends of the band," Teller explained later to Vogue during an interview in 2019.
He was immediately drawn to Sperry but revealed to the publication that he didn't think he made a great first impression, saying, "Keleigh had caught my eye early in the night, and we talked. I didn't think it went well, but after a few more attempts, I got her to dance with me, and a week later, we went on a date. After we met, I knew she was the one."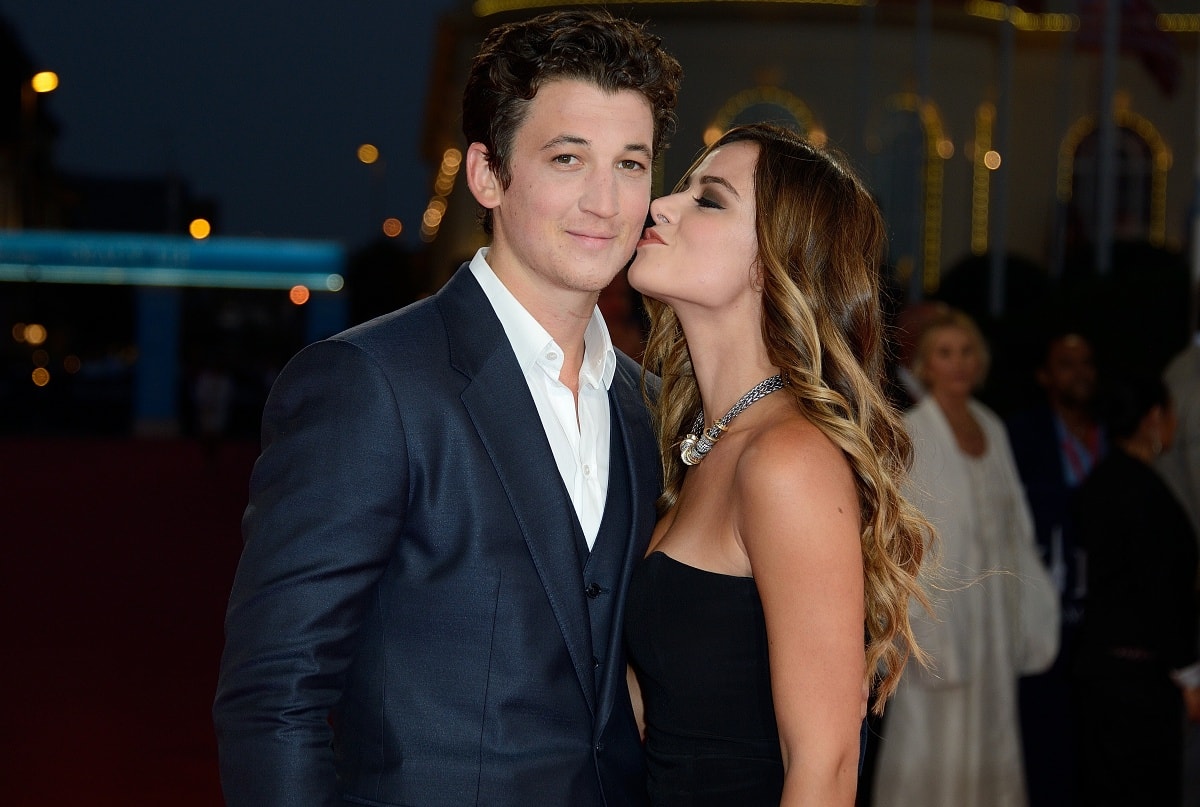 Miles Teller and Keleigh Sperry at the screening of The November Man during the 40th Deauville American Film Festival in Deauville, France on September 11, 2014 (Credit: Nicolas Briquet / Abaca / Startraksphoto)
If that wasn't aww-worthy enough, the actor's now-wife insisted that she was smitten, too, as Sperry said during the same interview, "He was so charming and charismatic. I adored him from the first moment we met."
From then on, the pair became inseparable.
Although they are five years apart in age (Teller is 35, while Sperry is 30), their lifestyles mesh perfectly, and Sperry has been a huge support to her husband as his career has snowballed.
Keleigh Sperry and Miles Teller spotted enjoying a day out in Washington Square Park in New York on August 5, 2015 (Credit: Freddie Baez / startraksphoto)
"She's lovely," Teller adoringly told E! News in 2015. "It's been pretty easy because right now, her full-time gig is kind of being with me and before her, I would never invite a girl into that world because I didn't think I could have both. She's allowed me to be able to really focus on acting and do what I want to do. She can come to set and visit me and hang out and doesn't really distract me from it."
Miles Teller and Keleigh Sperry looking fondly at each other at the Only the Brave world premiere in Los Angeles, California on October 8, 2017 (Credit: Lionel Hahn / ABACA / INSTARimages)
Funnily enough, Teller's only qualm with Sperry is her Instagram account! Sperry is very active on the social media app, which has led to a few odd fan encounters for Teller.
"She does have a very active Instagram account so people can see where I'm at. Probably too much," he laughed during the interview. "What are you going to do? I'm not going to stop traveling because she likes Instagram."
View this post on Instagram
Miles Teller Proposed in the Most Romantic Way!
In 2017, after the couple had dated for four years, Teller popped the question while the pair was on a safari in South Africa. The actor tied a rose to a tree, paired with a note that read: "May 11th, 2013 – August 20th, 2017."
As the tall Teller (he is six feet tall) dropped to one knee before his 5'7" girlfriend, Sperry told People that he said, "This was the first day that I asked you to be my girlfriend, and today was the last day you woke up as my girlfriend."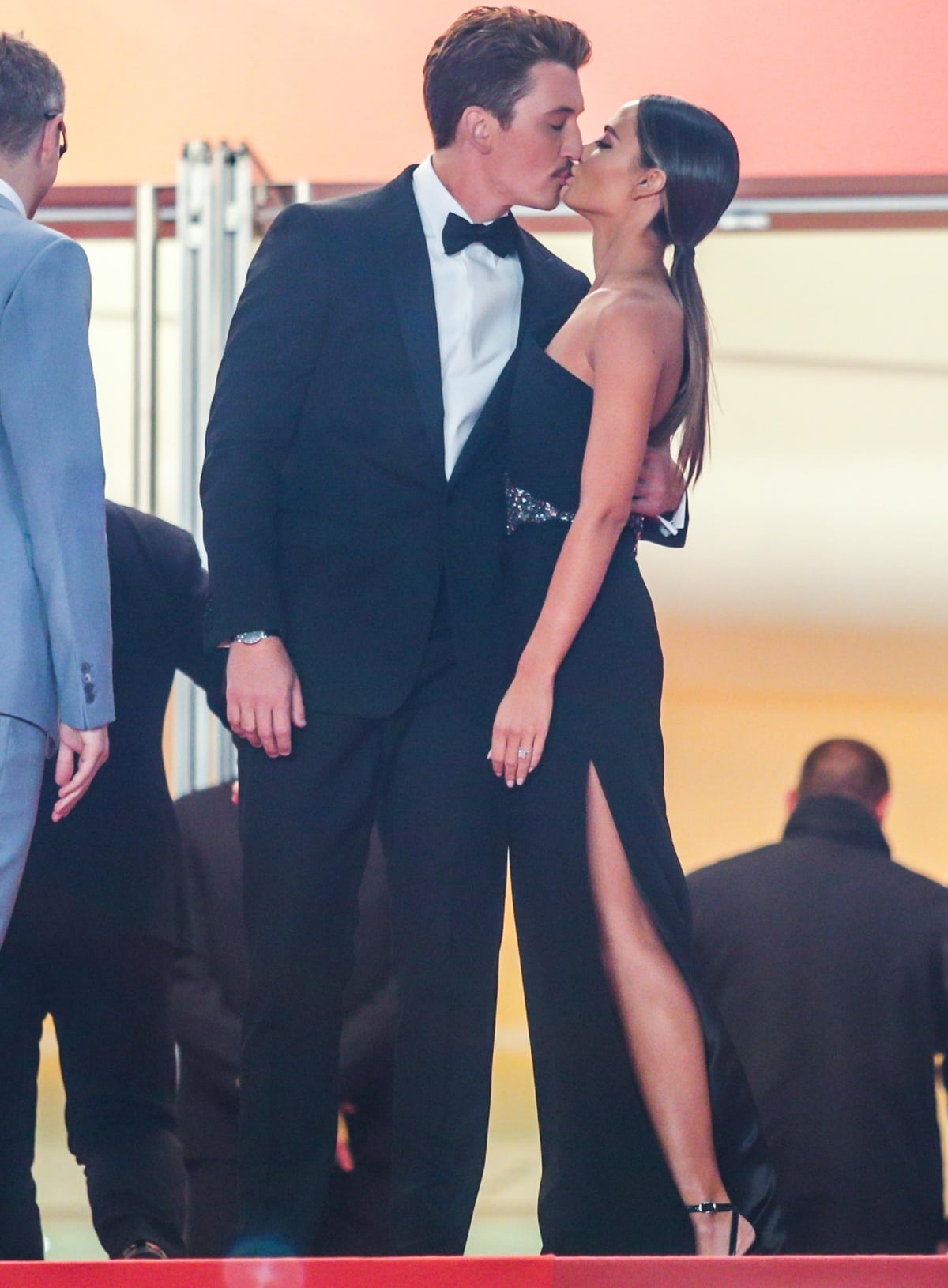 Miles Teller and Keleigh Sperry sharing a kiss at the Too Old to Die Young premiere during the 72nd Cannes Film Festival on May 18, 2019 (Credit: GRAHAM WHITBY BOOT / Startraksphoto)
"I'll never get the image out of my head of him down on one knee with a tear in his eye," Sperry continued. "He really thought about every detail and was so nervous."
The pair went on to get married in 2019, tying the knot in a tropical ceremony in Maui. Their whole family was part of the nuptials, as Sperry's event-planner sisters helped coordinate the ceremony.
Keleigh Sperry Hated Miles Teller's Top Gun Mustache
Although many viewers were huge fans of the mustache Miles Teller sported to play Rooster in Top Gun: Maverick, Keleigh Sperry hated it.
"My wife made me shave it immediately [after filming]," Teller joked with People.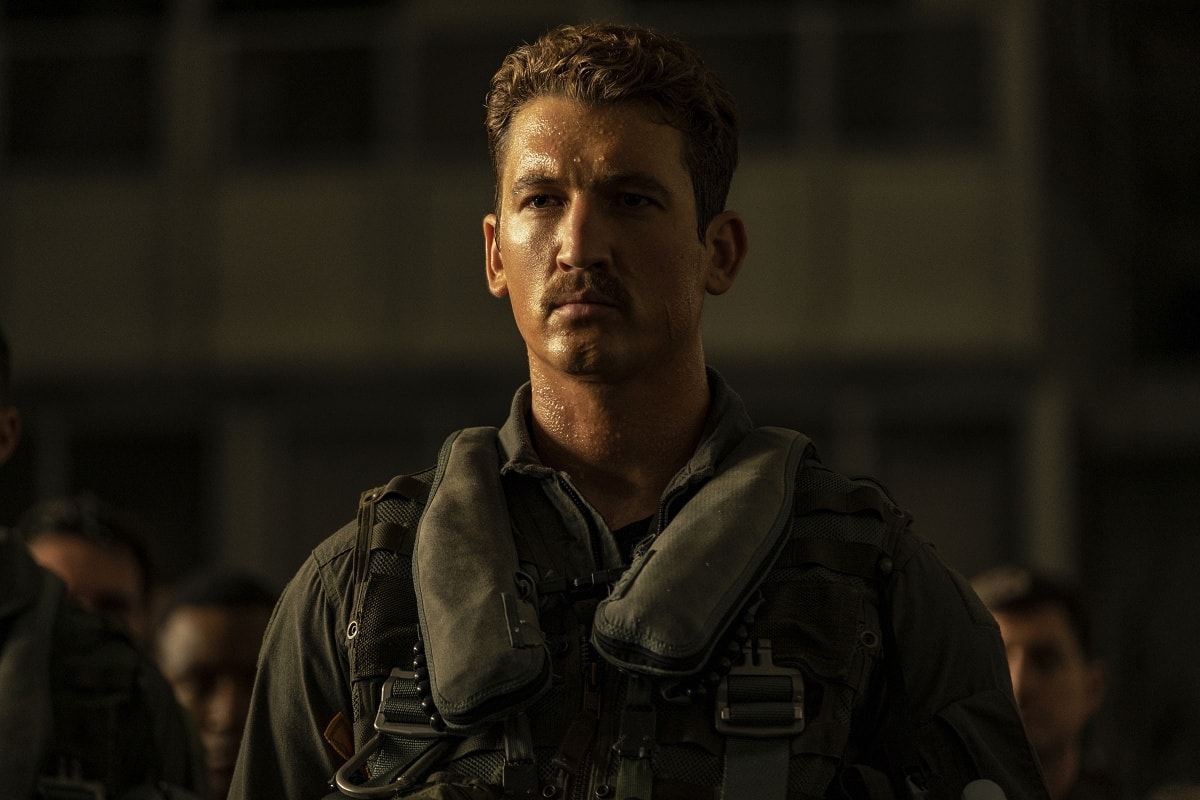 Miles Teller claims that his wife, Keleigh Sperry, was not a fan of his Top Gun: Maverick mustache (Credit: Paramount Pictures)
Teller's mustache sparked a TikTok trend, as creators filmed themselves with similar facial hair on the app.
The actor seemed pleased, saying, "[I'm a] big fan of it. If it makes them more confident, then more power to them… But we'll see, maybe it'll be a good summer trend and then die out."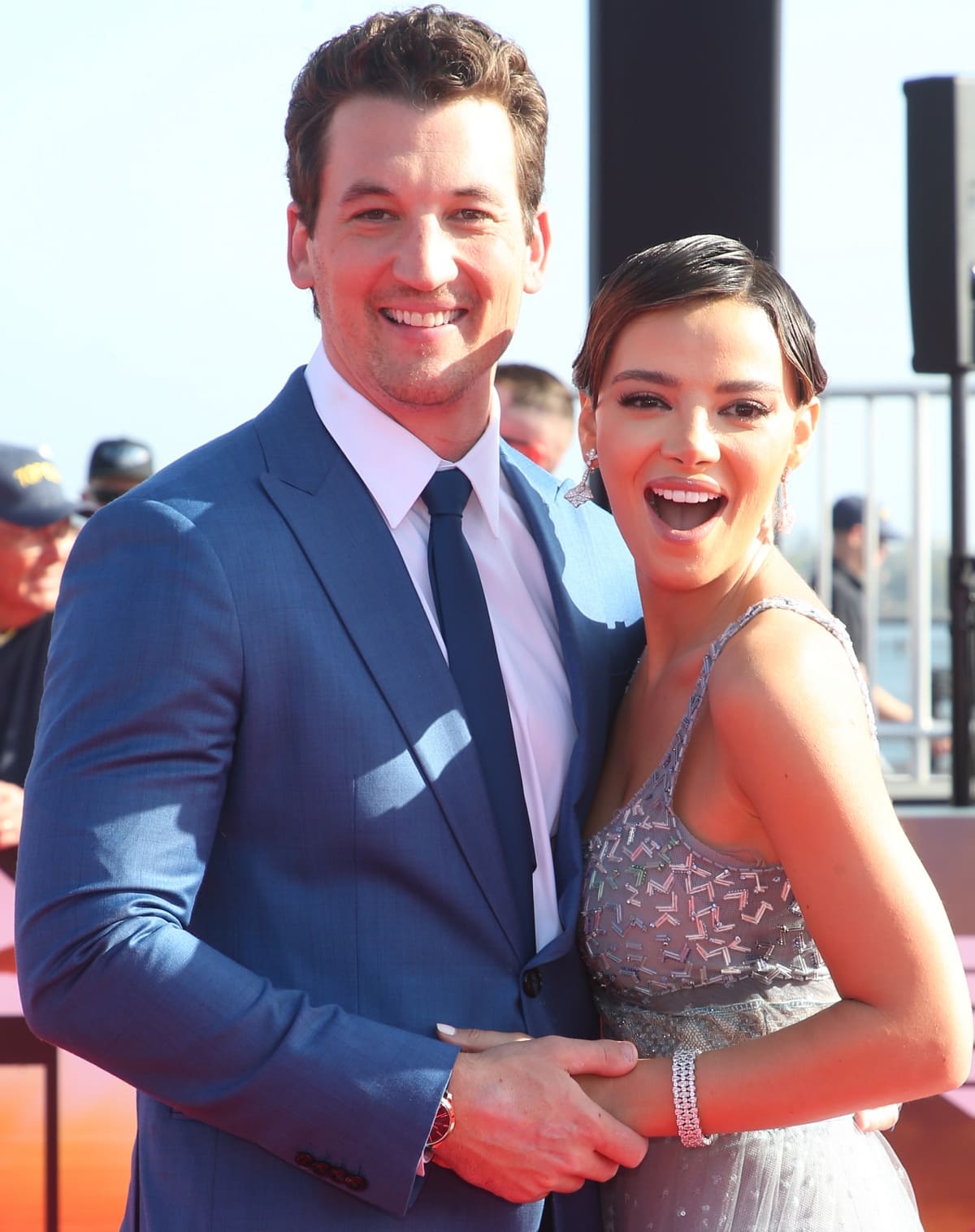 Miles Teller and Keleigh Sperry looking loved up at the world premiere of Top Gun: Maverick in San Diego, California, on May 4, 2022 (Credit: Faye's Vision / Cover Images)
Personally, we love the 'stache. The bold fuzzy upper lip perfectly complements Teller's own scars, which the actor got after being involved in a serious car wreck in 2007.
The scars are part of him now, and they are constant reminders that he survived. Plus, it doesn't hurt that they make him look like a hardcore heartthrob.
Miles Teller and Keleigh Sperry have been dating since 2013 and have been happily married since 2019 (Credit: Eyepix / INSTARimages)