Jenna Ortega channeled Wednesday Addams as she did the promotional circuit for her new show, Wednesday, which premiered on November 23rd on Netflix.
The delightfully macabre Netflix series, Wednesday, stars Jenna Ortega in the lead role as Wednesday Addams (Credit: Netflix)
As a nod to the school uniform that she had to wear as Wednesday Addams in Nevermore Academy, Jenna stepped out in a Dolce & Gabbana look styled by Enrique Melendez.
She wore a cropped black jacket over a crisp white shirt styled with a black jacquard tie and a bejeweled tie bar. Jenna also wore high-waisted black palazzo pants and a single-breasted black wool coat.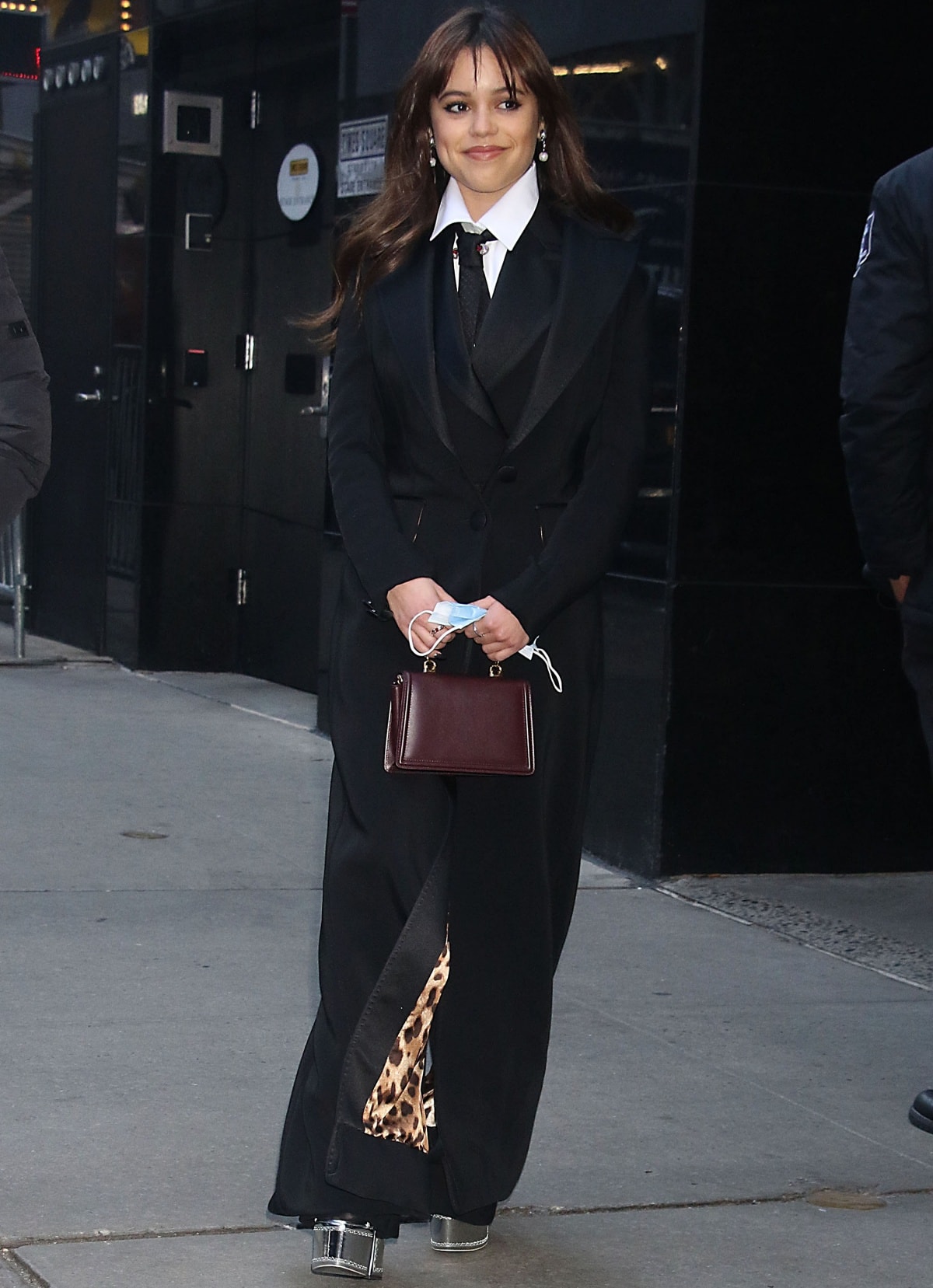 Jenna Ortega at the Good Morning America studios in New York City on November 21, 2022 (Credit: ROGER WONG / INSTARimages / Cover Images)
Her coat was lined with leopard print for a striking element. She then finished off her look with loose auburn waves, a burgundy bag, and silver platform heels.
Jenna Ortega outside the Today Show studios in New York City on November 21, 2022 (Credit: ROGER WONG / INSTARimages / Cover Images)
On Being Compared to Wednesday Addams and Preparing for the Role
First, she stopped by Good Morning America to talk about how she's "been compared to Wednesday [her] entire life."
She elaborated that she's been told that they are both "very sarcastic and dry, and can be a bit morbid at times." Jenna continued that she considers it a compliment to be compared to the iconic fictional character.
In the interview, Jenna also talked about the preparation she had to do to take on the role of Wednesday Addams. "She's much more intelligent than I am. I started cello lessons and fencing lessons two months before we started shooting, and then continued throughout the eight-month shoot."
She added that they "also did things like archery, I choreographed a dance, we did German, we did canoeing, we did boxing. After work I always had a lesson or something."
On Not Blinking, Shooting in Romania, and Catherine Zeta-Jones
After that, she stopped by the Today Show to talk about her "deadpan face," shooting in Romania, and her on-screen mother, Catherina Zeta-Jones.
When asked about her deadpan expression, Jenna mentioned that it "was something Tim [Burton] and I established very early on."
The main thing was that Wednesday "doesn't blink." Jenna said that "[Tim] likes it when I tilt my chin down and look through my eyebrows, kind of a [Stanley] Kubrick stare. I relax all the muscles in my face, and then you just move your eyebrows and that's pretty much all your reaction."
It was hard to maintain and even more difficult to shoot without blinking. "I think I got kind of annoying about it on set to be honest because I would have to restart a take if I [blinked] because sometimes you start crying in the Romanian winter. There was all this wind in my face. I learned to blink on other people's lines."
The cinematography and set design of Wednesday were remarkable, and they're thanks to the landscape of Romania, where they shot it. Jenna said that Romania "fit the gothic atmosphere of the show."
When asked about her on-screen mother, Catherine Zeta-Jones, Jenna jumped at the chance to sing her praises. "She is incredible. I feel like her humor is so underrated."
"We were on set, and they were some of my favorite scenes that we shot because she was so open to improvise and have fun and try new things and, yeah, she just has great instincts," Jenna gushed.
Double Feature Wednesday
There's someone else who couldn't stop gushing about her co-star on Wednesday. Who is it? Why, it's Christina Ricci, who has famously taken on the role of Wednesday Addams in the '90s film adaptations.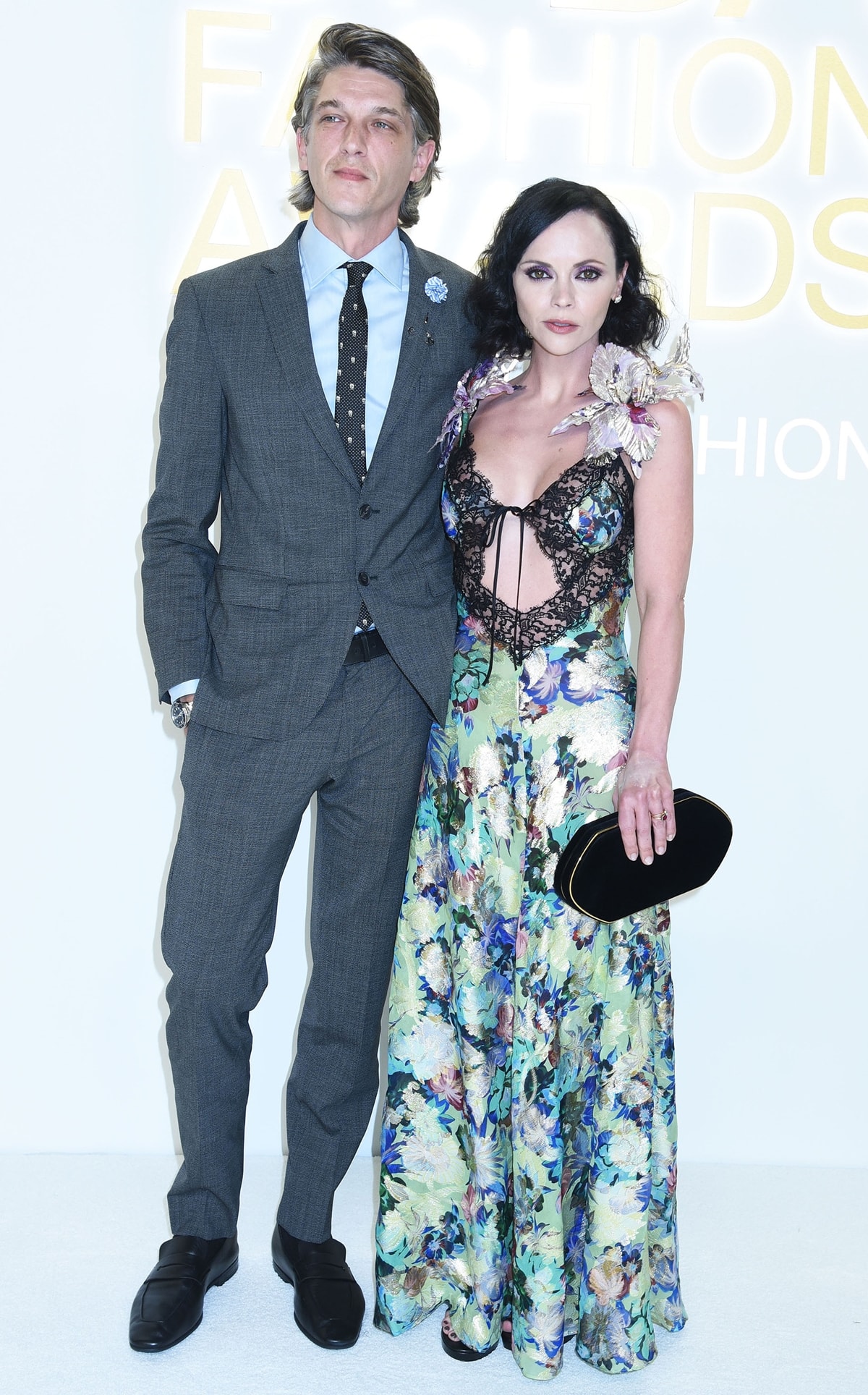 Christina Ricci and her husband, Mark Hampton, attend the 2022 CFDA Fashion Awards at Cipriani South Street on November 7, 2022, in New York City (Credit: Darla Khazei / INSTARimages / Cover Images)
Earlier in November, Christina Ricci joined a slew of celebrities like the Kardashian-Jenner sisters and Addison Rae at this year's CFDA Fashion Awards.
During the event, she talked to Extra's Kaliegh Garris about Wednesday:
"I have a lot of, obviously, like, so much love and attachment to the Wednesday that I played and those movies, and so to be asked to be part of the new iteration was really meaningful to me. And working with Tim [Burton] again was great."
When asked about Jenna Ortega stepping into the pointy boots of Wednesday Addams, Christina couldn't stop raving about her performance. "Jenna is so incredible in the show. People are just going to freak out about how good she is."
Double Trouble: Jenna Ortega and Christina Ricci both starred as Wednesday Addams in two different iterations of The Addams Family (Credit: Joce Zerojack / BauerGriffin / INSTA / Cover Images)