Miley Cyrus and Cody Simpson called an end to their whirlwind romance in August 2020 after dating for ten months.
Cody Simpson and Miley Cyrus have been friends for years and dated for almost a year before calling it quits in August 2020 (Credit: Cody Simpson's Instagram)
During an appearance on The Kyle & Jackie O Show in April 2022, Cody Simpson revealed why the pair split after dating for close to a year during lockdown.
The Pair Decided to Go Their Separate Ways
The 25-year-old swimmer and singer explained the behind-the-scenes of their breakup. "It was kind of a mutual decision between us, knowing we were going in different directions in our life."
The singer and swimmer explained that he had started training for the Olympics and would have to move back to Australia to pursue his Olympic dreams.
View this post on Instagram
The Wrecking Ball singer was going into her next album and would be going on tour during that time. "It was a fork in the road kind of scenario really," he explained.
Although the pair went their separate ways, there were no hard feelings between the two famous singers. "We had a great amazing year together and everything; we lived together during all the COVID lockdown stuff," Simpson told the show hosts.
The pair were first linked shortly after Cyrus split from her ex-husband, Liam Hemsworth, in August 2019.
Amidst rumors of her breakup with Simpson, Cyrus commented on their breakup during an Instagram Live, "But for right now, two halves can't make a whole, and we're individually just working on ourselves to become the people that we want to be, like everybody else at this age. We're just deciding who we want to be with our lives, what we want to do with our lives."
"We've been friends for 10 years, and we're going to continue to be friends," she added.
Before dating Miley Cyrus, Cody Simpson was in a relationship with Gigi Hadid for two years before calling it quits in May 2015 (Credit: Tony DiMaio / startraksphoto)
Cody also talked about their relationship in an interview with Australia's 60 Minutes. "I'd known her for a long time at that point, not like a mentor but always a very hyper-creative person," he said of his ex-girlfriend.
"We went from being good friends to just having a lot of the same friends, to being together for a while," he continued.
"Everything ended fairly amicably, and it was just one of those phases, I guess. You go through [it] and you learn a lot from it," he concluded.
Miley's Stunning Off the Shoulder Red Dress
The Hannah Montana alum stepped out of the Radio City Music Hall in New York City in May 2022 wearing a stunning red silk dress.
The slinky red John Galliano for Dior dress featured streamlined seams on the bodice with a thigh-high slit and a strap falling off one shoulder.
Miley Cyrus wears a red John Galliano for Dior dress 2022 NBCUniversal Upfront held at Mandarin Oriental Hotel on May 16, 2022, in New York City (Credit: INSTARimages / Roger Wong)
She completed the punk rock look with her two-tone blonde and brunette hair, a silver chain belt hanging from her waist, and a large pair of Dior Evolution sunglasses.
Her red lipstick matched the striking dress, paired with red strappy sandals. The 29-year-old star is known for her trendy and fun pieces with a signature edgy style.
Miley Cyrus wore a t-shirt honoring legendary rapper Tupac Shakur outside ABC's Jimmy Kimmel Live! studios in Hollywood on June 25, 2013 (Credit: Alan Fearon / WENN)
In June 2013, then-20-year-old Miley Cyrus made a remarkable performance on stage outside the Jimmy Kimmel Live! Studios in Los Angeles. She was so daring, and so was her outfit.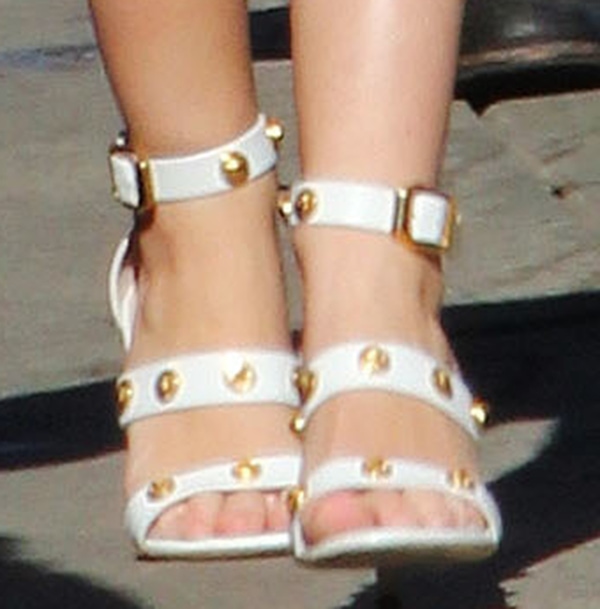 Miley Cyrus rocks white studded Versace 3-strap sandals (Credit: WENN)
Prior to performing, she arrived at the El Capitan Theatre in mini high-waist shorts from American Apparel that flaunted her legs.
The American singer paired the white shorts with a black graphic 2Pac Only God Can Judge Me tee and white studded heels.
Miley Cyrus shows off her feet in Versace Medallion sandals (Credit: WENN)
Compared with what she wore on stage, this outfit actually looked wearable.
Miley performed a couple of songs from her new album, including her first single "We Can't Stop" and "Fall Down", which featured Will.I.Am.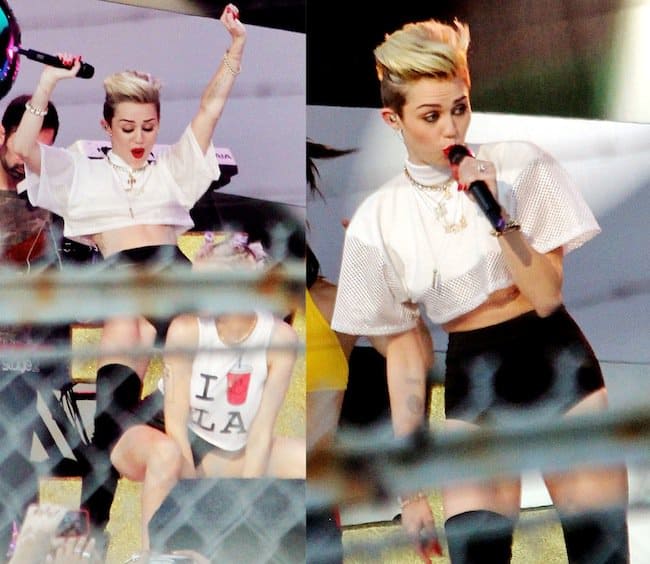 Miley Cyrus performs in black high-waist spandex shorts paired with thigh-high boots and a white mesh cropped top (Credit: WENN)
She definitely lived up to her new image with her very sexy ensemble that included a white mesh cropped top, a Jennifer Fisher necklace, black high-waist spandex shorts, and thigh-high boots.
Miley Cyrus and Will.I.Am performing live on 'Jimmy Kimmel Live!' in Hollywood on June 25, 2013 (Credit: WENN)
Miley's leather sandals boast a triple-strap design studded with gold-tone Medusa medallion accents.
The gold-tipped ankle straps feature gold-tone buckle fastening. About 3.5-inch heels complete these sandals from Versace's Spring/Summer 2013 collection.
We could no longer find the white version online, but we found black and python variants at Farfetch:
Black Studded Versace 3-Strap Heels, $795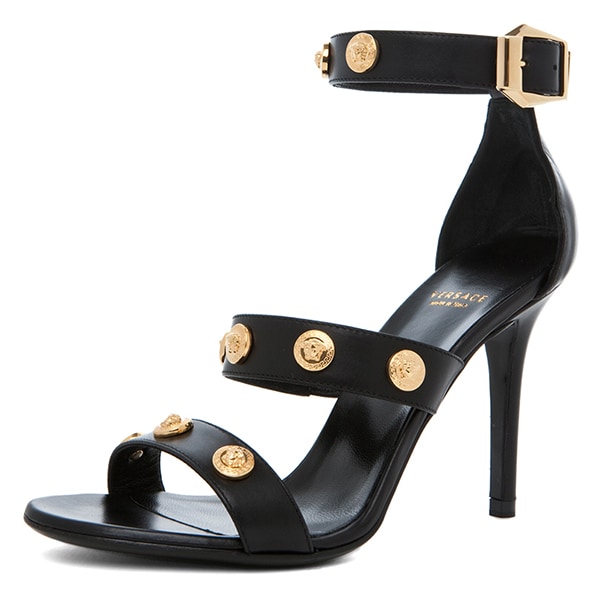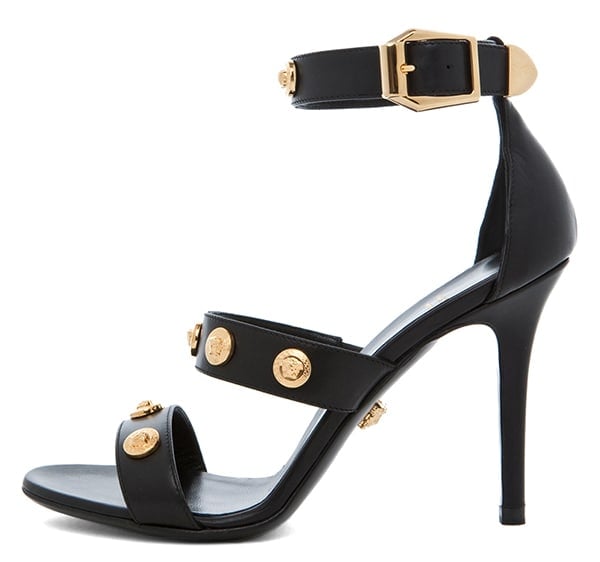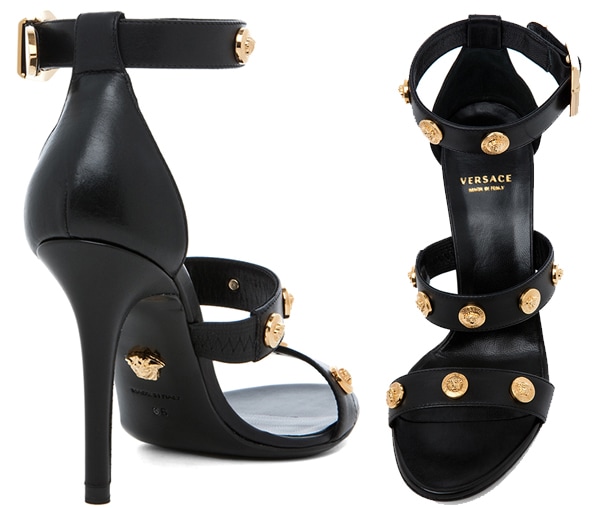 Versace Signature Python Sandals, £740