If you're tired of all the crop tops we've been inundated with lately (see Selena Gomez, Vanessa Hudgens, Elle Fanning, and Jessica Alba), sorry to say, but it looks like there's no end in sight. Miley Cyrus perpetuated the ubiquitous trend when she stepped out of her hotel in Tribeca in NYC yesterday.
Looking like she just freshly showered, Miley coolly greeted the fans awaiting her in a white midriff tee, boyfriend cutoff shorts, a green-and-gold satin jacket draped over her left arm, and a 1 liter bottle of Mountain Valley Spring Water in her hand.
Miley Cyrus leaving her Tribeca hotel in New York City on August 5, 2014
If you take a closer look at the pop singer's crop top, you'll see that it's actually a DIY project. It looks like she took a pair of scissors to a men's t-shirt and put her own funky spin to it. As always with the controversial entertainer, she cropped her tee just a little bit too short that any small gust of wind posed a threat of wardrobe malfunction. That's one way of standing out among the crop-topped crowd, huh?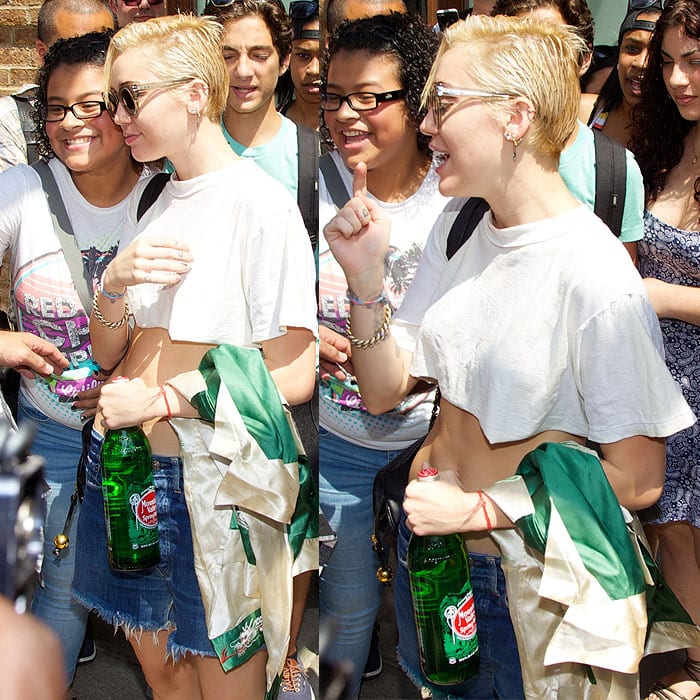 Miley Cyrus taking pictures with fans
Miley punked up her simple attire with these pink skull-print sneakers: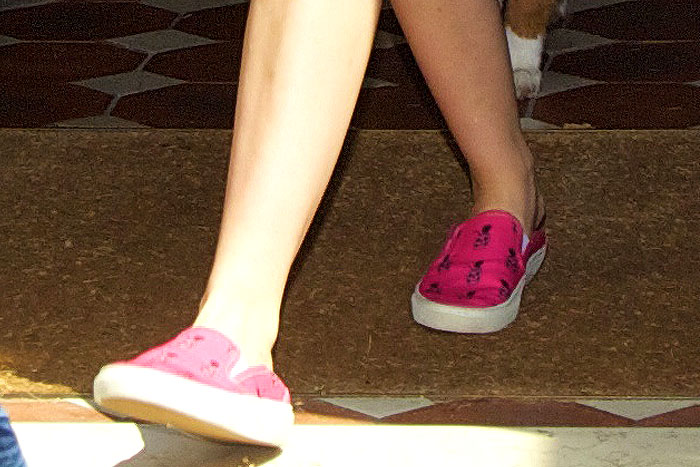 Saint Laurent "Pinaskullada" sneakers on Miley Cyrus
They make look like regular slip-on sneakers, but they're actually designer. Saint Laurent commissioned visual artist Luke Thomas for a special spring 2014 collaboration, which includes the following sneaker with a fun print of pineapple-and-skull merge:
Saint Laurent "Pinaskullada" Slip-On Sneakers, $395
This "pinaskullada" design can also be found on t-shirts, scarves, backpacks, and a very cute silver brooch.
Credit: Alberto Reyes/WENN