Usually dressed to the nines for even the most ordinary events or casual outings, Kim Kardashian was relatively dressed down in a beige scoop-neck tee, a cream Acne bomber jacket, J Brand "8226" ripped skinny jeans, and nude ankle-strap sandals when she arrived for a taping of Jimmy Kimmel Live! on Monday.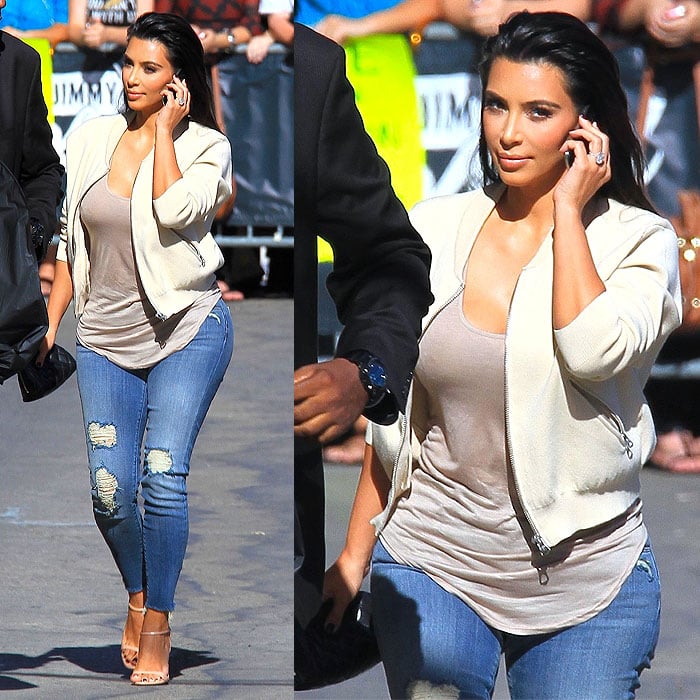 Kim Kardashian on her way to the late-night talk show Jimmy Kimmel Live! in Hollywood, California, on August 4, 2014 (Credit: Winston Burris / RHS / WENN)
It was unusual to see Kim not primped to perfection, but what was even more unexpected was the outfit she changed into later for the show.
Her ensemble included a pointy-boobed corset, a teal satin robe, and pale pink satin pajamas, which, if you really get down to it, was basically sleepwear.
Watch the reality star compete against Jimmy Kimmel in a diaper-changing contest in her boudoir look.
"I usually take my ring off," she said before removing her 15-karat cushion-cut engagement ring by Lorraine Schwartz and placing it on changing table. "It's worth more than Versailles," Kimmel responded.
As this is Kim Kardashian we're talking about, her pajama-like getup is actually couture. It's from Russian designer Ulyana Sergeenko's Spring 2014 collection, which also provided her outfit for Khloe's 30th birthday celebration.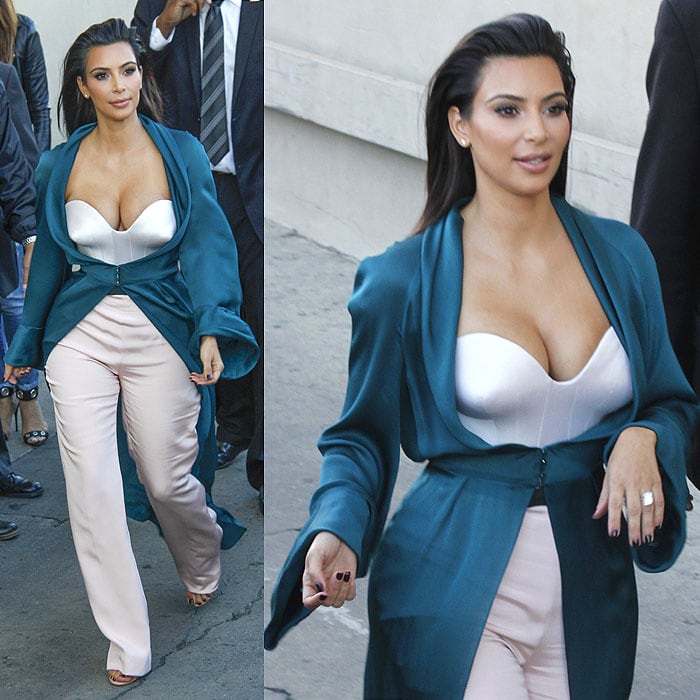 The waist of her coat was modified from the original Sergeenko runway look to give Kim Kardashian a more structured appearance at the waist (Credit: Winston Burris / RHS / WENN)
The ShoeDazzle founder drew another nighttime-inspired look from the collection for her late-night talk show guesting yesterday.
Do you think she pulled it off, or should she have worn something more appropriate and less complicated?
Kim Kardashian wore a white bustier, emerald green silk jacket, and pink trousers from Ulyana Sergeenko's Spring 2014 Couture collection (Credit: Winston Burris / RHS / WENN)
Mrs. West wore the same ensemble to her evening engagements, which was dinner at Nobu restaurant with Pussycat Dolls founder Robin Antin. She could've worn it straight to bed and no one would question it, don't you think?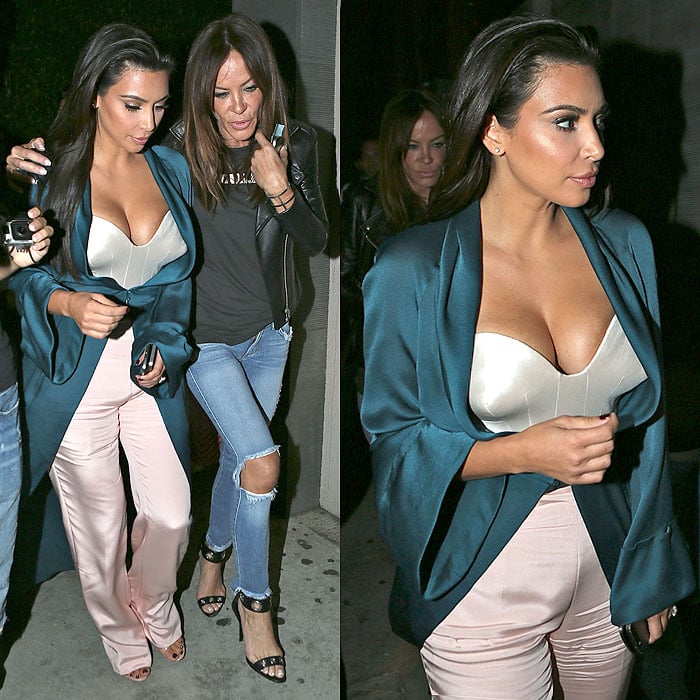 Kim Kardashian and Pussycat Dolls founder Robin Antin leaving Nobu restaurant after having dinner (Credit: Winston Burris / RHS / WENN)
Like how she is usually with her other body-baring clothes, Kim was very conscious about how she looked in her Ulyana Sergeenko couture outfit and was often caught checking herself out.
She's always impeccably styled, no doubt, but it's often negated by how uncomfortable or self-conscious she seems.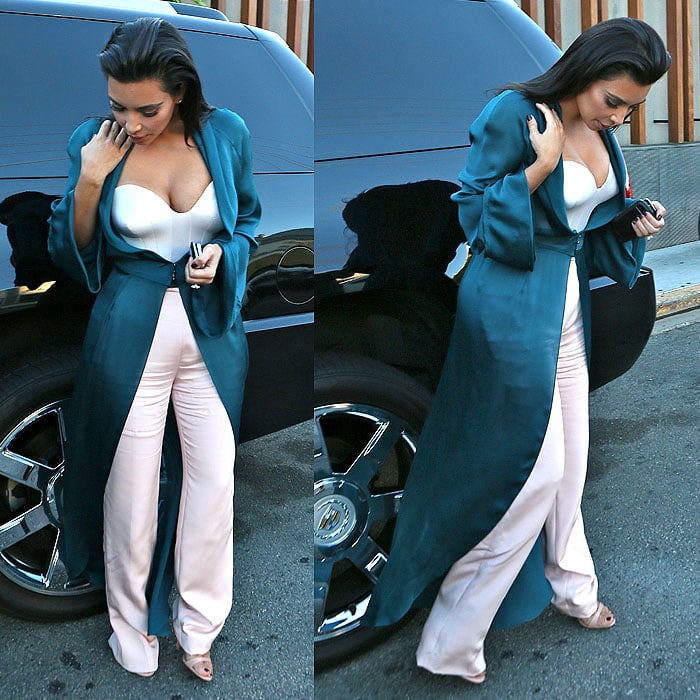 Kim Kardashian takes a moment to check herself and ensure that her outfit is perfectly in place (Credit: Winston Burris / RHS / WENN)
The shoes that took Kim from day to night were her nude Prada ankle-strap sandals, the pair she wore the last time we spotted her at LAX.
The sandals have long since sold out, but you can steal the style with these similar slim-strap sandals from Zappos that are $80 and under: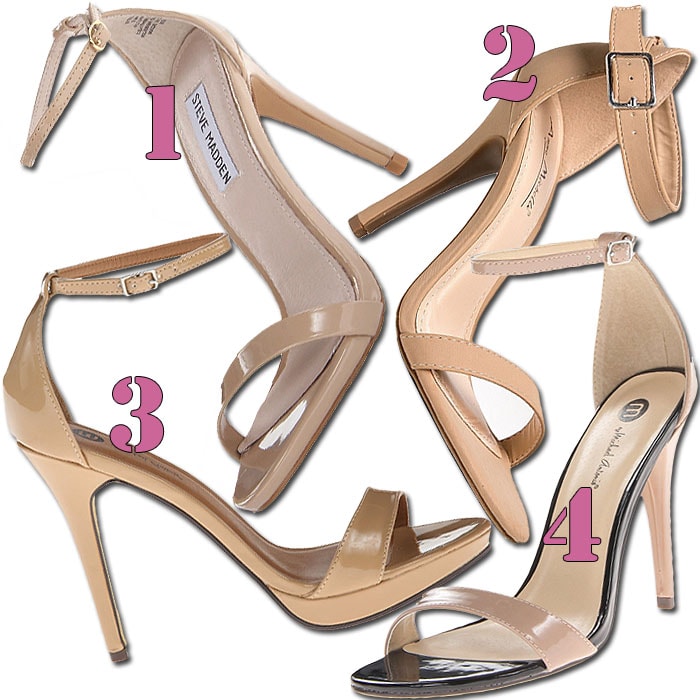 1. Steve Madden "Stecy" Ankle-Strap Sandals, $49.97–$79.95 / 2. Anne Michelle "Enzo-01" Ankle-Strap Sandals, $23.64–$39.99 / 3. Michael Antonio "Lovina -T" Ankle-Strap Sandals, $36.70–$49 / 4. Michael Antonio "Jaxine-PAT" Ankle-Strap Sandals, $21.10–$32.04