Kim Kardashian might have found the most tight-fitting dress ever.
Out filming an episode for 'Keeping Up with the Kardashians' in NYC yesterday, Kim sported a Wolford "Fatal" tube dress so tight that it was easy to make out the outline of her strapless bra as well as the wrinkles on her knees.
Kim Kardashian looked ready to explode in a tight tube dress
The dress also made obvious the waist and leg bands of her shapewear, which is something she has been unintentionally flashing from underneath the body-baring outfits she prefers as of late.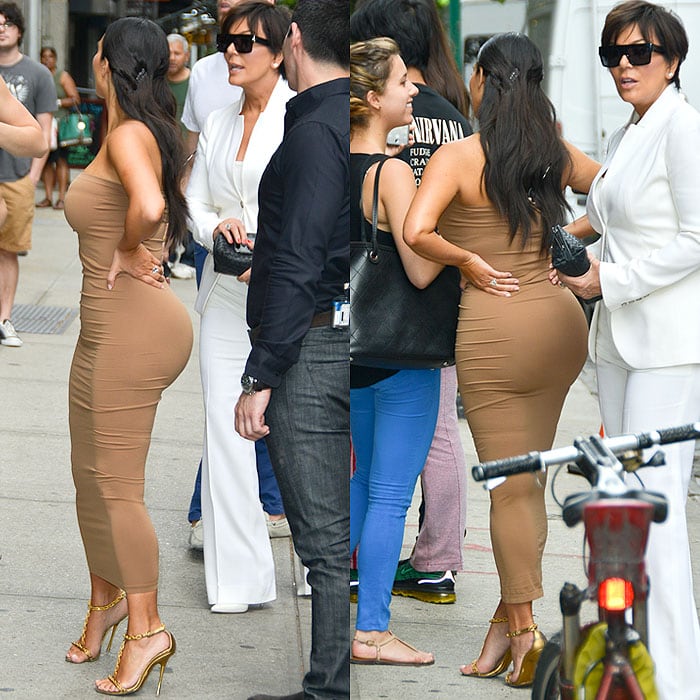 Kim Kardashian apartment-hunting and filming an episode of their reality TV show in New York City on June 27, 2014
The nude dress must have made Kim feel a little more exposed than usual because the cameras kept catching her checking herself and adjusting her outfit around the waist.
Do you think the way Kim looked in the dress was worth all the discomfort she was apparently in?
Kim Kardashian constantly checking her appearance and adjusting the shapewear underneath her dress
Kim paired her super-tight dress with her now easily recognizable Tom Ford Spring 2012 chain sandals. She debuted these sandals at the 2012 BET Awards.
Kim Kardashian, Kendall Jenner, and Kris Jenner on an NYC apartment hunt
The ShoeDazzle founder has worn them numerous times since then — at the Kardashian Kollection for Dorothy Perkins launch party, at her 33rd birthday party, and most recently, at MailOnline's yacht party in Cannes, France.
Kim was accompanied that day by her mom, Kris Jenner, and her younger sister, Kendall Jenner, who was also in her own tight-fitting denim-on-denim outfit.
Kendall Jenner accompanying Kim Kardashian and Kris Jenner while looking for an apartment in New York City
Kendall's double-denim jumpsuit consists of a Barbara Bui strapless corset top and Barbara Bui high-waisted jeans. She finished her look with these croc-embossed t-strap pumps.
Topshop Ghost T-Strap Pumps, $90 at Nordstrom
Vamp up your look with the fierce-and-feminine Ghost pump from Topshop. A slick cigarette heel sets off the croc-embossed texture for a seriously sultry effect.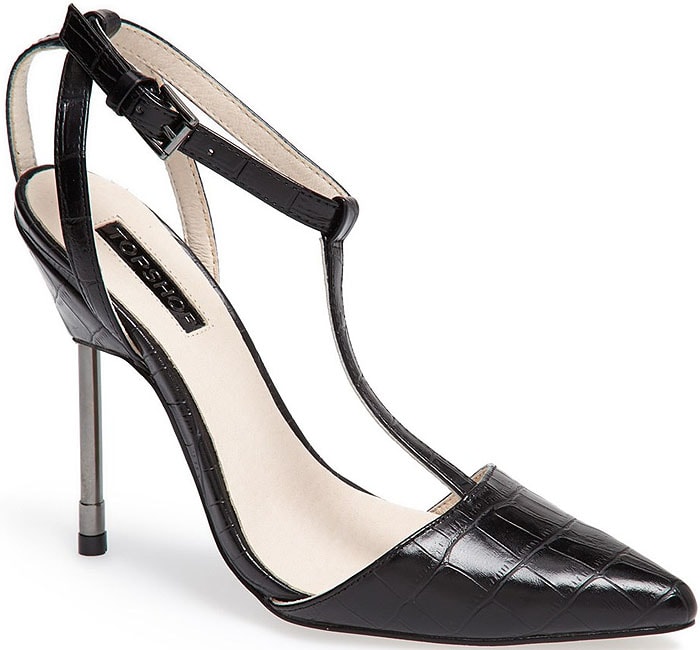 Credit: TNYF / WENN