Miranda Lambert made a sparkling entrance at the 58th Academy Of Country Music Awards, capturing everyone's attention with a dazzling explosion of vibrant color.
Accompanied by her dashing husband, Brendan McLoughlin, the power couple strolled down the red carpet at The Ford Center at The Star in Frisco, Texas, donning an ensemble that radiated elegance and glamour.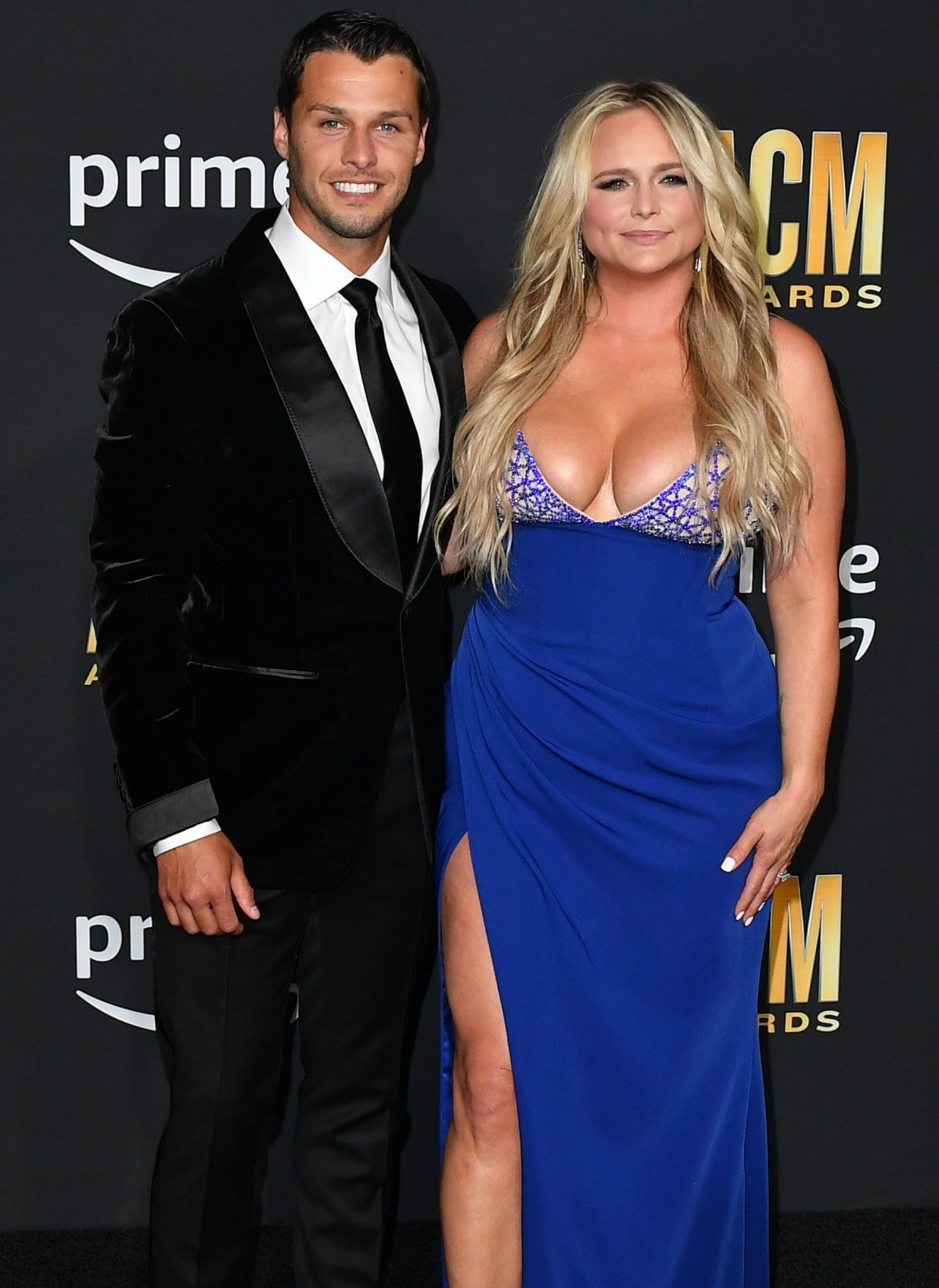 Brendan McLoughlin and Miranda Lambert made a head-turning entrance at the 58th Annual Academy of Country Music Awards held at The Ford Center at The Star in Frisco, Texas on May 11, 2023 (Credit: imageSPACE / Media Punch / INSTARimages)
The 39-year-old country singer exuded confidence in her stunning attire. She wore a sleeveless cobalt blue dress by Vietnamese fashion designer Le Thanh Hoa adorned with a daring thigh-high slit, adding an alluring touch to her overall look.
Her dress' exquisite nude-toned bodice captured attention, featuring a plunging neckline and delicate latticework crystals in mesmerizing shades of blue. This bejeweled masterpiece perfectly accentuated Lambert's figure, captivating the eyes of onlookers.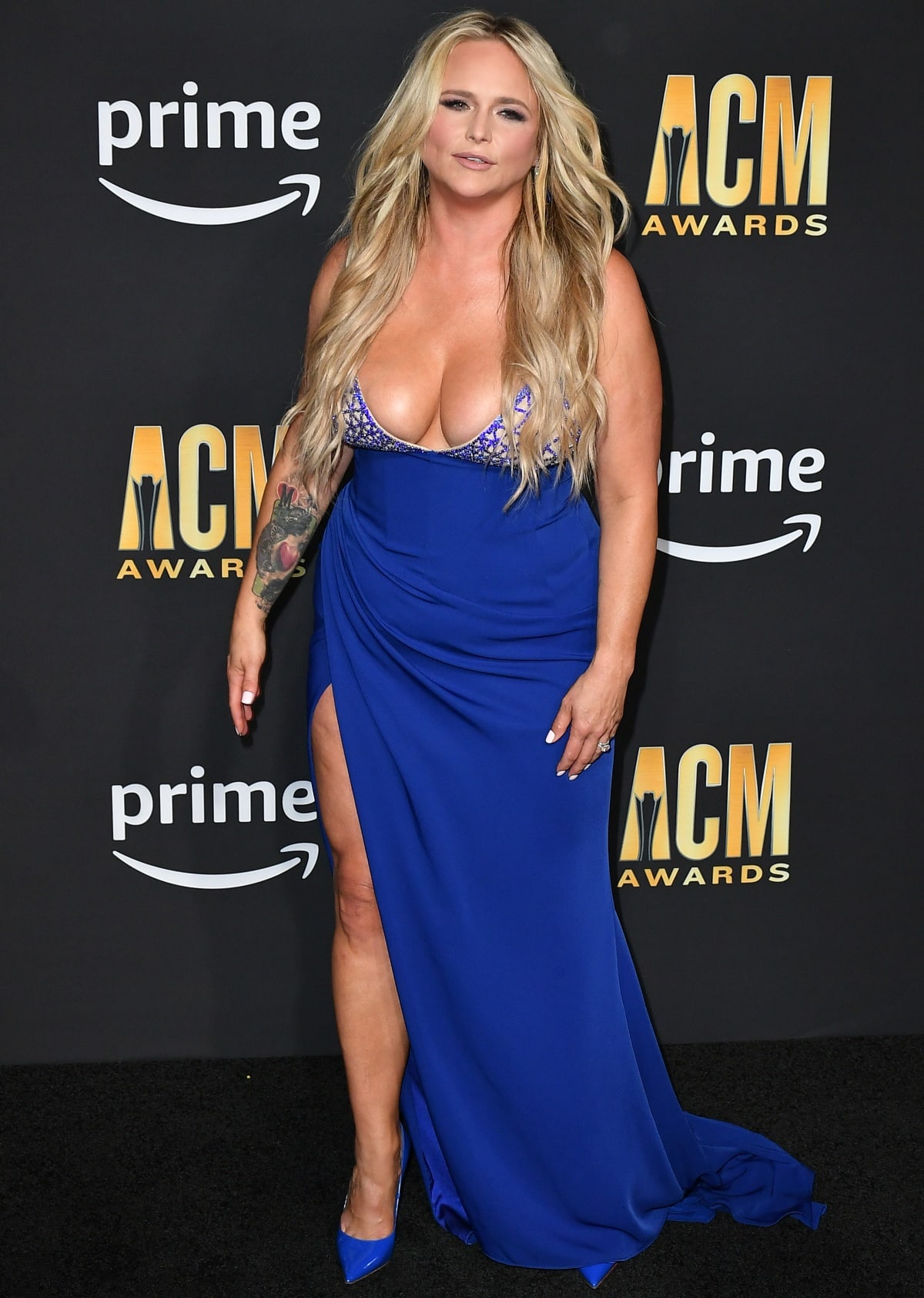 Miranda Lambert oozed confidence in her sparkling cobalt blue sleeveless dress (Credit: imageSPACE / Media Punch / INSTARimages)
To complete her stunning ensemble, Lambert adorned herself with glittering diamond drop earrings that delicately graced her ears and a magnificent silver and blue diamond cocktail ring shimmering on her finger.
Lambert opted for a timeless look with neutral lip color and minimal makeup, accentuating her radiant features. Separating her gorgeous blonde locks in the center, she added dramatic curls that cascaded down her shoulders.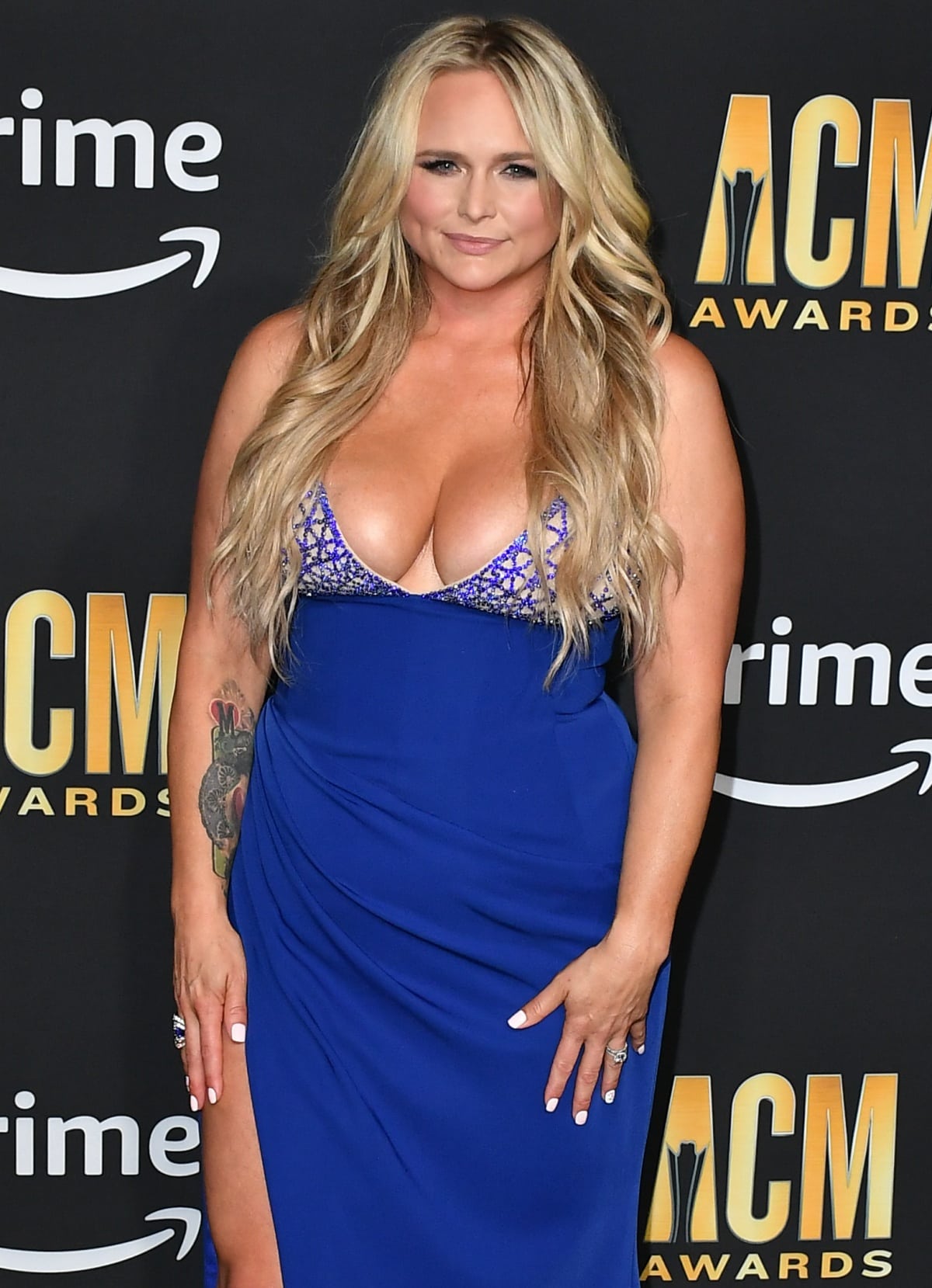 Miranda Lambert opted for soft blonde waves and glittering jewels that matched the tones of her dress (Credit: imageSPACE / Media Punch / INSTARimages)
The stylish singer-songwriter slipped into a pair of edgy pointed-toe pumps by Italian luxury footwear brand Le Silla, creating a monochromatic finish to her outfit.
The glossy cobalt blue patent leather uppers, featuring triangular toes and closed counters, seamlessly integrated with the musician's attire.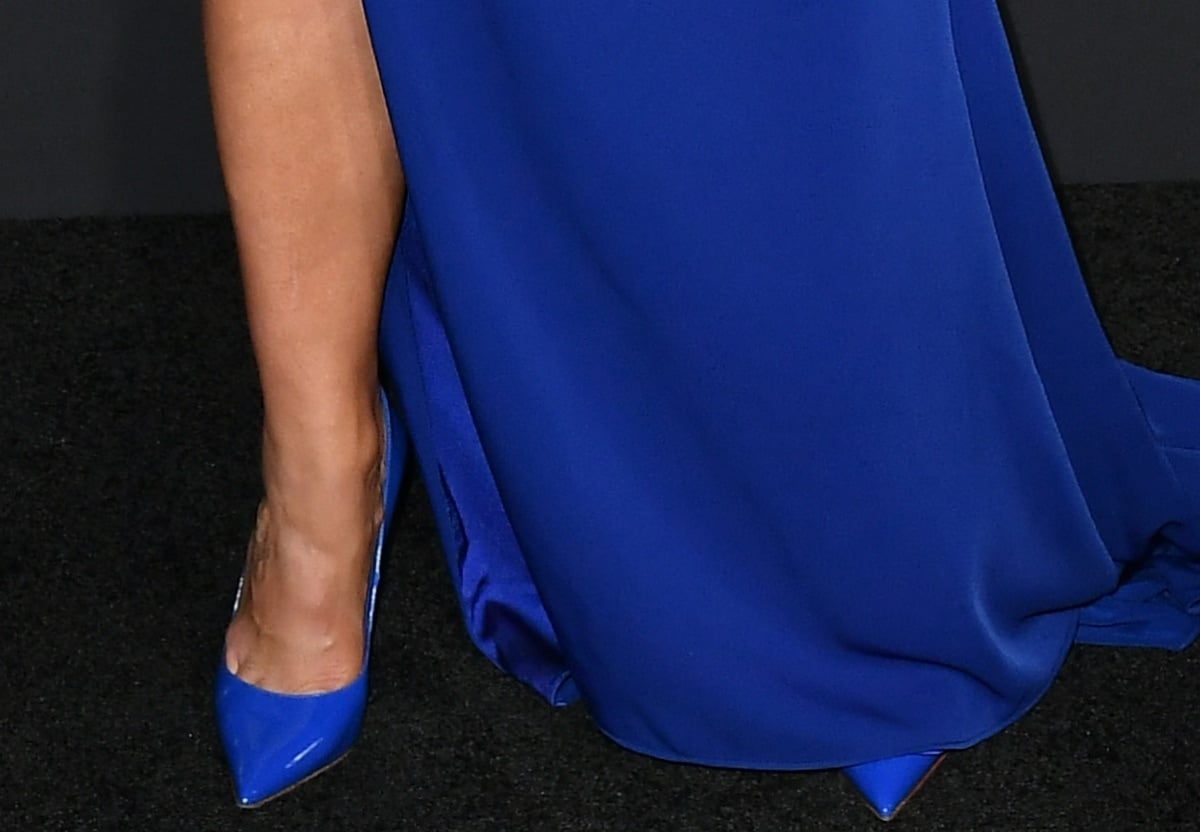 Miranda Lambert slipped on a pair of matching cobalt blue pointy-toe pumps to round out her red carpet look (Credit: imageSPACE / Media Punch / INSTARimages)
Accompanying Lambert, Brendan McLoughlin impeccably matched his wife's stunning appearance.
The 31-year-old former police officer exuded classic charm and sophistication, dressed in a black tuxedo, a velvet jacket, a white collared shirt, a black tie, and polished black dress shoes.
Brendan McLoughlin donned a black suit styled with a crisp white shirt, a black tie, and black dress shoes (Credit: imageSPACE / Media Punch / INSTARimages)
The evening was significant for Miranda Lambert, who solidified her place as the most-awarded musician in ACM Awards history. Having received the coveted Triple Crown Award the previous year, she continued to be a force to be reckoned with.
This year, she was nominated for an astonishing four categories, including Female Artist of the Year for an unprecedented 17th time, surpassing the legendary Reba McEntire's record of 16 nominations.
Additionally, Lambert was nominated for Entertainer of the Year, Album of the Year, and Artist-Songwriter of the Year. Her nominations showcased her extraordinary talent and highlighted her continuous evolution as a trailblazer in the country music industry.
Miranda Lambert holds the record for the most honors received in the Academy of Country Music Awards history (Credit: imageSPACE / Media Punch / INSTARimages)
Lambert's exceptional presence went beyond nominations. She also graced the stage with a mesmerizing performance. Draped in an exquisite floor-length cream tulle ball gown adorned with ruffles, the country music icon captivated the audience.
Against the backdrop of a real carousel, Lambert delivered the first live rendition of her current popular song "Carousel," a soulful creation from her album "Palomino."
Supported by a talented backup band, Lambert skillfully showcased her remarkable storytelling prowess, captivating hearts with every note.
Reflecting on her attendance at the ceremony, Lambert expressed her genuine excitement to be present in person, especially after her previous year's triumph of winning Entertainer of the Year.
With infectious enthusiasm, she told ET Canada, "I didn't really get to celebrate with everybody when I won last year. So, this will be like my 'Yay! Hoorah. Who's gonna get it next?'"
Her 17th nomination for Female Artist of the Year was a powerful motivator for Lambert. She acknowledged that this recognition "lights a fire under my ass to keep going and work harder, reinvent the wheel, and be more creative musically."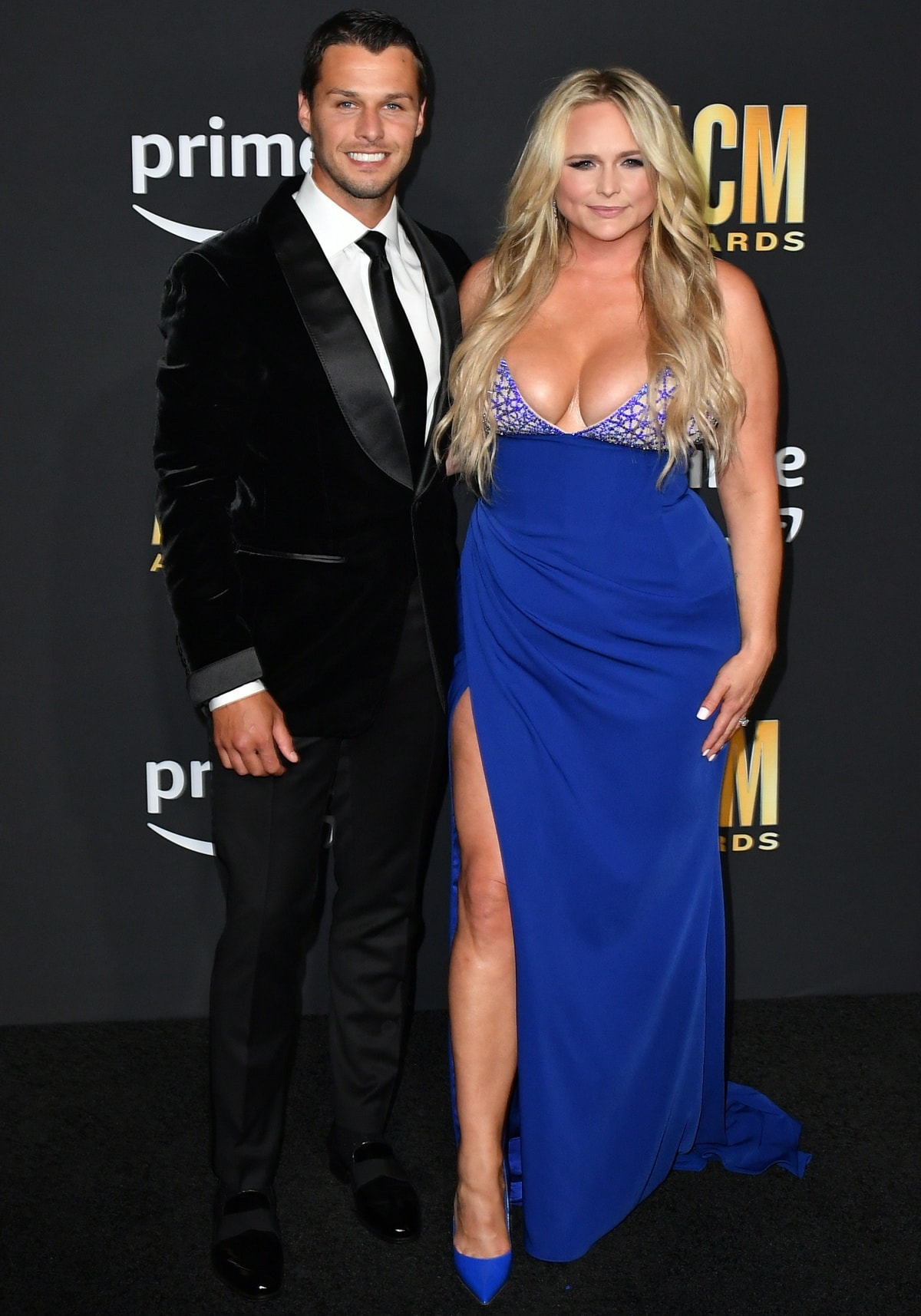 The stunning power couple cozied up to each other as they posed for photographs on the red carpet during the 58th Annual Academy of Country Music Awards (Credit: imageSPACE / Media Punch / INSTARimages)
The support and acknowledgment from her colleagues held immense significance, as Lambert humbly expressed, "Because when your peers vote for you and lift you up, it feels great."
With her unwavering determination and boundless talent, fans can eagerly anticipate Lambert's future endeavors. Assuring her dedicated followers that there is much more to come, she confidently declared, "I'm ready to do more."