Olivia Palermo helped celebrate the start of the Governors Ball Music Festival at its Kick-Off Party hosted by Skyy Vodka in NYC.
Can you see Olivia Palermo attending an outdoor music festival like the Governors Ball? She doesn't seem the type, does she? Or maybe we just associate Olivia Palermo with being a fashionista so much that it's difficult for us to imagine her moshing with music-loving masses.
Anyway, lighter-haired Olivia was her usual stylish self at the party in a sequined drape-front jacket, a belted miniskirt, and flats. She showed off the mixing-and-matching skills she's honed by boldly pairing zebra and snake prints. Crocodile, too, if you count the handbag she's holding!
Olivia Palermo at Skyy Vodka's Kick-Off Party for the Governors Ball Music Festival in New York City on June 6, 2013
Olivia looks great, no doubt, but what we're not sure about is if she's pulling off all those animal prints. She's mixed prints before and is even known for it, but zebra, snakeskin, and crocodile? If they were real, Olivia's outfit would literally be overkill.
What do you say? Is mixing animal prints a do or a don't?
Olivia Palermo used a pair of Stuart Weitzman "Bambina" flats in snake print as the base for her mixed-print party outfit: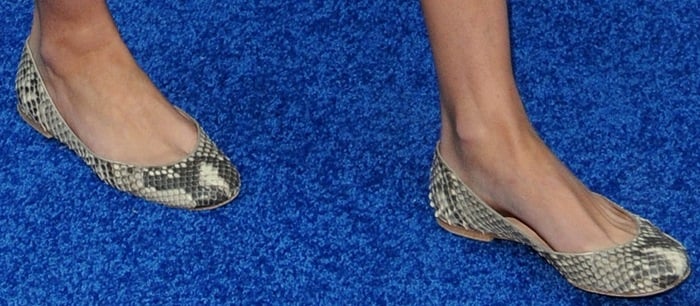 Stuart Weitzman "Bambina" Flats, $148-$395
Credit: Ivan Nikolov/WENN