She's back to dating less than a year after finalizing her divorce from fellow singer Ruston Kelly. The two married in October 2017 before calling it quits in July 2020, saying in a joint statement, "it just simply didn't work."
Last weekend, Kacey Musgraves was pictured holding hands with a new man, identified as writer Cole Schafer, while strolling around Downtown New York.
Her beau looked fresh in his white sweater, light blue camo shorts, and white shoes.
Kacey Musgraves steps out with new boyfriend Cole Schafer in New York City on June 20, 2021 (Credit: Mega / WENN)
The 32-year-old Grammy winner opted for comfort in a blue swirl-printed athleisure that included a coordinating bra top and leggings.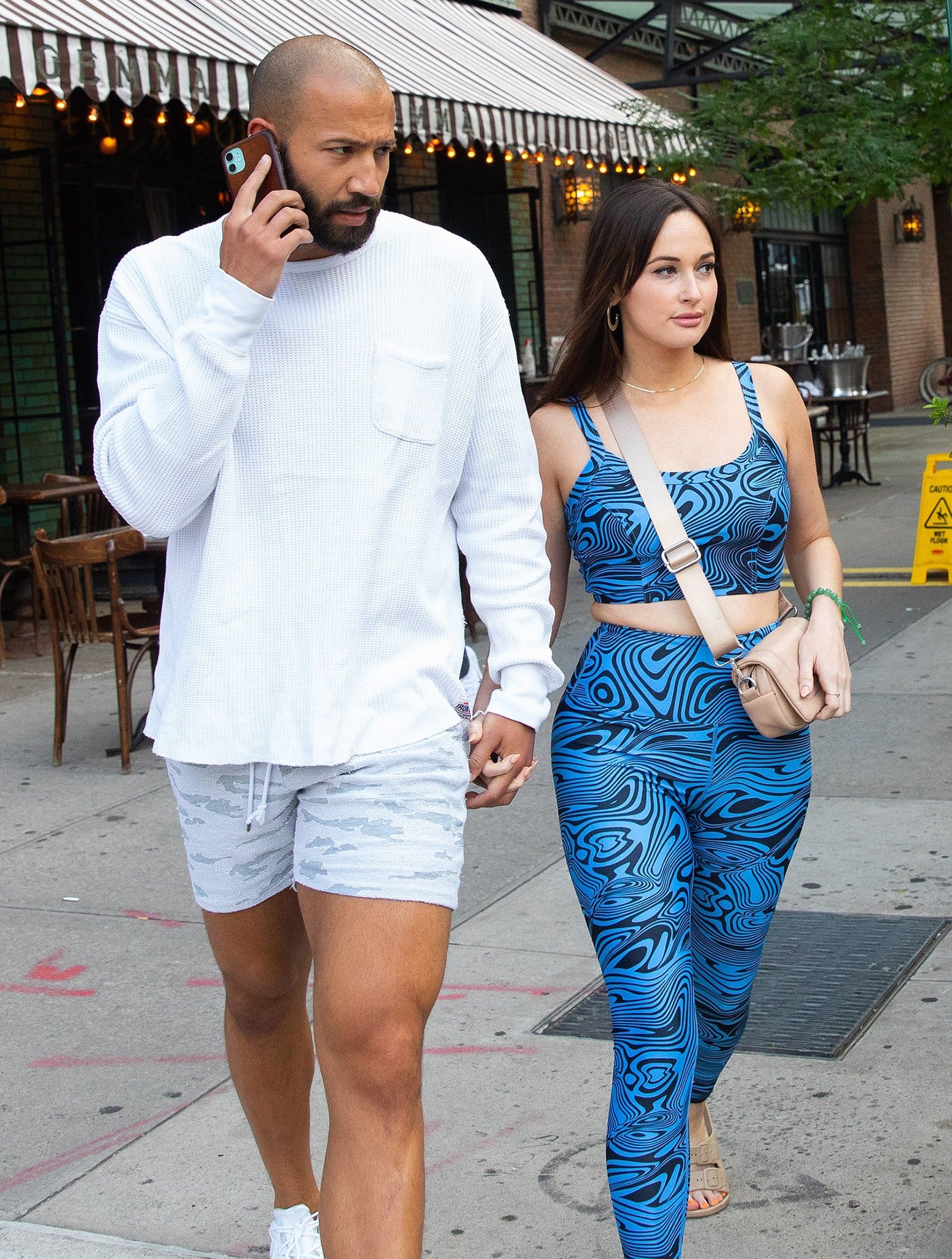 Kacey Musgraves shows off her curves in a blue printed athleisure (Credit: Mega / WENN)
She accessorized with a thick-strapped beige crossbody bag and elevated the sporty look with a gold necklace, a pair of gold hoop earrings, and a green beaded bracelet.
Beauty-wise, she wore her long brunette tresses straight and highlighted her features with winged eyeliner, mascara, and pink lipstick.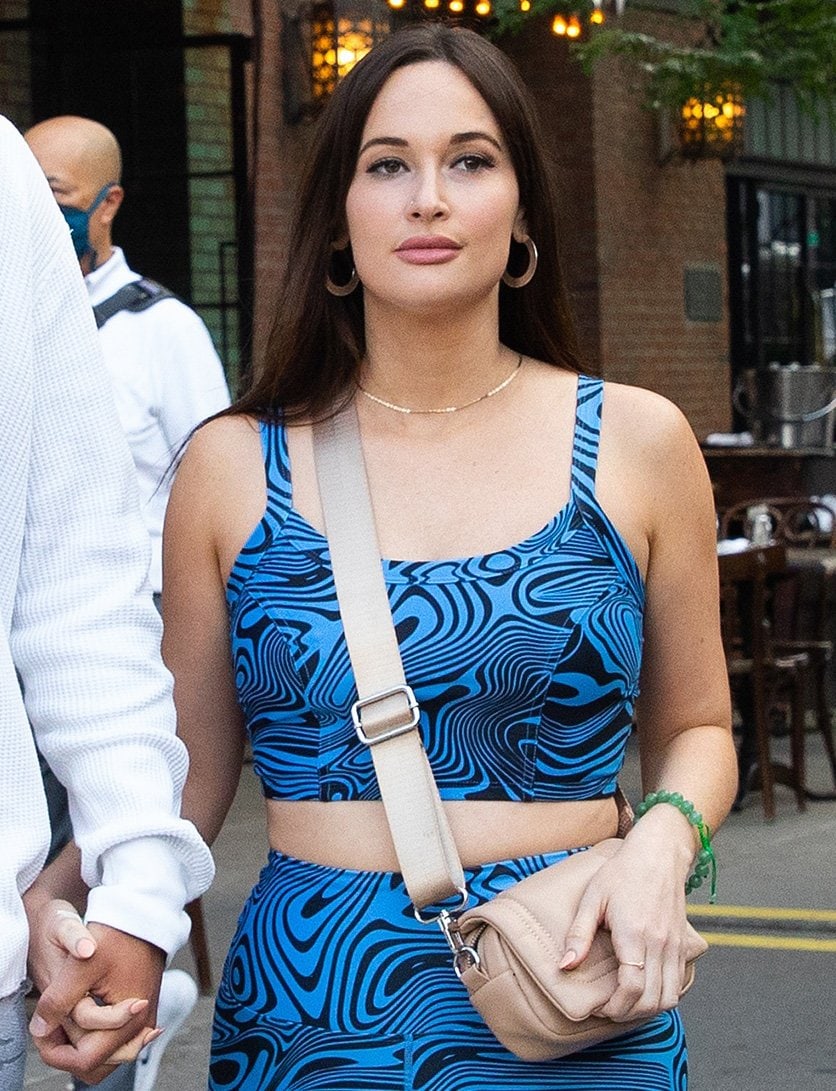 Kacey Musgraves glams up her sporty look with eyeliner and pink lipstick (Credit: Mega / WENN)
Embracing the ugly sandal trend, the Space Cowboy singer slipped into a pair of Freedom Moses sandals in sands color.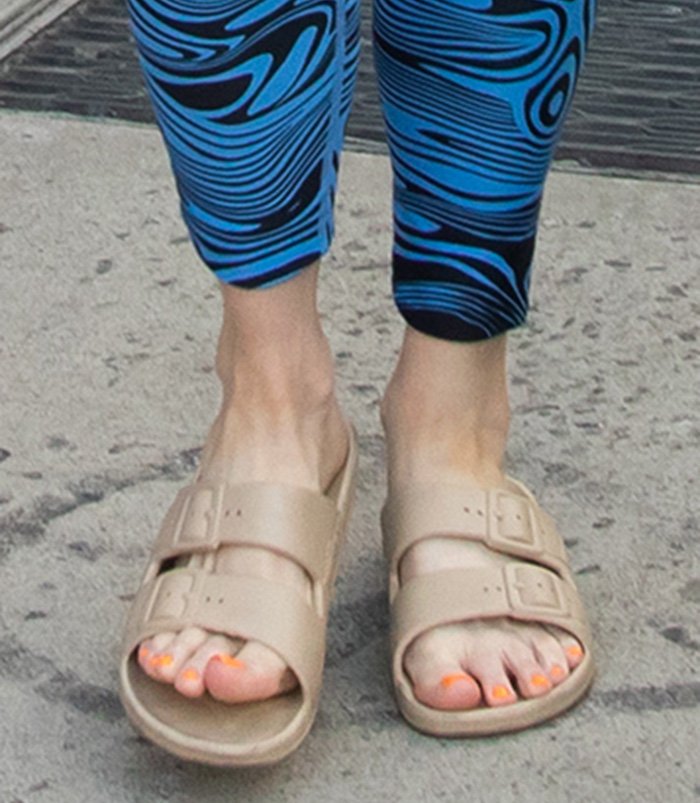 Kacey Musgraves finishes off her comfy outfit with Freedom Moses two-band slides (Credit: Mega / WENN)
These eco-friendly two-strap waterproof sandals feature a sustainable injected PCU with fixed buckles, molded footbed, non-slip soles, and the label's signature milk and honey scent.
Freedom Moses 'Moses' Two Band Slides, $45 at Shopbop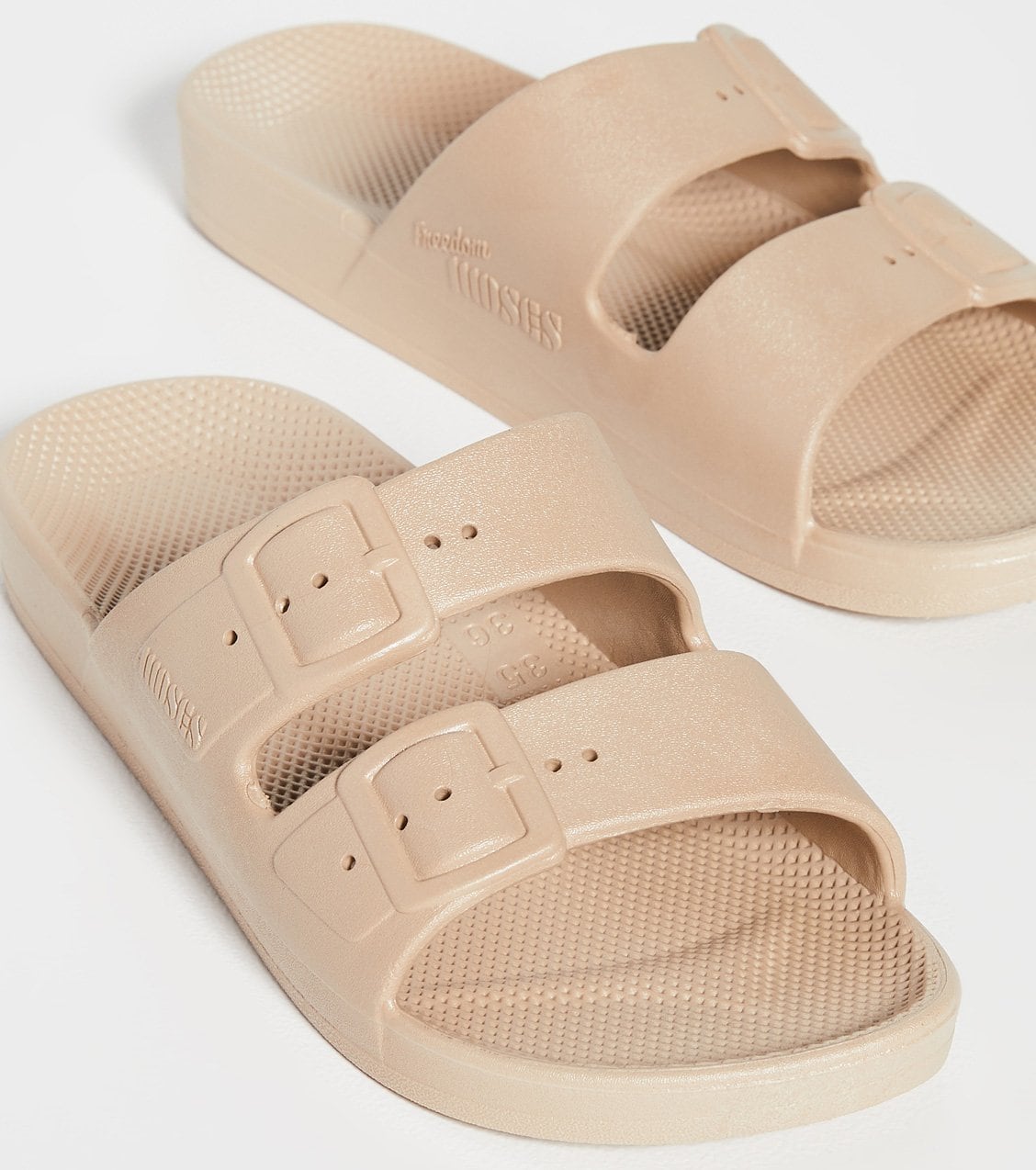 Freedom Moses' Moses slides are vegan and waterproof and have the signature milk and honey scent
Kacey was also spotted wearing the same slides while taking a stroll around NYC with her new beau last week.
This time, she wore them with an easy-breezy number featuring a lightweight leopard-print button-up shirt and coordinating pants.
Kacey Musgraves and Cole Schafer grab a green juice while on a stroll in NYC on June 18, 2021 (Credit: Mega / WENN)
Kacey kept her accessories simple with just a dainty gold necklace, a pair of tortoiseshell-framed sunglasses, and a vintage Louis Vuitton mini bag.
Her new boyfriend dressed down with a purple tee teamed with cargo pants and white sneakers.
Kacey Musgraves teams her Freedom Moses slides with leopard-print co-ordinates (Credit: Mega / WENN)
That same day, Kacey made a quick outfit change as she headed to dinner with Cole.
The High Horse singer looked summer-ready in a white tank top layered underneath a Hawaiian-printed shirt. She then paired the look with daisy dukes that allowed her to showcase her flawless legs and tiny waist.
Kacey Musgraves looks hot in a white tank top and daisy dukes on a dinner date with Cole Schafer on June 18, 2021 (Credit: Mega / WENN)
Adding some glam to her casual dinner date look, Kacey styled with a delicate gold necklace and thick gold hoops.
She carried her essentials in her beige crossbody bag and kept a simple look with neutral makeup.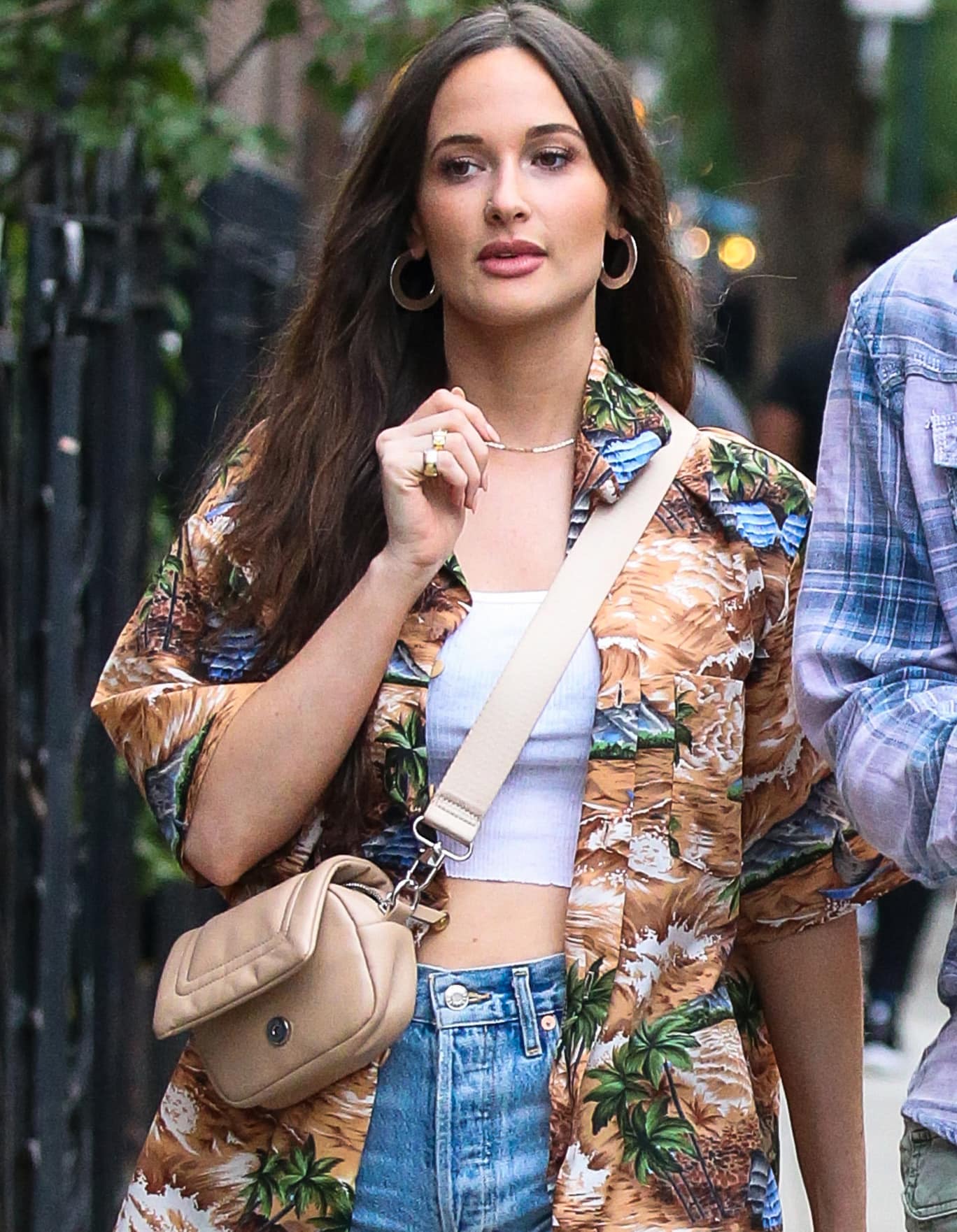 Kacey Musgraves is summer chic in her Hawaiian shirt and loose wavy hairstyle (Credit: Mega / WENN)
A pair of Schutz "Victorie" sandals completed Kacey's chic date outfit. Available at Shopbop and Zappos, they have two thick clear PVC straps, open toes, and cork soles, and block heels.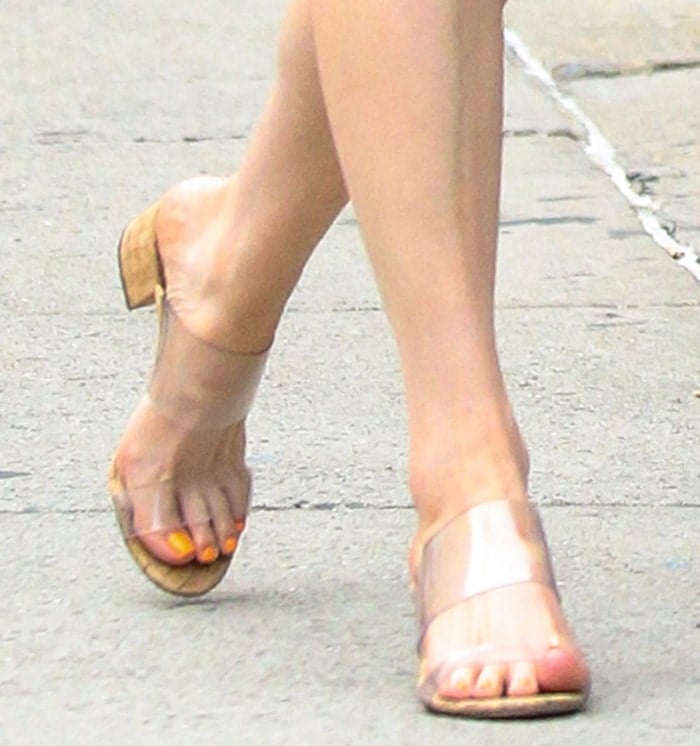 Kacey Musgraves elevates her outfit with Schutz Victorie sandals (Credit: Mega / WENN)
Schutz 'Victorie' Slide Sandal, $118 at Nordstrom
Schutz's Victorie slide sandal features minimalist clear straps with classic block heels in cork material
Cole, meanwhile, also dressed for the warm weather as he teamed an unbuttoned checkered shirt with green cargo cuffed pants and a pair of Birkenstocks.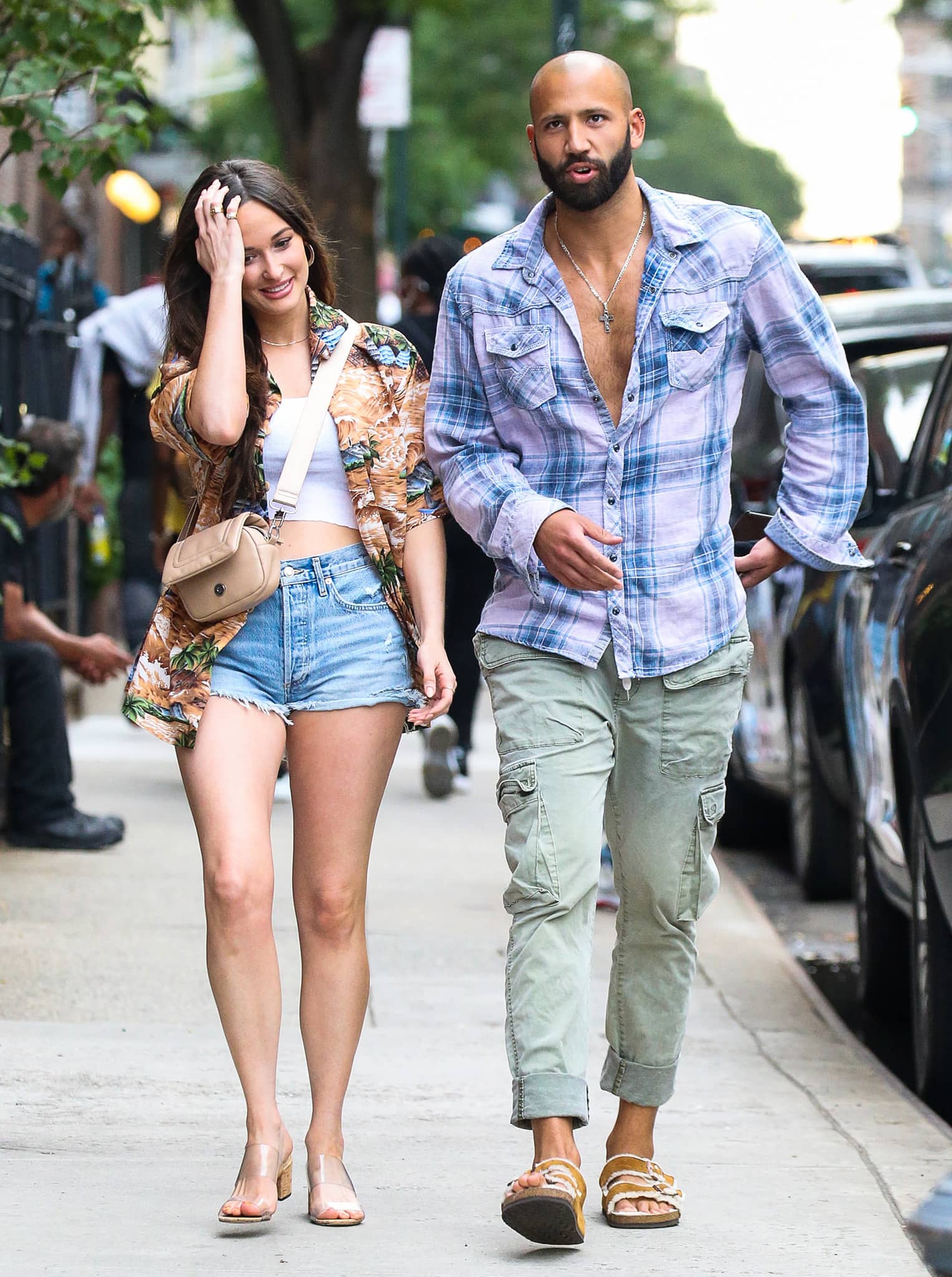 Cole Schafer matches Kacey's summer look with an unbuttoned plaid shirt, green cargo pants, and Birkenstock sandals (Credit: Mega / WENN)
A few days after they were spotted together, Cole Schafer confirmed their relationship on social media.
"I'm trying like hell not to write about her," he wrote along with a PDA polaroid snap of them placed against a handwritten note in the background.
View this post on Instagram
Who Is Cole Schafer?
Little is known about Cole, but according to his website, he is a writer and a marketer.
He opened a creative writing firm called Honey Copy, and he is also moonlighting as a poet under the alias January Black.
He resides in Nashville, Tennessee, and studied at Bellarmine University for a year before transferring to the University of Southern Indiana, where he earned a bachelor's degree in business administration with a concentration in marketing.