Maybe it's because we're comparing Natalie Portman to her "Black Swan" character, but we have always assumed that the actress is the type to arrive at an appointment way ahead of time. While most of the "Jimmy Kimmel Live!" guests arrive at the ABC Studios location fully dressed and ready to go, Natalie arrived quite leisurely in her — dare we say — mommy clothes.
Natalie was spotted arriving for "Jimmy Kimmel Live!" after recently moving her entire family to Los Angeles.
Natalie Portman seen arriving at the ABC studios for "Jimmy Kimmel Live!" in Los Angeles on August 26, 2016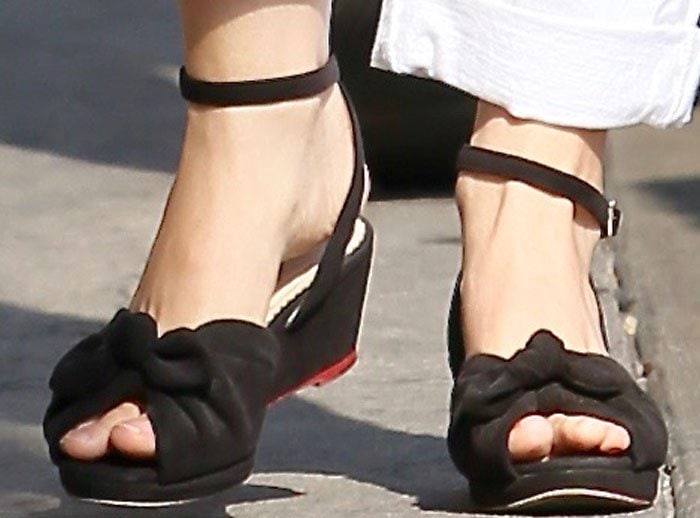 Natalie wears a pair of unreleased Charlotte Olympia bow wedge sandals
The actress wore an ill-fitting black long-sleeved top with a pair of white jeans that did nothing for her figure. The quilted Dior bag and funky speckled sunglasses were the only good parts of this sloppy outfit.
Natalie wore a pair of Charlotte Olympia bow wedge sandals, which we suspect were custom-made since an all-black version was never released.
Natalie left little to be desired with her ill-fitting outfit
As disappointing as her backstage outfit was, Natalie more than made up for it with a plunging sequined number during the actual interview with Jimmy Kimmel.
During the show, Natalie talked about how her five-year-old son has never seen "Star Wars" and will most likely be unable to see "Black Swan" for at least the next couple of years.
Grab the Charlotte Olympia bow wedges in the interesting leopard or acrylic panther versions at Net-A-Porter and 6pm.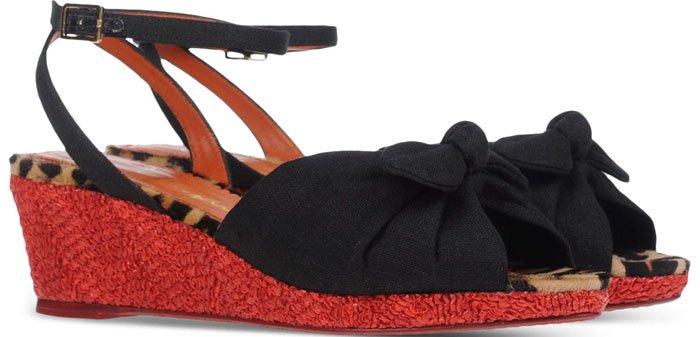 Charlotte Olympia Bow Wedge Sandals, $298 – $462.49 at Net-A-Porter and 6pm
Credit: Michael Wright / WENN