Nancy Pelosi is well-known for two things: politics and designer shoes. She is an American politician and Speaker of the United States House of Representatives.
Born Nancy Patricia D'Alesandro on March 26, 1940, in Baltimore to a big Democratic family with 6 older brothers. Politics came naturally to Nancy as both her parents were involved in the trade since she was a young girl.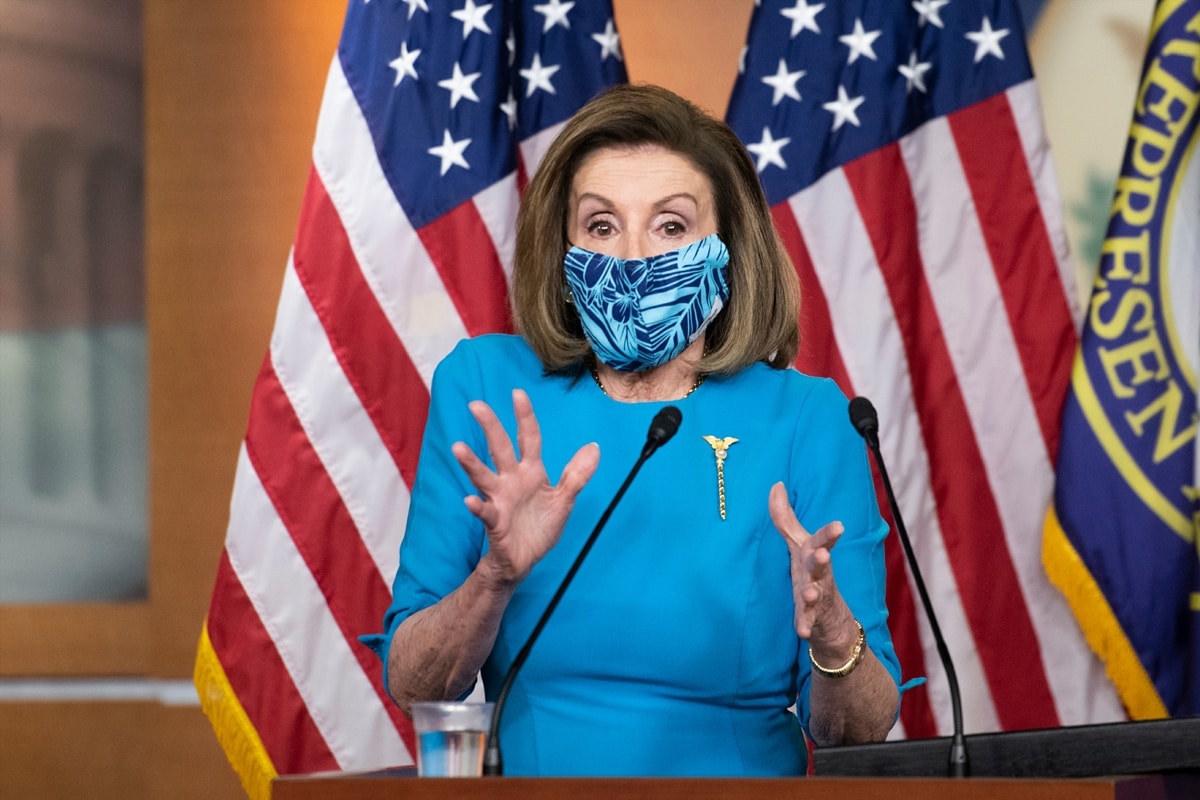 Nancy Pelosi has served as a U.S. Representative from California since 1987 (Credit: Instar / WENN)
Her father was a Democratic congressman and Mayor of Baltimore, and her mother played a big part in organizing Democratic women. One of Pelosi's brothers also became Mayor of Baltimore in the late 60s.
Nancy Pelosi's political career started in California, shortly after moving to San Francisco. She continued to climb the ranks of the Democratic party, exceeding political records and she eventually became the first woman to hold the position of Speaker of the United States House of Representatives in 2007.
Nancy Pelosi attends the 15th Annual Glamour "Women of the Year" Awards at the American Museum of Natural History on November 8, 2004, in New York City (Credit: PNP / WENN)
Throughout her career, she's been credited as a major player in feminist politics and is often called a female power icon.
Her innate ability to deliver a powerful speech and speak up for women's rights has caught the attention of media outlets around the world.
However, her intelligence, determination, and strong speaking ability are not the only things catching the attention of mainstream media; her impressive designer fashion, especially her extensive designer shoe collection, has been the subject of headlines worldwide.
Speaker of the United States House of Representatives Nancy Pelosi wears a face mask while holding a press conference on the introduction of legislation to establish a Commission on Presidential Capacity in Washington on October 9, 2020 (Credit: Instar / WENN)
A trendsetter for years, Nancy continues to have the "Nancy effect" and influence fashion trends in shoes and more recently, face masks.
Speeches and stilettos
In 2018, Nancy Pelosi delivered an empowering 8-hour speech in Washington, DC, as she defended Dreamers and their right to remain in the country.
The speech she gave was the longest-running speech ever delivered in the House of Representatives, and she stood the entire time as she read personal stories from Dreamers.
House Speaker Nancy Pelosi tore a copy of President Donald Trump's State of the Union speech on February 5, 2020 (Credit: Instar / WENN)
Amazing, right? Well, that wasn't what the media was focused on. All this media attention following this marathon speech was focused on the fact that she did it while wearing four-inch stilettos!
Twitter and social media lit up with a picture of Nancy Pelosi at 77 years old, standing in 4-inch heels for 8 hours and 7 minutes!
If you're into shoes, you are probably wondering – what designer? What did the shoes look like? Unfortunately, you couldn't see too much under her long slacks.
Speaker of the United States House of Representatives Nancy Pelosi wears high heels while holding her weekly press conference at the US Capitol in Washington on October 1, 2020 (Credit: Instar / WENN)
That said, many speculated she was wearing Jimmy Choo heels as she has been seen several times frequenting the Jimmy Choo boutique.
Nancy Pelosi has a reputation for having an eye (and love) for expensive, high-end fashion and shoes. She has a taste for designer items and isn't afraid of a pop of color.
With all of these thousand-dollar heels, bags, and scarves, many begin to wonder what Nancy Pelosi's net worth is, to allow her to afford all of these designer items!
Net worth: How she affords her designer shoes
Earlier this year, a few memes went viral on social media, saying that Nancy Pelosi had a net worth of $196,299,990, and insinuating this money was "earned" corruptly. Very controversial, the posts were actually flagged by Facebook for fake news.
The truth is, Nancy Pelosi has done well for herself, but she does not have a net worth of $200 million. Her annual salary as a house speaker is $233,500 – an impressive income to say the least.
That said, Nancy is not the sole breadwinner for her family, as her husband, Paul Pelosi, is a successful investor in real estate and venture capital through his company Financial Leaving Services.
Nancy Pelosi is married to Paul Francis Pelosi Sr., an American businessman who owns and operates Financial Leasing Services, Inc., a San Francisco-based real estate and venture capital investment and consulting firm (Credit: WENN / Instar)
Despite making an impressive income in politics, most of the Pelosi family wealth comes from their investments.
In 2018, a financial disclosure form showed a vast list of profitable investments, including impressive stock holdings in Walt Disney Co, Apple, Visa, and Facebook, as well as various real estate and partnership investments.
According to the disclosure form and listed assets and liabilities, Nancy Pelosi and her husband have a net worth between $34 and $160 million.
A broad range but does explain the designer wardrobe! Other reports estimate her net worth to be just over $100 million, and she is said to be the 6th richest member of the House of Parliament.
Paul Pelosi and Nancy Pelosi (née D'Alesandro) were married on September 7, 1963, in Baltimore, Maryland, at the Cathedral of Mary Our Queen (Credit: Ivan Nikolov / WENN)
Nancy and her husband also own a multi-million-dollar home and vineyard in Napa Valley, California, that also brings in income through the sale of grapes, as well as a mansion in San Francisco and a condo in Washington, DC.
This multi-millionaire status has caused some to question her ability to really understand "the people" with the opposition accusing her of being a "limousine liberal" – too rich to understand the working class's hardships.
Despite harsh judgments and accusations, Nancy Pelosi receives a lot of praise for her work and fashion.
A flare of fashion
Let's be honest, house speakers are not typically known for their fashion. The house is usually full of dull suits, so the drab background really allows Nancy's fashion to pop!
Congresswoman Nancy Pelosi, her husband Paul Pelosi, and their grandchildren Paul Vos (front L) and Thomas Vos (front R) attend the New York premiere of the HBO documentary Fall to Grace at Time Warner Center Screening Room on March 21, 2013, in New York City (Credit: Michael Carpenter / WENN)
She is not shy of color and a diverse color palette. We would love to get a good look at Nancy's shoe closet!
The octogenarian politician tends to match the color of her beloved power pumps with her outfit, like her magenta pantsuit with hot-pink pumps or lavender pants and jacket with plum suede heels.
She is said to have a pair of lavender pumps that she considers her lucky shoes that she wears at key times, a pair she wore for the passing of Obama's health care law. Nancy Pelosi's fashion style tends to be classic and structured, accessorizing with a broach or silk scarf.
Paul Pelosi and Nancy Pelosi attend the Pre-GRAMMY Gala and GRAMMY Salute to Industry Icons Honoring Sean "Diddy" Combs on January 25, 2020, in Beverly Hills, California (Credit: Avalon / WENN)
Being in the spotlight throughout her political career, Nancy Pelosi has been subjected to her share of paparazzi. In 2016 there was a bit of a media frenzy when Nancy took a chauffeured ride, complete with security and flashing lights, to a high-end shoe boutique.
The boutique called Footcandy, located in St. Helena sells shoes worth thousands of dollars to celebrities like Oprah and Victoria Beckham. Nancy Pelosi is said to be a fan of Manolo Blahnik and Jimmy Choo, two brands carried at the boutique.
Despite these appearances, in an interview with Harpers Bazaar, Nancy had said that she actually doesn't like to shop and is embarrassed when too much attention is placed on her clothing.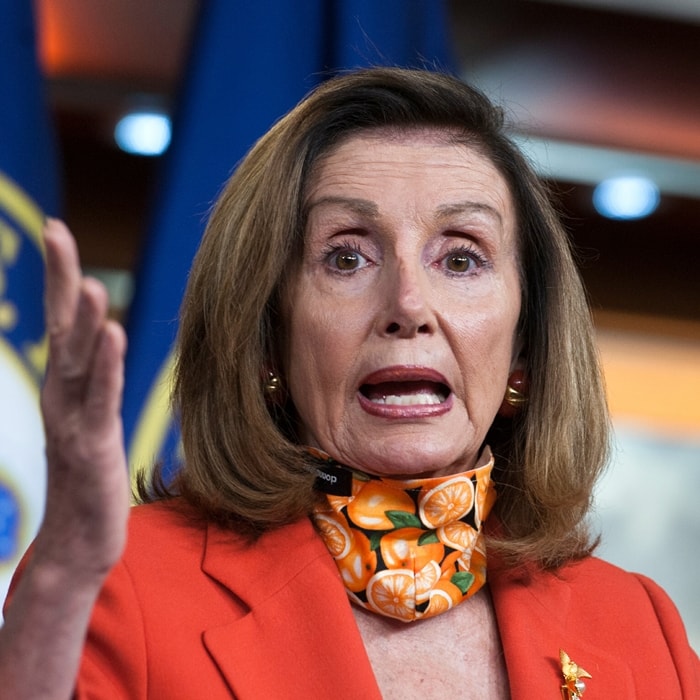 Nancy Pelosi wears an orange print scarf with a red jacket (Credit: WENN / Instar)
She said that she is quite spontaneous when she picks out clothes in the morning, looking for what's clean and what she feels like that day.
In fact, she does a lot of her shopping online and says that due to her upbringing with 6 older brothers, she would rather talk about sports than fashion.
The "Nancy Effect"
Where does Nany Pelosi get her masks has become a popular search term on the internet these days. Nancy's fashion is once again getting attention and her love for color is evident with her latest fashion accessory – face masks.
Over the past couple of months, Nancy has been featured in countless fashion magazines, news outlets, and blogs discussing the face masks Nancy is coordinating with her outfits.
It's caused what some are calling the "Nancy Effect" – everyone is rushing to buy what Nancy Pelosi is wearing, and the retailer can't keep up with demand!
Nancy Pelosi buys her face masks from Donna Lewis, a small boutique in Alexandria, Virginia (Credit: Instar / WENN)
Nancy is said to get her masks from a small online retailer located in Alexandria, Virginia called Donna Lewis.
The website has now crashed several times since word got out about Nancy's masks and they've received 2000 orders and an additional 2000 more requests for masks. In this political climate, Nancy Pelosi's face masks are both a political and fashion statement.
Nancy Pelosi is still a very active member of parliament and, with Covid-19 and the upcoming election, she is in the media, front and center, more than ever. Consequently, opposing views have continued to jabs at her appearance, diminishing her accomplishments and intelligence with superficial remarks about her shopping or getting Botox.
Nancy maintains a positive attitude and says there are only negative remarks like this because she is effective. If she wasn't effective, they wouldn't be bothered.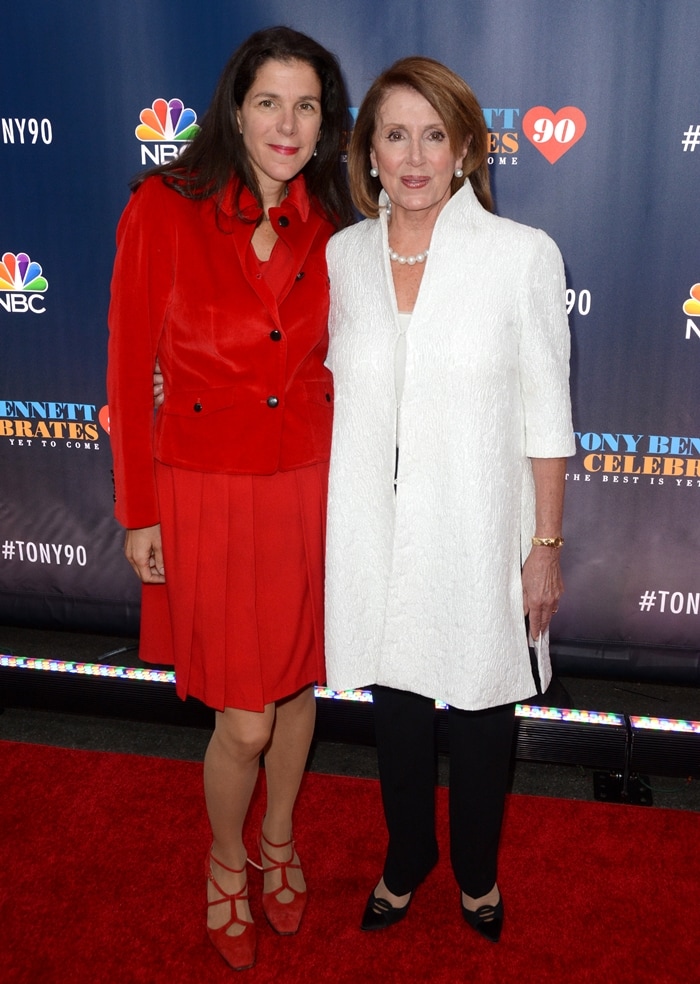 Nancy Pelosi posing with one of her five children, American journalist, documentary filmmaker, and writer Alexandra Pelosi (Credit: Ivan Nikolov / WENN)
Despite this negative attention and with her positive outlook, Nancy Pelosi continues to show up with her 4-inch stilettos and brightly colored power pumps.
As a mother to 5 and grandmother to 9, Pelosi's family is well aware of her fashion icon status.
Her daughter Alexandra is still surprised that her mother has no personal staff to help – no hairdresser, makeup artist, or stylist. Nancy's look is 100% her own, and she deserves all the credit!