Baseball caps became the unexpected star of the MET Gala. Along with Kylie Jenner, Nicki Minaj was another celebrity who added a baseball cap to their look.
Burberry's Riccardo Tisci created her all-black look with a figure-hugging strapless jumpsuit made in leather. Its busty silhouette was made even more dramatic with feathers and an oversized gold belt buckle.
Nicki Minaj wears an all-black figure-hugging Burberry outfit at the 2022 Met Gala (Credit: ABACA / INSTARimages)
Known for her risk-taking red-carpet style, the rich rapper narrowly avoided a wardrobe malfunction on the Met Gala red carpet as her big boobs almost burst out of her gown.
"The only unplanned thing about my look is that my boobs [are] popping out," she told Vogue's red-carpet host La La Anthony. "They made my cup size a little small," she explained.
La La joked that it was designed for Nicki before she got pregnant with her first child, whom she welcomed in September 2020. Nicki agreed and jokingly said, "Enjoy these titties because you won't ever see them again."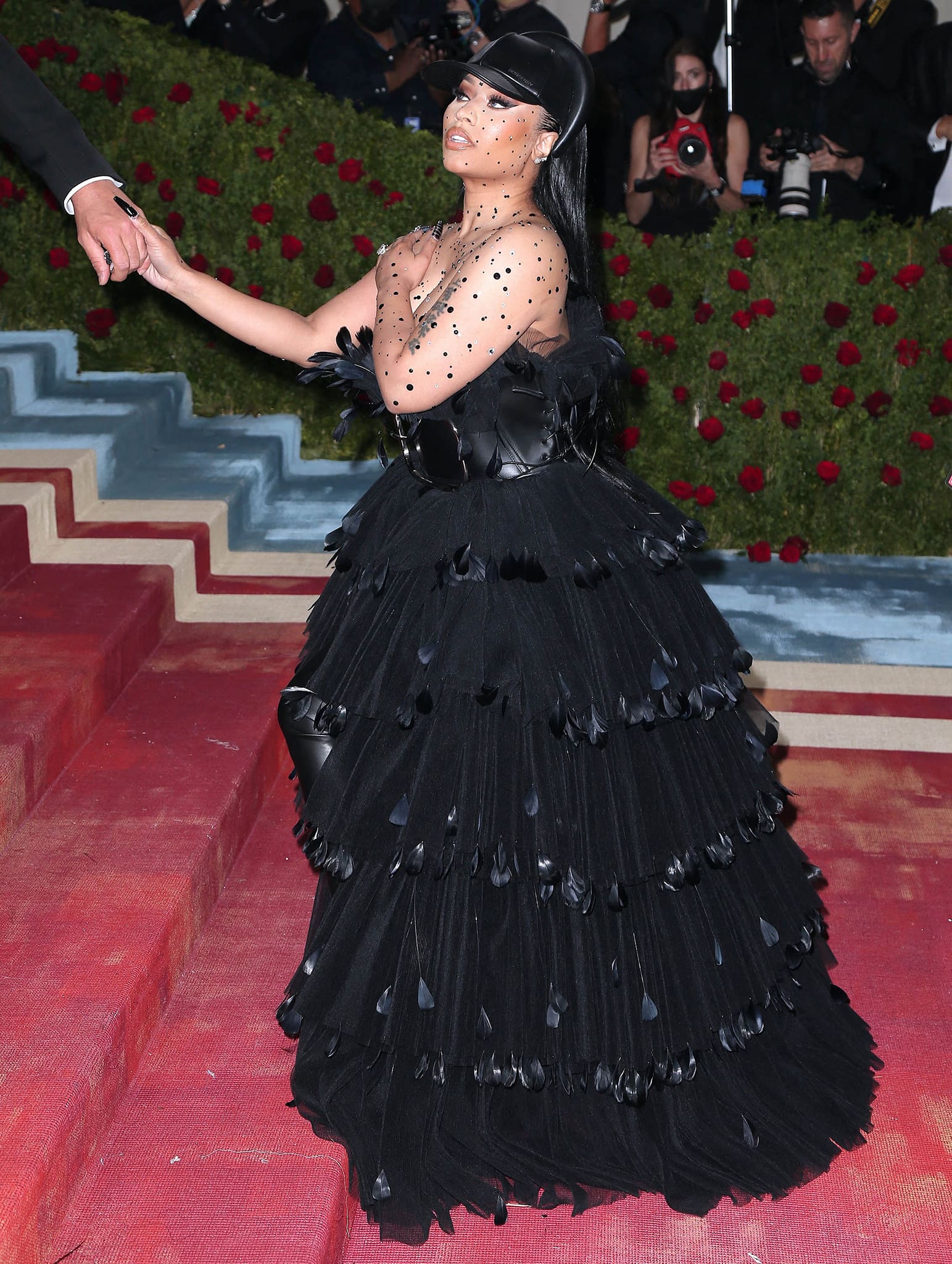 Nicki Minaj narrowly avoids a wardrobe malfunction as Burberry made the cup size of her outfit a little small (Credit: ABACA / INSTARimages)
The wealthy rapper kept her cool and walked up the Grand Staircase, making several stops to adjust the top of her dress.
Her Burberry outfit was covered in feathers and featured a multitiered skirt. Underneath was a pair of skintight leather pants that matched her headpiece, which was a baseball cap and headband hybrid.
Her look was fully immersive with black paint drop-like jewels added to her neck and arms for an iconic 'black swan' inspired look.
Nicki Minaj has tiny black jewels added to her neck and arms for a Black Swan inspired look (Credit: Jennifer Graylock / INSTARimages)
She slipped into a pair of platform black leather boots for a seamless finish.
The Starships singer let her raven tresses cascade down her back while her features were defined with glittery bronzed eyeshadow, thick cat eyeliner, peachy blush, and matching lip color. She credited Pat McGrath and her team for her Met Gala beauty look.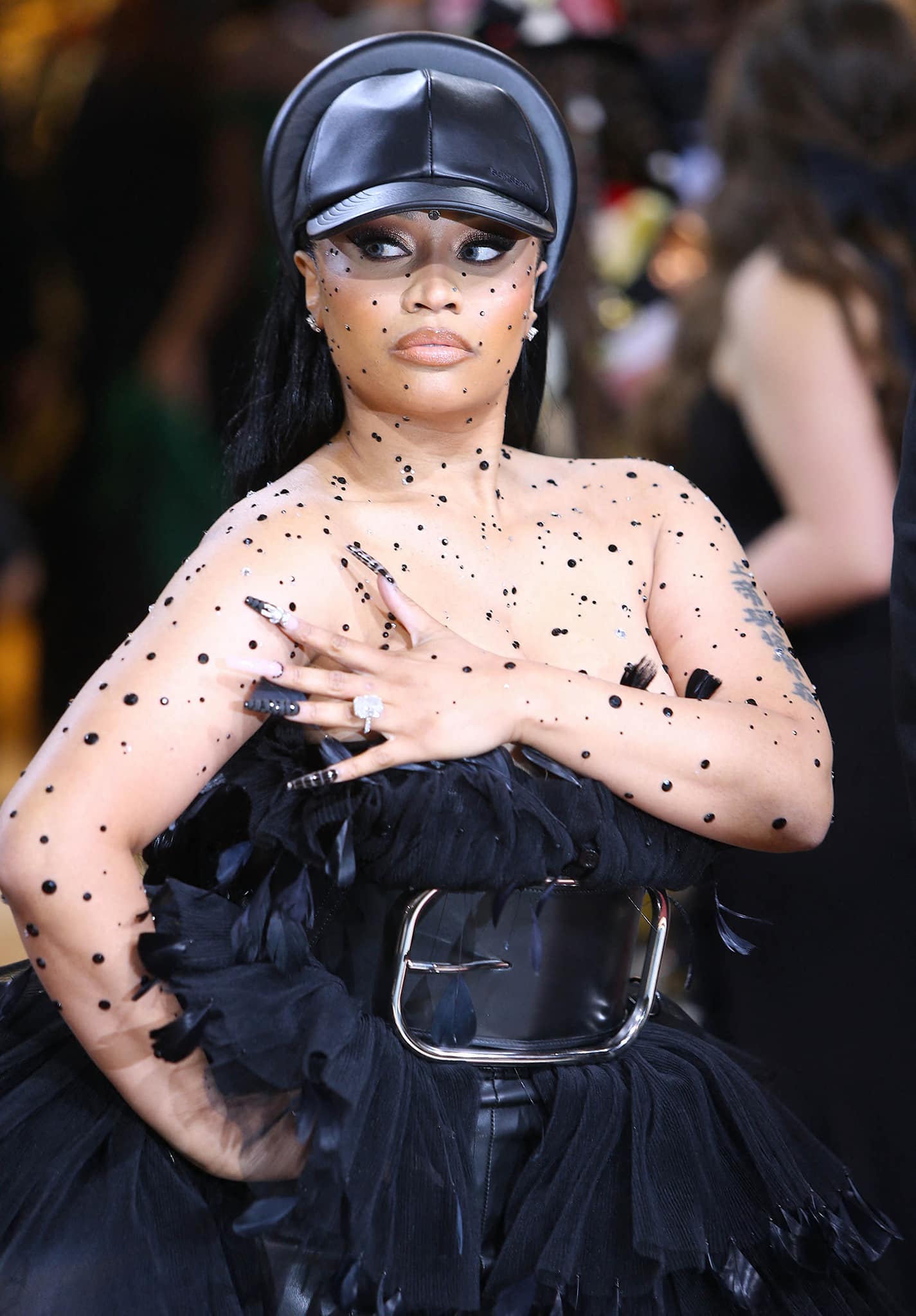 Nicki Minaj teams her outfit with a leather baseball cap and wears bronze smokey eyeshadow, thick winged eyeliner, peachy blush, and matching lipstick (Credit: ABACA / INSTARimages)
Kenneth Petty's wife was joined on the red carpet by Burberry's chief creative officer Riccardo Tisci, who wore a classic tuxedo outfit.
"I'm here with my baby, Ricardo," she said. "I love Ricardo, that's really my friend. So I'm here supporting him, that's all. But I love the hat."
"I'm obsessed with the hat," she added. "I didn't wanna do the look if I couldn't do the hat. So, he let me wear the hat."
Nicki Minaj was joined on the red carpet by Burberry chief creative officer Riccardo Tisci (Credit: JOHN NACION / startraksphoto)