Alicia Keys gave us a throwback moment to her hit single, 'Empire State of Mind' at the Met Gala.
The singer's outfit paid tribute to her home city with a stunning cape that incorporated a bedazzled New York City skyline.
The cape, designed by Ralph Lauren, was worn over a strapless silver embellished gown. Its asymmetrical neckline added a dramatic twist.
Alicia Keys honors her home city in a Ralph Lauren cape, designed with bedazzled New York City skyline at the 2022 Met Gala (Credit: PA IMAGES / INSTARimages)
As per Ralph Lauren, Alicia's gown celebrated this year's theme, "America's Gilded Age and its influence on New York City."
From 1870 to 1900, fashion became more extravagant, reflecting the time's prosperity and economic growth. Women dressed in layers and corset was considered standard garment.
The If I Ain't Got You hitmaker's duchess satin cape was hand-embroidered and hand-beaded with 200,000 crystals, while her column gown featured about 30,000 crystals and black lacquer sequins.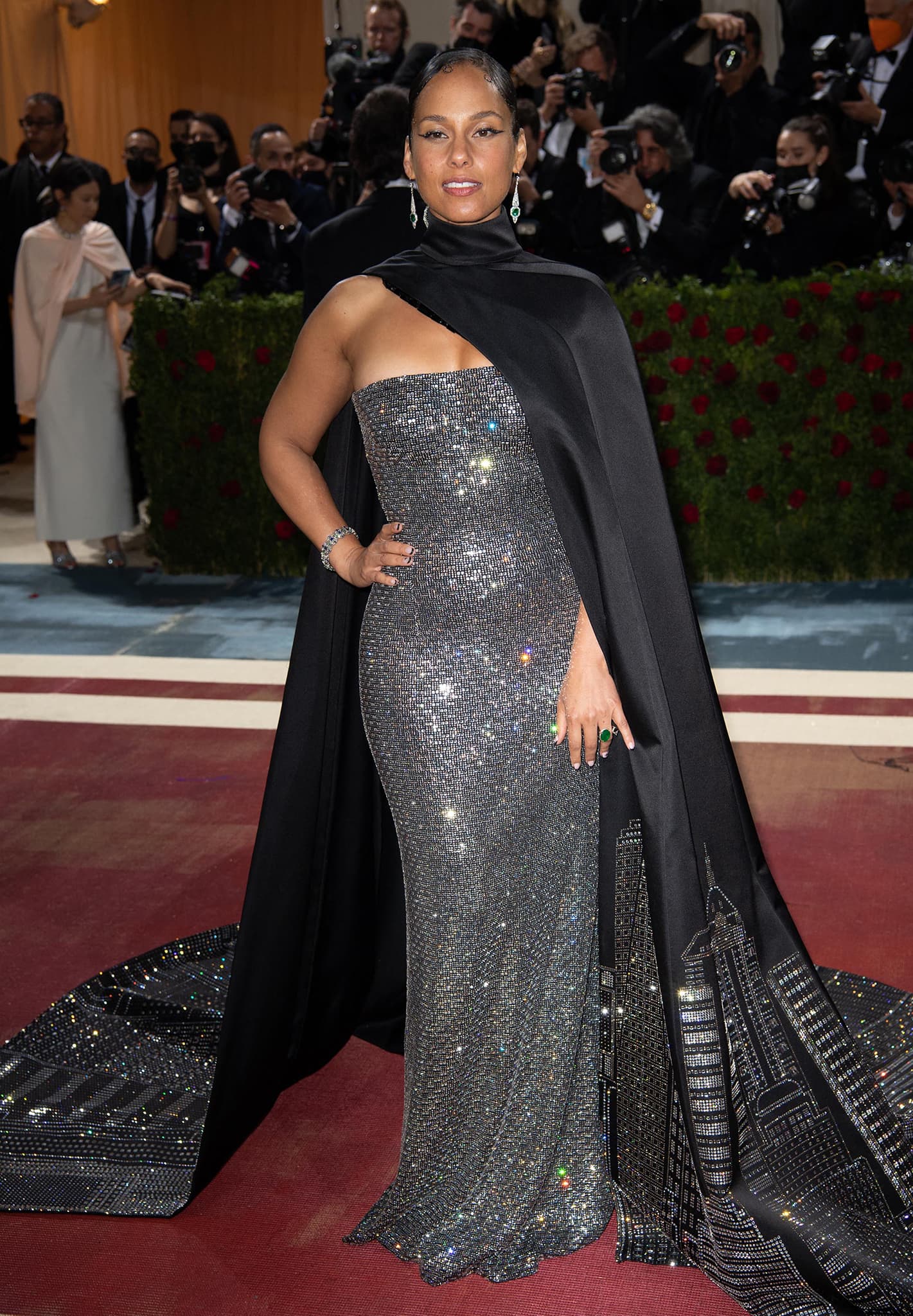 Alicia Keys wears a crystal-embellished column gown underneath her New York City cape (Credit: ABACA / INSTARimages)
During her red carpet interview with Vanity Fair, Alicia said of her outfit from the iconic American fashion designer: "I'm from New York, Ralph Lauren is from New York, that's what we're wearing. We really just wanted to represent the empire state of mind and the city of God here tonight, so we're feeling so good."
The 41-year-old singer wore her hair in a sleek braid accented with crystal-encrusted discs and a hair tie, styled by Fesa Nu.
She then accessorized with crystal and emerald drop earrings, bracelet, and ring, which added an extra touch of sparkle to her look.
Alicia Keys wears a long braided ponytail with crystal-encrusted discs and enhances her features with makeup from her new cosmetics collection Color Care (Credit: Janet Mayer / Startraksphoto)
Alicia debuted her new cosmetics collection, Color Care, under her beauty brand Keys Soulcare at the fashion event.
She used her new makeup products to create a muted look, highlighting her features with winged eyeliner, Sheer Flush cheek tint, and Soft Stay brow gel.
Keys took to the MET Gala's red carpet with her husband, Swizz Beatz, who continued the New York-inspired theme.
He layered a Ralph Lauren New York Yankees leather jacket over a white tuxedo suit and paired the look with black trousers and a New Era cap.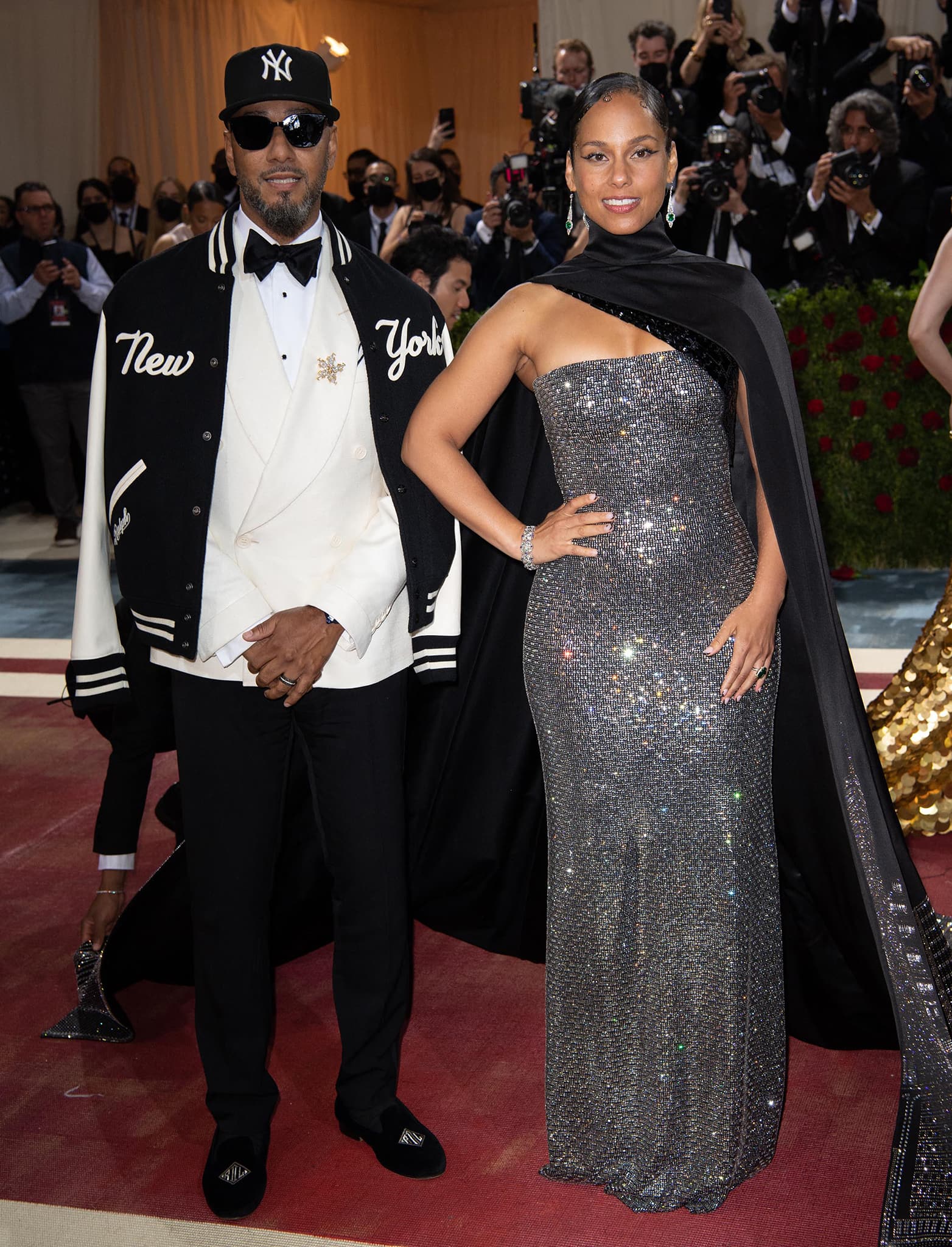 Alicia Keys' husband Swizz Beatz continues the New York City theme with Ralph Lauren NY Yankees leather jacket (Credit: ABACA / INSTARimages)
Following the gala, Ralph Lauren was called out for copying Datuk Zang Toi's NY cape.
The American designer's cape resembled the Malaysian designer's black and white cape, featuring the same New York City skyline, which he debuted in his Spring 2009 collection and later brought back for the New York Fashion Week in 2020.
Ralph Lauren accused of copying Malaysian designer Zang Toi's NY cape (Credit: Shana Schnur / Shutterstock)
"My cape was inspired by my love for my adopted home, New York City," Zang told NY Post.
"I came here 41 years ago with $300 to study at Parsons School of Design, and I wanted to show my love and appreciation for the city that embraced me — and allowed me to live the American Dream."
"I decided to bring the iconic hand-beaded New York skyline cape out of the archive — timeless beauty never goes out of style — to pay tribute to my favorite city at my 2020 'New York, New York' runway show," he added.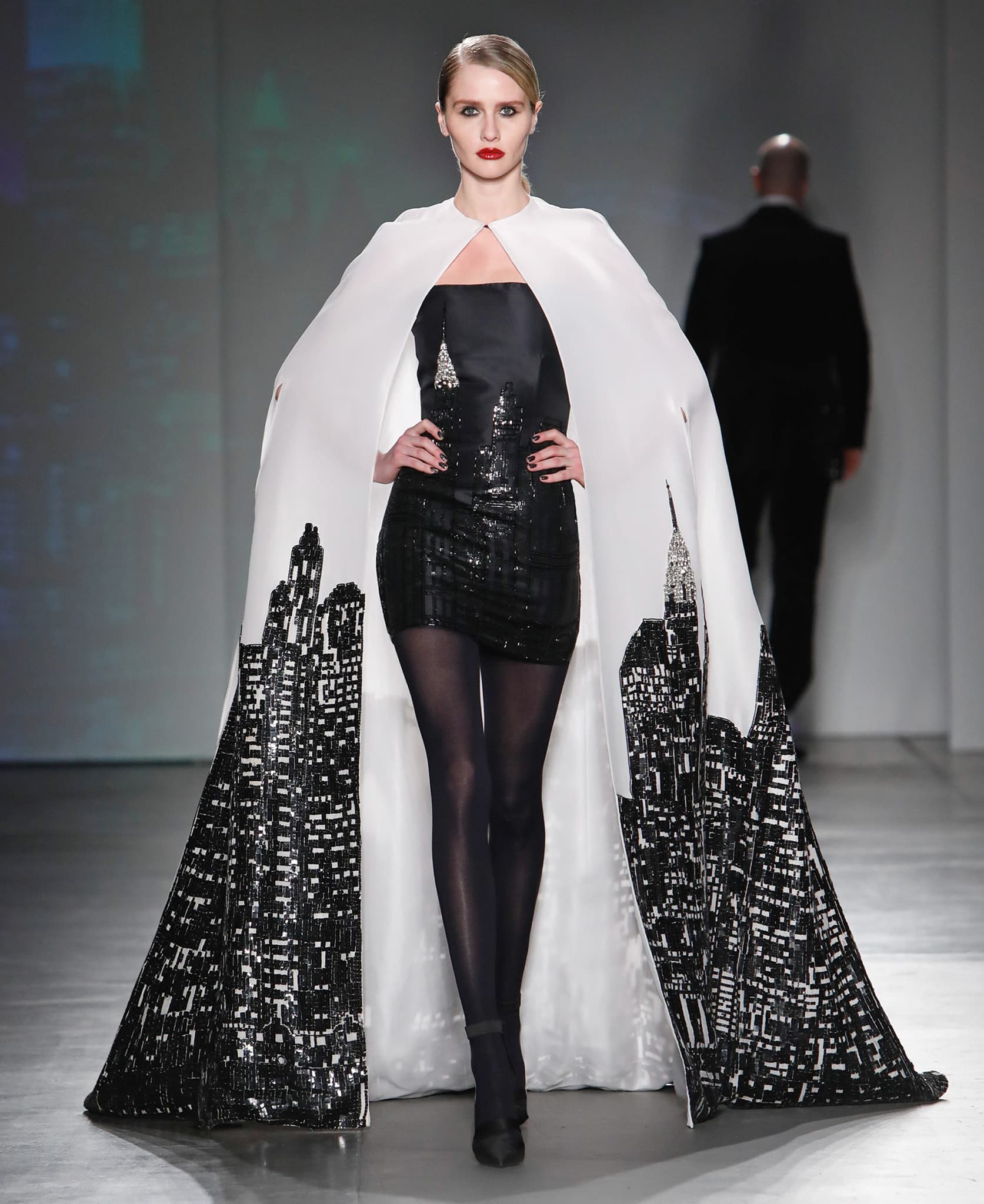 Zang Toi debuted his New York City skyline cape in 2009 and showcased it again at the 2020 New York Fashion Week (Credit: Zang Toi)
In response to the copying claims, Toi called it a form of flattery. "That a giant brand name company such as Ralph Lauren would copy a small-town boy from Malaysia is a high form of flattery. It is proof that you are good at your craft when someone copies your work," Toi told The Star.
He then added, "There is a fine line between being inspired by another designer and outright copying where everyone noticed it immediately."