Nicki Minaj took over Home Shopping Network on Thursday last week to launch her new limited edition fragrance, Minajesty Exotic Edition, which is exclusively available at HSN. She appeared on the show at midnight, at noon, and in the evening of the same day and was able to sell "a little less than 25 thousand bottles" of her perfume. Congrats, Nicki!
For her promotional appearances, the 31-year-old rapper didn't shy away from flaunting her curves. She wore three gorgeous fitted dresses — two of which displayed a generous amount of cleavage — and different pairs of stunning heels.
The "Pills N Potions" singer first donned a Fausto Puglisi dress featuring a ribbed bodice in light blue, a V neckline, and a fitted black skirt. She styled the dress with jewelry by Tom Ford and Michael Kors, including a logo-plaque hinge bangle. Her raven tresses were curled, while her makeup was done in a natural palette.
Providing edge to her look were the Versace "Medusa" sandals featuring gold chain ankle straps with buckle fastenings and golden stiletto heels that are about 4.7 inches.
Nicki Minaj wearing a Fausto Puglisi dress and Versace heels – posted on Instagram on July 11, 2014
We couldn't find the Versace sandals in black/gold, but here's a version with silver chain ankle straps from Farfetch:
Versace "Medusa" Sandals, $1,131.54
For her second outfit, BET's five-time best hip-hop artist chose a very feminine cream dress that is also very daring for showing off plenty of décolletage. She accessorized with a selection of golden jewelry and added color to the ensemble with a pink lip shade and pink nails. She styled her hair in loose waves.
Nicki completed her outfit with metallic gold sandals that feature peep toes and ankle cuffs. Can you ID them?
Nicki Minaj wearing a cream dress and gold heels – posted on Instagram on July 12, 2014
Nicki Minaj also shared a few Instagram photos of her last attire during her guesting on HSN. Wearing the same makeup and wavy tresses, the "Starships" songstress wore a black ensemble that included a chic fringed LBD by Haute Hippie.
A pair of black Giuseppe Zanotti suede sandals with gold leaf details and crystal embellishments completed her sultry look.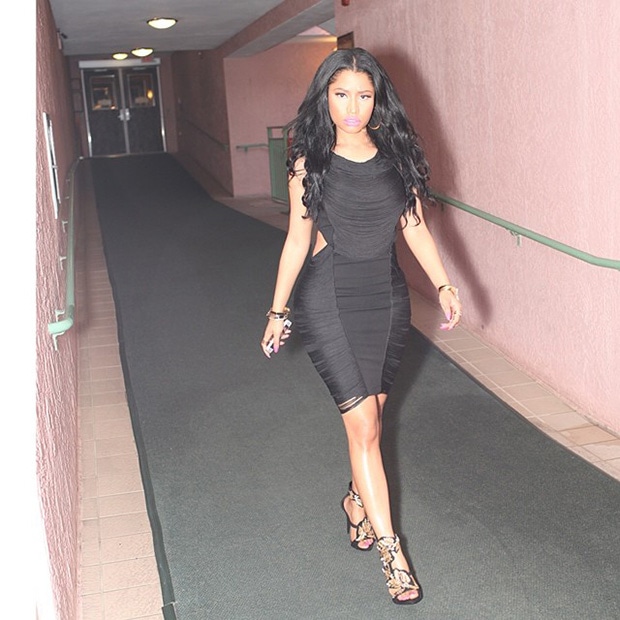 Nicki Minaj wearing a Haute Hippie dress and Giuseppe Zanotti heels – posted on Instagram on July 13, 2014
These Giuseppe Zanotti sandals cost a whopping $2,250 at Bergdorf Goodman.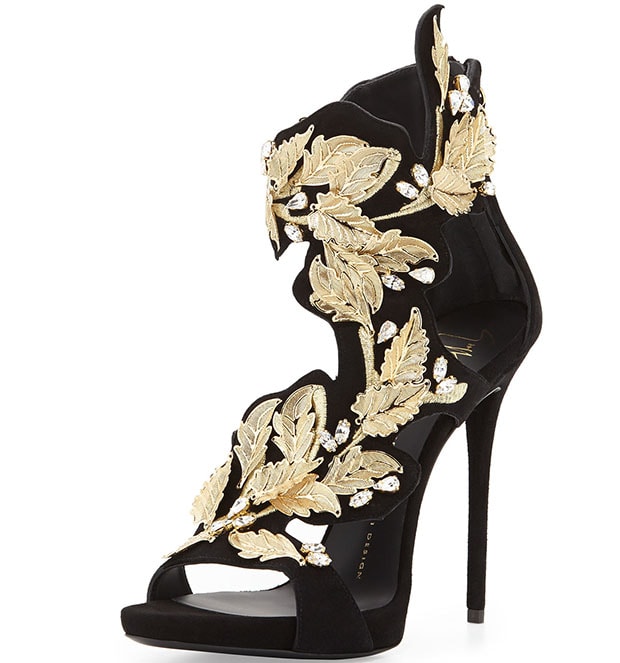 Giuseppe Zanotti Suede & Crystal Leaf Sandals, $2,250
Credit: Nicki Minaj's Instagram